Vaping Digest October 28th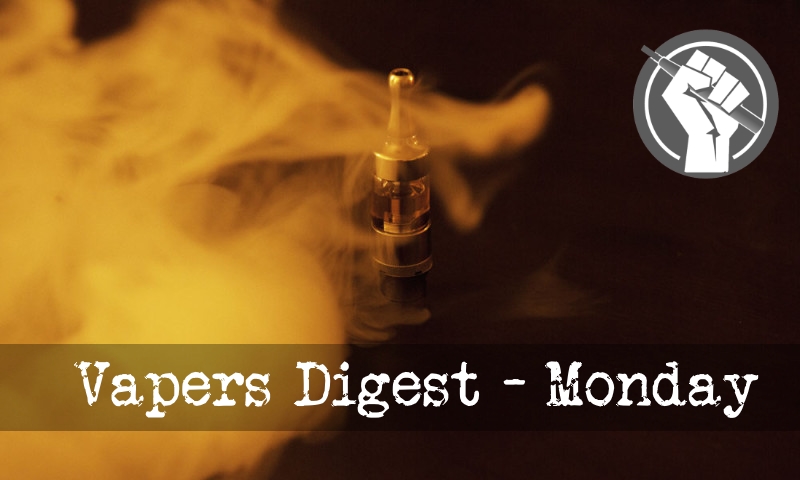 Monday's News at a glance:
US epidemic slowing down, but JUUL Labs threatens the whole industry – Why the U.K. Isn't Having Problems With Vaping – Vaping IN The News – October 26 – New CRUK Report – NZ Data Proves Vaping's Value – Prohibition 100 Years Later – Smokers confused over gov't warning against vaping – Oregon regulators misleading public – Utah judge halts new restrictions on vape shops – Here's the truth behind the vaping crisis – Despite Setbacks, Vaping Is Here to Stay – Nicotine Science and Policy Daily Digest
But JUUL Labs threatens the whole industry – Fergus Mason, Vaping Post
Leading pod mod maker JUUL Labs has angered vapers by surrendering to pressure and withdrawing most of its flavoured cartridges from sale. With such a prominent company axing flavours, there will now be more pressure on the rest of the industry to do the same. This is all happening as the US lung disease epidemic caused by contaminated THC cartridges begins to stabilise, with new cases falling off sharply. There are signs that states are beginning to back away from extreme anti-vaping laws, with California's governor vetoing one bill that would have loaded companies with extra paperwork, and Iowa's governor saying she won't use an executive order to ban sales of e-cigs.
With Vaping – Matt Ridley
The Volstead Act prohibiting intoxicating beverages became law on October 28, 1919—a century ago this week—and came into force a few months later. Most people now agree that Prohibition was a failure, driving the alcohol industry underground, where its products became unsafe, its profits lucrative and tax-free, and its methods violent. Most countries have since taken the view that it is better to legalize, regulate and tax drink than to ban it.

Today, there is a similar debate over vaping, a popular new practice prohibited or heavily restricted in many countries. Electronic cigarettes, which use heating elements to vaporize liquids usually containing nicotine, were invented in China in the early 2000s by Hon Lik
Kevin Crowley, Vaping Links
Eric Garner's Mother Speaks Out Against Proposed NYC Menthols Ban ~ Are You Going to the Vaping Rally Nov. 9th in D.C.? ~ Trump campaign urges White House to soften proposed flavored vape ban ~ Outrageous Nicotine Tax Bill Passes House Committee ~ EVALI and risk communication, explained ~ FDA Awards "Modified Risk" Status to General Brand Snus Products from Swedish Match ~ Vapor Technology Association Releases New Television Advertisement ~ World First Med Vape Claim ~ Is Vaping Safer Than Smoking?
---

---
Dave Cross, Planet of the Vapes
Cancer Research UK has conducted a cross-sectional survey of nurses and GPs across the UK. While the positive noises being made should be welcomed, some will be scratching their heads at the remaining level of ignorance about vaping within nursing and GP circles.

"E-cigarettes are a new technology that provides both a challenge and an opportunity for the future of tobacco control. While they should not be used by people who don't smoke, many people who smoke find them to be useful for helping them move away from tobacco, and currently they are the most frequently used tool for smoking cessation in the UK," says Dr Richard Roope in the editorial.
---
---
Dave Cross, Planet of the Vapes
Latest data from the Health Promotion Agency in New Zealand shows a further dramatic fall in the number of cigarettes being sold by supermarkets, service stations, and liquor stores. VTANZ says this prove vaping's value as the decline is due to smokers switching to reduced harm vaping. This comes at the same time the country's leading brand is expanding its nationwide brick and mortar network.

"We haven't seen this level of New Zealand data since 2016. To now see AC Neilsen numbers confirming that cigarette sales have continued to drop, and quite sharply year-on-year, is very satisfying for the local vaping industry," says Jonathan Devery, spokesperson for VTANZ.

Why The US Is An Outlier On Vaping And What We Can Learn From Alcohol
Hank Campbell, Science 2.0
It's no secret to anyone who even modest command of history that America has long meant freedom. Every oppressed religion moved here, to the one country that did not have a national religion, separating it from the Anglican Church (imagine if the President got to approve the Bishop of Pittsburgh!) or any of the countries in the Holy Roman Empire.

That didn't stop religions that moved here from engaging in their own oppression. Though Arabia and its allied countries feel like we are way too liberal, with not stoning gay people and letting women drive, to Europeans we are way too oppressed and conservative.
Bahk Eun-ji, The Korea Times
The government's recent warning on the use of liquid e-cigarettes is confusing smokers, as they are left without further information on how harmful the products are and whether combustible cigarettes are any safer.

Amid the confusion, more and more retailers are suspending sales of e-liquids, driving e-cigarette smokers to consider returning to combustible ones.

Last week, the Ministry of Health and Welfare issued a "strong" recommendation that smokers stop using vaping products until their effects on the human body are fully confirmed, an upgraded warning from last month's "advisory" telling people to limit their use of the products.
---

---
With overbroad targeting of e-cigarettes – Michael Siegel
On Oct. 4, Gov. Kate Brown ordered a six-month ban on all flavored vaping products after two people died and six others fell ill from vaping. While the Oregon Court of Appeals issued a stay on the ban, the governor indicated that she will pursue a legislative prohibition on flavored e-cigarettes.

Like so many other states – Massachusetts, Michigan, New York, Montana, Rhode Island, and California – Oregon is struggling with how best to address the recent spate of respiratory illnesses. But before legislators stop the sale of all flavored vaping products, they should consider what appears to be the real cause of these illnesses and the effect bans will have on public health.
Annie Knox, Deseret News
A Utah judge has allowed certain vape shops to continue selling flavored e-cigarettes for the next few weeks, finding that state regulators who sought to restrict the sales failed to link them to a rise in cases of lung illness.

Third District Judge Keith Kelly on Monday issued a temporary restraining order that puts on hold part of an emergency rule from the Utah Department of Health until Nov. 22.

He is expected to decide before then whether to extend the order for the long term.

And the government's bizarre reaction to it – Phillip Smith
According to the October 24 update from the Centers for Disease Control and Prevention (CDC), 1,604 cases of severe lung injury associated with the use of vaping products have now been reported since cases first started appearing this summer. They've been reported in 49 states and the District of Columbia. And 34 people have died.

The CDC also provides this new syndrome with a name: e-cigarette or vaping product use associated lung injury (EVALI). In the update, the CDC notes that "all EVALI patients have reported a history of using e-cigarette, or vaping, products" and that "most patients report a history of using THC-containing products."
Eli Lehrer, Real Clear Health
E-cigarettes have become a topic of serious controversy around the United States — and not without reason. The number of teenagers using e-cigarettes has increased once again. And already, 13 people have died and over 800 more have become sick from using THC-containing vaping products derived from marijuana.

Although nothing has linked the current spate of illnesses to the types of "closed system" e-cigarette products sold in convenience stores — or any nicotine e-cigarettes, for that matter —many have sprung into action.
---
A look back at how things have moved on or otherwise….
Based on Data We're Not Allowed to See – Jacob Sullum
When Food and Drug Commissioner Scott Gottlieb threatened to crack down on vaping products last month in response to "an epidemic of e-cigarette use among teenagers," he alluded to "preliminary data" showing that "youth use of e-cigs is rising very sharply." Although we still have not seen those numbers, that has not stopped Gottlieb from making policy decisions based on them, including changes that could limit the appeal and availability of products he concedes have enormous potential to reduce the harm caused by smoking.
Teen Behaviors Than Vaping – Brad Rodu, Tobacco Truth
In the hierarchy of teenage risk behaviors, government data shows that vaping pales compared to drinking-, driving- and weapon-related activities. It is remarkable that public health officials and the media focus so greatly on the former, to the detriment of teen safety and health.

A report from the CDC earlier this year (here), based on the 2017 Youth Risk Behavior Survey (YRBS), allows us to put the data in context.
---
Visit Nicotine Science & Policy for more News from around the World

---