Vaping Digest October 25th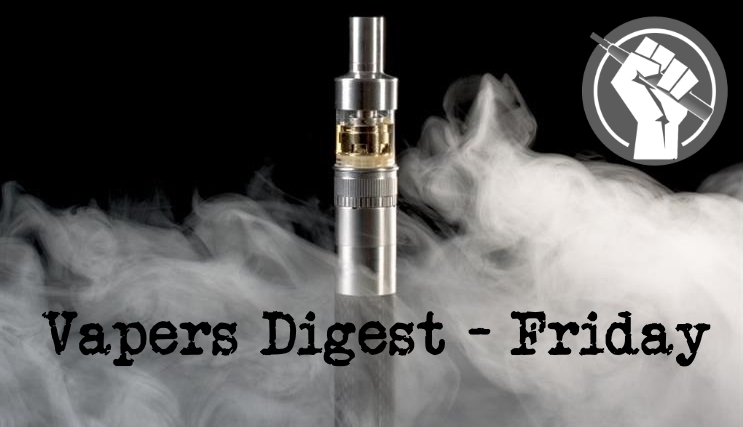 Friday's News at a glance:
Finland's extreme anti-nicotine policy – A Myth Busting Guide – Why the U.K. Isn't Having Problems With Vaping – Outrageous Nicotine Tax Bill – EU Organization Criticises UK – FDA Awards "Modified Risk" Status – Analysis Reveals that 44% of State Health Departments – Canada Might Allow Vendors To Tell The Truth – Goodbye Norman – JUUL Embroiled In Controversy Again – VPZ To Help Mental Health Patients – "Expert" Attacks THR Initiative – Ireland to ban cigarette machines – Shenzhen levying e-cigarette fines – Vaping bans will escalate health crisis – Trump Voters Say They Might Abandon Him – Early in recovery, addicts look to vaping – Jenny Salesa backtracks – Tainted vape pens selling 2-for-1 – Vaping Companies Brace – Northern Territory's high smoking rate – JCTC wants vaping banned in Jamaica – Nicotine Science and Policy Daily Digest
Is wrong and should be rejected by the EU – ETHRA
An article in the Tobacco Control Journal by a Finnish public health advocate has urged the EU to change its policy towards vaping products in the Tobacco Products Directive (TPD). ETHRA fully rejects the reasoning contained in the article and we are shocked that a member state can attempt to impose its extreme position on others in the EU by advocating for prohibitions not welcome elsewhere.

Eeva Ollila of the Cancer Society of Finland boasts that her country's extreme anti-nicotine policy is being inconvenienced by the EU treading a path which accepts reduced risk products as a valid option for smokers seeking to quit.
For Informed Vapers & Vape Shops – James Dunworth
I'm quite proud that the teams in our vape stores are clued up on vaping myths. Thanks to their research, and regular updates from head office, they have the knowledge, information and confidence to deal with concerns generated by negative press.

When we visit other shops, though, that's not always the case, and I've seen some vape sellers struggle to answer questions. That's not surprising, as it can be quite time consuming to keep up with every vape story!

So we've put together a list of the common myths currently doing the rounds. I hope these will help both vapers and vape shops in the inevitable debates on the safety of vaping.
With Vaping – Matt Ridley
The Volstead Act prohibiting intoxicating beverages became law on October 28, 1919—a century ago this week—and came into force a few months later. Most people now agree that Prohibition was a failure, driving the alcohol industry underground, where its products became unsafe, its profits lucrative and tax-free, and its methods violent. Most countries have since taken the view that it is better to legalize, regulate and tax drink than to ban it.

Today, there is a similar debate over vaping, a popular new practice prohibited or heavily restricted in many countries. Electronic cigarettes, which use heating elements to vaporize liquids usually containing nicotine..
---

---
Jim McDonald, Vaping 360
A tax bill that would make e-liquid much more expensive passed a House committee Wednesday, without having a single public hearing. If passed by the whole House and Senate and signed int law, the bill would add $10 to a 60 mL bottle of 12 mg/mL e-liquid.

The bipartisan bill, HR 4742, was introduced by New York representatives Tom Suozzi and Peter King on Oct. 18, and was passed at a meeting of the Ways and Means Committee just five days later without any formal public debate. The legislation is so new its full text hadn't even been published on the congressional website as of this morning—two days after it was voted out of committee. The bill passed 25-14, with all but two Democratic members voting in favor, and all but two Republicans voting against.
To General Brand Snus Products from Swedish Match
Brad Rodu, Tobacco Truth
"The U.S. Food and Drug Administration announced [on October 22] that, for the first time, it has authorized the marketing of products through the modified risk tobacco product (MRTP) pathway. The authorizations are for eight Swedish Match USA, Inc. snus smokeless tobacco products sold under the 'General' brand name" (from the FDA press release).

The FDA authorization allows Swedish Match to use this statement: "Using General Snus instead of cigarettes puts you at a lower risk of mouth cancer, heart disease, lung cancer, stroke, emphysema, and chronic bronchitis."  The approval will be in place for five years, but the agency can remove it at any time if it decides that it "no longer benefits the health of the population as a whole."
---
---
For Endorsing Flavoured E-Cigs – Diane Caruana
Last January, Public Health England (PHE), the UK health organization renowned for its progressive stance in relation to harm reduction, has released footage from an experiment indicating the devastating harm caused by smoking, and how this can be avoided or minimized by switching to safer NRTs such as vaporizers.

The release of this film was part of PHE's Health Harms campaign, which encouraged smokers to try quitting. It featured health experts Dr Lion Shahab and Dr Rosemary Leonard, carrying out an experiment that demonstrates the significant levels of cancer-causing chemicals and tar inhaled by an average smoker over a month, when compared to a non-smoker or a vaper.
Are Not Explicitly Warning Youth Not to Vape THC and Three States are Committing Public Health Malpractice
Michael Siegel, The Rest Of The Story
This is part 1 of an analysis of the health warnings that state health departments are issuing to the public regarding the outbreak of vaping-associated respiratory illness. Here, I analyze the warnings issued by the first 25 states (Alabama through Montana). For each state, after briefly summarizing the warning, I categorize the warning based on three criteria:

Is there an explicit warning not to vape THC?
Does the warning inform the public that THC vape cartridges are playing a major role in the outbreak?
Does the warning mention THC at all?

Based on the warning and these three criteria, I then classify the state health department warnings into six rating levels:

Five from Dave Cross, Planet of the Vapes
To Tell The Truth
Canada is struggling to come to terms with tobacco harm reduction as influence from the South continues to corrupt a common sense approach. Currently, vape vendors are blocked from telling the truth about vaping, but this could change according to a Health Canada consultation document.

The document says that if the changes come into play, all statements "would be supported by science and expressed in clear terms to ensure that tobacco users are better informed about the relative health effects of using vaping products." Examples of what would be allowed include:
North Norfolk Liberal Democrat MP Norman Lamb announced "he's not 'done' yet" following his pacemaker operation, but then announced he was stepping down from political life this weekend. As one of those who has pushed for common sense vaping legislation, he will be missed – and signs off with an exchange of letters with Public Health England's Professor John Newton.

As a part of Parliament's Science and Technology Committee, Norman Lamb has helped to transform a sceptical government into one that has broadly supported vaping and now ranks as one of the world leaders in tobacco harm reduction.
JUUL Labs is still taking a real kicking in the United States, but its response continues to disappoint members of the vape and harm reduction communities. Its response was to remove further flavours from sale and pledge to restrict its advertising. The American Vaping Association slammed JUUL abandoning its adult customer base.

Last week, JUUL Labs was accused of "taking a page from big tobacco's playbook" as school districts lined up to sue the pod manufacturer. Three districts announced that they were taking the pod company to court in a bid to "reverse the teenage epidemic".
The South London and Maudsley NHS Foundation Trust will be using VPZ as a store base to help mental health patients quit smoking. The vape chain says this is a first of its kind project in the UK and demonstrates the NHS's commitment to vaping as a key weapon in the fight against tobacco. It is a clear indication that vaping is still considered a better alternative to smoking by top British health care professionals.
Last week, we reported how Vape Superstore, a London based vape retailer, has partnered with the Smokefree Hackney local quit smoking service, to support those most at risk of smoking addiction in the borough. The quit smoking pilot scheme aims to supply vapes and ongoing support to those looking to quit smoking. Professor Martin McKee attacked this positive move.

Hackney has a 21% smoking rate, 6% higher than the UK average, and is also one of the most deprived boroughs in the UK. Hackney has a lower average income and qualification levels with higher unemployment and a higher rate of people claiming benefits.
---

---
Joe Kukura, Marissa Wenzke, and David Downs – Leafly
Tests run on cannabis vaporizer cartridges recently obtained by Leafly at illegal California stores show shocking levels of pesticide contamination and toxic vitamin E oil.

By law, those shops shouldn't even exist, let alone sell tainted THC vape oil to an unsuspecting public. Under Proposition 64, which took effect Jan. 1, 2018, all medical and adult-use cannabis retailers must have a state-issued license.
Cassidy Morrison, Washington Examiner
Addicts in early recovery often follow familiar advice: Don't worry about giving up nicotine within the first year of sobriety. Nicotine can be just as difficult to quit as drugs or alcohol, and psychologists see patients regularly who say giving it up is not an option.

"That's a common piece of advice in Alcoholics Anonymous, they say don't even think about quitting smoking for the first year," said Gene, a recovering addict whose name was changed to protect his anonymity. "Probably the only place in the world you'll hear that."
Alex Norcia, Vice
Justin Watson's son begged him to quit smoking. But he had already tried everything—chewing nicotine gum, slapping on the patch, going cold turkey—and none of it worked. Then a friend introduced him to vaping. Eventually, he was able to walk up the stairs without being completely out of breath. Plus, he no longer smelled.

The 36-year-old Pennsylvania resident had no real intention, though, of getting political about his new habit.
And bring in new restrictions on vapes
Fag machines are going to be banned and the sale of vapes to under 18s is to be outlawed. Minister for Health, Simon Harris, got the unanimous backing of his ministerial colleagues when he brought the two measures before Cabinet yesterday.

Mr Harris has taken up the reins from previous health ministers Leo Varadkar and James Reilly in the Government's determined battle against tobacco. The latest restrictions are part of the Public Health (Tobacco and Nicotine Inhaling Products) Bill, which has now been introduced by Mr Harris.

For Wave of Lawsuits Over Lung Illness – Izzy Kapnick
Vaping product manufacturers nationwide are bracing for an onslaught of product liability lawsuits arising from an outbreak of vaporizer-linked respiratory failure, as mystery lingers over what's causing the illnesses, now blamed for more than 30 deaths.

The first lawsuits over acute respiratory failure – allegedly caused by vaporizer use – have started to flow into courts stretching from California to Florida.
In early October, Washington Gov. Jay Inslee announced his intent to ban all flavored vaping products statewide. And while even more stringent vaping bans have picked up steam across the U.S., one expert claims that full-on prohibition could actually do more harm than good.

"The problem with bans and prohibitions in this country's history is that it's such an absolute rule, that there are then unregulatable products," University of Washington and Washington State University's Susan Collins told KIRO Radio's Candy, Mike and Todd Show.
Shenzhen began enforcing a new smoking control regulation on Oct 14, and since then two men have been fined 50 yuan ($7) each for smoking e-cigarettes at bus stations, together with another 22 who were smoking conventional cigarettes.

The new smoking regulation includes e-cigarettes for the first time, and zones near public transportation facilities, including bus platforms and subway entrances, have been added to the list of nonsmoking places.
On 'vape-free' New Zealand remark – Zane Small
Associate Health Minister Jenny Salesa is backtracking on a remark she made in Parliament when she said she wants New Zealand to be both "smoke-free" and "vape-free".

A spokesperson for the minister told Newshub on Friday Salesa "misspoke".

The minister's spokesperson said the Government's position is that vaping is not harmless, but it can help smokers to quit.
Daniel Han
Touring through Johannesburg in 2013, Gregory Conley, the president and founder of the American Vaping Association (AVA) and Rutgers alumnus, found himself in a dilemma.

At the time, Conley was the legislative director for the Consumer Advocates For Smoke-free Alternatives Association (CASAA). He kept tabs on all 50 states on legal and advocacy issues related to vaping and smokeless tobacco. He fought bills in state legislatures and learned to do interviews vouching for smokeless tobacco products.
Sparks calls to ease vaping laws – Lauren Roberts
People living in the Northern Territory are more than twice as likely to suffer from a tobacco-related disease than people living anywhere else in Australia.

The figures, released today in the Australian Institute of Health and Welfare's (AIHW) Burden of Tobacco use in Australia report, have sparked fresh calls to relax the NT's new vaping legislation — with advocates saying e-cigarettes will help Territorians ditch smoking
The Jamaica Coalition for Tobacco Control (JCTC) has recommended that e-cigarettes or vaping be banned in Jamaica. Of note is that vaping has sickened or killed several persons in the United States over the past two months, and has raised alarm in that country.

Calling for a ban to be implemented in Jamaica, the coalition said in a statement on Tuesday that e-cigarette use is presently more common among Jamaican adolescents aged between 13-15 years old than conventional cigarette use.
---
A look back at how things have moved on or otherwise….
Derek Yach, Morning Consult
More than 1 billion people smoke globally, and more than 7 million people die each year from smoking and using other tobacco products. This is unacceptable. Efforts must be accelerated to eliminate smoking and save lives.

Harm reduction products can serve as powerful and effective smoking cessation tools. They provide smokers with reduced-risk alternatives to cigarettes and other forms of combustible tobacco.
Professor Ruth E Malone, BMJ Journal
This last issue of 2018 marks 10 years since I began service as editor-in-chief of Tobacco Control. Awed and excited to follow in the large footprints of former editor-in-chief Simon Chapman and, before that, founding editor Ron Davis, I could not then have imagined how quickly the decade would rush by. Supported by a tremendous team of senior editors and deputy editors, as well as a stellar editorial board and BMJ staff, the journal has thrived.
New Nicotine Alliance
We are living in strange times when a tobacco company launches a £2m smoking cessation campaign in a national daily newspaper designed to urge smokers to quit, but that's where we are today.

The Daily Mirror carried a four-page wraparound advertisement for Philip Morris's new Hold My Light campaign and it attracted significant media attention, with the BBC focussing on it prominently throughout the day. NNA Chair, Sarah Jakes, took a trip to London to appear on BBC World News as well as commenting on local BBC radio regarding the subject.
---
Visit Nicotine Science & Policy for more News from around the World

---