Vapers Digest October 24th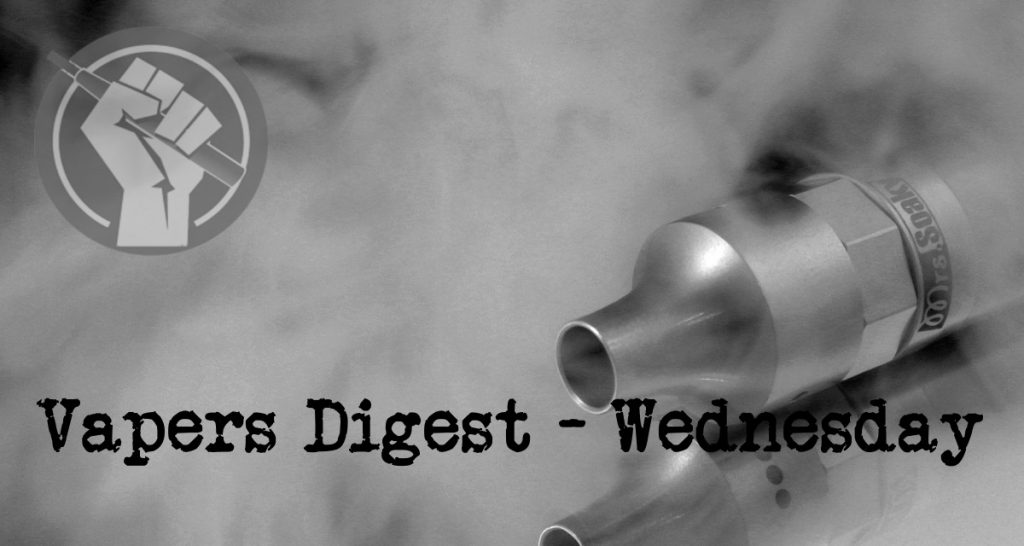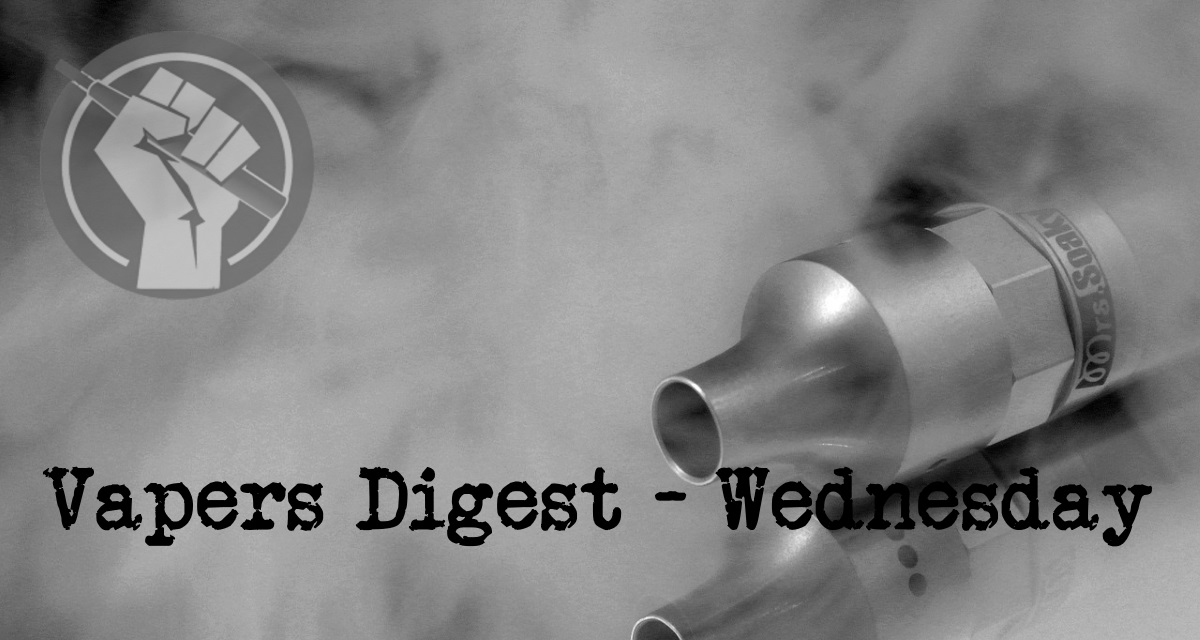 Wednesday's News at a glance:
Tobacco Control Discussions Cannot Ignore Harm Reduction Products ~ Reflections on a decade of editing Tobacco Control ~ It shouldn't matter who makes safer products ~ Treating E-Cigs as Traditional Cigarettes Could Lead to Misguided Research and Policy ~ Rethinking nicotine: FDA asks six questions about the future of nicotine regulation ~ Do vapers have an obligation? ~ Obligations ~ Italian Lives Not Money ~ So Predictable ~ Vaping Isn't About Big Business—It's About Us, the Vapers ~ The Bain Of Vaping's Existence ~ Why safer vaping devices that don't explode will not be available in the U.S. ~ Philip Morris CEO expects countries to overturn e-cigarette bans ~ Delhi's Deluded Director ~ Next Exit, Stupidville
Derek Yach, Morning Consult
More than 1 billion people smoke globally, and more than 7 million people die each year from smoking and using other tobacco products. This is unacceptable. Efforts must be accelerated to eliminate smoking and save lives.

Harm reduction products can serve as powerful and effective smoking cessation tools. They provide smokers with reduced-risk alternatives to cigarettes and other forms of combustible tobacco.
---
Via @MaloneRuth from https://t.co/fqjyEtZVvX
It will need some measure of encouragement from TC towards TI, rather than the present unremitting scepticism+hatred to square the circle. The 2nd prediction is only achievable with public acceptance of safer nicotine products (SNP) pic.twitter.com/mUujK1zIf0

— Alan Beard #VVA (@Alan_Beard1) October 23, 2018
Professor Ruth E Malone, BMJ Journal
This last issue of 2018 marks 10 years since I began service as editor-in-chief of Tobacco Control. Awed and excited to follow in the large footprints of former editor-in-chief Simon Chapman and, before that, founding editor Ron Davis, I could not then have imagined how quickly the decade would rush by. Supported by a tremendous team of senior editors and deputy editors, as well as a stellar editorial board and BMJ staff, the journal has thrived.
New Nicotine Alliance
We are living in strange times when a tobacco company launches a £2m smoking cessation campaign in a national daily newspaper designed to urge smokers to quit, but that's where we are today.

The Daily Mirror carried a four-page wraparound advertisement for Philip Morris's new Hold My Light campaign and it attracted significant media attention, with the BBC focussing on it prominently throughout the day. NNA Chair, Sarah Jakes, took a trip to London to appear on BBC World News as well as commenting on local BBC radio regarding the subject.
Lindsey Stroud, The Heartland Institute
A recent report by Nicotine & Tobacco Research urges lawmakers not to treat electronic cigarettes and vaping devices the same as combustible cigarettes, because the more research measures "e-cigarettes as equivalent to cigarettes, the more the likely research may err in conclusions about these unique devices."

Lead author Matthew Olonoff, a Ph.D. student at Northwestern University's Feinberg School of Medicine, remarked that before "making policy changes, such as controlling nicotine or flavor options in e-cigarettes, [there is a] need to better understand what role these unique characteristics have."
Clive Bates, The Counterfactual
Mitch Zeller, the Director of the Center for Tobacco Products at the U.S. Food and Drug Administration, recently published an article with six questions about the future of nicotine regulation.

See: Zeller M. The Future of Nicotine Regulation: Key Questions and Challenges.  Nicotine & Tobacco Research. 2018 Oct 12. [link]

As he has taken the time to put some questions and expressed interest in the answers, here are mine. I have spent most effort on his sixth question, the one about youth.
---

---
I read an interesting brief thread just before taking my current yet-another break from Twitter (it is depressing, the world today; note that this means I will tweet that I have posted this, but may not look at my mentions). I am not linking or identifying the thread because the poster expressed a hint of doubt that s/he should really be quite so combative and emphatic about the point. But the emphatic nature of the tweets definitely had value because it got me thinking.
Paul Barnes, Facts Do Matter
An interesting blog post dropped into my inbox this week that got me thinking. This particular post came in response to a mini Twitter thread (which I have seen, and somewhat agree with). I'm not going to link to either as I'd prefer this post to stand alone rather than be seen as a response to either, although it half is a response.
---
---
Mawsely, Planet of the Vapes
Italy's National Association of United Vapers claims vaping saves 83,000 people each year from tobacco-related harm. The Associazione Nazionale per i Vapers Uniti (ANPVU) has written to Matteo Salvini, the Deputy Chairman of the Italian Council of Ministers, congratulating him on relaxing measures on vaping – but points out that it's still just "a small step forward".
Dick Puddlecote
Just the other day I said this about the pitiful state of tobacco controllers when it comes to safer products made by industry.

I don't know about you, but I always thought tobacco control was about stopping people smoking by whatever means. You'd think Arnott would be happy about smokers being encouraged to use something far safer, wouldn't you?

And, today on the BBC, here we go again.
---

---
Jessica Harding, FilterMag
Unless you are a smoker who has tried and failed to stop, I don't think you can really appreciate how demoralizing "quit attempts" can be.

I had my first cigarette at the age of 15. I smoked at least 20 cigarettes a day for 26 years. I enjoyed it, but gradually came to wish I could stop. I tried numerous methods: nicotine patches, nicotine gum, self-help books and good old "will power"—and failed every time. I nearly cracked it once, using the Nicorette Inhalator—a device sharing some characteristics with vaping—but the cartridges were expensive and yet again, I slipped back to smoking.

Mawsely, Planet of the Vapes
Bill Bain writes a weekly syndicated article that is published by The Herald in Scotland, along with other regional papers needing to fill column inches and drive traffic to their websites. This week, Bain turns his attention to damning vaping and harm reduction by inventing an alternative reality.
---

---
Mike Segar

, NBC News
The first vaping products designed to prevent fires and explosions — and safety-certified by UL — are scheduled to hit the market in a few weeks. While these redesigned electronic cigarettes will be available in Canada, they won't be sold in the United States.

The vaping industry blames the U.S. Food and Drug Administration, which regulates tobacco products, for preventing Americans from buying these safety-enhanced devices.
Lisa Du and Ayaka Maki, Japan Times
Philip Morris International Inc. expects regulators to gradually become more open to alternatives to cigarettes even after more than 27 governments have prohibited next-generation smokeless devices.

"Eventually, countries will reverse gear," Chief Executive Officer Andre Calantzopoulos said in an interview in Tokyo. "I don't think it's reasonable to essentially condemn your population to only smoke cigarettes when there are vastly different alternatives."
Mawsely, Planet of the Vapes
SK Arora is a deluded individual bent on eliminating vaping from his part of India. If there weren't photographic evidence to suggest otherwise, people reading the outpourings from the Delhi Government's Director of Health would believe he was a six-year-old child. His article for India's Mail Today ought to win 2018's Man Booker Prize for Fiction.
Jim McDonald, Vaping 360
Mt. Vernon, Ohio is a typical small midwestern town. It's located about an hour northeast of Columbus, Ohio, and has 17,000 residents and a small college. The town is practically an American archetype: it was named after George Washington's Virginia estate, and was once home to folk hero Johnny Appleseed.

But Mt. Vernon could soon become famous — or infamous — for something other than being a perfect example of Small Town, USA.
---
---
Visit Nicotine Science & Policy for more News from around the World

---