Vapers Digest October 26th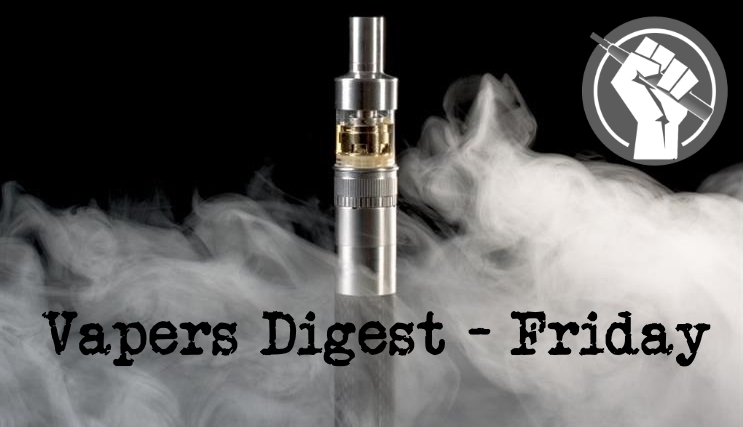 Friday's News at a glance:
FDA Is Ready to Restrict E-Cigarettes – CDC Data Reveal Many Far More Dangerous Teen Behaviors – The Growth of David Abrams – Dockrell Celebrates Video – Why still ban vaping if the no smoking strategy is failing? – South Australia introduces draconian vaping laws – Altria Shows the FDA How to Kill the Vaping Market –  Devices vaporized – FDA Commissioner Wants to Have It Both Ways – AATCLC admits to exceeding lobbying restrictions – Nicotine Science and Policy Daily Digest
Based on Data We're Not Allowed to See – Jacob Sullum
When Food and Drug Commissioner Scott Gottlieb threatened to crack down on vaping products last month in response to "an epidemic of e-cigarette use among teenagers," he alluded to "preliminary data" showing that "youth use of e-cigs is rising very sharply." Although we still have not seen those numbers, that has not stopped Gottlieb from making policy decisions based on them, including changes that could limit the appeal and availability of products he concedes have enormous potential to reduce the harm caused by smoking.
Teen Behaviors Than Vaping – Brad Rodu, Tobacco Truth
In the hierarchy of teenage risk behaviors, government data shows that vaping pales compared to drinking-, driving- and weapon-related activities. It is remarkable that public health officials and the media focus so greatly on the former, to the detriment of teen safety and health.

A report from the CDC earlier this year (here), based on the 2017 Youth Risk Behavior Survey (YRBS), allows us to put the data in context.
---

---
Mawsley, Planet of the Vapes
Dr. David Abrams is a prime example of what can happen when a tobacco control expert is open-minded about the evidence surrounding vaping. Coming from a position that strongly opposed vaping, Abrams has arrived at a position where he decries the lies used against ecigs and argues, "it's time the public hears the whole truth".
In 2012, Abrams was the founding Executive Director of the Schroeder National Institute of Tobacco Research. He also held a post at Truth Initiative, and used his influence to argue against the tobacco-harm reduction potential of vaping.
---
---
Mawsley, Planet of the Vapes
Martin Dockrell has celebrated the success of a video made by the New Nicotine Alliance (NNA) and the National Centre for Smoking Cessation and Training (NCSCT), and urged more people to watch it. The video has achieved 145,000 views in eleven months and Dockrell hopes it can reach more people still. He has also spoken out about tougher health warnings for e-cigs.
Martin Dockrell is the Tobacco Control Programme Lead for Public Health England, a role he took on after 7 years at Action on Smoking and Health (ASH UK). He wrote: "When the NNA and NCSCT made this video for us last year we said 'who'll watch 13 minutes of talking heads?'
---

---
ATHRA
South Australia is taking anti-vaping policy to a new level. The Tobacco Products Regulation (E-cigarettes and Review) Amendment Bill 2018 currently passing through parliament* will be the harshest in Australia. The new laws protects the tobacco industry and make it even harder for smokers to transition to vaping, a much less harmful alternative.

Smokers in South Australia are already struggling to quit. Smoking rates have not changed since 2012 when 16.7% of SA adults smoked, according to the South Australian Health and Medical Research Institute. In fact, adult smoking rates INCREASED 1.6% from 14.9% to 16.5% from 2016 to 2017.
If the no smoking strategy is failing? – Brian Marlow
Around 2.8 million people still smoke in Australia, and despite millions of taxpayers' dollars spent on anti-smoking advertising, quit rates have flatlined for the first time since the early 2000s.

Recent statistics from the Department of Health confirm that the National Tobacco Strategy is failing to meet its target of reducing the number of smokers in Australia.

Smoking rates actually increased almost two per cent in New South Wales between 2015 and 2016, and ABS stats show cigarette consumption rose in 2017 for the first time in a decade.

Jim McDonald, Vaping 360
Altria announced today that it would pull its pod vapes MarkTen Elite and Apex from the market until the FDA approves them via a premarket tobacco application or decides that "the youth issue is otherwise addressed." They will also pull all flavors of their cigalike products MarkTen and Green Smoke except tobacco, menthol, and mint.

The move comes in response to the FDA's mid-September demand that JUUL Labs and four major tobacco companies that also sell vapor products deliver plans within 60 days to eliminate sales to teenagers.
Tobacco Reporter
Philip Morris USA's domestic cigarette shipment volume during the third quarter to the end of September, at 29,698 million, was 3.7 percent down on that of the third quarter of 2017, 30,828 million.

Marlboro volume was down by 3.2 percent to 25,611 million, while the volume of the company's other premium brands was down by 6.0 percent to 1,473 million. Its discount-brand volume was down by 6.8 percent to 2,614 million.
Abby Schachter,  Inside Sources
Food and Drug Administration Commissioner Scott Gottlieb has rightly set out to get more people — particularly teens — to quit smoking cigarettes. However, recent FDA activity strongly suggests that the agency plans to take steps that will make it harder for people to do just that.

A news release on September 18 declares the FDA's latest attack on e-cigarettes by announcing that the agency will revisit its "compliance policy that extended the compliance dates for manufacturers of certain e-cigarettes, including flavored e-cigarettes, to submit applications for premarket authorization."
NOTBlowingSmoke
The African-American Tobacco Control Leadership Council (AATCLC) has claimed victory and ownership over the City of Sacramento's Law and Legislation Committee passing recent proposed legislation to bar less harmful products from sale. Not Blowing Smoke calls upon the Internal Revenue Service, the City of Sacramento and California Secretary of State Alex Padilla to investigate AATCLC's efforts to influence legislation as a 501(c)3 charitable organization.
Mawsley, Planet of the Vapes
Dr Joe says tobacco control plays the man instead of the ball when it comes to industry funding. Portland schools now class possession of a vape device as a drug and alcohol-related offence. The FDA is considering making vape products only available in B&M stores. The Bill and Melinda Gates Foundation believes vaping "could be less devastating" than cigarettes. Northwestern University researchers say "Ecigarettes should not be treated like regular cigarettes" and Sarah Jakes speaks about the latest Philip Morris ad campaign.
---
A look back at how things have moved on or otherwise….
Dick Puddlecote
Isn't that marvellous? The EU has imposed a regulation on all 28 member states which describes a solid inanimate object as containing nicotine when it plainly doesn't. The regulation is so ridiculous that simply by applying it the manufacturer is contravening legislation designed to protect the public from misleading information.

The MHRA then suggests that a way round this is to add qualifying text which corrects the regulation which is contravening legislation designed to protect the public.
What could possibly go wrong (and right)?
Clive Bates, The Counterfactual
On 28th July, FDA announced that it wants to hold a "public dialogue" about regulating to reduce nicotine levels in cigarettes to "non-addictive levels". I've previously written about this idea in my critique of 'tobacco endgame' ideas, and I was pleased to present on the subject at SRNT 2017 conference.  Generally, I've taken the view that the idea is crazy, unworkable, unethical and will never happen, and I have a hefty bet against it.
---
Visit Nicotine Science & Policy for more News from around the World

---