Vapers Digest 26th October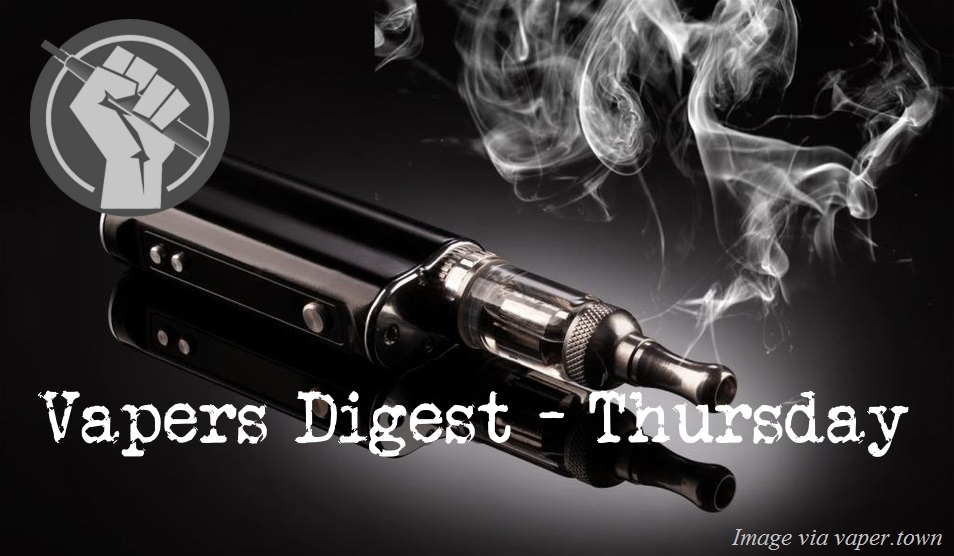 Thursday's News at a glance:
'Sensible' Regulation For E-Cigs – FDA wants to reduce nicotine in cigarettes – E-cigarettes inquiry launched – UK Study Disarms Youth Vaping to Smoking Myth – Stop Lying to Smokers about Safer Alternatives – Vaping on ITV News – Council anti-smoking campaigns are an expensive failure – State should revisit vaping tax – Cuomo Is A Public Health Enemy – Nicotine Science and Policy Daily Digest
Dick Puddlecote
Isn't that marvellous? The EU has imposed a regulation on all 28 member states which describes a solid inanimate object as containing nicotine when it plainly doesn't. The regulation is so ridiculous that simply by applying it the manufacturer is contravening legislation designed to protect the public from misleading information.

The MHRA then suggests that a way round this is to add qualifying text which corrects the regulation which is contravening legislation designed to protect the public.
What could possibly go wrong (and right)?
Clive Bates, The Counterfactual
On 28th July, FDA announced that it wants to hold a "public dialogue" about regulating to reduce nicotine levels in cigarettes to "non-addictive levels". I've previously written about this idea in my critique of 'tobacco endgame' ideas, and I was pleased to present on the subject at SRNT 2017 conference.  Generally, I've taken the view that the idea is crazy, unworkable, unethical and will never happen, and I have a hefty bet against it.
---

---
Commons Select Committee
The Science and Technology Committee examine the impact of electronic cigarettes on human health (including their effectiveness as a stop-smoking tool), the suitability of regulations guiding their use, and the financial implications of a growing market on both business and the NHS.
---
---
Brent Stafford, Regulator Watch
Does teen vaping lead to teen smoking? It's the most pressing question in the battle over vaping regulations. In most countries regulatory strategy is predicated on the belief that for young people vaping could serve as a gateway to smoking. But is it true?

Join RegWatch for part-1 of a 2-part special featuring an exclusive interview with Linda Bauld, Deputy Director at the UK Centre for Tobacco and Alcohol Studies and lead author of the largest study as yet undertaken of young people's use of e-cigarettes and smoking in the UK.
---

---
Brian Fojtik
Last July, President Trump's new FDA commissioner, Scott Gottlieb, announced new approaches to fighting smoking-related death and disease. While not perfect, these tactics represented a sharp break from the government's previous "quit or die" stance on tobacco. Most important, Gottlieb granted relief to tens of thousands of businesses that sell "vaping" products, which deliver nicotine through an aerosol rather than tobacco smoke, by giving the makers of such products four extra years to complete a Pre-Market Tobacco Application (PMTA) with the FDA.
Thanks as always to @dnglos for the YouTubage
Harry Phibbs
Much the most effective anti-smoking policy for councils to adopt would be to allow vaping on their premises. They should allow this both for their own staff and for their residents who are visiting libraries, housing offices, and town halls. Andrew Allison has written on this site about the prospect of being harmed from "passive vaping". I have challenged my own Council on its vaping ban – and got a pretty feeble response.

The jury is still out on whether electronic cigarettes that deliver nicotine via water vapor are a safe alternative to cigarette smoking. That is just one of the reasons the exorbitant 40 percent tax levied on vaping products a year ago should be revisited by the state Legislature.

As Erie Times-News reporter David Bruce detailed, the vaping tax has raised more than $13.7 million since it took effect on Oct. 1, 2016.
Lila Abassi, ACSH
Despite the mounting data about the benefits of electronic cigarette use, New York Governor Andrew Cuomo must not be getting the memos.  In a move that can only be explained as pro-cancer, Governor Cuomo has decided to ban indoor vaping in restaurants, bars and places of employment – effectively treating such devices in the same fashion as combustible cigarettes.
---
A look back at how things have moved on or otherwise….
John Britton, Ilze Bogdanovica, Anne McNeill, Linda Bauld – UKCTAS
The World Health Organisation has commissioned a scientific assessment and policy options report on electronic cigarettes (referred to in the report as Electronic Nicotine Delivery Systems (ENDS) and Electronic Non-Nicotine Delivery Systems (ENNDS)) for the Seventh Conference of the Parties of the Framework Convention on Tobacco Control (FCTC COP-7). This paper provides a critique of that assessment. The main concerns with the WHO report are as follows:
Alan Beard – Why Oh Why
This is a painful post to contemplate writing anything much positive about the recent UK fiasco regarding A Billion Lives screening applications. Two only, out of many applications have been successful :- Glasgow and Swansea, this is a hugely disappointing result so far and needs sorting out quickly
Paul Barnes – Facts Do Matter
We all know that attitudes towards e-cigarettes are slowly being eroded in the UK by the near constant barrage of churnalism. That's right The Sun I'm looking squarely at you, crass fuckwits that you are. I might even look towards The Telegraph too. Not for the usual reason of their "science" editor this time, though that could be considered one big reason.
---
Visit Nicotine Science & Policy for more News from around the World

---