Vapers Digest 25th October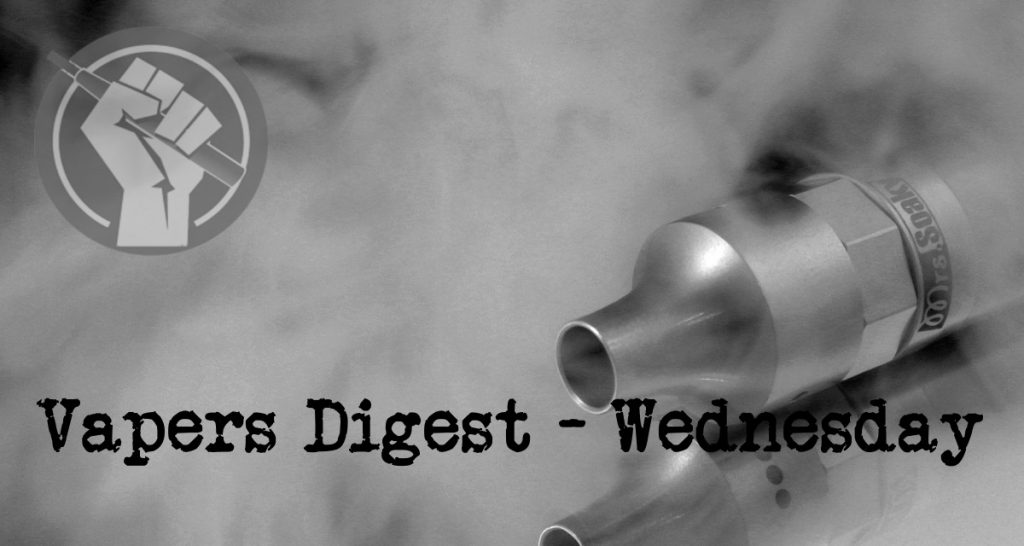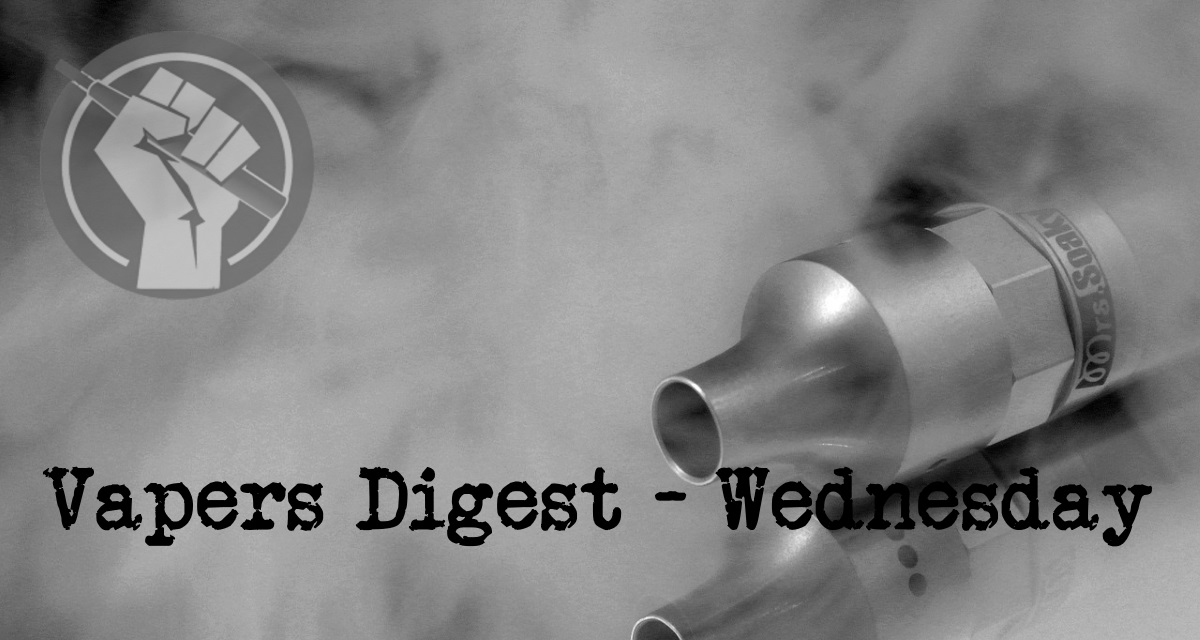 Wednesday's News at a glance:
Ideology Beats Science – Cross-party group of MPs launches inquiry – Debunking the Myths of Ecigs – Excelsior – Pediatric Journal Straight-Up Lies About E-Cigarettes – Hysteria over Drugs and Ecigs – Drop in smokers quitting with NHS Scotland – Prisoners allowed to VAPE – Bill that would raise e-cig taxes – New York State Bans Vaping – Higher prices won't stop smoking – Nicotine Science and Policy Daily Digest
Paul Barnes, Facts Do Matter
It seems that the shrieking from tobacco control about the Smoke-Free Foundation is still going. I am not particularly surprised by the near-constant wailing. It has, however, taken on a particularly curious note with the activist magazine Tobacco Control now flat refusing to publish any "industry-funded" papers; something it's refused to do since 2013.

Again, not particularly surprising. But it does highlight a very interesting, and potentially damaging viewpoint.
Nick Triggle – BBC News
MPs are to carry out an inquiry into e-cigarettes amid concerns there are "significant gaps" in what is known about them and how they are regulated.
The science and technology committee will look at their effectiveness as a stop-smoking tool and the impact of their growing use on health.
Nearly three million people in the UK now "vape" regularly – four times more than in 2012.
---

---
Mawsley, Planet of the Vapes
University of East Anglia (UEA) academics noted a sizeable rise in the number of people wanting to help with a study following our coverage of Doctor Caitlin Notley's presentation on 'Electronic Cigarettes For Avoiding Relapse'. Now the UEA is combatting myths surrounding vaping and has contacted POTV to help spread the message.
Nancy Sutthoff, AVCA
We finally have a new government, including our new Minister of Health (David Clark) and two new associate Ministers of Health (Julie Ann Genter & Jenny Salesa). We are pleased to see the choices include those whom have a track record of concern and empathy for the well being of all New Zealanders. It now their time to shine. And ours too.
Carl V. Phillips, Daily Vaper
In a recent "what parents need to know" statement, the Journal of the American Medical Association, in its journal JAMA Pediatrics, recited some of the most absurd and antiquated lies about vaping. JAMA is respected as a clinical practice journal, but it consistently publishes terrible analyses of public health topics. In this case, it appears that they are trying to parody even that low standard.
---
If you ever see vapour coming out of the battery as opposed to the mouthpiece (like in image above) dispose of it immediately as it might explode! Why do I get the feeling no vapers were involved with this caper?

— mikebailey (@mikebailey) October 25, 2017
---
Mawsley, Planet of the Vapes
Dr. Matthew Blundell, a toxicologist at Guy's and St Thomas' NHS Foundation Trust in London, has completed an investigation into the vaping of recreational drugs. Together with professors Dargan and Wood, from King's College London, the team has gifted salacious percentage figures to a range of media titles ever hungry for sensationalised stories.
Helen McArdle
The latest figures for Scotland show that the number of "quit attempts" made with the help of NHS smoking cessation services has fallen for the fifth year in a row.

Only three out of 14 health boards – NHS Western Isles, Forth Valley and Shetland – met their targets for cessation.
---

---
Diane Caruana, Vaping Post
According to an article on The Daily Vaper, in the recent days Senate Minority Leader Chuck Schumer (D-NY) and his chief deputy Dick Durbin (D-IL) have launched several attacks on vaping products. Last Sunday, Schumer even went as far as urging FDA Commissioner Scott Gottlieb to move ahead with the FDA regulations that were recently put on hold.
Tom Belger
Inmates are being allowed to smoke e-cigarettes in their cells, as prison chiefs continue to struggle to wipe out smoking behind bars.

Jails across Merseyside are encouraging prisoners to take part in Stoptober this month, giving out advice to help them quit.

Katelyn Caralle
It will soon be illegal to use electronic cigarettes, the popular vapor substitute to traditional tobacco cigarettes, in public indoor spaces in New York State.

Democratic Gov. Andrew Cuomo on Monday signed a bill to ban vapor substitutes, or e-cigs, anywhere tobacco cigarettes are already prohibited, including workplaces, restaurants, and bars, the New York Times reported.
Hafidz Baharom, Kuala Lumpur
There have been calls to raise duties and taxes on cigarettes yet again. A senior lecturer wrote how we should increase the price of a pack of cigarettes to RM50.

What is the senior lecturer smoking? Is it legal? And more importantly where can I buy it? Any thought of raising the price of cigarettes needs to be stubbed out right now.
---
A look back at how things have moved on or otherwise….
MPRNews
Fire deaths are taking a historic plunge in Minnesota this year, down dramatically from 2015.

"We are on record pace for having the lowest number of fire deaths ever in Minnesota, and we surely hope that pace continues," said Minnesota State Fire Marshal Bruce West. "Right now we're at 24, and that's compared to 49 at this time last year."

West spoke as the heating season is poised to start in earnest — often a precipitating factor in deadly fires as residents turn to space heaters, ovens and other potentially dangerous heat sources as the weather grows colder.
Vapers In Power
Why should I reserve a ticket at one of these A Billion Lives Screenings?

A Billion Lives is a film about the "official" reaction to vaping.

It is currently being offered at a few cinemas in the UK through a service called Demand Film. The idea is that if enough (~60) people reserve a ticket for a specific screening, on a specific time and at a specific place, that screening goes ahead. You can even host your own screening.
Reason
It's now been a full year since the Food and Drug Administration signaled that it was nearing a decision on whether a Swedish-made tobacco product could be marketed in the United States as a less-harmful alternative to smoking.

What's taking them so long?

Stockholm-based Swedish Match won permission from the FDA in November 2015 to sell its smokeless tobacco products, known as "snus," in the United States. Snus consists of a small packet, similar to a tea bag, filled with tobacco powder. It is placed in the upper lip, in a manner similar to chewing tobacco or "dip" but does not require chewing or spitting.
---
Visit Nicotine Science & Policy for more News from around the World

---