Vapers Digest 27th October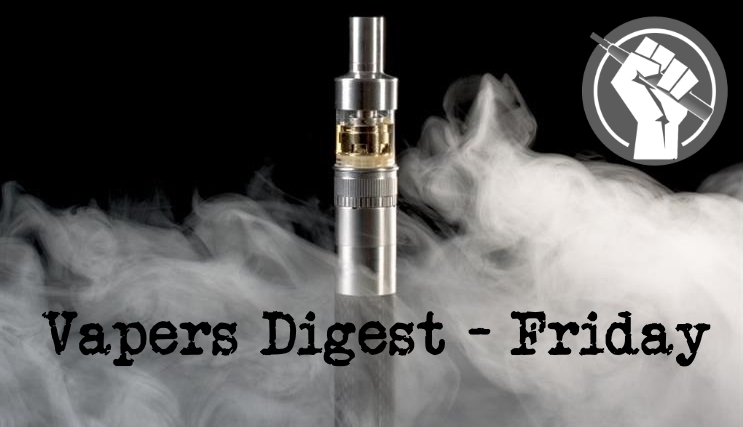 Friday's News at a glance:
Travel Advice For Australia Updated For Vapers – New York cracks down again as UK MPs announce vaping inquiry – FDA Chief Effectively Tells Congress Nicotine Is NOT Addictive – How much nicotine is in a cigarette – Vaping helping smokers quit – Use and marketing of electronic cigarettes and personal vaporisers in Australia – Swiss vaper condemned but back home – Azim Chowdhury Weighs In – Nicotine Science and Policy Daily Digest
Dick Puddlecote
Earlier this week I wrote to the Foreign and Commonwealth Office (FCO) to point out that they issued warnings about travelling to Thailand but didn't mention that vapers could be criminalised in Australia too.

Well, I've heard back and the page relating to Oz has now been updated with this wording … immediately after the part about illegal drugs.
As UK MPs announce vaping inquiry
Fergus Mason, Vaping Post
New York's governor, Andrew Cuomo, has tightened the screw on the state's vapers by signing a laws that brings e-cigarettes fully under clean air laws. Meanwhile, despite the UK having some of the world's best data on the safety and use of vapour products, a committee led by the anti-vaping Liberal Democrats has announced it plans to hold a new inquiry into claims that the devices are acting as a "gateway" to smoking.
---

---
Carl V. Phillips, Daily Vaper
In his prepared remarks for a Congressional hearing this week, FDA Commissioner Scott Gottlieb sought to draw a distinction between opioid dependence and addiction. According to the definition of addiction he sketched, nicotine and tobacco products are not addictive. This flatly contradicts the recent deluge of claims by FDA that these are addictive, claims that are central to FDA's top tobacco policy priorities.
---
---
Jim McDonald, Vaping 360
When vapers ask how much nicotine is in a cigarette, it's often because they're trying to calculate what nicotine concentration they want in e-liquid. The idea is to mimic the hit they get from cigarettes, and get the same nicotine experience vaping that they do smoking.

But knowing how many milligrams of nicotine are in one cigarette won't necessarily translate to vaping. That's because the method of delivery is far different, and even an equivalent amount of nic won't provide the same kick when delivered in a vape versus in a cigarette.
---

---
Mary Glindon, MP for North Tyneside
The number of those smoking tobacco has fallen to an all time low of nearly 16 per cent, or about eight million people. I am also pleased that more and more smokers have given up not just thanks to the ban on smoking in public places, but also to the development of e-cigarettes or vaping. The number of vapers has increased in the last five years from 700,000 to about three million.

And personal vaporisers in Australia
Testimony to the Australian inquiry on ECigs by Clive Bates and Steve Woodward
Welcome and thank you for joining us today, particularly as you have come from so far away. You know the background to the inquiry we are undertaking and you have probably seen some of the evidence that has been presented to us. We invited you here because, as part of this process, we have been interested in developments in the United Kingdom. That has been subject to divergent opinions about how successful or otherwise it has been, so your input in that regard would be helpful.
Philippe Poirson – Vapolitique
He was arrested last July 26 in Thailand for vaping. After being held in solitary confinement for six days in "humiliating and inhumane conditions" , the Swiss tourist was released on bail and was waiting for his trial, assigned to stay in the country. He was fined an unknown amount, plus court costs and attorney, but has authorized flying back to Europe
On FDA's New Comprehensive Regulatory Plan For Tobacco And Nicotine
Ahead of his presentation at ENDS US 2017, we sat down with Azim Chowdhury, Partner at Keller and Heckman LLP, to discuss the impact of FDA's comprehensive regulatory plan for tobacco and nicotine, innovation in the ENDS industry and more.

What do you consider to be the biggest challenge in achieving and maintaining regulatory compliance in the ENDS and E-Cigarette industry?
---
A look back at how things have moved on or otherwise….
Kevin Crowley – Vaping Links
You're a vape shop owner? Are you saving lives and yourselves? Not afraid of the regulations your industry is under? Are you even aware there are regulations? If not, I'm talking to you. You're probably already wondering who the hell I am and why I've got a chip on my shoulder. Well – let me explain myself and then we can move on from the formalities. I figure that's only fair.
New Nicotine Alliance – Australia
The purpose of this application is to propose that nicotine in low-concentrations be exempted from Schedule 7 of the Standard for the Uniform Scheduling of Medicines and Poisons (SUSMP) so that it may be available for self-administration with an electronic nicotine delivery system (ENDS, also known as 'personal vaporiser' or 'electronic cigarette') for the purpose of tobacco harm reduction (THR).
---
Visit Nicotine Science & Policy for more News from around the World

---