Vapers Digest 30th October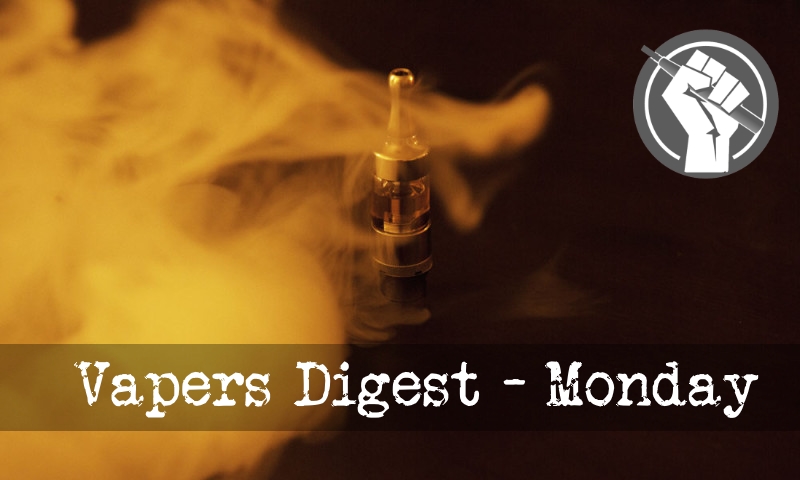 Monday's News at a glance:
Nicotine, Public Health, And The Profit Motive – NHS trust bans cigarettes, vaping and e-cigarettes on all its sites – Where is the right Mann/WoMann for the job? – It's Good to Talk – Reducing nicotine in cigarettes – Study Of News Coverage Reveals Anti-Vaping Bias – When It Comes To Switching To Vaping – Korea : Impending e-cigs tax hike – Secondhand Vapor Is Not Harmful – Chuck Schumer Is Wrong Again – Is Australia's illicit tobacco trade as bad as it seems? – E-cig shops can thrive in hostile climate – Nicotine Science and Policy Daily Digest
And The Profit Motive – Dick Puddlecote
It's taken me a few days to get round to writing this but there was a BAT Investor Day held in London last week that threw up a small, but vital, nugget of information.

Wells Fargo Securities circulated a summary of the event via email and described the presentation on next generation products (NGPs) as "the highlight". It spoke of how the global NGP category is likely to reach £30bn by 2020 and how both BAT and PMI expect NGPs will represent 30% of their revenue by 2030.
STAFF, patients, carers and visitors will be banned from smoking tobacco, vaping and using e-cigarettes on any Somerset Partnership NHS Foundation Trust sites from the start of next year.

The only exceptions to the smokefree move will be patients at the end of their lives and mental health inpatients, who will be allowed to use non-rechargeable e-cigarettes as part of their nicotine dependence treatment.
thatgotmethinkingblog
This week I attended a thing in Dublin.  This thing to be exact. GFN DialoguesHosted by the Irish Vape Vendors Association, this was an opportunity to hear the current arguments on nicotine from a few of the experts.

Now I've never been at something like this before and sort of expected dry presentations with pie charts, bar graphs, histograms and maybe even the lesser spotted stemplot. If graph porn is your thing, you would have been disappointed
---

---
Challenges and opportunities – Clive Bates
In a July 28 announcement, Dr. Scott Gottlieb, recently appointed as the 23rd commissioner of the U.S. Food and Drug Administration (FDA), committed his agency to introduce a new guiding philosophy for the regulation of tobacco and nicotine. The associated news release set out the agency's desire for a "new comprehensive plan for tobacco and nicotine regulation" and for an "approach [that] places nicotine, and the issue of addiction, at the center of the agency's tobacco regulation efforts."
Reveals Anti-Vaping Bias – Carl V. Phillips
A new study out of Rutgers University, led by Olivia A. Wackowski, provides more evidence that mainstream media stories about vaping are negatively biased. The researchers collected all news and opinion pieces published by the leading American news outlets in 2015. They reported that the coverage skewed negative. In particular, the ostensible experts that were interviewed make inaccurate claims about health risks from vaping.
---
---
African Americans Lag Behind – Carl V. Phillips
The Centers for Disease Control has released a report that breaks down the demographics of American vapers, smokers and other tobacco users. CDC's own analysis is fairly useless, but the numbers do offer some interesting insights. In particular, they show remarkably similar levels of switching from smoking to vaping across demographic groups.
Slow down this booming market? – Diane Caruana
In South Korea, imports of e-cigarettes have increased sharply since the government imposed taxes on regular cigarettes in 2015. However things may change as a pending bill may raise tax on the devices to be on par with that of regular cigarettes.

Earlier this month, data released by the government of Korea indicated that imports of e-cigarettes have more than doubled, since taxes on combustible tobacco were increased…
---

---
Harry Shapiro
Insightful read of the week award goes to a review of a new book on the AIDS pandemic in which the authors reveal how the leadership of the WHO failed miserably to save thousands of lives until redeemed by an administrator, Dr Jonathan Mann who did everything right from inaugurating World AIDS day to involving NGOs and fighting stigma and discrimination. Yet he felt he had to resign from WHO, frustrated that his boss was just putting every obstacle in his path. Mann tragically died in an air crash in 1998.
EconoTimes
Although vaping has been around since 2004, the real uptick in vapers only happened several years ago, when the industry ironed out the kinks and presented casual users with a wide variety of easy-to-use vaping devices. Since then, the vaping community has been under constant attacks from vaping opponents, most of which are able to secure serious coverage by the mainstream media.

Carrie Wade and Nicolas John
Senate Minority Leader Chuck Schumer, D-N.Y., is taking aim at the Food and Drug Administration's recent announcement that it would delay enforcement of new regulations on e-cigarettes until August 2022.

Ignoring academic laboratory and public health reports, Schumer has taken to asserting publicly that e-cigarettes contain so-called "mystery" chemicals that, when burned at high voltage, release toxic chemicals even more dangerous than combustible cigarettes.
As bad as it seems? – Natalie Wolfe
Fancy a packet of wine-flavoured cigarettes? What about cigarettes that will leave a barbecue taste in your mouth?
These are the questions customers are being asked as tobacconists start using sneaky tricks to promote new cigarettes under the table and avoid advertising restrictions.
Jon O'Connell
Despite one of the nation's most oppressive tax climates for vape shops, Jay Dougherty sees opportunity in Pennsylvania.

One year ago, Gov. Tom Wolf approved a budget that levied a new 40 percent wholesale tax on the electronic cigarette and vapor industry. That means business owners like Dougherty have to cough up the state's cut before customers even walk in the door, which dips heavily into cash on hand.
---
A look back at how things have moved on or otherwise….
Clive Bates – The Counterfactual
The UK Centre for Tobacco and Alcohol Studies (UKCTAS) has produced a devastating critique of the WHO paper on 'Electronic Nicotine Delivery Systems' (e-cigarettes or vaping products to everyone else).  The paper by WHO is for the 7th Conference of the Parties to WHO's tobacco control treaty, the Framework Convention on Tobacco Control, (FCTC COP-7) which will be held in Delhi 7-12 November, 2016.
ECITA
The World Health Organisation has long demonstrated its utter hostility to Tobacco Harm Reduction (THR). This was most recently demonstrated in their report "Electronic Nicotine Delivery Systems and Electronic Non-Nicotine Delivery Systems (ENDS/ENNDS)" (these products will be referred to as e-cigs or vaping products in the post, as ENDS is a term alien to the manufacturers and users of these products, being largely an invention of the WHO).
---
Visit Nicotine Science & Policy for more News from around the World

---