Vapers Digest October 29th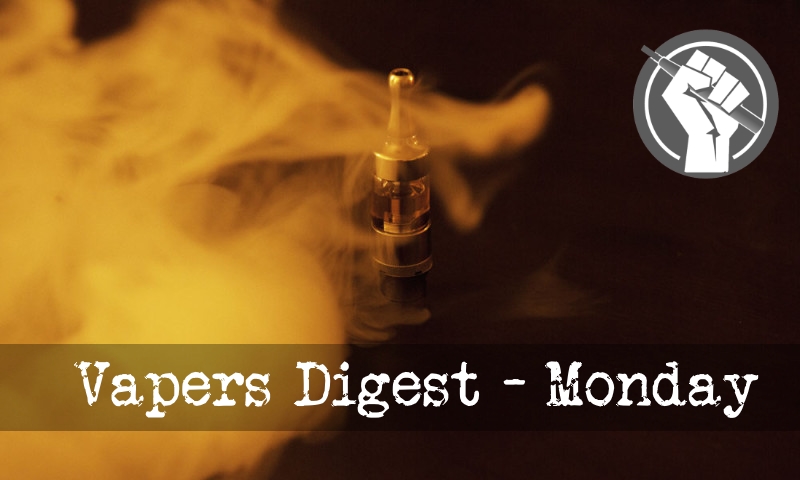 Monday's News at a glance:
Bans continue to spread as FDA noose tightens on pod mods – Revelations about nicotine replacement therapy – A 'Stalwart Smoker' Tries iQos – WHO is refusing to listen to the evidence – The Vape Market – Ministers must do more to encourage switch to vaping – Vaping sector could get Brexit boost – Will Thailand Rethink Its Harsh Vape Ban? – Peer review of: Linda Johnson et al – Youth & Vaping – European association acronyms – Vaping In The News October 27th – Nicotine Science and Policy Daily Digest
As FDA noose tightens on pod mods – Fergus Mason
Florida has become the latest state to push for a ban on vaping in public, but voters are puzzled by the decision to bundle harm reduction with offshore oil drilling in an "environmental" wrapper. Meanwhile a major tobacco and vape company has criticised Hong Kong's recent decision to ban all reduced-harm nicotine products while protecting cigarette sales. There are enough problems in the USA, however, with the FDA's increasingly hostile rhetoric against harm reduction starting to have an effect on companies.
Harry Shapiro
A Freedom of Information request was sent recently to the UK Medicines and Healthcare products Regulatory Agency (MHRA) asking for data on reports of adverse effects of nicotine.

The MHRA has an online system called Yellow Card scheme  https://yellowcard.mhra.gov.uk/ where anybody can report any adverse effects they have suffered through taking a medicine or which have been reported by doctors or other health professionals. The MHRA is also responsible for collecting data on adverse reactions to e-cigarettes even though the products are not classified as medicines.
---

---
Bear Tripper – Dick Puddlecote
Years ago I tried e-cigs when they were new on the market, in fact I was the one who first introduced DP to one in 2009. As someone who travels on an extremely regular basis, I found that the e-cig was helpful in many ways, most notably for use in some no smoking hotel rooms where the policies on smoking are particularly draconian, however I still wanted a proper cigarette. I found e-cigs dried my mouth.
At COP7 two years ago, the WHO invited member states to ban vaping products outright despite recognising their potential to help reduce global smoking rates — a position as confusing for consumers as it was for public health officials and regulators. International vaping bodies and campaigners led by the UK Vaping Industry Association have issued a call to action to the WHO to remedy this contradiction. Consumer groups and academics have also made separate appeals.
---
---
Mawsley, Planet of the Vapes
P&S Intelligence is part of P&S Market Research, a company that specialises in providing market research and consulting services to burgeoning industries. It has produced a report on the state of the global vape market. Addiction journal carries a study by Cancer Research UK, looking at the use of e-cigarettes.
According to the press release sent out by P&S Intelligence, the global vape market is estimated to reach almost $45 billion (over £34 billion) by 2023.
To encourage switch to vaping – Jawad Iqbal
Smoking is one of the biggest killers in Britain today: each year it leads to just under 80,000 deaths and about half a million hospital admissions. The cost to the NHS is estimated to be at least £2 billion.

The good news is that each year tens of thousands of people are giving up smoking with the help of e-cigarettes — devices that mimic the act of smoking but without the toxic tobacco smoke. They are about 95 per cent less harmful than conventional cigarettes.
---

---
Totally Wicked, one of the UK's largest independent vaping retailers, on Friday unveiled plans to expand and said Brexit could be good for the industry.

Finance chief Ben Williamson said leaving the bloc "potentially provides a significant opportunity for the UK vaping sector if we are freed from EU imposed regulation".
Jim McDonald, Vaping 360
Thailand's vape ban is no joke. The Southeast Asian country prohibits the manufacture, sale, and importation of e-cigarettes. And even possession of vapor products could earn you time in jail.

But now the government is reviewing its policy, following the efforts by the Thai vaping advocacy group ECST, which is a member of the International Network of Nicotine Consumer Organisations (INNCO). ECST has asked the Thai Office of the Ombudsman to reconsider the ban.
Carl V. Phillips, Anti-THR Lies
For an overview of this collection and an explanation of the format of this post, please see this brief footnote post. The paper reviewed here is available at Sci-Hub. The paywalled link is here.

This collection will focus mainly on the misleading anti-THR papers produced by tobacco controllers. However, it is useful and important to provide reviews of potentially important paper that might be called pro-THR. This is one example of a paper that has gotten a lot of "ha, take that!"-toned traction.

Joseph Magero
It's no secret that most smokers begin at the age of 16- 22. Most smokers began to experiment with cigarettes at a young age. There are several factors that influence whether kids smoke or not: peer pressure, adult smoking, coping with stress and advertising. Globally, the estimated numbers of boys and girls 13–15 years old who smoke cigarettes or use smokeless tobacco products are approximately 38 Million .
Patrizia Cavalli
A few months before the approval of the Tobacco Products Directive in February 2014, the vapers were activated for the launch of an initiative by European citizens, the European Free Vaping Initiative, known as Efvi. The project was ambitious: it was necessary to collect one million declarations of support by 25 November 2014 in order to have the opportunity to meet with representatives of the Commission and to present the initiative in a public hearing in the European Parliament. In 2014, spontaneous committees were set up to support this initiative as well as other consumer associations such as NNA in the United Kingdom
Seeks total ban on snus tobacco
The Finnish Medical Association (FMA) says the import of snus, an orally-ingested tobacco product, should be banned altogether.

As part of its agenda to reduce tobacco use in Finland, a working group of the Ministry of Social Affairs and Health proposed in May that the daily limit on snus imports should be lowered from 1 kg to 100 grams. According to the FMA, this does not go far enough.
Kevin Crowley, Vaping Links
Vaping Isn't About Big Business—It's About Us, the Vapers ~ Truth Initiative – Inspiring People to Start Smoking ~ Marlboro maker Altria halts sales of flavored vaping liquid as FDA weighs ban ~ So Altria is going to remove a bunch of their e-vapor products ~ Devices vaporized ~ Australia ~ Those incorrigible kids ~ Why safer vaping devices that don't explode will not be available in the U.S. ~ FDA Commissioner Wants to Have It Both Ways on Vaping ~ Corruption and the "Freedom Of Information Act"
---
A look back at how things have moved on or otherwise….
Dick Puddlecote
Earlier this week I wrote to the Foreign and Commonwealth Office (FCO) to point out that they issued warnings about travelling to Thailand but didn't mention that vapers could be criminalised in Australia too.

Well, I've heard back and the page relating to Oz has now been updated with this wording … immediately after the part about illegal drugs.
As UK MPs announce vaping inquiry
Fergus Mason, Vaping Post
New York's governor, Andrew Cuomo, has tightened the screw on the state's vapers by signing a laws that brings e-cigarettes fully under clean air laws. Meanwhile, despite the UK having some of the world's best data on the safety and use of vapour products, a committee led by the anti-vaping Liberal Democrats has announced it plans to hold a new inquiry into claims that the devices are acting as a "gateway" to smoking.
---
Visit Nicotine Science & Policy for more News from around the World

---