Vapers Digest October 31st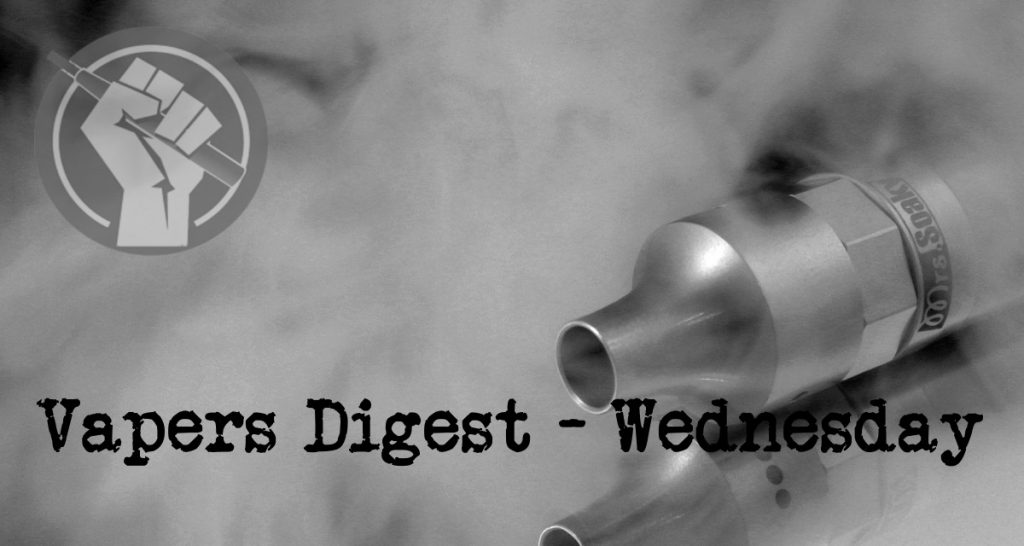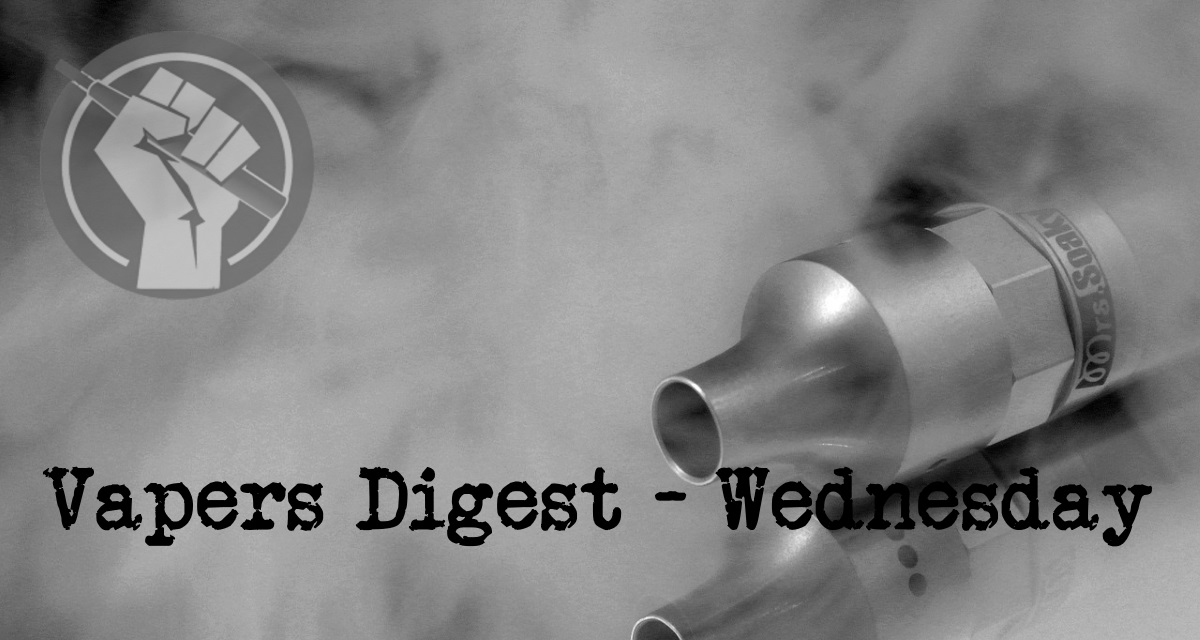 Wednesday's News at a glance:
Tobacco Policy Reform Group Asks Gottlieb for a National Summit on Vaping Regulation ~ Altria Responds To Kodak Moment With Aggressive Tactic ~ Vape shop owner considers suing Gallatin Co. Health Dept. ~ Daily Mirror Backtracks On Tax ~ Expo Fight ~ Dr. Hillary Jones: Go Vape! ~ Cigarette Sales Plummet In Korea Thanks To Heat-Not-Burn Products ~ Rustbelt Libs smash small business over vacuous vaping claims ~ Court For J&K ~ More Questions In Parliament
Jim McDonald, Vaping 360
The FDA seems dead set on restricting the vapor industry very soon. The agency gave JUUL Labs and the four major tobacco companies that also sell vapor products 60 days to submit plans to eliminate sales to teenagers. That 60-day deadline expires soon after next week's elections.

Now a group of influential academics and tobacco control and public health experts is trying to convince the agency to slow down and consider the risks of hasty regulation.
Vlae Kershner

, Seeking Alpha
Altria faces a potential business crisis because of a competitor's booming vaping product.

The restrictions it imposed on itself last week, if adopted as regulations by the FDA, would greatly disrupt JUUL's business.

There are three possible ways for Altria to get back in the driver's seat.
Larisa Casillas, NBC Montana
A recent decision to ban indoor vaping in public places in Gallatin County may be challenged in court.

Ron Marshall, the owner of Freedom Vapes in Bozeman, says he's found emails exchanged among Gallatin County health officials he claims show health officials worked to change images and information to put vaping and vapers in the worst light possible.
---

---
 Mawsley, Planet Of The Vapes
The Chancellor of the Exchequer announced his budget plans for the government in parliament yesterday. The Daily Mirror analysis claimed that this included a plan to "tax eliquid for the first time". Planet of the Vapes and others contacted the newspaper and it has withdrawn that statement.
---
Press Announcement. Not sure what the hook is, mind you.

But this is a political (not scientific) statement: "Now we have hard data to support that public health tragedy that is now underway. "https://t.co/Aix151ARdi

— Oliver Kershaw (@ojkershaw) October 31, 2018
---
 Mawsley, Planet Of The Vapes
Vaper Expo took place at the National Exhibition Centre (NEC) in Birmingham this weekend but some had their trip ruined by alleged vendors fighting in the thoroughfare, next to the Souljar Eliquid stand. Representatives of Nasty Juice Worldwide/Nasty Juice Europe Ltd/Nasty Juice EU have taken to Facebook to deny that they were involved.
---

---
, The Sun
Many people still believe that vaping is just as bad as smoking ordinary cigarettes – but it isn't.

In the UK, 1.7million vapers have quit smoking completely and more than 900,000 have given up both smoking and e-cigarettes.

They also think that because you are inhaling nicotine in the vapour of e-cigarettes you are just as likely to get lung cancer as you would smoking tobacco.

You are not.

Joseph Magero, Medium
It is quite rare to see double digit decline in cigarette sales ,however this is exactly what is taking place in Korea. Korean Tobacco has released 3rd quarter results, showing a decline in the domestic cigarette market of 12.0%.This is yet another great example of disruptive technology.

It's important to note that in its first year on the market, the heat-not-burn cigarette IQOS sold 1.9 million devices and became one of the top five cigarette brands in the country .
---

---
Brian Marlow, The Spectator Australia
As the South Australian Government forces $60 million worth of local small businesses to close their doors, they are also locking South Australian smokers out of using smoke-free products to quit smoking for good.

We know that our National Tobacco Strategy is failing, and the data shows flatlining quit rates.

Instead of paternalistic, fear-mongering bans, we need common sense changes that make it easier for smokers to access properly regulated smoke-free products to help them quit.
 Mawsley, Planet Of The Vapes
The High Court has allowed Mushtaq Ahmad Shah to submit a 'public interest litigation' (PIL) against the Indian state of Jammu and Kashmir (J&K). The court conducted a hearing on Thursday and has given the J&K government two weeks in which to file a response.

The ban was announced last year, and the Directorate of Health Services Kashmir said its purpose was "to discourage the consumption of tobacco products by the public, especially the younger generation of state."
 Mawsley, Planet Of The Vapes
Members of Parliament Jonathan Ashworth, Bob Blackman and Kevin Barron have asked further questions in Parliament about vaping and received responses from Steven Brine, The Parliamentary Under-Secretary for Health and Social Care, Mel Stride Financial Secretary to the Treasury and Paymaster General.
---
A look back at how things have moved on or otherwise….
Jim McDonald, Vaping360
Most places in the United States don't treat underage vaping as a crime. So asking "How old do you have to be to vape?" isn't really the right question. Think more along the lines of, "Do you have to be 18 to buy a vape?" or "What's the legal age to buy a vape?"

The laws typically make sales to minors illegal, but not the act of vaping itself. When vaping or possession of vapes by minors is illegal, it's not usually treated very seriously — often as a civil infraction, like a traffic ticket. In most states (and around the world too), the legal vaping age is the same as the smoking age. But the consequences for a minor vaping are mostly borne by the person who sold them the products they're using — not the kids using them. Vaping under 18 may be a no-no, but vapers rarely get locked up or heavily fined for it.
Dick Puddlecote
Wouldn't it be good if your representative was tempted to take part in that debate? It may be that it was one that had eluded their attention, so a reminder can't hurt, can it?

Yes, I know it's tight for time but you never know. If nothing else, a message from a constituent (i.e. you) may result in a researcher being sent along to take some notes.

See also New Nicotine Alliance
---
Visit Nicotine Science & Policy for more News from around the World

---