Vapers Digest November 2nd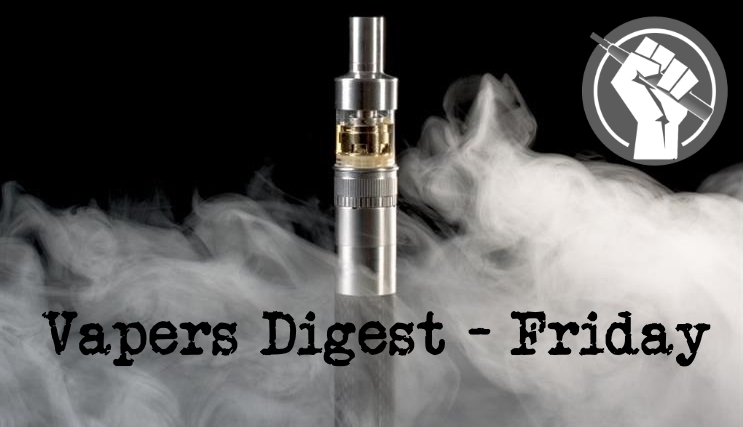 Friday's News at a glance:
Stupid is as Stupid Does – Dundee City Council take heavy handed action against smokers and vapers – Autumn advocacy, NNA October newsletter – IBVTA welcomes recognition of vape shops – E-cigarettes Save Lives, One Man's Proof – CBD: the next big opportunity? – Vaping and e-cigs are safer than smoking  – Trade Associations Attack WHO – Metal emissions from e-cigarettes:  – Some thoughts on smoking, vaping and individual freedom – Axe Falls At Altria – Truth's JUUL Study: Deception and Confusion – Juuling is the lesser of two evils – Has The FDA Softened – Nicotine Science and Policy Daily Digest
Paul Barnes, Facts Do Matter
As is the norm, things have been super-hectic here at Facts Towers so I have, unfortunately, missed an awful lot of stuff going on. I've also been absent from social media; mostly for good reason – it bloody annoys me.

Those of you that remember, The Freedom Association published some very interesting information about the various local authorities and their current smoking/vaping policies. Most of the councils are backwards looking, ignoramuses. However, one council, in particular, has taken things too far.
Take heavy handed action against smokers and vapers – Robert Innes
It is ironic, is it not, that the recent #COP8 meeting of The World Health Organisation Framework Convention for Tobacco Control should result in a flurry of accusations that members of the vaping community were using 'violent' language and tactics in their approach to vaping advocacy. This being an example: "But the problem we're facing is that the interference from tobacco giants in public health efforts is becoming increasingly vicious in that they are now using the tools and language of tobacco control advocates to push their dangerous agenda".
---

---
New Nicotine Alliance
As the nights get darker, the NNA is still working hard to focus more light on reduced risk products and we have had another very busy month. September's news had an international feel, but with UK politicians and public health back in the swing after summer recess there is lots more to do domestically as well as elsewhere and, as you will read, NNA representatives are prominent in all of it.
Contributing to health on the high street in new RSPH report.
The RSPH developed a 'Richter Scale of Health' to rank the impact of different outlets on health and the potential cumulative effect these outlets could have on a local population. They then ranked high streets in terms of the ten "healthiest" and "unhealthiest" in the UK, as well as in London.

The report states ''As vape shops contribute heavily to the public profile of e-cigarettes, they are ideally placed to play a central role in their promotion towards smokers who want to quit but have not yet tried vaping.
---
---
Diane Caruana, Vaping Post
Are e-cigarettes less harmful than regular cigarettes? The answer to this question is far from clear in the minds of many. Ex-smoker Dominique Rodriguez however, is firmly convinced that this is indeed the case, and has set out to show the world how switching to vaping has transformed his health.

"My motivation is to fight against misinformation, because when I hear that e-cigarettes are as dangerous as tobacco, I can see that it's not true," points out Rodriguez. The passionate climber has hiked up the highest mountains peaks and recorded it, in order to show that switching to vaping can transform smokers' lives.
Antony Begley, Scottish Local Retailer Magazine
Cannabis. The very word is enough to provoke a strong reaction in most retailers, either a positive one or a negative one, depending upon their views and life experiences. No one is ambivalent when it comes to cannabis, so you can expect a fair amount of forthright reaction to the potential introduction of a new product category that is heavily linked to it.

Welcome to the challenge of bringing the CBD category to local retailing stores in Scotland.
So let your colleagues puff away at their desk – Sven Hughes
I smoke. Very happily. Cigarettes, cigars, and pipes. As far as I'm concerned, tobacco is one of the true age-verified joys of life. I love the taste of the leaf, the sensation of the nicotine, and the other physical and psychological effects.

I have also worked on marketing campaigns for two of the world's biggest tobacco manufacturers, and have no ethical issue whatsoever with this.
---

---
Mawsley, Planet of the Vapes
The World Health Organisation (WHO) Framework Convention on Tobacco Control (FCTC) Conference of the Parties 8 (COP8) took place in Geneva at the beginning of this month. Despite having a remit to promote harm reduction, its reluctance to follow its own protocol has led to a group of trade bodies writing an open letter of disgust.
A risk assessment analysis of a recently-published study
Dr Farsalinos, Brad Rodu
Conclusion: EC liquids contain trace levels of metals. For almost all metals, unrealistically high levels of liquid need to be consumed in order for total daily exposure to exceed established limits.
Simon Clark, Taking Liberties
As I mentioned last week I was on Your Call (Five Live) with Nicky Campbell, speaking to the nation from a hotel in Turkey!

The discussion followed an interview on Five Live Breakfast with Peter Nixon, MD of Philip Morris UK, concerning the launch of the company's Hold My Light quit smoking campaign.

Jim McDonald, Vaping 360
Los Angeles City Attorney Mike Feuer has filed suit against three vaping retailers, charging that they sell products online without proper age verification. He has also accused them of marketing to underage customers through social media, and selling products not approved by the FDA.
On the agency's continued efforts to address growing epidemic of youth e-cigarette use, including potential new therapies to support cessation
Over the past several months, we've continued to voice our concerns about the growing epidemic of youth e-cigarette use. Our public statements have expectedly prompted responses from industry and public health stakeholders on ways they and the FDA can further address these concerning trends. But we've also been inundated by a number of people asking for help in their fight against nicotine addiction in children and young adults.
On Its War With E-Cigarettes Or Is It All Just Smoke and Mirrors?
American vapers and the wider vaping industry have an anxious couple of weeks wait to see what measures the FDA are going to take to stem the some might call fictitious 'epidemic' of youngsters using e-cigarettes over the pond.

There were no treats – that I could see though maybe just maybe a slight softening in tone – and let's hope no tricks hidden between the lines of the large statement FDA commissioner Scott Gottleib released on Halloween.
Mawsley, Planet of the Vapes
Tobacco giant Altria has announced its intention to not sell pod e-cigarettes and to limit the flavours in its MarkTen and Green Smoke brands to tobacco, mint and menthol. It claims this is being done to support the Food and Drug Administration's (FDA) drive to prevent teen vaping but others see this as a strategic move in a market sector where the company isn't even second best.
Jim McDonald, Vaping 360
The Truth Initiative has just published a new study that purports to back up FDA Commissioner Scott Gottlieb's claim that teenage vaping — and especially teen use of JUUL — has become an epidemic. But their numbers don't match their claims.

The figure Truth trumpets on its website is that teens aged 15-17 are 16 times more likely to have ever used a JUUL than adults aged 25-34. They also claim that "teens are not just experimenting with the device, but using it regularly," citing figures for use on 10 or more of the last 30 days.
Joseph Dillier
JUUL may be forced off the market after the U.S. Food and Drug Administration announced last month that five e-cigarette manufacturers — JUUL, MarkTen, Vuse, Blu and Logic — had 60 days to demonstrate how they can stop minors from obtaining vapes.

Incidentally, the only major news to develop around this issue since then was an FDA raid on JUUL Labs' headquarters to obtain documents concerning the company's marketing tactics. Additionally, the FDA also declared teenage vaping an emerging "epidemic."
Jenny Yuen
A store that specializes in products intended to cut down the dangerous effects of smoking has been warned by Health Canada it must remove its signage because the agency categorizes them as tobacco products, which makes it illegal for them to advertise outwardly to the public.
---
A look back at how things have moved on or otherwise….
Dick Puddlecote
Some of you may have caught a segment on The One Show yesterday evening where Matt Allwright visited the Vape Expo event in Birmingham.

It was a surprisingly positive piece from the guy who is known for exposing Rogue Traders, and if you missed it you can watch it here from 41:30 minutes in. It was even complemented at the end with Andrew Marr giving his opinion that vaping is "an entirely good thing". Not bad, huh?

However, I think he missed the real story here.
To keep promoting the benefits of vaping – Liz Wells
A group of MPs and peers have urged the government to build on Public Health England's Stoptober anti-smoking campaign, which was the first to encourage the use of vaping as a means to quit smoking.

In its report, The State of the Vaping Nation, the All Party Parliamentary Group (APPG) on E-Cigarettes has called on the government and public health bodies to sustain and capitalise on the level of public engagement with vaping seen during Stoptober by launching a continuous programme to promote and accurately communicate the positive health benefits for vaping.
---
Visit Nicotine Science & Policy for more News from around the World

---