Vapers Digest 2nd November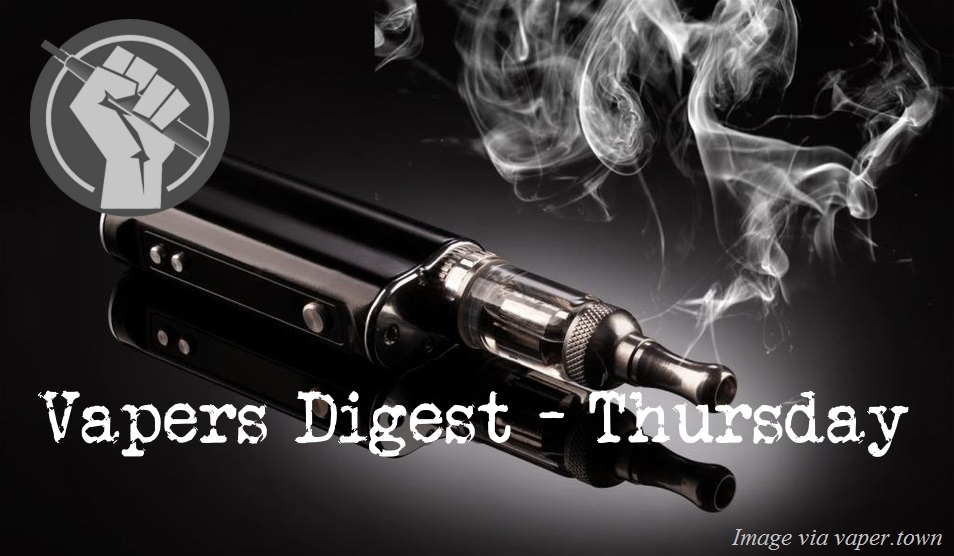 Thursday's News at a glance:
Public Health Rogue Traders – Parliamentary group calls on government – A blanket ban on vaping in smokefree areas – Smoking among schoolchildren at record low – This is Why Tobacco Control Should not be Trusted – E-cigarettes in patients with COPD – Vapers Should Embrace Smokeless Tobacco and Heat-Not-Burn – FDA Researchers Downplay Interest In Low-Risk Products – Altria, Anticipating FDA Rule – Vaping about to get a little more difficult
Dick Puddlecote
Some of you may have caught a segment on The One Show yesterday evening where Matt Allwright visited the Vape Expo event in Birmingham.

It was a surprisingly positive piece from the guy who is known for exposing Rogue Traders, and if you missed it you can watch it here from 41:30 minutes in. It was even complemented at the end with Andrew Marr giving his opinion that vaping is "an entirely good thing". Not bad, huh?

However, I think he missed the real story here.
To keep promoting the benefits of vaping – Liz Wells
A group of MPs and peers have urged the government to build on Public Health England's Stoptober anti-smoking campaign, which was the first to encourage the use of vaping as a means to quit smoking.

In its report, The State of the Vaping Nation, the All Party Parliamentary Group (APPG) on E-Cigarettes has called on the government and public health bodies to sustain and capitalise on the level of public engagement with vaping seen during Stoptober by launching a continuous programme to promote and accurately communicate the positive health benefits for vaping.
---

---
Is poor public health policy – Dr Colin Mendelsohn
The NSW State Health Minister is considering a blanket ban on e-cigarettes in all indoor and outdoor smoke-free areas of NSW, according to an ABC News report. However, a blanket ban is not evidence-based and could have unintended negative consequences. A more nuanced approach is needed.

Public health policy should be encouraging smokers to switch to vaping. E-cigarettes are a much less harmful alternative to lethal cigarettes for smokers who cannot quit with conventional treatments. Banning the use of e-cigarettes in public places sends the misleading message that they are just as harmful as smoking and could deter switching from smoking to vaping.
ASH
New data published by NHS Digital today show that smoking among 15 year olds has reached the lowest level on record at 7%. [1] The figures demonstrate that England continues to make good progress towards the government's ambition of a smokefree generation. As outlined in the Tobacco Control Plan for England, the government has committed to reducing smoking prevalence among 15 year olds to 3% or lower by 2022. [2]
---
---
Kevin M. Price and David Goerlitz
The current decline in smoking has been well-documented and has occurred because of a consumer based technology coming into the marketplace, not by the efforts of Tobacco Control (TC) groups. TC is primarily funded by Tobacco Taxes. It is a textbook conflict of interest because if they succeed at what they are trying to do, they will de-fund themselves. Let me make this a bit clearer for those of you reading this; Tobacco Control does NOT have the goal of eliminating smoking, period!
JB Morjaria, E Mondati, R Polosa
Conventional cigarette smoking is known to result in significant COPD morbidity and mortality. Strategies to reduce and/or stop smoking in this highly vulnerable patient group are key public health priorities to reduce COPD morbidity and mortality. Unfortunately, smoking cessation efforts in patients with COPD are poor and there is a compelling need for more efficient approaches to cessation for patients with COPD.
---

---
Brian Fojtik – Vaping 360
Tobacco control groups, government bureaucrats and too many politicians seem intent on destroying what British addiction expert David Nutt called the "greatest health advance since vaccinations" and instead keep smokers smoking and dying.

Perhaps the only reason they haven't yet succeeded is because vapers, who often lived for years as shamed smokers, have finally done what their families, friends and government have insisted they do for years – quit smoking.
Carl V. Phillips, Daily Vaper
In a recent paper, FDA researchers sought to identify characteristics of U.S. adults who might be interested in low-risk tobacco products. Research on this could be potentially useful for helping people make good choices. However, this study was not.

The authors make no attempt to hide their political bias. The paper begins by hyping the tobacco industry's "history of marketing new products as less harmful," despite the fact that this has been impossible for quite a while.

Stephen Dafoe
A new notification from the Consumer Product Safety Directorate (CPSD), part of Health Canada, has vape stores concerned their business could be severely restricted in what they can sell when Bill S-5, a bill related to e-cigarettes, vaporizers, and e-liquids, receives Royal Assent in the next few months.
Wall Street Journal
Marlboro maker Altria Group Inc.  said it has developed ways of producing reduced-nicotine cigarettes and aspires to become the U.S. market leader in noncombustible tobacco products such as e-cigarettes, attempts to get ahead of potential federal requirements for tobacco companies to change their products.
---
A look back at how things have moved on or otherwise….
Dave Dorn – The Sun Also Rises
I was fascinated by a youtube video showing – in very broad terms – the massive differences in Formaldehyde generation between ecigs and smoked lit tobacco (there'll be a link at the bottom). During the course of said excellent work the statement (paraphrased) "We don't really know what the long-term risks are, and we won't for another 20 or 30 years" was used, and it rankled me a little. Here's why:
Could the FCTC do something useful on vaping?
Clive Bates – The Counterfactual
I'm sometimes accused of being a WHO-sceptic, or worse. No more! In the run up to the Framework Convention on Tobacco Control  COP-7  meeting in Delhi, 7-12 November, I have been challenged to say something positive about how the FCTC could do useful and constructive things on vaping and tobacco harm reduction from a public health point of view, other than the default answer "absolutely nothing at all".
Criticises Proposed New Advertising Restrictions – IBVTA
Responding to the Committee of Advertising Practice's consultation on new guidance for the advertising of vape products, the Independent British Vape Trade Association (IBVTA) has criticised proposals they believe will impose unnecessary restrictions on their members' legitimate business activities, and make it harder for smokers to find out about products that are at least 95 per cent less harmful than the tobacco they currently smoke
---
Visit Nicotine Science & Policy for more News from around the World

---