Vapers Digest 3rd November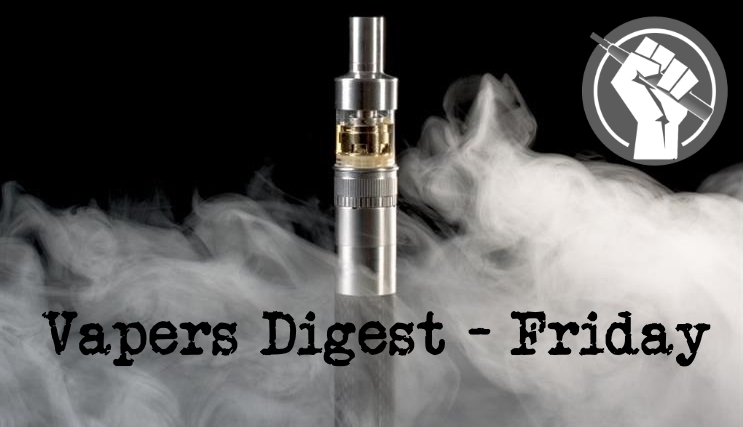 Friday's News at a glance:
Lift EU regulations to let vaping flourish after Brexit – Vaping Solutions: An Easy Brexit Win – Vaping after Brexit – State of the Vaping Nation – The penalties for violating vaping laws across Australia – Regular smoking in young people at record low – There Isn't a Teen E-Cigarette Epidemic – NY Wrongheadedly Bans Indoor Vaping – Big Tobacco company buys into vape shop chain – FDA's Motive For Releasing Vapor Product Reports Raises Questions – Govt Ensures Vaping Subject to Excise Duty of 57 Percent – 10 Facts That Everyone Gets Wrong About Vaping – Nicotine Science and Policy Daily Digest
Institute of Economic Affairs
The introduction of safer, alternative nicotine products to the market should be celebrated. Deterring smokers from using e-cigarettes – which have much lower health risks associated with them – through restrictive regulation is nonsensical and counter-productive, particularly if politicians want to reduce smoking rates.

A raft of evidence shows that vaping leads to smoking cessation. Once e-cigarettes became mainstream, consumer products in the UK, smoking rates fell by nearly five percentage points in just four years. This progress has since been hampered by unnecessary EU regulation.
Dick Puddlecote
In recent weeks I've written about the ridiculous unintended consequences of the TPD towards vaping.

In August it was noteworthy at Vapefest that vendors were not selling pre-mixed e-liquid, but instead – because no-one wants to buy a whole load of 10ml bottles – were shifting large amounts of flavour concentrates to be mixed at home.
Daniel Pryor – Adam Smith Institute
Britain's approach to regulating e-cigarettes was one of the best in the world, until the EU's nonsensical Tobacco Products Directive (TPD) severely hampered the growth of this life-saving market. Thankfully, "Brexit offers an opportunity to return to a more liberal regulatory regime to the benefit of consumers and British businesses" according to a new report released today by the Institute for Economic Affairs. We will soon have the chance to become a true #VapeNaysh: something that we at the Adam Smith Institute are very enthusiastic about.
---

---
The All Party Parliamentary Group for E-Cigarettes
Amongst the headlines and public debate it is easy to forget that vaping products, or e-cigarettes as many were originally called, have been with us for less than a decade. Not long in the grand scheme of things – but long enough for approximately 2.9 million smokers and former-smokers in the UK to have taken up vaping.
In Australia e-cigarettes may be purchased normally, however nicotine-containing e-liquids are illegal. In August 2016, a number of health advocates submitted proposals to local regulator Therapeutic Goods Administration (TGA), to remove nicotine concentrations of below 3.6% from the Poisons Standard.

However, last April, the TGA made its final decision to uphold the ban, arguing that e-cigarette use causes nicotine addiction and can lead to teenagers becoming hooked on tobacco.
Of Electronic Cigarettes and Personal Vaporisers in Australia
Standing Committee on Health, Aged Care and Sport: Inquiry into the Use and Marketing of Electronic Cigarettes and Personal Vaporisers in Australia. A note of errors concerning the UK in previous evidence submissions to the Committee
It has come to Public Health England's attention that there were a series of factual errors in evidence provided to the committee by others. We wish to correct some of those errors which refer to the UK.
---
---
Cancer Research UK
Around 1 in 5 (19%) 11-15 year olds surveyed said they had ever smoked, a similar level to survey data from 2014. Around 3% of young people said they were regular smokers, down slightly from 2014.

This follows a period of sharper decline since 1996 when around half (49%) of young people surveyed said they had ever smoked.

Alyssa Best, tobacco policy advisor at Cancer Research UK, said that efforts to reduce smoking rates need to continue.
Brian Fojtik, Reason Foundation
Last month, Sen. Chuck Schumer (D-NY) called on Food and Drug Administration (FDA) Commissioner Scott Gottlieb to reverse his decision to delay implementation of draconian new federal regulations that many observers believe would be a de facto ban on the products. While Sen. Schumer claims the new regulations would treat e-cigarettes like other tobacco products, most observers believe the FDA regulations would treat vapor products more harshly than traditional cigarettes, with as many as three million new vapor products being banned while allowing real cigarettes to be sold the same as they always have been.
---

---
Brad Rodu, Tobacco Truth
Saying that e-cigarettes "carry long-term risks to the health of users and those around them," New York Governor Andrew Cuomo signed into law on October 23 a bill that bans indoor vaping.

The governor got his facts wrong. While e-cigarette usage rates have boomed over the past five years, there is no evidence that they have any significant short-, medium- or long-term health effects.
Jim McDonald, Vaping 360
A major chain of independent vape shops has sold a share of its business to cigarette manufacturer Altria.

Avail Vapor LLC is a Virginia-based company that owns 102 vape shops in 12 states. According to the Richmond Times-Dispatch, Altria revealed the purchase at and investor meeting in Richmond Thursday. Altria didn't specify how much cash was invested in the vapor business.

Carl V. Phillips, Daily Vaper
The FDA maintains a database of problem reports for products they regulate, which includes health effects and flaws in the product itself. Its primary purpose is to collect medical reports that might reveal previously undetected harmful side effects from pharmaceuticals and medical devices. But a harmful side effect of having this system is that problems with products the FDA regulates as tobacco – including e-cigarettes – are also reportable. The agency just decided to make this year's submissions public.
Jakarta
Users of electric cigarettes or vaporizers (vape) that are popular nowadays should prepare to spend more, because the government through the Directorate General of Customs and Excise at Ministry of Finance makes sure vape will be subject to excise duty of 57 percent which comes into force on July 1, 2018.

"The basic ingredients of this type of cigarette is liquid from tobacco, so of course this is object of the Customs Law whose consumption is still subject to excise," said Director General of Customs and Excise Heru Pambudi, Friday (11/3/2017)
Katie Johnson
Everyone has an opinion about vaping products but some of them are based on downright inaccurate information. You don't have to be a fan of vape pens to understand that they're safe to use in public and don't produce any vapors that could be harmful to the health of others. Here are the top 10 facts about vaping that most people seem to be getting wrong.
---
A look back at how things have moved on or otherwise….
Head Rambles
I came across another piece of "research" the other day. My new Best Buddies in ASH have discovered that "use of cigarettes remains low among young people".

And here was I thinking that all those poor cheeeldren were seeing people smoking in the street and on films and were being suckered into a [very] short lifetime of addiction, pain and disease. Apparently not?

"ASH has released new data today which finds no evidence that children are being recruited to smoking through their use of electronic cigarettes."

So no "gateway" theory then? Mind you, you lot were the only ones who believed in that rubbish so this must come as a bit of a shock?
Irish Vape Vendors Association (IVVA)
The ESRI (Economic and Social Research Institute) have today published the latest findings of the "Growing up in Ireland Survey". The survey is a government-backed initiative in conjunction with the Department of Children and Youth affairs, and Trinity College, Dublin, and which looks at a range of aspects of the lives of just over 6,000 17/18 year olds who have been participating in the study since 2007, when they were 9 years old.
Definition Of 'Independent' Edition – Dick Puddlecote
To ask the Secretary of State for Health, if he will undertake an independent review of the cumulative effect of tobacco control measures introduced by his Department in the last decade before moving forward with a fresh smoking strategy.

Well, it would be a good idea wouldn't it? To assess how successful – if at all – graphic health warnings, the vending machines ban, tobacco display ban and plain packaging have been…
---
Visit Nicotine Science & Policy for more News from around the World

---