Vapers Digest 6th November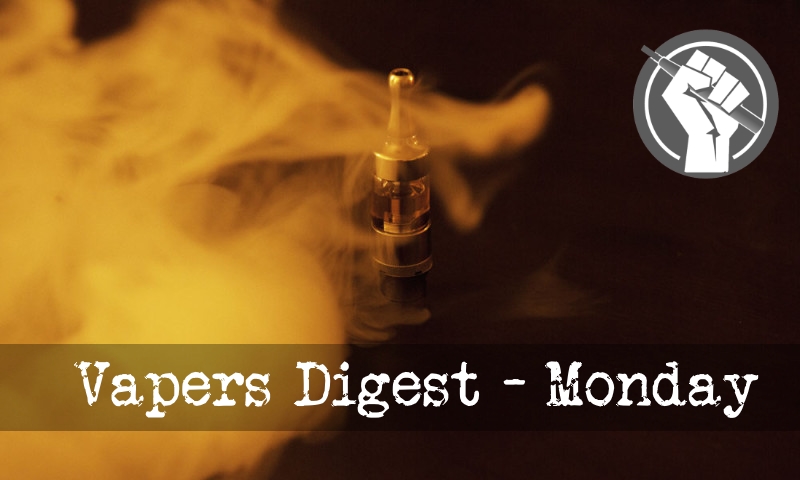 Monday's News at a glance:
Kerching! 11 More Years Of Failure Please – Bans spread further – Aldehyde emissions from e-cigarettes: – Good science lays to rest the myth about aldehydes – Negative perceptions about vaping – A conversation about e-cigarettes – Taiwan will ban sales of all vaping products – Turkey scraps plans to introduce safer tobacco alternatives – Nearly 5 Million British Smokers Attempted To Quit – Regular smoking in young people at record low – Anti-Vaping Research Studies – How Many People Vape Around The World? – Nicotine Science and Policy Daily Digest
Dick Puddlecote
Yesterday, The Sun wrote of a report on when the England might go 'smokefree' according to tobacco control criteria.

ENGLAND could be smoke-free by 2040, a new study has claimed.
The goal, which means less than five per cent of adults using cigarettes, is getting closer due to new tech such as e-cigarettes.
Current quitting rates mean it will take another 23 years to hit that level.
As NYC vendors fight over alleged harassment
Fergus Mason, Vaping Post
This was a bad week for vape bans, as New Jersey adopted the Tobacco 21 scheme and an English health trust outlawed e-cigarettes from all its premises. An Australian state is also pushing for a wide-ranging ban on public vaping. Meanwhile, Imperial Tobacco has purchased a specialist nicotine and e-liquid vendor, apparently in a bid to kick-start its innovation of new products, while two vape shop owners in New York are squaring up for a legal battle over what one says is a campaign of harassment aimed at his business.
---

---
Replication studies challenging previous reports
Dr Farsalinos
On December 15 2016, I was asked about my predictions for 2017 about the future of vaping and I mentioned that: "Bad quality studies accompanied by impressive press statements are becoming increasingly frequent … I think we will see some interesting developments in this aspect soon."

It took a few months but it is now time to deliver on that promise. You all remember the "hidden formaldehyde" research letter, which included a statement that e-cigarettes are 5 to 15 times more carcinogenic than smoking. The letter was accompanied by impressive media coverage through a press statement and a later award for the research group of $3.5 million for further research on this issue.
---
---
Dr Colin Mendelsohn
Two previous laboratory studies (Jensen 2015; Sleiman 2016) had tested vaping devices and found extremely high levels of aldehydes (formaldehyde, acetaldehyde and acrolein). Aldehydes are known to cause cancer and have other toxic effects. This led to sensational headlines claiming that vaping had a higher cancer risk than smoking.

However, the devices used had flawed designs which readily generated 'dry puffs'. Dry puffs occur when the heating coil is overheated by high power settings and the device is unable to deliver adequate e-liquid to the heating coil…
Jim McDonald, Vaping 360
Taiwan is strengthening its ban on e-cigarettes, and lawmakers claim the ban will protect teenagers from smoking.

The logic may be faulty, but the political leaders of the former Chinese province (which China still considers part of China) are sticking with it. Officials claim the ban will "lower smoking rates," according to the Taipei Times.
Gerry Stimson
Last month Turkey announced that it is withdrawing plans to start importing and producing Heat not Burn (HnB) products and electronic cigarettes. A motion that anti-smoking experts would label detrimental to public health and sadly the World Health Organization (WHO), is applauding.
The proportion of young people smoking in England regularly is the lowest on record, according to new figures .

But there are signs that falls in recent years are levelling off, with the proportion of young people who have ever tried a cigarette similar to figures in 2014.
Around 1 in 5 (19 percent) 11-15 year olds surveyed said they had ever smoked, a similar level to survey data from 2014 . Around 3 percent of young people said they were regular smokers, down slightly from 2014.
---

---
Dr Colin Mendelsohn
The Government and public health bodies should immediately start a continuous programme to accurately communicate the positive public health message of vaping to smokers.

This is the main goal from the UK Parliamentary report on E-cigarettes released today, State of the Vaping Nation.
Attempted To Quit In The Past 12 Months
Steve Birr, Daily Vaper
A study from V2 Cigs U.K. released Friday reveals that roughly 5 million smokers tried to quit cigarettes in the past 12 months. While most smokers who gave quitting a try did not make it through a month without picking up a cigarette, many were able to significantly cut back on their daily intake of tobacco. One-third of smokers tracked in the survey were able to reduce their daily cigarette consumption by 75 percent, reports West Sussex County Times.

Include Blatant Violations Of Ethics Rules
Carl V. Phillips, Daily Vaper
Tobacco controllers are astonishingly unethical. Some of their unethical behavior is obvious to any politically aware vaper. Unfortunately the obvious behavior violates no laws or professional norms. However, their treatment of human research subjects includes blatant violations of ethics rules, and it deserves more attention despite being more subtle.
Alastair Cohen
Ever since the introduction of e-cigarettes, vaping usage has exploded around the world. For those who vape, the practice can seem lonely at times. Those who don't actually know just how many people vape may easily assume that no one shares their passion. For a smoker, socialization is easy – there's always another smoker around to share a cigarette with.
---
A look back at how things have moved on or otherwise….
Dick Puddlecote
Today's edition of The Times carries an apology to the scientists and researchers it defamed in a couple of articles last month about the Global Tobacco and Nicotine Forum. This came about after those involved threatened to take legal action.

The articles concerned have now been pulled and the original URLstake you to the apology instead, but you can read some of what was said in screen grabs that I published here.
To scientists for defaming article – Dr Farsalinos
Few days ago, I presented the article by the newspaper The Timeswhich falsely accused scientists for performing studies with tobacco industry funds and for being under the pay roll of the tobacco industry. The title used in the article was "Academics making a packet", which was pretty insulting and of course totally wrong…
Mawsley – Planet of the Vapes
Glantz may be keeping a low profile in the coverage of his latest study but its findings won't find much disagreement from the vaping community. Cancer Research also sets its sights on Big Tobacco and cautions against claims made as a result of its fag-funded research. But is it fair to discount their input?
---
Visit Nicotine Science & Policy for more News from around the World

---