Vapers Digest November 5th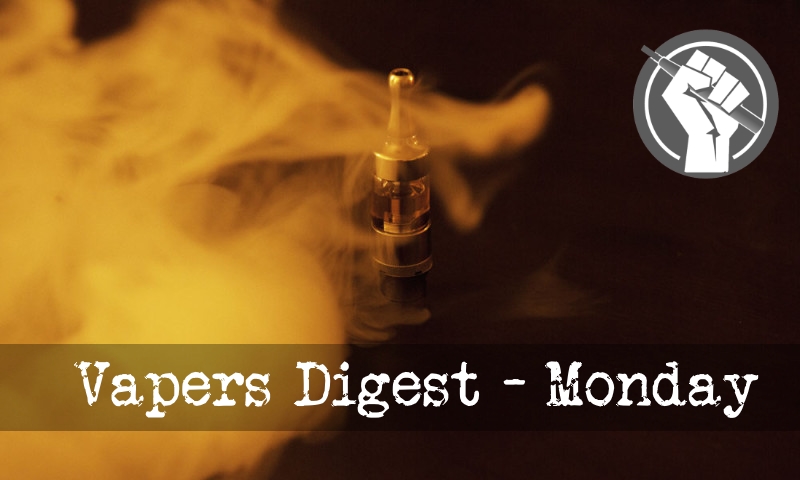 Monday's News at a glance:
Cretinous @DundeeCouncil, An Abusive Employer – Pressure on US vapers continues to rise – Protect and Duck and Cover and Survive – Current troublesome issues in E-cigarette Policy – Politicians wouldn't ban motorcycle helmets – Do Teen Vapers Need Big Pharma Intervention? – Why Traditional "Quit Smoking Methods" Have Consistently FAILED – Metals inhaled from vaping are not a health risk – Targeting Appropriate E-Cigarette Users – Smoking – Making a switch for the better – Vaping In The News November 3rd – Nicotine Science and Policy Daily Digest
An Abusive Employer – Dick Puddlecote
If you live in Dundee, I'd be very afraid if I were you, because your council is run by weapons grade idiots.

Now, I run a business and have to ensure that my staff are as competent as they can be or else the business fails, but it appears that you don't require even the slightest semblance of intelligence or awareness of what is going on around you to run Dundee Council.
Fergus Mason, Vaping Post
Research into vaping continues to be plagued by shoddy science and uncritical review, as a new paper claims to show that vaping causes heart disease – while totally failing to understand the basics of cause and effect. Meanwhile a leading investment bank says that while the FDA's war on vaping won't help tobacco companies in the long run it's likely to give their share prices a temporary boost. The American Cancer Society has weighed in again, with a deputy director calling for vapour products to be added to the society's annual anti-smoking campaign. Finally, the FDA is raising concerns about vitamin-containing e-liquids being sold by a number of companies as a way around regulations on health
---

---
Mawsley, Planet of the Vapes
The Food and Drug Administration and the Campaign for Tobacco-free Kids have jointly, apparently, produced an instructional booklet. It's an attack on vaping that is a laughable attempt to fuse 50's nostalgia with engendering a 70's-style fear of an apocalypse. Look at its pages and marvel at the audacity of an organisation bent on lying to everybody.
Like all reputable news providers, we refuse to name the source that leaked us this draft copy. All we can say is his name rhymes with Bimon Fapewell, and that he has been working deep undercover in the tobacco control fraternity.
Joel Nitzkin
As I see it, currently the Tobacco Harm Reduction (THR) and e-cigarette policy scene continues to evolve in a direction that will result in substantially more tobacco-related addiction, illness and death, than what would likely occur with the skilled addition of a THR component to tobacco control programming. A THR component could highlight e-cigarettes and related vapor devices as harm reduction modalities, recognizing the evidence to date as to their efficacy for smoking cessation and for diversion of teens away from a lifetime of nicotine addiction.
---
Nevermind, I think I got it.

60 out of 1000 kids (6%) have used Juul at least once in past 30 days.
56% out of those 60 kids have used Juul on 3+ days = 33 kids.
Almost half of those 33 kids have used Juul on 10+ days = 15 kids.
15 kids out of 1000 is 1.5%.

— Jukka Kelovuori (@jkelovuori) November 4, 2018
This! 💡💡💡 https://t.co/nfEQQjQVtX

— INNCOorg (@INNCOorg) November 5, 2018
---
So why do they ban safer tobacco products? – Mark Oates
You would hope that politicians – current or prospective – would rank improving the lives of their fellow citizens as one of their top priorities. Their approaches and methods would probably be different, with some viewing individual liberty as paramount and others willing to sacrifice certain freedoms for better health outcomes.
Jim McDonald, Vaping 360
The FDA is so concerned about the teen "vaping epidemic" that it may ask pharmaceutical companies to get involved.

The federal agency that is known for its close relationship with the pharma industry is holding a public meeting on Dec. 5 to discuss drug interventions for teen nicotine "addiction." The meeting is at the FDA White Oak campus in Silver Spring, MD. You can register to attend in person or to watch the event streamed live online. The webcast will also be archived on the FDA's website after the event.
---

---
Have Consistently FAILED – Marewa Glover
The chairs in the lobby of the hospital stop smoking clinic aren't made for comfort.

The dull pink concrete walls are stuck with graphic pictures of the 101 ways smoking can kill you.

Blood spurts from a dissected brain. A blackened foot has been eaten away by gangrene. A tiny infant stuck with tubes struggles for life in an incubator.

This is supposed to be motivating?
Are not a health risk – ATHRA
The daily exposure to metals from vaping are below established safety limits with normal use and are of minor health concern, according to a recently published study by leading researchers Konstantinos Farsalinos and Brad Rodu in Inhalation Toxicology.

Vaporisers use heating coils made of metals such as titanium, nickel, kanthal (iron-chromium-aluminium), nichrome (nickel-chromium with trace iron, copper, titanium, aluminum and others) and stainless steel. When the coil is heated, some metal is released into the surrounding e-liquid and then into the aerosol.
Drug War Veteran Punctures Panic Over Nicotine
In April, Commissioner Gottlieb announced a new segment of FDA's Comprehensive Plan for Tobacco and Nicotine Regulation focused on reducing access to – and use of – tobacco products, particularly e-cigarettes
"But as we work to keep kids from making the deadly progression from experimentation to regular cigarette use, it's imperative that we also make sure children and teenagers aren't getting hooked on more novel nicotine-delivery products." – Commissioner Gottlieb, April 24, 2018
FAIRUS ANUAR was always used to excusing himself from his wife and three children whenever he needed to smoke.

He did not want his family to be victims of passive smoking, and he would willingly go outdoors whenever he needed to light up at home.

But that changed two months ago. The 38-year-old online businessman gradually switched to electronic cigarettes (e-cigarettes) as an alternative to curb his smoking habit.

Mawsley, Planet of the Vapes
Juul Labs has increased its spend on lobbying in America. Here in the UK, Jawad Iqbal tells readers of The Times that he believe the UK Government needs to do more to support harm reduction. In New Zealand, Hāpai Te Hauora Tobacco Control criticises "misleading headlines" for misinforming smokers about vaping benefits. Oncologists told of vape benefits at the 23rd Annual Perspectives in Thoracic Oncology. Ravalli County Board of Health believes evidence doesn't support the continuation of a vape ban, but South Australia has banned online sales.
Kevin Crowley, Vaping Links
Vape shop owner considers suing Gallatin Co. Health Dept. ~ Metal emissions from e-cigarettes: a risk assessment analysis of a recently-published study ~ Truth's JUUL Study: Deception and Confusion ~ Gottlieb has lost his mind: cognitive dissonance ~ Climbing Mountains ~ I have a dream
ECig Click
Vape Industry Destroyed – Give Kids Drugs Instead Of E-Cigs! – Academics Want FDA Meeting – JUUL Makes Deal With Sainsbury's – HNB UK Tax – Council Bans Vaping Everywhere – Vaping and the Environment – Lung Cancer Rises and Vaping Opens Doors
---
A look back at how things have moved on or otherwise….
Institute of Economic Affairs
The introduction of safer, alternative nicotine products to the market should be celebrated. Deterring smokers from using e-cigarettes – which have much lower health risks associated with them – through restrictive regulation is nonsensical and counter-productive, particularly if politicians want to reduce smoking rates.

A raft of evidence shows that vaping leads to smoking cessation. Once e-cigarettes became mainstream, consumer products in the UK, smoking rates fell by nearly five percentage points in just four years. This progress has since been hampered by unnecessary EU regulation.
Dick Puddlecote
In recent weeks I've written about the ridiculous unintended consequences of the TPD towards vaping.

In August it was noteworthy at Vapefest that vendors were not selling pre-mixed e-liquid, but instead – because no-one wants to buy a whole load of 10ml bottles – were shifting large amounts of flavour concentrates to be mixed at home.
Daniel Pryor – Adam Smith Institute
Britain's approach to regulating e-cigarettes was one of the best in the world, until the EU's nonsensical Tobacco Products Directive (TPD) severely hampered the growth of this life-saving market. Thankfully, "Brexit offers an opportunity to return to a more liberal regulatory regime to the benefit of consumers and British businesses" according to a new report released today by the Institute for Economic Affairs. We will soon have the chance to become a true #VapeNaysh: something that we at the Adam Smith Institute are very enthusiastic about.
---
Visit Nicotine Science & Policy for more News from around the World

---