Vaping Digest October 23rd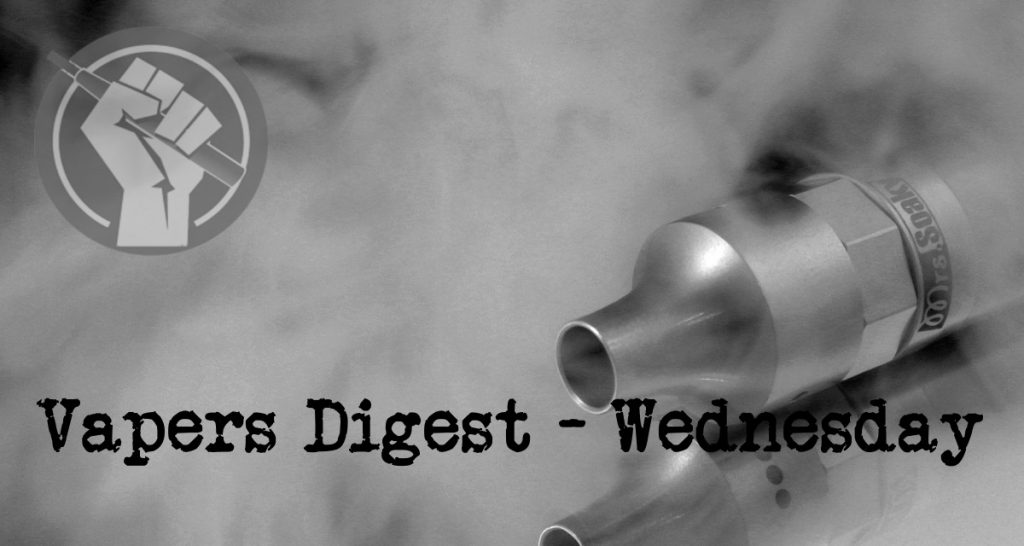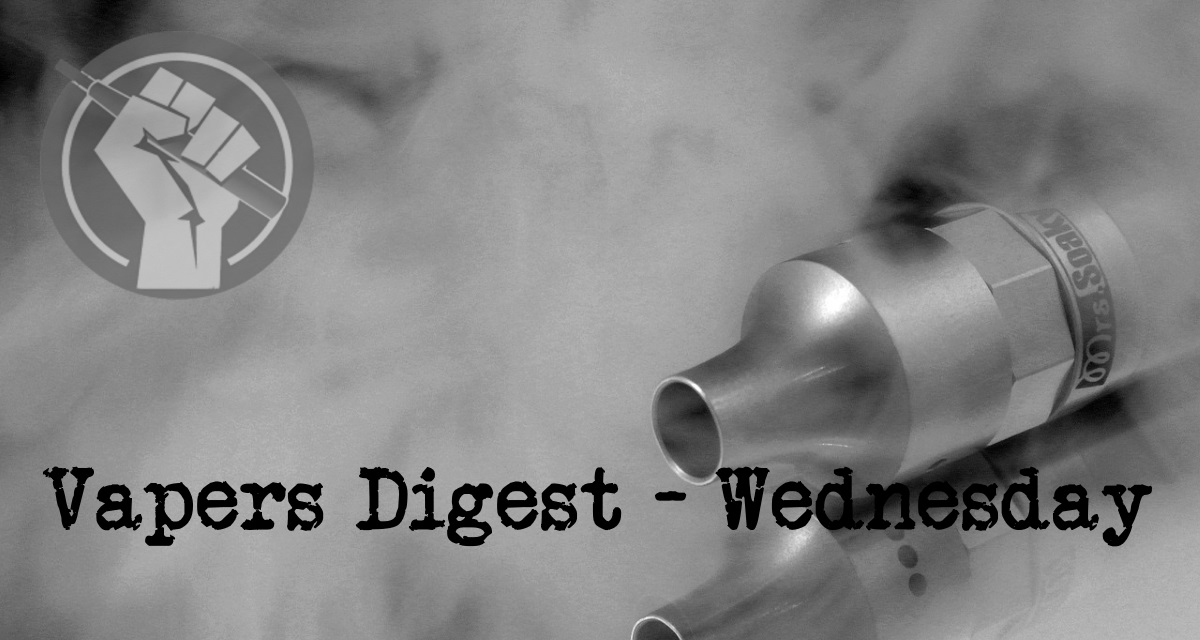 Wednesday's News at a glance:
FDA grants first-ever modified risk orders to eight smokeless tobacco products ~ Blocking The Bans ~ Is the government putting tax dollars before the health of smokers? ~ Tips to react to the vaping hysteria ~ Scares over vaping illness could put lives at risk, PHE warns ~ New CDC Report Out Today Makes it Even Less Likely that Store-Bought Nicotine E-Cigarettes are Playing Any Role in the Outbreak ~ IVVA Welcome Minister Harris Proposed Ban on Sale of eCigarettes to Under 18's ~ The State of Vaping in the UK – A Battle Scarred Veteran's View ~ Vaping Helps UK Smokers Quit ~ Neuroscience Culture and the Sins of Vaping ~ The creator of the nicotine patch says that 'anti-vaping forces' are trying to kill the life-saving e-cig industry ~ The Great Vape Awakening ~ Scientist Says Vaping Is "Shown Safe" | Lung Hysteria Is "Misleading" ~ Malaysia wants to regulate e-cigarettes ~ Politicians Are Shamelessly Lying to You About Vaping ~ Improved product characteristics of nicotine gums
Food and Drug Administration
The U.S. Food and Drug Administration announced today that, for the first time, it has authorized the marketing of products through the modified risk tobacco product (MRTP) pathway. The authorizations are for eight Swedish Match USA, Inc. snus smokeless tobacco products sold under the "General" brand name.
Dave Cross, Planet Of The Vapes
Individual states and weak-minded politicians have been lining up in the USA to try to benefit politically or financially from the recent outbreak of THC-related deaths. Rushing to push 'executive orders', bypassing the legislative process, to prohibit the sale of vape products caused uproar and disbelief. The legal challenges to these undemocratic moves is meeting with success.
Australian Tobacco Harm Reduction Association (ATHRA)
In 2015/16 smoking killed over 20,000 Australians and cost the country $136 billion, according to a new report. The report concludes that Australia 'needs to continue to invest in strategies to prevent and reduce smoking, and the associated significant morbidity and mortality'.
Center of Excellence for the Acceleration of HArm Reduction (CoEHAR)
What is happening in the United States of America (18 deaths linked to lung diseases) is most certainly due to contamination of cannabis products for inhalation ("vaping") with dangerous adulterants (in many cases solvents for Vitamin E tocopherol) sold in the USA black market. Both the FDA (Food and Drug Administration) and the CDC (US Centers for Disease Control and Prevention) now acknowledge that the outbreak resulting in hospitalizations for severe respiratory illnesses, including 18 deaths, that occurred during these past months are caused by the use of counterfeit cannabis liquids. There is no evidence that conventional, commercial nicotine e-liquid has ever caused acute lung intoxication.
---

---
The Pharmaceutical Journal

,
Public Health England is concerned that people who use e-cigarettes as a smoking cessation tool may be put off by news from the United States, potentially increasing the risk of relapse.
that Store-Bought Nicotine E-Cigarettes are Playing Any Role in the Outbreak
Michael Siegel, The Rest of the Story
A new report published today in the MMWR summarizes the results of the most detailed investigation to date of cases of the outbreak of vaping-associated respiratory illness, focusing on the 83 confirmed cases occurring in the state of Utah. The key findings of the report are as follows:

92% of the patients for whom product use was ascertained admitted to using THC vapes (only 3 out of 53 – 6% – did not).
Of the THC products tested, 89% contained vitamin E acetate oil.
No abnormalities were found in any of the nicotine e-liquids tested.
The report concludes that "unregulated THC-containing cartridges play an important role in this outbreak."
Irish Vape Vendors Association (IVVA)
Following today's meeting with cabinet where Minister Simon Harris brought forward proposed legislation to prohibit the sale of vaping products to those under 18, the Irish Vape Vendors Association (IVVA) welcomes this development. Speaking about today's announcement Joanne O' Connell, Director of IVVA says "When IVVA was founded in 2014, one of the very first rules to be included in our Code of Conduct, was that IVVA members do not sell ecigarette products to those under 18 years of age. This policy is strictly enforced by all our members, and we welcome legislation that will back up our existing policy."
Independent British Vape Trade Association (IBVTA)
Running a company such as Totally Wicked is often unlike running a normal business; this is primarily due to the products we manufacture and sell, and 'opinions' that can often have a profound effect on the understanding of what our products are, and why we exist to serve our customers. Across the past 10 years or so, vaping has travelled a very challenging path to what we justifiably believed was a position of acceptance in the UK, often grudgingly for many, but acceptance nonetheless. Businesses have matured along with the range, complexity and quality of the products that are available. This maturity, albeit lagging often a long way behind, has been matched with a growing appreciation of vaping's enormous potential, as demonstrated through the experiences of millions of ex-smokers. Indeed, the UK is a world leader in not only the proportion of ex-smokers who have found vaping as their gateway out of smoking's grasp, but also in the relatively positive environment UK vaping finds itself.
Dave Cross, Planet Of The Vapes
UK store sales have held firm despite the rash of bad news from the United States, according to The Convenience Store. Sales are "growing at 37% in value year-on-year". On the back of this good news comes new research that says vaping helps between 50,000 and 70,000 quit smoking in England every year.
---
---
Ronald W. Dworkin, The American Interest
The Centers for Disease Control (CDC) recently reported more than 500 cases of severe respiratory illness from vaping, including several deaths. What is curious is how the CDC emphasized the role of e-cigarettes in all this, while practically ignoring the fact that most of the cases involved inappropriate usage of the devices. Many of the victims had laced the devices, which exist to provide a safer way to inhale nicotine, with THC and CBD oils found in cannabis.

Hilary Brueck, Insider
Nicotine researcher Jed Rose has been on the cutting edge of smoking cessation products since the 1980s.

Rose was the first person to develop a nicotine patch, and he also pioneered an e-cig that he said was "a bit too far ahead of its time," and never made it to market.

You could say that Jed Rose has spent his entire career — his entire life, even — trying to get people to smoke fewer cigarettes.
---

---
Elizebeth Sheld, Real Clear Policy
Legislative momentum continues to build for action against vaping in the wake of highly publicized deaths and illnesses vaguely attributed to the industry. Desperate to appear responsive to a purported public-health crisis, states including New York, Michigan, Washington, Massachusetts, Oregon, Rhode Island, Ohio, and California are moving to ban sales of certain e-cigarette products or have done so already. The legislative target has already moved subtly from black-market cannabis poisoning — the most likely culprit for these deaths — to the unrelated and heavily hyped "youth flavor-vaping epidemic." Some cities have already banned flavored e-cigarettes.

Brent Stafford, Regulator Watch
As hysteria over the so-called "vaping-related lung illness" proceeds unabated, the attack on science that supports vaping as a less harmful alternative to smoking is renewed in earnest.

Key findings of harm reduction science: vaping is 95% safer than smoking; nicotine is not carcinogenetic; vaping is not a gateway to teen smoking; and much more is systematically being undermined by a deliberate campaign to destroy vaping.

In this edition of RegWatch hear world-leading scientist Dr. Lion Shahab from the Institute of Epidemiology & Health, University College London address the what he calls the "misleading" hysteria over vaping-related lung disease and how a decade of use, by over 40 million vapers worldwide, shows vaping to be safe.
Liyana Hasnan, The Asean Post
E-cigarettes and vaping devices (EVC) have dominated the public and academic debate on tobacco control since its introduction into the market. Now, Malaysia is looking to introduce stricter regulations on the sale and use of EVC, placing it together with tobacco products under a single law that would prohibit promotions and advertising, usage in public areas and use by minors.
Chris Talgo, Inside Sources
Infamous Nazi Germany propaganda minister Joseph Goebbels once said, "If you tell a lie big enough and keep repeating it, people will eventually come to believe it." Unfortunately, almost 80 years later, Goebbels' maxim is alive and well in the United States.

Over the last few weeks, the political class (with assistance from the mainstream media) has peddled a flat-out, reprehensible lie about the recent wave of hospitalizations supposedly due to vaping.

Their "story" is completely false. Politicians and their media allies know it's false; however, they keep pushing the Big Lie.
an unexplored area for higher compliance with nicotine replacement therapy.
PubMed
(Editor note: This is from 2011!)

Product characteristics of nicotine gums, such as crunchiness, sweetness and flavour, appear to be crucial for the expectations that smokers have in the likelihood that any particular nicotine gum will help them to quit smoking. Thus, improved organoleptic characteristics of nicotine gums may lead to higher compliance, resulting in higher plasma nicotine levels and thereby in a higher quit rate.
---
A look back at how things have moved on or otherwise….
Disinformation Abounds – Carl V. Phillips
There is no place more vape-friendly than the UK, with it high usage prevalence and relatively few harmful laws. But according to a recent survey commissioned by British American Tobacco, many British are still ignorant about e-cigarettes.

BAT, the maker of Vype e-cigarettes, reported in a recent press release that only 52 percent of ever-smokers in the UK believed vaping to be less harmful than smoking. Further data obtained from the researchers that conducted the survey show even worse news
Mawsley, Planet of the Vapes
The global opinion to electronic cigarettes is shifting; in some countries it may be moving at a snail's pace, but the progress is undeniable. It seems as though the UK is driving the change in opinions but some countries are being resolutely stubborn. One such location is Australia, and its legislators are being hit with demands to rethink their current position as a matter of urgency.
 Margot Taylor
As cigarette smoking continues to become less socially acceptable, the use of vaporisers and e-cigarettes is increasing. Margot Taylor talks to the lead researcher in the word's largest trial on the role of e-cigarettes in quitting smoking, and people who have swapped cigarettes for vaporisers, about the rise of vape culture.
---
Visit Nicotine Science & Policy for more News from around the World

---