Vaping Digest October 21st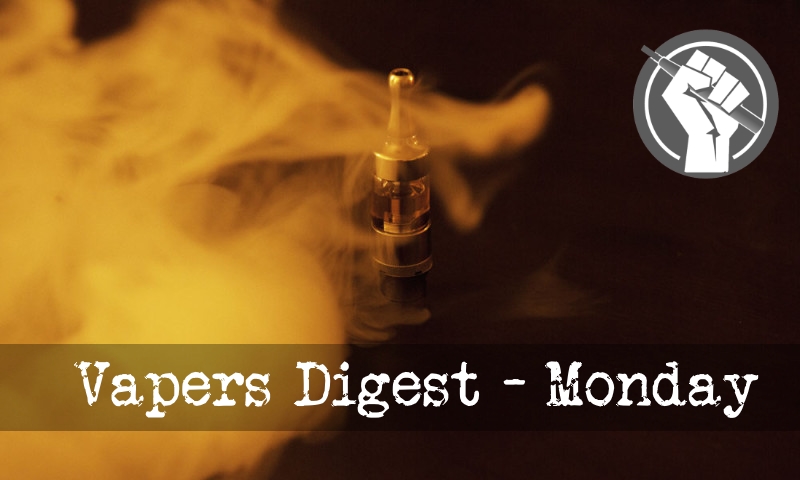 Monday's News at a glance:
Time for The Lancet to realign with the evidence on e-cigarettes? – Vaping In The News – October 19th – World First Med Vape Claim – Vaping products now sold in NZ pharmacies – Prof Counters Dame Sally's Ban Proposal – Is Vaping Safer Than Smoking? – Why the FDA Shouldn't Ban or Overregulate E-Cigarette Products – I heard vaping wasn't safe – Juul Betrays Its Customers – Unless Singapore Legalises Vaping – Erdogan says he will never allow vaping – Nicotine Science and Policy Daily Digest
With the evidence on e-cigarettes? – John N Newton
At a time of crisis, there is pressure to act, but at such a time, it is especially important that any action is informed by rational assessment of the relevant scientific evidence. The ongoing outbreak of vaping-associated respiratory illness in the USA is a case in point. A serious problem such as this requires a serious and well informed response.

The US Centers for Disease Control and Prevention are currently engaged in evaluating information on some 1300 cases of lung disease, including 26 deaths.1 The investigation continues, but results so far strongly implicate use of illicit tetrahydrocannabinol products in vaping fluids as a cause.
Kevin Crowley, Vaping Links
Are you listening? ~ Do YOU vape and vote? ~ Are you coming to D.C. on November 9th? ~ Congress Believes Social Media Bots Enticed Minors To Vape ~ Vaping Twitter Bot Study is Dehumanizing Propaganda ~ New Pro-Vaping TV Commercial is Aimed at President Trump ~ Vape Rally At The White House! You Don't Want To Miss This ~ Regulate, but don't ban, flavored e-cigarettes ~ Please take the time to listen to Supervisor Gaspar. ~ Appropriate for the protection of public health ~ Five myths about vaping ~ State court halts Whitmer's flavored vaping ban ~ Oregon appeals court halts governor's vaping ban on flavored tobacco products ~ Dr. Glover joined us on Smoke-Free Radio
---

---
Dave Cross, Planet of the Vapes
The brand owners believe this to be a world-first, a vaping system branded specifically for the healthcare sector, now available in many pharmacies throughout New Zealand. The off-the-shelf product, branded 'Vapix', is marketed to smokers over 18 years of age, encouraging them to "Make The Switch".

Vapix's Kiwi owners and developers say getting a high-quality vaping product into pharmacies is well overdue. The move has also been welcomed by many in the health sector.
NZ Herald
Vaping products are now being sold on pharmacy shelves throughout New Zealand.

Vaping company Vapix, which is branded as a health product, is now being sold in Unichem and Life Pharmacy stores around the country.

The product is only available to those older than 18 and is marketed at smokers, encouraging them to "make the switch".
---
---
Dave Cross, Planet of the Vapes
Dame Sally Davies left her post as England's Chief Medical Officer at the beginning of the month but still believes her opinions hold weight as she calls for an American style ban on eliquid flavours. Experts have lined up to point out the shortcomings in her logic.

The doctor who failed her eleven-plus recently said: "Vaping is a lot safer than smoking tobacco and probably a good way to help people quit. But I would prefer it if we did not have flavoured e-cigarettes because I think that is the kind of marketing that can appeal to children. I think we don't know what the long-term consequences are."
Steam Powered Human
Here's the basic problem with that question. It has been answered. Public Health England (PHE) [and the Royal College of Physicians (RCP), the guys that told the world in 1960 that smoking caused cancer] reviewed all the evidence EVERY year. That's ALL the evidence – good & bad. After doing this for a couple years, in 2015 PHE and the RCP independently determined that, even with the known dangers, vaping was safer than smoking. So much safer in fact, that they recommended that it should be promoted. PHE continues to update their review as new information becomes available. Why? Because they're really into this thing called science and public health.

Or Overregulate E-Cigarette Products – J.J. Rich
When will we learn the lesson that the government's response to prohibit products doesn't work? Just as alcohol prohibition provoked thousands of alcohol-related poisonings from bootleggers and the recent reductions in opioid prescriptions increased heroin overdose deaths, removing e-cigarette flavors from the regulated market, as the Food and Drug Administration (FDA) is poised to do very soon, poses a grave risk to public health.

We've already seen several local governments attempting to curb vaping with similar regulation. Cities throughout the nation are considering banning all e-cigarettes and vaping devices or raising the legal age for purchase to 21. And with the FDA piling on, the assault on vapes has never been so heavy.
It made my smoking-cessation aid seem oddly cooler – Zack Rosebrugh
Taped on the glass display inside the local, boutique vape shop I go to last week was a piece of paper with the words "Clearance Sale" on it. It was, quite literally, a bad sign.

The man behind the counter nodded his head gravely as he gripped his own vape like a rosary and confirmed that the store would be closing in two weeks. My heart sank — a cardiovascular condition could be attributed to my decade-long smoking habit. But I knew the real cause. The Great Vape Scare of 2019 had claimed another victim.
---

---
Pre-Emptively Eliminating Most of Its E-Cigarette Flavors – Jacob Sullum
After the Food and Drug Administration (FDA) revealed its plans to restrict sales of flavored e-cigarettes last year, Juul Labs, which makes the dominant brand, pre-emptively stopped supplying most of its pod varieties to brick-and-mortar stores. Yesterday, a month after the FDA said it would ban every e-cigarette flavor except tobacco, Juul announced that it will no longer sell most of its flavors online either. While tobacco, mint, and menthol pods are still available on Juul's website, the company says it will not resume selling mango, fruit, cucumber, or "creme" unless and until the FDA officially approves those products. The agency won't do that until it has reviewed a "premarket tobacco application" (PMTA) for each flavor.
Causing Users to Start Smoking Again? – Rich Duprey
The number of deaths being attributed to the recent electronic cigarette health scare has risen to 33, while nearly 1,500 have suffered some lung illness or injury. The U.S. Centers for Disease Control says almost everyone who gets sick requires hospitalization, and half the cases require intensive care.

Although most of those who got sick reported having used THC, the psychoactive compound found in marijuana, and many had obtained a THC-laced e-liquid by purchasing an illicit brand on the internet or in vape shops, officials still don't know what's causing the illnesses and deaths, and it is beginning to take a toll on the e-cig industry.

Singaporeans Might Soon Start Dying From It – Justin Vanderstraaten
Everyone knows someone who vapes. Instead of smoking combustible cigarettes, these friends, friends of friends, or acquaintances puff on e-cigarettes or heated tobacco products, which sometimes emit huge clouds made up of vapour.

These e-cigarettes and heated tobacco products have been scientifically proven to be less harmful than combustible cigarettes, while also useful in getting smokers to quit altogether. But if you've been keeping up with the news, then the fact that we all know someone who vapes can suddenly feel like an epidemic just waiting to happen.
Bangladesh Sangbad Sangstha . Dhaka
Information minister Hasan Mahmud on Friday underscored the need for banning the import of e-cigarette considering its adverse impacts on public health.

'Import of e-cigarette should be banned in our country. Social resistance should be built against importers of e-cigarette,' he told a roundtable on 'Emerging tobacco products and Bangladesh: What to do in present context' at National Heart Foundation Hospital and Research Institute auditorium in Dhaka.
Turkish President Tayyip Erdogan said on Sunday he will never allow electronic cigarette companies to produce their products in Turkey, urging Turks to drink tea instead.

Speaking at an event against smoking in Istanbul, Erdogan said he had ordered his Trade Minister "never" to allow e-cigarettes in Turkey and said that tobacco companies were "getting rich by poisoning" people.

"They asked us for a place and permission to produce these (e-cigarettes). We didn't give it to them and we will not," he said, without saying which firm or firms he was referring to.
Insists it's real in wake of bot reports
A large number of vapers are using several hashtags on social media to voice their concerns with a proposal from President Donald Trump's administration to ban the sale of all non-tobacco-flavored e-cigarettes and similar plans and actions in a number of states.

In early September, the Trump administration announced that it was working on a policy that would bar the sale of any non-flavored e-cigarettes, including mint and menthol.
---
A look back at how things have moved on or otherwise….
Dick Puddlecote
Still bogged down in Puddlecoteville with real life, I'm afraid. I keep meaning to get round to write about recent trips including Geneva to see what the global cult of tobacco control was doing at COP8 at the start of the month, and I will do so soon.

In the meantime, you may have missed this article at the Telegraph in its 'premium' section, meaning you have to pay to access it.
New Nicotine Alliance
We are hearing that, yesterday, the Italian grass roots consumer group Associazione Nazionale per i Vapers Uniti(The National Association of United Vapers) has written to the Deputy Chairman of the Italian Council of Ministers, Hon. Matteo Salvini, to protest the Italian government's treatment of vaping products.
The ANPVU launched in April with its primary objective being to promote harm reduction and introduce smokers to safer ways of using nicotine. This has been difficult in Italy which enforces a blatantly anti-vaping agenda by way of policies designed more to raise tax than to encourage smokers to switch to less harmful alternatives.
---
Visit Nicotine Science & Policy for more News from around the World

---