Vapers Digest October 19th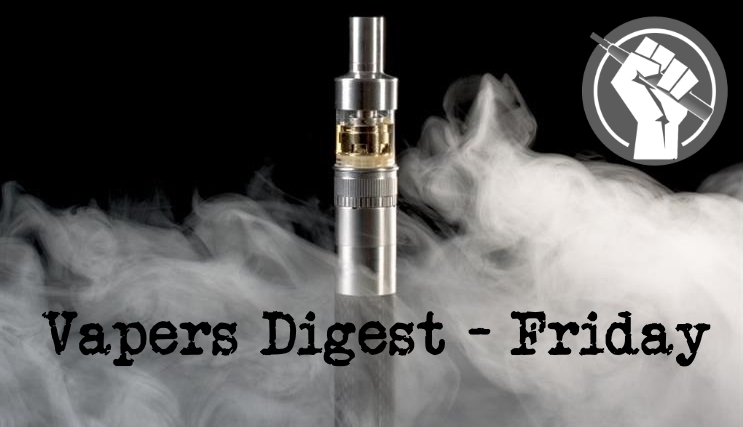 Friday's News at a glance:
How Dare You Reduce Harm! – Italian vapers say people matter more than money – Harry's blog 72: Heat and Burn – Tobacco is way out of FDA's skill-set – Nicoventures No-No – Vaping Is Helping More Smokers Quit – South Park Vapes – November 13th Stakeholder Event – Why We Work With the Tobacco Industry – FDA to consider limiting e-cig sales to vape shops – Huge push for Australia to join the UK and legalise vaping – Vaping – the double-edged sword – Vaping ban discriminates against smokers with mental illness – Governmental Attack on JUULing is Unsound – Nicotine Science and Policy Daily Digest
Dick Puddlecote
Still bogged down in Puddlecoteville with real life, I'm afraid. I keep meaning to get round to write about recent trips including Geneva to see what the global cult of tobacco control was doing at COP8 at the start of the month, and I will do so soon.

In the meantime, you may have missed this article at the Telegraph in its 'premium' section, meaning you have to pay to access it.
New Nicotine Alliance
We are hearing that, yesterday, the Italian grass roots consumer group Associazione Nazionale per i Vapers Uniti(The National Association of United Vapers) has written to the Deputy Chairman of the Italian Council of Ministers, Hon. Matteo Salvini, to protest the Italian government's treatment of vaping products.
The ANPVU launched in April with its primary objective being to promote harm reduction and introduce smokers to safer ways of using nicotine. This has been difficult in Italy which enforces a blatantly anti-vaping agenda by way of policies designed more to raise tax than to encourage smokers to switch to less harmful alternatives.
---

---
Harry Shapiro
OK I am not surprised that the report I wrote with a team of honest and dedicated people gets summarily dismissed by the Bloomberg shills at the FCTC and all their cronies as simply a product of 'tobacco influence'. But that doesn't stop me from fuming. Ordinarily I would dismiss this as so much white noise, but I was asked in Geneva by a member of the Framework Convention Alliance, who was genuinely interested, what role Big Tobacco or more specifically the Foundation for a Smoke-Free World played in the production of the report. So here goes.
Carl V. Phillips, Anti-THR Lies
I have written repeatedly about how FDA is totally outside their comfort zone and skill-set in dealing with tobacco products. The most obvious example might be them trying to deal with data from e-cigarette manufacturers, which caused their computer systems to melt down multiple times. I would guess it is a bigger database than every other database they have, combined, and is still growing.
---
Thema der Woche:
Die Drogenbeauftragte der deutschen Bundesregierung, Marlene Mortler, hat die Chance verpasst, die E-Dampfe der Kategorie Tabakschadensminimierung (Tobacco Harm Reduction) zuzuordnen…. https://t.co/1day6y9rsA

— IG-ED (@ig_ed) October 19, 2018
This is an excellent idea for a campaign for UK community activists. Tobacco controllers (and other anti-tobacco forces like pharma companies) feel a sense of impunity about launching whatever attacks they want because no one ever counterattacks. Changing that would matter. https://t.co/16FIWEW7kq

— Carl V Phillips (@carlvphillips) October 17, 2018
Global sales of #vaping products (orange) surpassed NRT products (blue) during 2013 and the trend continues. The preference of smokers is increasingly clear.
Source: Foundation for a Smoke-Free World: https://t.co/O8p6mqj0eC pic.twitter.com/D5aMRaYArl

— Colin Mendelsohn (@ColinMendelsohn) October 17, 2018
---
Mawsley, Planet of the Vapes
Johnson & Johnson Ltd, owners of the Nicorette® brand, has spent time scanning the websites of the companies selling vape products, as vaping is robbing it of sales of it's nicotine replacement therapies. How they must have squealed in delight in the boardroom when they discovered some breaches of the advertising regulations by Nicoventures Trading Ltd. Complaints were sent to The Advertising Standards Authority (ASA).
Jim McDonald, Vaping 360
A new study confirms previous research showing that vaping increases quit attempts by smokers, and leads to smoking cessation more often. The results provide more evidence that smokers who use e-cigarettes are more likely to quit smoking.

The study, by a team from Washington University School of Medicine in St. Louis, was published in the journal Nicotine and Tobacco Research. The researchers examined data on smokers aged 25-44 from two large U.S. government surveys
Mawsley, Planet of the Vapes
South Park is a cult American cartoon series created by Trey Parker and Matt Stone. The duo term themselves "equal opportunity offenders" and have managed to upset many people. Wednesday's episode turns its focus on vaping as Butters sells flavoured pods to the kids in South Park Elementary.

Parker and Stone have said that no topic or group of people is exempt from mockery and satire, and they hold no truck with political correctness. Previously, they have depicted Tom Cruise and John Travolta as being gay but in denial, attacked Christianity, Mormonism, Islam and the scientologists.
---

---
Foundation for a Smoke-Free World
We're proud of the work we've done this year—we've released our preliminary Health, Science, and Technology agenda, initiated our RFP to create better biomarkers of exposure to nicotine delivery products, stimulated organizations to address an RFP aimed at developing a Smoke-Free Index, and partnered with Palladium to develop the Malawi Center of Excellence—but this is just the beginning.
John Hughes, Karl Fagerstrom, Jack Henningfield, Brad Rodu, Jed Rose, Saul Shiffman
This letter discusses the ethical issues when scientists work with the tobacco industry on less-risky tobacco products. The authors have consulted with or received research grants from tobacco companies related to less-risky tobacco products. We do this because the goal of tobacco/nicotine science should be a reduction in tobacco-related morbidity and mortality, and that harm reduction products can play a major role in achieving this goal. Given this focus, we limit our work with the industry to projects involving reduced-risk products.

Angelica LaVito, CNBC
Regulators are considering prohibiting some e-cigarette sales in convenience stores and confining them to vape shops, Food and Drug Administration Commissioner Scott Gottlieb told CNBC on Friday.

High school e-cigarette use surged 77 percent last year, Gottlieb said in an interview on "Squawk Box," citing preliminary figures from the federal Youth Tobacco Survey. Middle school use skyrocketed about 50 percent last year, he said. Gottlieb has called these levels "epidemic."
To join the UK and legalise vaping – Ben Hill
There is increasing pressure to legalise vaping as the price of cigarettes in Australia – already the highest in the world – continues to soar. One Nation Senator Peter Georgiou has backed the legalisation of electronic cigarettes, saying the high cost of tobacco was 'price gouging'.

'We seem more concerned about slugging smokers as much as we can to fatten up the government coffers,' he said in a speech to the Senate. 'Is the government more concerned about its coffers drying up if people switch to vaping?'
Shane De La Haye
The global cigarette industry has been in decline for the last five years. Cigarette demand peaked in 2012 with around six trillion cigarettes being consumed worldwide.

Since then, the volume of consumption has declined by 9.2% (CAGR -1.9%) to 5.4 trillion cigarettes in 2017. The decline in volume has been driven by a number of factors including rising regulation, higher excise duties, growing consumer health consciousness as well as the availability of cheaper alternatives.
ATHRA
ATHRA director, Stephen Elsom has produced a short film (see below) to highlight the plight of Australian smokers with mental illness who are particularly affected by the ban on nicotine e-liquid for vaping.

Vapers must purchase their nicotine online from overseas vendors. However, people with severe and persistent mental illness often find online shopping difficult or impossible, in some cases because of cognitive deficits but more often because they do not have the necessary resources such as credit card, Paypal account and internet access.
Will Dancer, The Torch
With any new fad, there is bound to be resistance, and the anti-vaping campaign led by the FDA is the latest hot-button issue for many. There is growing concern about the use of vaping devices, JUUL especially, among underaged teens and it's reached such epidemic proportions that the federal government feels the need to step in and send out some very explicit warnings
---
A look back at how things have moved on or otherwise….
Paul Barnes, Facts Do Matter
Remember when anti-smoking campaigners just wanted no smoking zones in restaurants? Or how smoking was banned on flights – for various reasons, the overriding one being "public health" – the biggest lie ever told?

Over the years, puritanical anti-smokers have insisted on the ever-increasing prohibition on where smokers can enjoy their legal habit. Culminating, of course, in the 2006/2007 nationwide smoking bansin all public places.
Harry Shapiro
Cigarette smoking continues its rapid decline in Japan while the upward trajectory of smokers seeking alternative nicotine products shows no signs of slowing down. According to PMI a small percentage (calculated variously at between 5—15%) of their IQOS customers are dual users, but the rest have fully converted. The access to the market for companies like PMI afforded by the Japanese government plays a big part in this..
---
Visit Nicotine Science & Policy for more News from around the World

---