Vapers Digest 19th October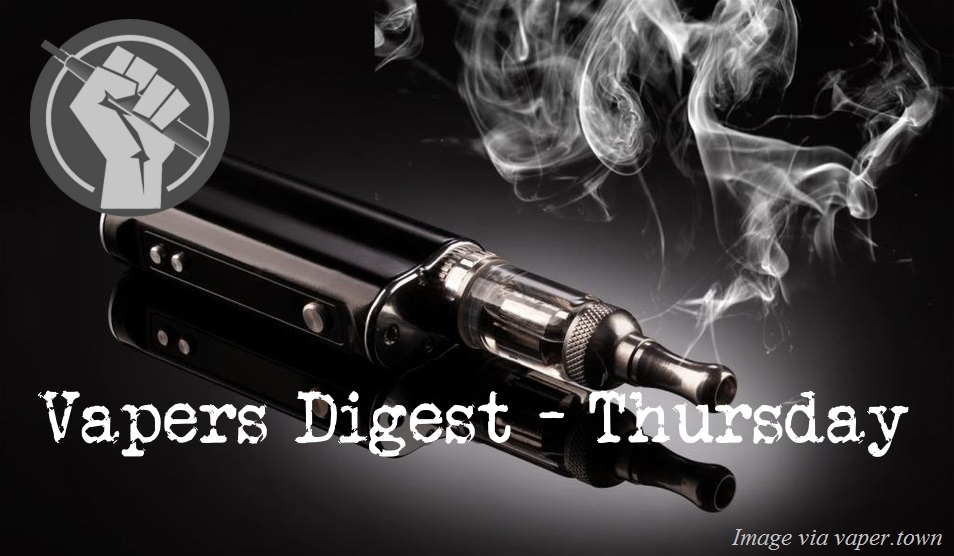 Thursday's News at a glance:
No Such Thing As The Slippery Slope – Land of the Rising Sum – The Latest Form of Witch-hunting? – Mugabe: WHO Role Model Of The Month – New Vaping Insights – Make space for the vapes – Tobacco Control Plan – Canada's 'abstinence only' approach – A brief history of vaping – Dubai cracks down on public vaping – Coming Down With The Vapers – Vaping can improve public health – San Leandro bans flavored tobacco – E-Cigs and Your Teeth – Nicotine Science and Policy Daily Digest
Paul Barnes, Facts Do Matter
Remember when anti-smoking campaigners just wanted no smoking zones in restaurants? Or how smoking was banned on flights – for various reasons, the overriding one being "public health" – the biggest lie ever told?

Over the years, puritanical anti-smokers have insisted on the ever-increasing prohibition on where smokers can enjoy their legal habit. Culminating, of course, in the 2006/2007 nationwide smoking bansin all public places.
Harry Shapiro
Cigarette smoking continues its rapid decline in Japan while the upward trajectory of smokers seeking alternative nicotine products shows no signs of slowing down. According to PMI a small percentage (calculated variously at between 5—15%) of their IQOS customers are dual users, but the rest have fully converted. The access to the market for companies like PMI afforded by the Japanese government plays a big part in this..
---

---
Bolton Smokers Club
A question was asked on the TV programme 'Tipping Point' this afternoon. It was something like 'What event happened in Pendle in Lancashire in 1500 (?) which resulted in the execution of X women?' The answer was 'witch-hunt', or something similar. I hear these things only incidentally, although I must admit that 'Tipping Point' is easy watching…
Dick Puddlecote
Only last month we saw a WHO regional director holding up North Korea as a global beacon in 'progressive' health policy by banning e-cigs. However, I think this month they have topped even that.

The World Health Organization (WHO) on Wednesday appointed President Robert Mugabe as a global health ambassador for Africa to help governments tackle chronic diseases such as diabetes, stroke, cancer and heart disease.
---
---
Based on FDA's PATH Survey 2013-2014
Brad Rodu, Tobacco Truth
Analyzing data from the baseline 2013-14 FDA-funded Population Assessment of Tobacco and Health (PATH) Study, my economist colleague Dr. Nantaporn Plurphanswat and I have produced a comprehensive study of e-cigarette use in the United States.  The research appears in the journalNicotine & Tobacco Research (abstract here).
Tobacco Control Plan – Thursday 19 October 2017
Convenience Store News
With the UK retail vaping market worth almost £160m, c-store retailers can't afford to ignore the growing potential of this lucrative category.

Vaping is the future: that's the message being received loud and clear from retailers, suppliers and statisticians alike. After all, according to Nielsen data, the UK retail vaping market is currently worth almost £160m
---

---
Brian Lee Crowley
Shocking, I know, but the sorry truth is people are going to have sex. That includes teenagers. That's why a government sex-education policy based solely on promoting abstinence would not only be laughable. It would rightly be condemned as irresponsible.

Alas this is exactly how governments in Canada want to protect us from the harms associated with tobacco. Abstinence is the only officially-approved message, despite the fact that technological advances are rapidly transforming the tobacco landscape.
What you can't see from a cathedral – Amelia Howard
Did you know concept for this tech has been around over 1/2 a century? First patented 1963 (I think). Technologically similar to 2005 ecig

— Amelia Howard (@Amelia_RH) October 18, 2017
Jim McDonald, Vaping 360
Dubai is suggesting shopping malls enforce the country's public smoking ban, which includes vaping.

Malls have been "encouraged" to instruct security staff to prevent smoking and vaping outside near entrances, according to a story in Arabian Business. The public smoking ban in the capital of the largest of the United Arab Emirates (UAE) was passed in 2009. It includes use of e-cigarettes.
Quinn O'Callaghan
I want to start by saying this: Vaping looks dumb. In the realm of things that you can do to yourself publicly and voluntarily, it's right up there with getting a face tattoo or gauges. It's pretentious and disruptive. But I can think of another socially acceptable thing that you can do that's dumber.

And that thing is smoking.

Jim McDonald, Vaping 360
The government of New Zealand has declared that vaping has the potential to improve public health, and is encouraging smokers to use them to switch from combustible cigarettes.

In a statement released last week, the Ministry of Health said that it "believes e-cigarettes have the potential to make a contribution to the Smokefree 2025 goal and could disrupt the significant inequities that are present." Smokefree 2025 is the government's plan to reduce smoking to minimal levels by 2025.
The San Leandro City Council voted 6-1 Monday to ban flavored tobacco products and create a tobacco retailers licensing program. The decision capped off more than a year of public meetings, community discussions and outcries from retail businesses.

"We've got a great opportunity to take a step and save lives, not take lives away from families who lose their loved ones to tobacco," Councilman Lee Thomas said at the meeting.
Should Vapers Be Worried? – Ashtray Blog
Smokers have a reputation for having bad teeth. They get "nicotine stains," people say, turning their teeth from a brilliant white into a dull yellow-brown.

Faced with comments like this, most vapers would rightly point out that nicotine in pure form is actually colourless. It seems obvious that – much like with the health risks – the problem for your teeth from smoking isn't the nicotine, it's the tar.
---
A look back at how things have moved on or otherwise….
Dick Puddlecote
One foible that anti-smoking organisations across the globe share is that they are absolutely terrified of actually engaging with the people they abuse … smokers.

They will commission pliant fellow smoker-haters to conduct cleverly-dodgy 'research' of course, but they don't really want to know what smokers think. They just want a sound bite to use as a stick to beat them with. So this initiative from Forest is a good idea, I reckon.
Frank Davis
It asked what I felt about smoking, what I liked about it, what I disliked about it, whether I ever thought I'd stop smoking, whether I kept my smoking secret, whether I used non-tobacco products (e.g. vaping), whether I was at all worried about any health conseuqences of smoking, whether smokers were being stigmatised. There were quite a few questions…
Brittany Hunter – Generation Opportunity
When it comes to the American marketplace, where there is innovation, regulation will soon follow. This is the reality currently being faced by the vaping industry, which is about to see major changes thanks to new Food and Drug Administration (FDA) guidelines. The Royal College of Physicians: If smokers switched to e-cigarettes, it would "prevent almost all of the harm from smoking."
---
Visit Nicotine Science & Policy for more News from around the World

---