In the News October 19th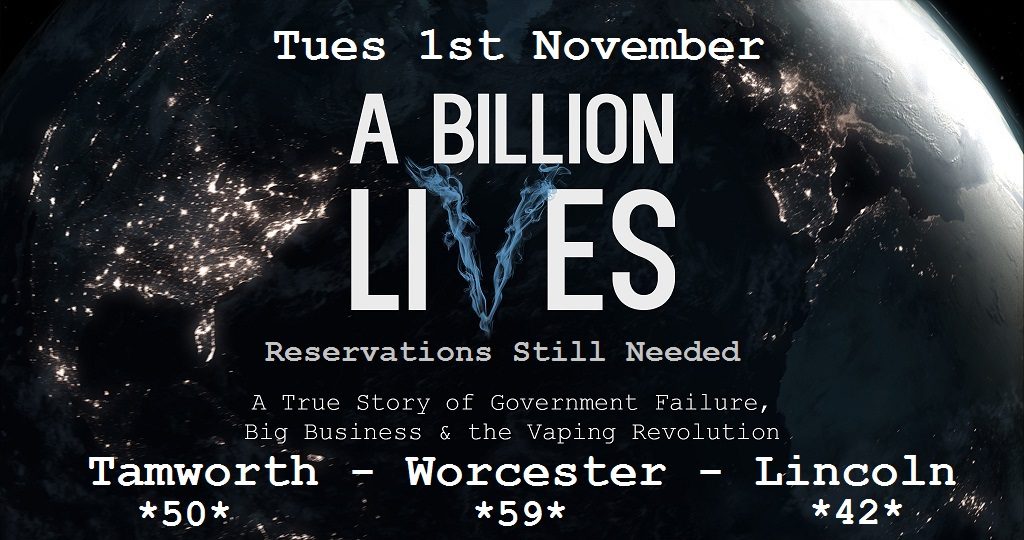 Wednesdays News at a glance:
A Survey Of Smokers – The Smokers' Survey – The Government's War On Vaping – How vaping can help smokers quit – Electronic Cigarettes: Sales – Healthy Ireland Survey – Access and Choice – #RightToVape Tour Billings – Nicotine Science and Policy Daily Digest – Wednesday, 19 October 2016
Dick Puddlecote
One foible that anti-smoking organisations across the globe share is that they are absolutely terrified of actually engaging with the people they abuse … smokers.

They will commission pliant fellow smoker-haters to conduct cleverly-dodgy 'research' of course, but they don't really want to know what smokers think. They just want a sound bite to use as a stick to beat them with. So this initiative from Forest is a good idea, I reckon.
Frank Davis
It asked what I felt about smoking, what I liked about it, what I disliked about it, whether I ever thought I'd stop smoking, whether I kept my smoking secret, whether I used non-tobacco products (e.g. vaping), whether I was at all worried about any health conseuqences of smoking, whether smokers were being stigmatised. There were quite a few questions…
Brittany Hunter – Generation Opportunity
When it comes to the American marketplace, where there is innovation, regulation will soon follow. This is the reality currently being faced by the vaping industry, which is about to see major changes thanks to new Food and Drug Administration (FDA) guidelines. The Royal College of Physicians: If smokers switched to e-cigarettes, it would "prevent almost all of the harm from smoking."
---

---
Medical Xpress
School of Public Health Senior Research Fellow, Dr Coral Gartner, said there is a need for quality research on vaping as a harm reduction strategy, as well as how policy impacts vaping and smoking behaviour – particularly smoking cessation.
"We are looking for 600 vapers in Australia to take part in the study which involves completing three online surveys over five years," Dr Gartner said…
---
Coming to a Cinema near You –  Reserve your tickets Now!
Wed, Oct 26, 2016
Tue, Nov 1, 2016
Thu, Nov 3, 2016
Wed, Nov 16, 2016
---
David Nuttall
To ask the Secretary of State for Health, what his policy is on the proposal tabled for the forthcoming World Health Organisation Framework Convention on Tobacco Control Conference of the Parties to ban or restrict the sale of certain e-cigarette flavours to responsible adults.
New data from @HealthyIreland survey shows 32% of Irish smokers who successfully quit smoking tobacco last year, used vaping to help.

— IVVA (@IVVA_IE) October 19, 2016
The second annual Healthy Ireland Survey of 7,500 people aged 15 and over living in Ireland gives an up-to-date picture of the health of the nation and reports on many lifestyle behaviours such as smoking, alcohol consumption, physical activity, diet and mental health
Brent Stafford – Regulator Watch
These two principles are at the heart of every regulatory battle over vaping. With the government of Canada's recent announcement that it plans to introduce the country's first ever federal vaping regulations later this fall, RegWatch takes a look at what vapers could expect
October 11th was a pretty exciting day for me as a vaper, an advocate, and as a Billings, Montana resident. The Right to Vape Tour was coming to my hometown! I have been pretty disappointed in advocacy since moving back home. It is basically non-existent in Billings, let alone, the entire state of Montana. This was a great opportunity to get residents, vapers and some of the leaders of advocacy together with locally owned small businesses and fight back
---
A look back at how things have moved on or otherwise…
Compiled by Robert Innes @BrainyFurball
Dick Puddlecote
As such, I never ventured from the 4th floor with all but one 'battle' being in the same place. Very convenient. First up was a session entitled "Planet of the Vapes: Why is there a war on e-cigarettes?" in the Frobisher Auditorium 2, a wonderful room with banked seating which was great for the audience, but with almost radioactive spotlighting blinding panellists and making for some pretty shocking iPhone pics….
Facts Do Matter
When it comes to anti-smoking campaigns and organisations one of the key mantras is "protecting the kids", the ever-present "think of the children". Trouble is, whenever an organisation says to policy makers "thinking of the children" it inevitably tugs on said policy makers heart-strings. Everyone wants their kids to grow up and lead good, healthy, normal lives don't they? Let's face it, I grew up to lead a relatively normal healthy life. I made choices along the way, some good and some not so good, it's all part of this little thing called "growing up"….
Mawsley – Planet of the Vapes
Article 20 of the Tobacco Products Directive places unreasonable demands on small to medium electronic cigarette businesses. It will drive many to the wall and leave the market wide open for Big T companies with deep pockets. News that they have had direct access to European decision makers is both shocking and sadly predictable…..
Facebook Reverses Censor Of Ads For E-Cigarette Film –
Guy Bentley: Daily Caller
"We are making a film to help people discover what's going on in the world," Biebert wrote. "We're trying to use Facebook to make the world more open, to stay connected, and to give people the power to share what matters most to them…a way to save the lives of their families, friends, and themselves."
---
Visit Nicotine Science & Policy for more News from around the World

---