In the News October 20th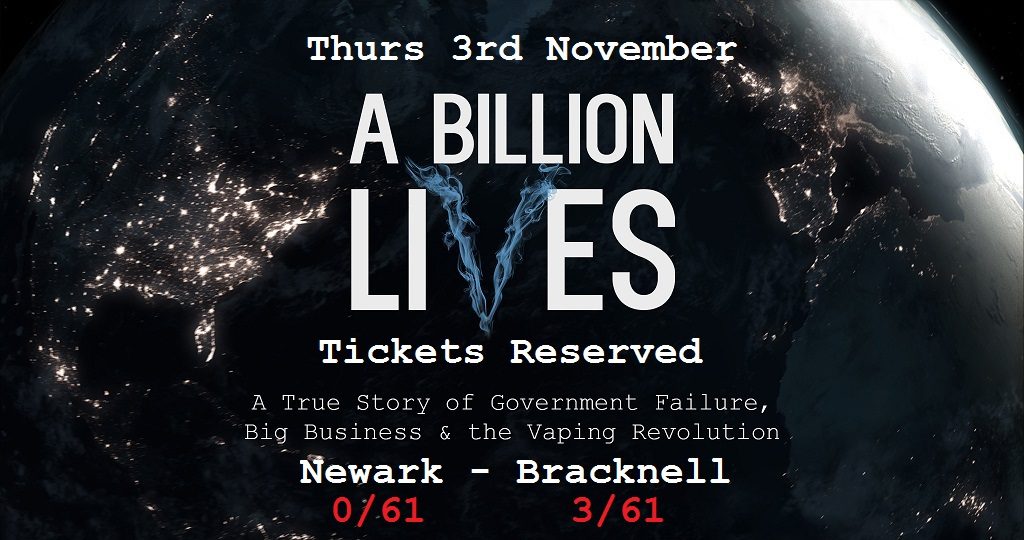 Thursdays News at a glance:
Vape in the UK – MHRA Update Email #9 -Nicotine Overdose and Vaping – No excuse – Pennsylvania's High Vaping Tax Needs to Go – Memo to Feds: Tobacco ≠ Smoking – Regulating e-cigarette "a one-way direction" – #ABillionLives and the #teamfreeshit Brigade – Imperial Tobacco wants to sell e-cigarettes – Nicotine Science and Policy Daily Digest – Thursday, 20 October 2016
Mawsley – Planet of the Vapes
It may come as a surprise to many that there are other vape-related stories from around the United Kingdom besides the current fascination with exploding lithium-ion cells. With so much taking place in the vape world it is often difficult to cover everything, so here is a roundup of some of the recent stories we've missed. It will delight everybody to find out that none of them feature people dressing up as killer clowns.
Deadlines, Presentation, Brand Names and Advertising – John Summers
Since our last email, we have received over 1000 UK notifications from large and small companies across the world, with more arriving every day. Some companies have reported to us that the process has taken them longer than expected, so we strongly encourage those of you who have not yet started to do so as soon as possible.
What All Vapers Need to Know – Ashtray Blog
How many times have you heard someone say something like this?

"Nicotine is more poisonous than cyanide!"

"Just half a teaspoon of e-liquid could kill a child!"

"Nicotine is highly toxic in any form!"

I lost count a long time ago, but statements like this still bother me.
---

---
Brad Rodu – Tobacco Truth
Government officials almost always use the word "tobacco" when they are actually discussing "cigarettes" or "smoking".

This practice is apparent in a 2015 progress report from the Centers for Disease Control's "Winnable Battles" campaign (here).
Simon Clark – Taking Liberties
A round of applause for the handful of e-cigarette advocates who are actively supporting the UK launch of A Billion Lives.

The pro-vaping documentary finally makes its UK cinema debut next week.

Ignore the cancellation of screenings in Manchester and Preston. In Scotland the Glasgow Braehead screening is going ahead on Wednesday (October 26) with 77/100 tickets sold.
---
Coming to a Cinema near You –  Reserve your tickets Now!
Wed, Oct 26, 2016
Tue, Nov 1, 2016
Thu, Nov 3, 2016
Wed, Nov 16, 2016
---
Matthew Glans – Heartland Institute
In this Research & Commentary, Matthew Glans discusses Pennsylvania's onerous vaping tax and the need for reform.

In July 2016, Pennsylvania lawmakers passed a $1.3 billion tax increase that included a 40 percent tax on the wholesale price of electronic cigarettes. The new tax has had a chilling effect on small business in the state.
Alex Fok – Harbour Times
The Hong Kong government has been urged to reconsider its plan to ban e-cigarettes as they can be a much less harmful alternative to tobacco cigarettes in nicotine delivery – if regulated properly.

Dr Stephen Jenkins, director in regulatory and medical affairs of Nicoventures in the Asia-Pacific region, is in Hong Kong reaching out to lawmakers to garner support for e-cigarette regulation instead of a total ban.
Tarannum Kamlani – CBC News
Canada's biggest tobacco company is hoping the federal government's upcoming legislation to regulate e-cigarettes and vaping products could usher its entry into the booming $235-million market.

"There's no doubt that when that's introduced, we will look at what these are, see how we can potentially be in the market in Canada,"
Unfortunately, I have heard of theater cancellations because tickets are not selling out as fast as they should. This is greatly disappointing not only for me but for the entire Attention Era Media team and the folks behind A Billion Lives.

A Billion Lives has announced its global launch date as October 26th. However, A Billion Lives needs our help and thankfully many vapers stepped up and pledged to help organize a viewing in their cities.
---
A look back at how things have moved on or otherwise…
Compiled by Robert Innes @BrainyFurball
Facts Do Matter:
Back in August I had the distinct pleasure of meeting Nicky from theHarrow Stop Smoking Service to talk about all things vaping. Talking about the devices, reasons for using them, differences, experiences and all that. It was a really good positive meeting and could quite easily have gone on for far longer than the time allotted….
Christopher Snowdon – Velvet Glove. Iron Fist
As always, the Battle of Ideas was stimulating, thought-provoking and exhausting. It was good to see some of you there. There were too many highlight to mention, but there are two things worth flagging up from the debates I spoke in.

The e-cigarette panel, of which Lorien was the undoubted star, included a representative from the Royal Society for Public Health (RSPH). The RSPH has made the news this year for demanding outdoor smoking bans and a totalitarian approach to town planning….
Of hypersensitivity pneumonitis as popcorn lung disease caused by e-cigarette
Dr Farsalinos
It was shocking to see a public statement by Chest Journal on EurekAlert, (released by: Media Contact: Kristi Bruno,kbruno@chestnet.org, twitter: @accpchest,http://www.chestnet.org) reporting a case of popcorn lung disease in a patient using e-cigarettes. The title of the public release is: "Case report finds 'popcorn lung' in patient using e-cigarettes. Report points to possibility of diacetyl, a flavoring agent in e-cigarettes, to bronchiolitis obliterans syndrome"
CSP Daily News – Washington
The Federal Trade Commission (FTC) plans to begin a study of the U.S. sales and marketing of electronic cigarettes. To conduct the study, the agency will issue information requests to e-cigarette marketers and will use the information as a basis for a report on the sales, marketing activities and expenditures in this "new and complex" industry….
---
Visit Nicotine Science & Policy for more News from around the World

---