In the News October 21st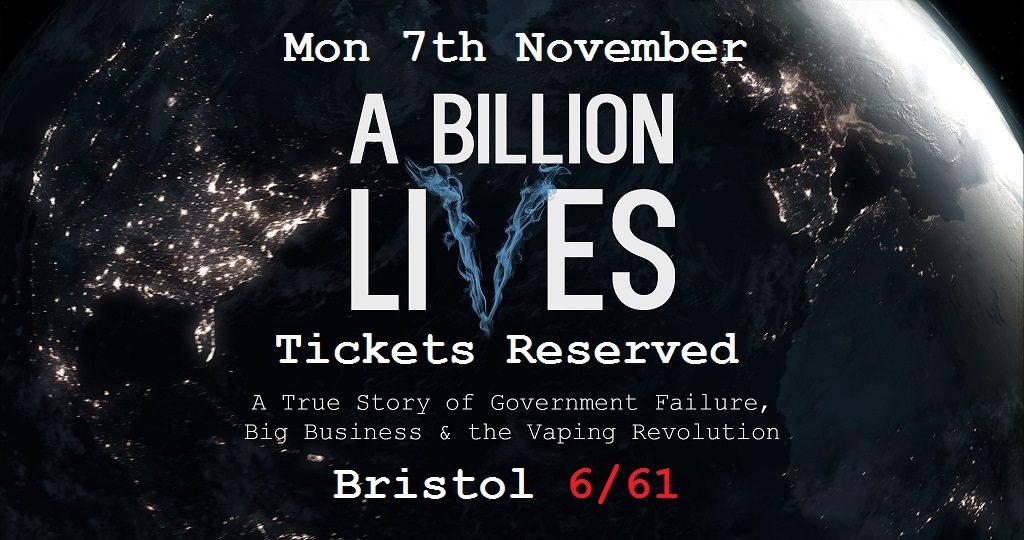 Fridays News at a glance:
Stingy vapers won't pay to see film, and doctors make false disease claims – The Nicotine Connundrum – Fire chiefs warn people to stop smoking – Specious Similarities – Tobacco Harm Reduction Update – E-Cig marketers manipulate antitobacco ads – Nicotine Science and Policy Daily Digest – Friday, 21 October 2016
And doctors make false disease claims – Fergus Mason
Despite the UK's reputation as one of the most pro-vaping countries in the world, ticket sales for the documentary A Billion Lives has been poor – with some vapers even complaining that they're not being given the film for nothing. Meanwhile a medical journal has been forced to withdraw a claim of popcorn lung caused by an e-cigarette. Five English vape shops were raided by council officers recently, and irresponsibly packaged liquids were seized. A much bigger seizure is being planned in California, where voters are preparing to vote on an anti-tobacco tax that will also hit the state's vape shops hard.
Bolton Smokers Club
Big Pharma sells nicotine patches, gums and inhalers. According the the MHRA in the UK, and the FDA in the USA, those things are harmless. Why so? Surely, since they contain nicotine, they are likely to be a gateway to smoking? But we go further. You can buy the patches and gums without a prescription, which means that you can buy as much as you like. They also claim that it does not matter if you use patches and smoke at the same time.
---

---
Coming to a Cinema near You –  Reserve your tickets Now!
Wed, Oct 26, 2016
Tue, Nov 1, 2016
Thu, Nov 3, 2016
Wed, Nov 16, 2016
---
Four times as many people smoke as they do vape, but there are 255 times more smoking related fires, meaning vaping is a far safer option in terms of preventing fires.
Norbert Zillatron
Vaping looks so much like smoking. Putting something to your mouth, inhaling, and exhaling a cloud. This leads many people to jump to the erroneous conclusion that the physical processes involved might be similar, too. Even scientists trying to measure emissions fall for it. Like all those finding the Freaking Formaldehyde.
Bill Godshall
Vapor Advocacy and Education, Vapor Legalization, Other Drug Harm Reduction, THR Business, Vapor Research, THR Research, Public Health Surveillance, FDA, US Cuba Policy, US DOT, Cancer Moonshot, Taxation, Tobacco Retailer Restrictions and Fees, Vaping Ban – Minimum Age Increase – Smokeless Tobacco Ban, Vaping Bans, Smoking / Vaping Ban, Smoking Ban, Smoking Restriction, Vapor Prohibition, WHO, Slandering THR Advocates, Very Low Nicotine Cigarettes, Junk Science – Propaganda – Lies, Fearmongering
A device commonly used by public health advocates is the alteration of cigarette advertisements to convey an antismoking message. Well-known examples include 'Joe Chemo' for Joe Camel and 'Fool' for Kool. Our group has assembled an online collection of some 162 cigarette advertising 'knock offs' (unauthorised modifications) encompassing 35 brands created by enterprising antitobacco advocates…
---
A look back at how things have moved on or otherwise…
Compiled by Robert Innes @BrainyFurball
Christopher Snowdon – Spiked
David Goerlitz has never found it easy to bite his lip. For seven years, he was the face of Winston cigarettes, appearing in 42 advertisements and on billboards all over the world.
'I happened to have been the rugged type that RJ Reynolds wanted for this particular "Search and Rescue" campaign. [And it] apparently worked because we moved Winston from number four to number two in sales. The problem I had was that when I admitted to my kids and everybody else I talked to that it was my job to get kids to smoke, the more pissed off I became at myself….'
Don't Listen To The World Health Organization On E-Cigarettes –
Sally Satel
When it comes to smoking and vaping, the world of public healthseems more like Oceania, 1984, every day. In that Orwellian realm, Big Brother issued nonsense statements such as "war is peace, slavery is freedom, ignorance is strength."

In the U.S., the CDC and the California Department of Health have assumed the role of Big Brother, effectively telling smokers they might as well keep puffing because e-cigarettes are hardly any safer. Talk about an Orwellian inversion statement!
VapeBeat
A Billion Lives — check out VapeBeat's Interview With The Director HERE — aims to expose many of the lies that have dogged vapers since e-cigs began.

As most readers here will probably know, many of these lies have been propagated by the pharmaceutical industry via the links with big-pharm funded anti-smoking groups…
---
Visit Nicotine Science & Policy for more News from around the World

---