Vapers Digest 20th October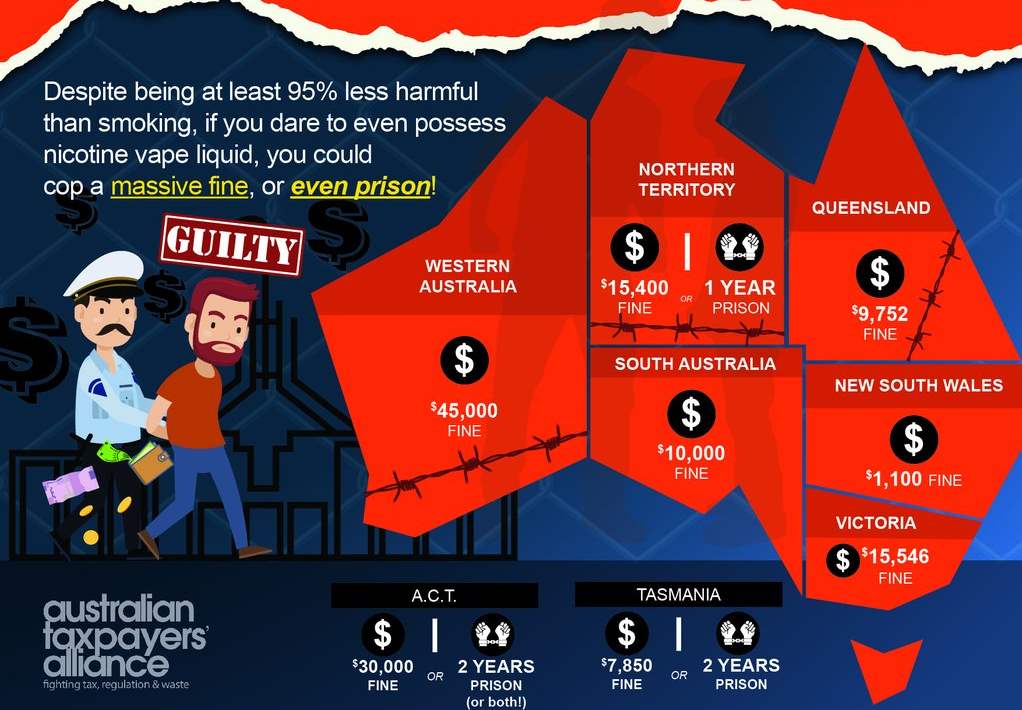 Friday's News at a glance:
Legalise Vaping in Australia – Derry council enforcing new regulation – Respiratory infections and pneumonia: – Pregnant women struggling to quit – IBVTA film premiers – Highlights from the Tobacco Control Plan debate – Swapping Cigarettes for Vaping – Federal Judge Rules Against Anti-Tobacco Groups – Ministry of Health throws support behind vaping  – Ample vape stores in Wilmington – Why We Need A Clear Message – Mislabeling of vapes, e-cigarettes by the FDA – Russia Ready for War  – Nicotine Science and Policy Daily Digest
Vaping is currently illegal in Australia and carries penalties of up to $45,000 and/or 2 years prison
In the US, Canada, New Zealand, the UK and in the EU, vapourisers are helping millions of people to stop smoking and improve their health.

But in Australia, these life saving devices are banned from sale. This is unacceptable – and is putting hundreds of thousands of lives at risk.

Make a submission & tell your politician to legalise vaping now!
Last Thursday, a report presented at a meeting of Derry City and Strabane District Council's Health and Community Committee, held in Strabane, highlighted a new legislation. This new law includes two offences. The first is selling nicotine products to a person under 18, and the second is purchasing such a product on behalf of a minor.
---

---
Potential benefits of switching from smoking to vaping
Davide Campagna, Maria Domenica Amaradio, Mark F. Sands & Riccardo Polosa
Electronic cigarettes (ECs) are emerging as an attractive long-term alternative nicotine source to conventional cigarettes and are being adopted by smokers who wish to reduce or quit cigarette consumption. Also, given that the propylene glycol in EC aerosols is a potent bactericidal agent, switching from smoking to regular vaping is likely to produce additional lung health benefits.
Should be given free e-cigs – Will Quince
Will Quince said he hoped the issue could be addressed in next month's Budget, addingvaping and e-cigarettes were "a great transition off smoking and nicotine entirely".

It comes as fellow Tory MP Mark Pawsey suggested relaxing advertising restrictions on e-cigarettes may help people stop smoking tobacco.
---
---
At Royal Society for Public Health Awards
Yesterday, at the Royal Society for Public Health Awards, a new film aimed at politicians and public health professionals, made by ITN Productions with the support of the Independent British Vape Trade Association (IBVTA) was premiered in front of an audience that included leading figures from the world of public health, the Parliamentary Under Secretary of State for Health, Steve Brine MP and his Labour shadow, Sharon Hodgson MP.
Thanks as always to @dnglos for the YouTubage!
Aggie Mika – The Scientist
Kat Rose of Lakewood, Colorado, started smoking cigarettes when she was 12 years old. Ultimately, it was the smell that drove her to want to ditch the habit. "Constantly, my son was like, 'Mom, you stink,'" she says. But quitting had been a struggle for Rose, a 30-year-old who works for a metal manufacturing company. She's allergic to latex and cinnamon (common ingredients in nicotine patches and gum), and prescriptions like Chantix made her sick. Thanks to electronic vaporizers that emit a flavored—coconut cream pie, in Rose's case—smoke-like cloud, "I haven't smoked in two years," she says.
Carl V. Phillips, Daily Vaper
This week, U.S. District Court Judge Amit P. Mehta denied a motion by a group of six anti-tobacco organizations to intervene in a lawsuit by cigar manufacturers against the FDA. The lawsuit challenges the legality of parts of the new regulation they face after the FDA asserted jurisdiction over ("deemed") cigars and vapor products. It is based on the right to free speech, specifics of the Tobacco Control Act, and other constitutional and statutory arguments.
---

---
Health Education:Written question – 107154
As announced in the England Tobacco Control Plan published 18 July 2017, the Department will monitor the impact of regulation and policy on e-cigarettes and novel tobacco products in England, including evidence on safety, uptake, health impact and effectiveness of these products as smoking cessation aids, to inform our actions on regulating their use.
Public Health England will continue to provide the evidence annually on e-cigarettes and other novel nicotine delivery systems until the end of Parliament in 2022 and will include within quit smoking campaign messages about the relative safety of e-cigarettes compared to smoking.
Collette Devlin
Fears around e-cigarettes have gone up in a puff of smoke, as health officials say they could be a valuable weapon in the country's fight to become smokefree.

The Ministry of Health legalised e-cigarettes in March, but stopped short of endorsing them as a safe means of quitting smoking, saying the evidence wasn't there.
According to the Centers for Disease Control and Prevention, about 3.7 percent of adults use e-cigarettes every day or some days and current cigarette smokers who have tried to quit smoking in the past are more likely to use vapes.

"I was a Camel Lite smoker since I was 16 till about five years ago," said Wilmington native Sara Davis. "I started vaping and three days later I threw down the cigarettes."

On E-Cigarettes And Vaping – Shamir Patel
It's a subject which splits the health community. Are e-cigarettes a friend or a foe? Do their benefits outweigh their risks?

One thing's for sure – we don't have enough evidence to say one way or the other. But at some point the Government needs to make up its mind and issue a clear message.
Breanna Smith
Some people use them for the fruity flavors, others as a treatment for nicotine addiction and others as just another mindless habit. It may seem like the reasoning for smoking an e-cigarette doesn't matter, but the U.S. Food and Drug Administration regulation on the devices varies based on your intended use of the product.
With Smoking and Vaping, Says Health Ministry
Russia is setting up a new five-year plan to reduce levels of smoking in the country with new restrictions on cigarettes, hookahs and e-cigarettes.

In a new draft regulation that the ministry would like to implement by 2022, officials hope to ban smoking virtually anywhere a bystander objects to the smoker's puffing. By default, the new restricted areas include bus stops, shopping centers or in the smoker's own car if there is a child present.
---
A look back at how things have moved on or otherwise….
Mawsley – Planet of the Vapes
It may come as a surprise to many that there are other vape-related stories from around the United Kingdom besides the current fascination with exploding lithium-ion cells. With so much taking place in the vape world it is often difficult to cover everything, so here is a roundup of some of the recent stories we've missed. It will delight everybody to find out that none of them feature people dressing up as killer clowns.
Deadlines, Presentation, Brand Names and Advertising – John Summers
Since our last email, we have received over 1000 UK notifications from large and small companies across the world, with more arriving every day. Some companies have reported to us that the process has taken them longer than expected, so we strongly encourage those of you who have not yet started to do so as soon as possible.
What All Vapers Need to Know – Ashtray Blog
How many times have you heard someone say something like this?

"Nicotine is more poisonous than cyanide!"

"Just half a teaspoon of e-liquid could kill a child!"

"Nicotine is highly toxic in any form!"

I lost count a long time ago, but statements like this still bother me.
---
Visit Nicotine Science & Policy for more News from around the World

---