Vapers Digest 23rd October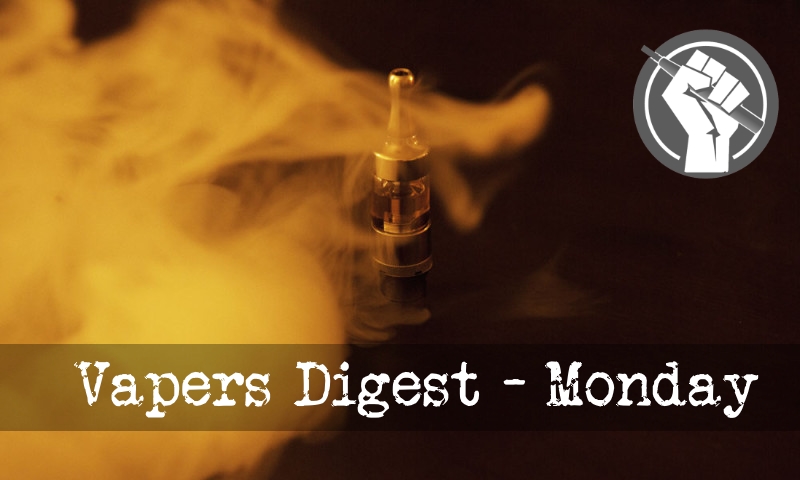 Monday's News at a glance:
Dear Foreign And Commonwealth Office … – Disinformation Abounds – NHS campaign boosts e-cig sales, but Australia doubles down on promoting harm – Cancer risk from e-cigarettes – Australian Doc Demands Legal Ecigs – Illegal super-strength e-cigarettes seized – Abstinence-only approach to nicotine – 'Real world' lens on role of e-cigarettes – The Big Vape – Nicotine Science and Policy Daily Digest
Dick Puddlecote
Following recent news about how Thailand has banned smoking on a number of popular beaches under threat of imprisonment, I noticed an anomaly on the Government's website for tourist guidance, so I thought I'd better write to them and point it out.

You see, on their Thailand page, they carry this advice….
Disinformation Abounds – Carl V. Phillips
There is no place more vape-friendly than the UK, with it high usage prevalence and relatively few harmful laws. But according to a recent survey commissioned by British American Tobacco, many British are still ignorant about e-cigarettes.

BAT, the maker of Vype e-cigarettes, reported in a recent press release that only 52 percent of ever-smokers in the UK believed vaping to be less harmful than smoking. Further data obtained from the researchers that conducted the survey show even worse news
---

---
But Australia doubles down on promoting harm
Fergus Mason, Vaping Post
E-cig vendors in the UK have reported a major boost in sales following the launch of the NHS's first vape-friendly Stoptober campaign. One retailer reported that sales of starter kits are up by more than a third over the same period last year.

However, Australia's health minister made an unhelpful intervention in the nicotine debate, refusing to even consider a move to harm reduction policies, despite apparent progress in neighbouring New Zealand. Meanwhile Singapore is reacting to the failure of its e-cig import ban by threatening to extend its punishment regime for use or even possession of vapour products.
---
---
Mawsley, Planet of the Vapes
The global opinion to electronic cigarettes is shifting; in some countries it may be moving at a snail's pace, but the progress is undeniable. It seems as though the UK is driving the change in opinions but some countries are being resolutely stubborn. One such location is Australia, and its legislators are being hit with demands to rethink their current position as a matter of urgency.
---

---
> 50 000 (thousand) fold lower than smoking – Dr Farsalinos
Shortly after a study in Tobacco Control identified a very low cancer risk from e-cigarettes compared to tobacco cigarettes, anew study by Italian researchers tried to calculate the risk from e-cigarette exposure and compared with smoking. The authors used measurements of particle size and mass distribution; however, and unlike the scientifically flawed argument that only particle number and size matters, they calculated the risk using the composition of the aerosol and particles using literature data.
In crackdown as shops targeted in undercover swoops
Hundreds of super-strength e-cigarette liquids were seized by Trading Standards during a blitz on retailers in Scotland.

The undercover operation saw officers swoop on stores to enforce new legislation regulating the sale of vaping products. They found illicit liquids over the maximum legal nicotine strength level of two per cent and other products which were nine months out of date.

Has created undue fears about alternatives – David Sweanor
DEATH, MOST OF us can agree, is best delayed. But cigarette smoking is a major impediment to achieving such a delay. Indeed, cigarettes kill over 100 people in Ireland on a weekly basis, or about 30 times the still horrendous toll of Irish road deaths.
With cigarette smoking being by far the leading cause of death in the country, rushing such a product towards its own doom should be a national priority. All the more so if we could do so relatively easy while empowering rather than punishing people who currently smoke.
 Margot Taylor
As cigarette smoking continues to become less socially acceptable, the use of vaporisers and e-cigarettes is increasing. Margot Taylor talks to the lead researcher in the word's largest trial on the role of e-cigarettes in quitting smoking, and people who have swapped cigarettes for vaporisers, about the rise of vape culture.
In 2016, the LGBTQ community lost more than 30,000 lives to a health epidemic that is arguably not getting the attention it warrants: smoking. Indeed, LGBT Health Link reported that 33% of the LGBTQ population are smokers – compared to just 20% of the rest of the populace. And the former spends more than $7.9 billion annually on cigarettes.
Gov. Cuomo on Monday plans to sign into law new restrictions on electronic cigarettes that effectively ban their use in most restaurants, bars and workplaces, the Daily News has learned.

The measure, adopted by the Legislature in June, extends the provisions of New York's Clean Indoor Air Act to include e-cigarettes and has been a top priority of anti-smoking advocates.
---
A look back at how things have moved on or otherwise….
And doctors make false disease claims – Fergus Mason
Despite the UK's reputation as one of the most pro-vaping countries in the world, ticket sales for the documentary A Billion Lives has been poor – with some vapers even complaining that they're not being given the film for nothing. Meanwhile a medical journal has been forced to withdraw a claim of popcorn lung caused by an e-cigarette. Five English vape shops were raided by council officers recently, and irresponsibly packaged liquids were seized. A much bigger seizure is being planned in California, where voters are preparing to vote on an anti-tobacco tax that will also hit the state's vape shops hard.
Bolton Smokers Club
Big Pharma sells nicotine patches, gums and inhalers. According the the MHRA in the UK, and the FDA in the USA, those things are harmless. Why so? Surely, since they contain nicotine, they are likely to be a gateway to smoking? But we go further. You can buy the patches and gums without a prescription, which means that you can buy as much as you like. They also claim that it does not matter if you use patches and smoke at the same time.
---
Visit Nicotine Science & Policy for more News from around the World

---