Vapers Digest October 17th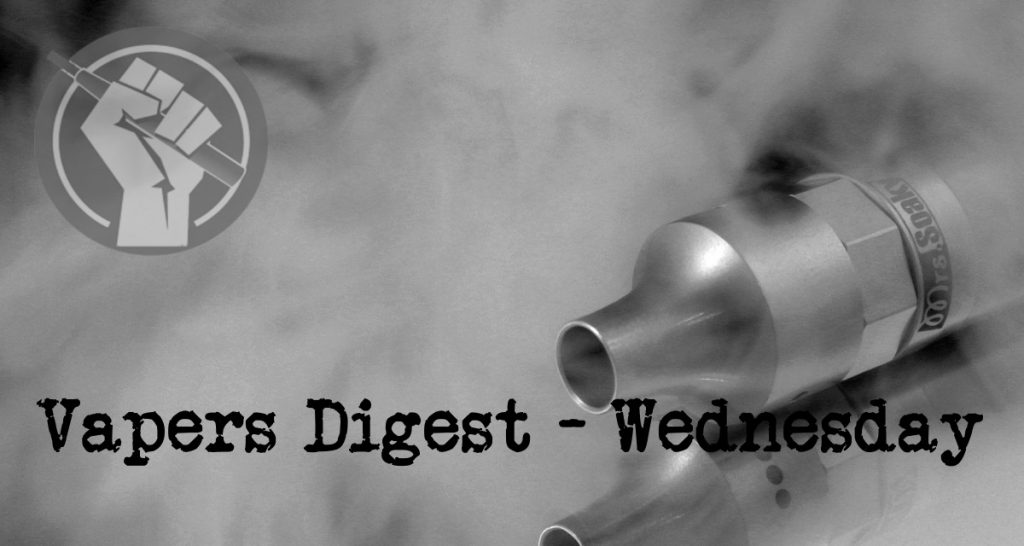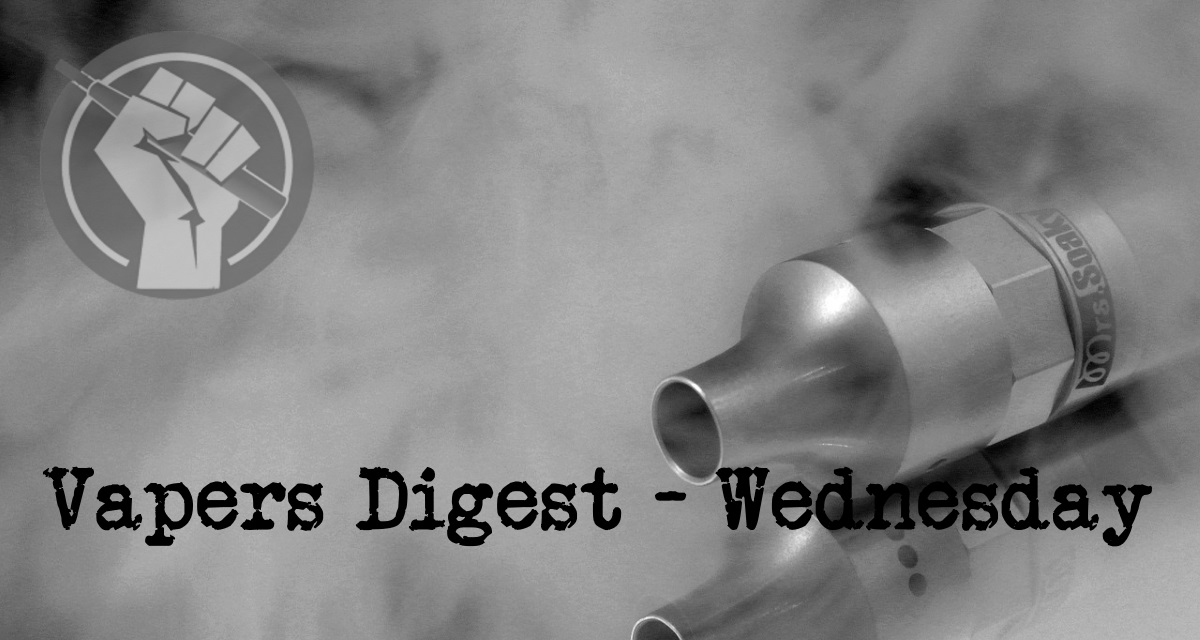 Wednesday's News at a glance:
Applying harm reduction to smoking ~ Vaping is much safer than combustible cigarettes ~ The smoke and mirrors of vaping ~ E-cigarette Usage Is Associated With Increased Past-12-Month Quit Attempts ~ Your Smile is One More Reason to Quit Smoking and Start Vaping ~  Mice Madness ~ NIDA Nicotine Niggles ~ UCSF settles sexual harassment suit involving star researcher ~ Call to overturn ban on e-cigarettes in Thailand ~ Know the law: Are e-cigarettes banned in UAE? ~ Hong Kong to Enforce a Total Ban on E-Cigarettes ~ Hopatcong will set regulations for e-cigarettes ~ ASA Ruling on Nicoventures Trading Ltd t/a Vype
Carrie Wade, Truth On The Market
Abstinence approaches work exceedingly well on an individual level but continue to fail when applied to populations. We can see this in several areas: teen pregnancy; continued drug use regardless of severe criminal penalties; and high smoking rates in vulnerable populations, despite targeted efforts to prevent youth and adult uptake.

The good news is that abstinence-oriented prevention strategies do seem to have a positive effect on smoking. Overall, teen use has steadily declined since 1996. This may be attributed to an increase in educational efforts to prevent uptake, stiff penalties for retailers who fail to verify legal age of purchase, the increased cost of cigarettes, and a myriad of other interventions.
, Express Healthcare
Canada-based policy expert and lawyer, David T Sweanor JD, Chair of the Advisory Board, Centre for Health Law, Policy & Ethics, University of Ottawa recently criticised the Indian Government for enforcing a policy to ban e-cigarettes. In an email interview with Usha Sharma, David expresses his views and believes that India could lead the world on disruptive technology that replaces toxic tobacco products and export products and expertise to other countries.
Harry Shapiro, Drug Wise
I have spent the last year writing and editing 'No Fire, No Smoke; the Global State of Tobacco Harm Reduction 2018 inspired by the work of Harm Reduction International who have been monitoring the global state of drug harm reduction biennially since 2006.

This is an entirely new world for me since I started work as the rapporteur for the Global Forum on Nicotine conference back in 2016. But I soon realised that the same challenges that faced and still do face drug harm reduction also present major challenges for tobacco harm reduction. Those who oppose drug harm reduction claim that such interventions encourage continued drug use or even stimulate initiation and at root are simply stalking horses for drug legalisation.
---

---
and Successful Smoking Cessation in Two US Population–Based Surveys
Oxford Academic
We examined past-12-month quit attempts and smoking cessation from 2006 to 2016 while accounting for demographic shifts in the US population. In addition, we sought to understand whether the current use of electronic cigarettes was associated with a change in past-12-month quit attempts and successful smoking cessation at the population level.
---
---
Jim McDonald, Vaping 360
Debates rage over the health benefits and dangers of vaping, but one thing appears to be settled: vaping doesn't make your teeth yellow — at least not in the short term.

According to new research, vapor from e-cigarettes and heat-not-burn tobacco products (HNB) cause "minimal" staining compared to the well-known effects of smoking cigarettes. The findings are interesting, not least because apparently no one has thought to investigate the issue until now.
 Mawsley, Planet Of The Vapes
There is a frenzy of activity across the Internet today as site after site is going wild about some mouse-based research. Kapodistrian University of Athens isn't known for its quality vape research and this will not raise the institution's profile. Is this, as the Daily Mail claims, "another reason to stop vaping"?

The short answer is 'absolutely not'.
 Mawsley, Planet Of The Vapes
he National Institute on Drug Abuse (NIDA) has launched an attack on the nicotine contained in eliquids. It must be a different type of nicotine than that found in pharmaceutical quit products, that kind remains OK. It's another baseless attack on something that has helped millions of smokers to quit smoking and is recognised as being "at least 95% safer than smoking tobacco".

NIDA took to social media to tweet: "The nicotine in e-cigarettes can increase your blood pressure, breathing and heart rate … #DrugFacts #FridayFacts"
---

---
Ivan Oransky and Adam Marcus, Stat News
The University of California, San Francisco, has agreed to pay a former postdoc $150,000 to settle a sexual harassment lawsuit involving a prominent tobacco researcher on its faculty.

In the settlement, dated last month, Stanton Glantz, director of the UCSF Center for Tobacco Control Research and Education, and UCSF "deny and dispute" the allegations by the former postdoc, Dr. Eunice Neeley, who now is a resident in family medicine at Emory University in Atlanta.
, Asia Times
While electronic cigarettes are banned in Thailand, debate continues about whether to legalize them so the government can regulate a market that has now gone underground.

The Ends Cigarette Smoke Thailand group, or ECST, has filed a request to the director of Law and Litigation Department in the Office of the Ombudsman Thailand, asking for the ban on e-cigarettes to be reconsidered. 

The devices were banned on December 12, 2014, by the Ministry of Commerce, which also banned shisha tobacco. According to the Office of the Consumer Protection Board, the sale of e-cigarettes is prohibited. Vendors and smokers can be fined 500,000 baht and put in jail for five years, while producers or importers could be fined one million baht and jailed for up to 10 years. 

Kelly Clarke and Sherouk Zakari, Khleej Time
Residents in the UAE are confused over the rules surrounding the personal use of e-cigarettes, both in public places and at home, and are calling for clearer rules on the issue. However, the Dubai Municipality has made it clear that e-cigarettes are treated like any other cigarettes in Dubai.

Despite a ban on the sale of e-cigarettes in the UAE, many residents are still unclear as to whether they can legally smoke the device in designated public areas.
, Vaping Post
The ban was announced last Wednesday by Chief Executive Carrie Lam during a policy address. Earlier this month, four medical groups in Hong Kong had called for a total ban on e-cigarettes, after local surveys indicated a 55% rise in primary schoolchildren who had tried vaping.

The Council on Smoking and Health, Federation of Medical Societies, Medical Association and Dental Association, joined forces in urging local policy makers to implement the ban. Daniel Ho Sai-yin, from the Council on Smoking and Health, pointed out that the surveys  found that the proportion of primary pupils who had tried e-cigarettes had increased from 2.9% in the 2016-17 scholastic year, to 4.5% in 2017-18.
---

---
Jennifer Jean Miller, New Jersey Herald
Borough officials are seeking to update local ordinances regarding smoking on borough properties and to add provisions about electronic smoking devices to Hopatcong's code books. The new ordinance is slated for final reading and adoption on Wednesday.

The new guidelines add in e-cigarettes, which were not in existence when the Board of Health wrote tobacco products into municipal legislation in 2001. "Both present issues," commented Borough attorney John Ursin about tobacco goods and electronic smoking devices. He said the upcoming ordinance will help to better shield non-smokers in the community visiting borough properties and buildings from second-hand smoke of any type.
The Advertising Standards Authority (ASA)
Summary of Council decision:

Twenty issues were investigated, 17 of which were Upheld. A number of other claims were informally resolved after the advertiser agreed to remove them.

The website for Vype e-cigarettes www.govype.com, was seen on 2 January 2018.

Throughout the website were claims relating to various e-cig products: "delivering rich vapour at the click of a button"; "The eLiquid inside our flavour Caps is made in the UK with quality ingredients, to give you a smooth, satisfying vape"; "Mix and Match across our e-Liquid range.
---
A look back at how things have moved on or otherwise….
Kristin Jenkins, Medscape
The goal to end smoking worldwide — the number one preventable cause of death globally — appeared to take a big step in the right direction with the launch last month in New York City of the Foundation for a Smoke-Free World.

Surely any move toward ending smoking is a good thing. In the period 2005 to 2009, cancer deaths attributable to smoking — primarily lung cancer — topped the list of smoking-related cancer mortality in the United States, surpassing deaths caused by smoking-related heart disease, stroke, and diabetes mortality combined, according to the Centers for Disease Control and Prevention (CDC).

However, many tobacco control experts remain skeptical about the new foundation, after the announcement that funding of $80 million annually over the next 12 years had been secured from Philip Morris International (PMI), one of the world's leading tobacco manufacturers and cigarette marketer.
Mawsley, Planet of the Vapes
San Leandro City Council, a small place next to the ecig-phobic San Francisco, has voted in favour of implementing a ban on vape flavours. The decision now requires approval at a council meeting on Monday 16th October. It goes against prevailing global opinion, common sense, and the findings of a new Yale School of Public Health research paper.

Councilman Pete Ballew told his fellow councillors: "I don't think this ordinance is about catching people selling cigarettes, and I really don't think it's about catching kids buying cigarettes; I think it's bigger than that. This ordinance, to me, is about de-normalising the use of tobacco."

Plain and simple, this isn't about the science or evidence – Ballew's motivations are grounded in a zealotry that believes nobody should have the choice to smoke…or do anything that looks like smoking.
---
Visit Nicotine Science & Policy for more News from around the World

---