Vapers Digest October 15th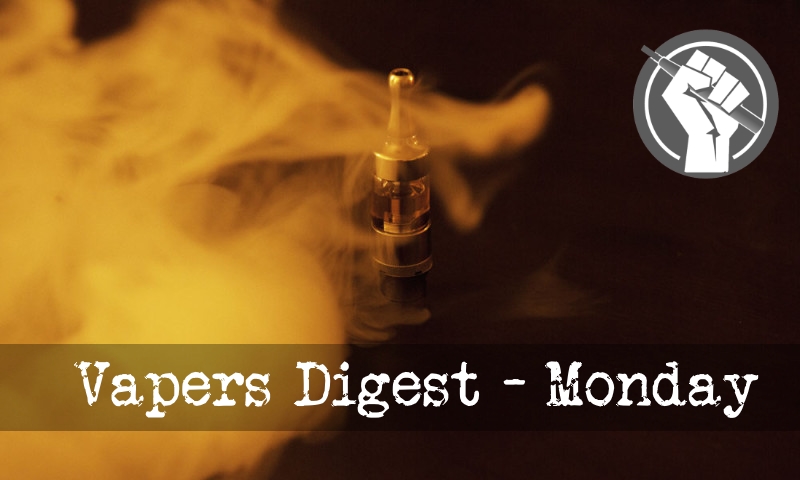 Monday's News at a glance:
Americans still don't understand vaping, and Hong Kong is planning to ban it – Peer review of: Dunbar et al – Sweden flipping things and killing people again – Vaping increases quitting – FDA Demands Answers from 21 Vaping Companies – FDA Food Additive Ban Is Unscientific And Irrational – "Electronic Cigarettes" Are Not Cigarettes – E-cigarettes should not be treated like regular cigarettes – The State of Smoking 2018 – Majority of US doctors discussing E-Cigs  – Study suggests vaping does not stain teeth – Vaping In The News October 13th – Nicotine Science and Policy Daily Digest
And Hong Kong is planning to ban it – Fergus Mason
The latest poll on what US adults know about vaping highlights just how damaging misinformation has been, with more than two in five believing that vapour products are more dangerous than lit tobacco. Meanwhile Hong Kong's puppet government is pushing ahead with a total ban on e-cigarettes, following pressure from harm reduction critics. Antis are also on the march in Oregon, complaining about a proposed law that would protect groceries – and possibly vaping – from punitive taxes.
Carl V. Phillips, Anti-THR Lies
The typical "gateway" paper consists of observing the exposure of whether subjects (typically teenagers) have, at baseline, engaged in a particular behavior (vaping, in this case), and then observing the association with an outcome behavior (in this case, smoking). There is also an even worse collection of papers that do not even assess the order of events and simply look at whether prevalent ever-exposed status is associated with prevalent smoking. All of these suffer from the obvious fatal problem that a positive association is inevitable because inclination to ever vape is associated with inclination to ever smoke.
---

---
Atakan Befrits
Please find a very respectable looking article this morning. Rife in ad-homing some of the best people we have in our field and generally touting obviously coached narratives, in one of Sweden's most respectable newspapers this morning. It is a bit of a read but at the bottom you will also find my reply to the article translated. Word document of translated article and my reply translated Translation SvD October 10 2018.
ATHRA
Smokers who use a vaporiser (e-cigarette) are more likely to try to quit and are more likely to quit successfully than smokers who don't vape.

This was the finding from a study of 60,000 young adults (25-45 years old) in the US over a 10 year period from 2006 to 2016 (study details below).

Smokers who were using vaporisers were 65% more likely to have quit smoking in the last 12 months than smokers who were not using a vaporiser. The following graph shows the dramatically higher quit rates during the 2014-16 period in those who vaped compared to those who did not vape.
---
---
Jim McDonald, Vaping 360
The FDA has begun enforcing a major provision of its Deeming Rule, more than two years after the rule went into effect. The Deeming Rule prohibits products from being introduced to the market after Aug. 8, 2016 without first going through premarket review by the agency. No product has yet been submitted for review.
Is Unscientific And Irrational – Josh Bloom
I would have expected better from Dr. Scott Gottlieb, the head of the FDA. He is both sharp and knowledgeable. Which makes it even more astounding that the ban of 7 food additives (artificial flavors) could happen on his watch. I don't much care whether any of these artificial flavors end up in my tomato soup or not.
---

---
Matthew Olonoff, MA Raymond Niaura, PhD Brian Hitsman, PhD
With research about electronic cigarettes (e-cigarettes) rapidly increasing, this commentary addresses the conceptualization of e-cigarettes as similar to traditional cigarettes. The more we attempt to understand and measure e-cigarettes as equivalent to cigarettes, the more likely research may err in conclusions about these unique devices. Our commentary notes how using unique conceptualizations and measures for e-cigarettes will help accelerate new research.
Wilson Chapman
Electronic cigarettes should be seen as a unique tobacco product rather than another type of cigarette, a research commentary co-authored by Northwestern researchers says.

The commentary examined different studies of electronic cigarettes to better understand how researchers have been discussing the devices, and what substantial differences emerge between e-cigarettes and regular ones.

Dr. Derek Yach
The survey was conducted by Kantar Public, an integrated consulting and research agency, which was engaged by the Foundation for a Smoke-Free World, Inc. The Foundation is an independent, private foundation formed and operated free from the control or influence of any third party. Philip Morris International, S.A. has provided the initial funding to the Foundation.
---
---
EurekAlert
A study by scientists at British American Tobacco has shown that e-cigarettes and tobacco heating products cause significantly less staining to teeth than conventional cigarettes.

For the first time at BAT, scientists assessed and compared a novel e-cigarette (EC), a tobacco heating product (THP) and a conventional cigarette for their impact on teeth enamel staining. The results are published today in the American Journal of Dentistry.
EurekAlert
Over 70% of the more than 560 physicians who participated in the written survey indicated that e-cigs can help patients reduce or eliminate smoking, and nearly half said that they believe e-cigs can reduce risk. Physicians are less likely to recommend e-cigs as a way to quit smoking.
Kevin Crowley, Vaping Links
E-cigarette Usage Is Associated With Increased Past-12-Month Quit Attempts ~ #PWChat ~ Americans still don't understand vaping ~ Nicotine Patches' Inventor Disagrees with Current Demonization of E-Cigs ~ "Electronic Cigarettes" Are Not Cigarettes, and Why That Matters ~ Glantz settles academic fraud and sexual harassment lawsuit ~ Clearing the air on e-cigarettes ~ A little self-promotion
---
A look back at how things have moved on or otherwise….
and California vape bans derail – Fergus Mason
Another British medical organisation has come out in support of vaping as a safer alternative to smoking. In a surprising development from California, the state governor has blocked two bills that would have made it illegal to vape in many public spaces – the new law was judged "too coercive" even for Sacramento. Meanwhile the WHO and other tobacco control groups continue their attacks on harm reduction groups.
Dick Puddlecote
In July, the government released its Tobacco Control Plan (TCP). It claimed to be supportive of e-cigarettes, including this part about vaping in public.

Public Health England has produced guidance for employers and organisations looking to introduce policies around e-cigarettes and vaping in public and recommend such policies to be evidence-based. PHE recommends that e-cigarette use is not covered by smokefree legislation and should not routinely be included in the requirements of an organisation's smokefree policy.
---
Visit Nicotine Science & Policy for more News from around the World

---