Vapers Digest 13th October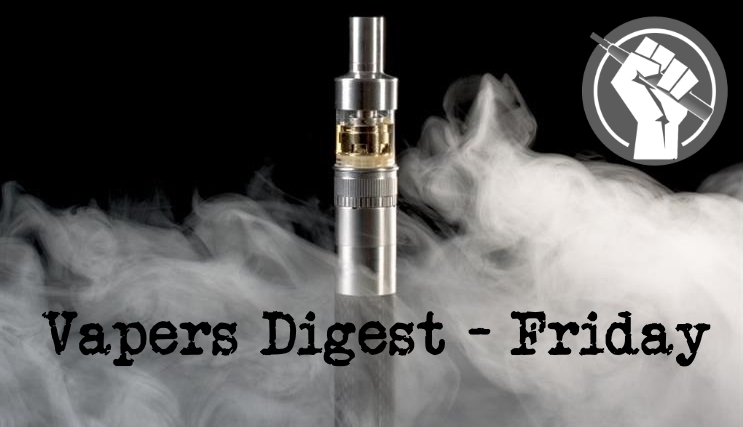 Friday's News at a glance:
More official support from the UK, and California vape bans derail – Signage And The Anti-Vaping Status Quo – Consultation on E-cigarette Advertising – Why This, Why Now? – Tobacco control: a Foundation too far? – Foundation for a smoke-free world – When It Comes To Vaping In Pennsylvania – Guam Moves To Restrict Vaping – E-cigarettes linger despite legal threats – Vaping Saves Lives – Doug Teitelbaum is Leading a Crusade – Nicotine Science and Policy Daily Digest
and California vape bans derail – Fergus Mason
Another British medical organisation has come out in support of vaping as a safer alternative to smoking. In a surprising development from California, the state governor has blocked two bills that would have made it illegal to vape in many public spaces – the new law was judged "too coercive" even for Sacramento. Meanwhile the WHO and other tobacco control groups continue their attacks on harm reduction groups.
Dick Puddlecote
In July, the government released its Tobacco Control Plan (TCP). It claimed to be supportive of e-cigarettes, including this part about vaping in public.

Public Health England has produced guidance for employers and organisations looking to introduce policies around e-cigarettes and vaping in public and recommend such policies to be evidence-based. PHE recommends that e-cigarette use is not covered by smokefree legislation and should not routinely be included in the requirements of an organisation's smokefree policy.
---

---
The consultation will close at 5pm on Monday 16 October.
CAP and BCAP are consulting on changes to their Codes to remove the current prohibition on health claims being made for e-cigarettes. This proposal follows the results of a call for evidence last year in which a majority of respondents argued that improvements in products and the positive view taken by many public health stakeholders about e-cigarettes' relative safety compared with smoked tobacco warranted the removal of the prohibition.
Derek Yach – Foundation for a Smoke-Free World
Each year, smoking kills 7.2 million people. That's one person every six seconds. The dead are mothers, fathers, wives, husbands, sisters and brothers. The vast majority die from diseases like cancer and heart disease associated with inhaling chemical-laced smoke from burning tobacco.
Ultimately, yes, it will be wonderful to eliminate tobacco use altogether, and it's my goal to see that happen in my lifetime. In the meantime, as the smoke from cigarettes continues to cause so much death and human suffering, reducing the harm from smoking is just as noble of a cause.
---
---
The Lancet
Tobacco smoking is the leading cause of preventable mortality worldwide and is responsible for more than 7 million deaths each year. In today's issue of The Lancet, we publish a Viewpoint describing the mission and goals of the recently established Foundation for a Smoke-Free World, funded by tobacco giant Philip Morris International. Led by former WHO executive director Derek Yach, the Foundation, whose aim is "to eliminate cigarette smoking worldwide", will receive US$1 billion in funding over the next 12 years.
Derek Yach
The current and future health effects of smoking are well described. More than 7 million deaths per year are attributable to smoking, and projections suggest 1 billion deaths this century. Over a decade ago, in my role to facilitate the establishment of WHO's Framework Convention on Tobacco Control (FCTC), I warned about the potential for complacency in the years following the FCTC's adoption. We knew that implementation of the FCTC would take decades, and that it would be challenged from the outset by constrained funding, shifting priorities and political will, weak human andinstitutional capacity, and continuing opposition from the tobacco industry..
---

---
Taxes Are More Than Just A Number – Carl V. Phillips
Debates about vapor product taxes invariably include claims that they should be taxed the same as cigarettes, or that they should be taxed at some fraction of that rate. But these claims are meaningless because a tax on vapor products that is supposedly the "the same" is going to actually have some very big differences.

As previously presented here, it is easy to show that the optimal tax on vapor products – assuming the goal is to maximize population health or consumer well-being – is zero. If the tax is not zero, lower numbers are better. But the issue is more complicated than simply how low or high the rate should be.
Joe Sylvester, Daily Vaper
Benjamin J.F. Cruz, the Democratic Speaker of the Guam Legislature, has introduced legislation to amend a previous bill banning smoking. The 2005 Natasha Protection Act banned smoking in all public buildings, including workplaces, bars, restaurants and other public establishments. If Speaker Cruz's legislation passes, the ban would extend to vaping.
Jetsada Homklin – Pattaya News
Look around any Pattaya bar and you'll likely see someone still smoking an electronic cigarette, even though they've been illegal in Thailand since 2014.

Despite raids on markets and announcements form the police, e-cigarettes continue to be sold quietly around Pattaya for 300-2,000 baht, with flavored "vaping" liquid going for as little as 100 baht a bottle.

Study Finds E-Cigarettes Would Prevent 6.6 Million Premature Deaths
Lindsey Stroud, Heartland Institute
A new study published in the October 2017 issue of Tobacco Control, a BMJ peer-reviewed journal, concludes electronic nicotine delivery systems (ENDS), commonly called e-cigarettes or vaping, would help avert deaths if used to replace cigarettes. The study analyzed health outcomes using "a strategy of switching cigarette smokers to e-cigarette use ('vaping') in the USA to accelerate tobacco control progress."
Alex Tabarrok – Marginal Revolution
E-cigarettes are less dangerous than cigarettes but are equally effective at delivering nicotine. Levy et al. estimate that if smokers switched to e-cigarettes millions of life-years would be saved, even taking into account plausible rates of non-smokers who start to vape. (It's worth noting that the authors are all cancer researchers, statisticians and epidemiologists concerned with reducing cancer deaths.)
 Ken Scrudato – BlackBook
There are endless tales of personal redemption, to be sure. But how many of those might actually lead to saving millions of other lives, as well?

That's the story of Douglas Teitelbaum, a successful serial entrepreneur, known for buying up companies and turning them around. His most notable achievement was NextWave Telecom, when, before even his 40th birthday in 2004, his investing acumen netted billions – and got him featured in the New York Times.
---
A look back at how things have moved on or otherwise….
Christopher Snowdon – Velvet Glove Iron Fist
I mentioned in a recent article the role of the Nudge Unit in keeping e-cigarettes on the market in Britain. According to David Halpern in his book Inside the Nudge Unit, his team were instrumental in lobbying for light touch regulation after he came across an e-cigarette by chance in 2010. Here are a few excerpts….
IVVA – Irish Examiner
"In England, in particular, there's a shift towards encouraging the use of vaping as a substitute for smoking lit tobacco and the rewards for that fresh thinking are beginning to show. Some NHS hospital trusts have lifted their campus bans on the use of electronic cigarettes. Leicester and Bristol councils openly embrace cross-sector co-operation between vape shops and public health services to educate smokers on the benefits of making the switch from smoking to vaping,"
Jérôme Harlay – Vaping Post
Investigating e-cigarette puffing patterns and user behaviour associated with high and low strength nicotine e-liquids is one of the objectives Lynne Dawkins wants to achieve with this study [1] that will be carried out at London South Bank University. The researcher expects to get insights in how this affects toxicant and carcinogen exposure.
---
Visit Nicotine Science & Policy for more News from around the World

---