Vapers Digest 16th October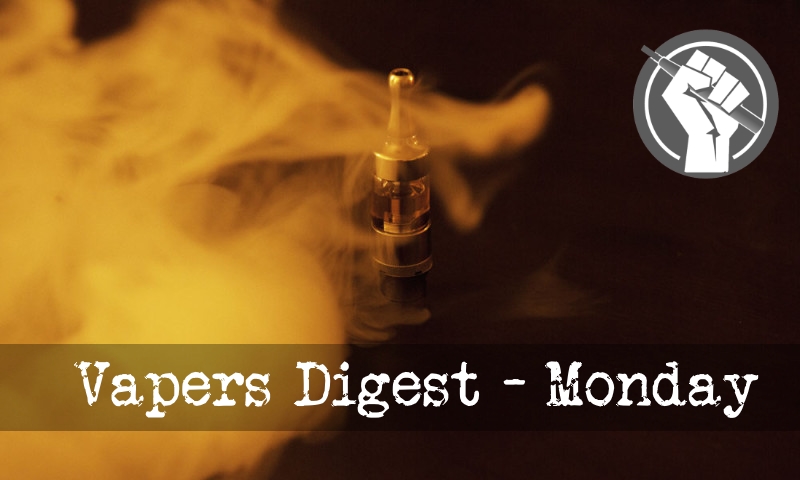 Monday's News at a glance:
Gasping for Tobacco "Control" – WHO's health is it anyway? – If ignorance was an Olympic Sport – Sales of vape starter kits soar by 37 per cent  – If you're struggling this Stoptober – British e-cigarette advocate urges Australian government to lift ban and save lives – 'Not on my watch' – Ministry of Health position statement – E-cigarettes are 'phenomenal' tool – CASAA Testimonials Collection: – E-Cigarette crackdowns are misguided – Vaping In The News October 14th – Sharp rise in smuggling and sale of e-cigs – Global Forum on Nicotine – Nicotine Science and Policy Daily Digest
Kevin Crowley, Vaping Links
However subtle and contrived – or loud the gasps become, the fight for tobacco revenue continues. Tobacco control assumes it's their money. They want to feed their addiction by continuing their charade.

They want to continue funding manipulating motivating the public under the pretense of trying to "protect" health and making the world better. Hmm.
Harry Shapiro
The heat and dust continues to swirl around the Foundation for a Smoke Free World https://www.smoke-freeworld.org/leadership.

Whether the negativity continues will very much depend on what it actually does, although suspicion will always dog its tracks no doubt. The WHO have weighed in with a statement urging all governments and public health bodies to steer clear and refuse any collaboration:
---

---
Glasgow City Council's vaping policy could secure it a gold medal
Andrew Allison, The Freedom Association
I published a major report last year on behalf of The Freedom Association's Freedom to Vape campaign which looked at the vaping policies of all UK councils. The responses highlighted hundreds of outdated policies, so this year we have repeated the exercise and included a couple of extra questions to find out if councils are listening to advise from Public Health England (PHE) which was included in the Government's Tobacco Control Plan.
Early signs indicate that Public Health England's new harm reduction approach to decreasing smoking rates across the UK has not only been widely accepted, but capitalised upon. For the first time, vaping has featured prominently within the NHS Stoptober campaign, with the official website included in the Stoptober TV advertisement.

Vape Club – the UK's largest online retailer of vaping products and e-cigarettes – has seen e-cigarette starter kit sales increase by 37 per cent year on year following the launch of the 2017 campaign.
---
---
Urges Australian government to lift ban and save lives
Esther Han, Sydney Morning Herald
Legalising e-cigarettes in Australia could make smoking obsolete and save lives, a British electronic cigarette advocate is poised to tell a parliamentary inquiry in Canberra this week.

Clive Bates, a former director of Action on Smoking and Health in the UK who claims to have no financial links with the tobacco industry, believes vaping products could lead to "one of the greatest public health wins of all time".
Gareth Parker, Clive Bates
A leading advocate for e-cigarettes will tell a parliamentary inquiry that nicotine vaping can help cigarette smokers quit altogether.

Former director of Action on Smoking and Health in the UK, Clive Bates, told Mornings with Gareth Parker, there's a strong case for e-cigs from a public health point of view. Download this podcast here
Health Minister rules out legalising e-cigarettes
Health Minister Greg Hunt says he will never lift the ban on e-cigarettes despite an ongoing Senate inquiry into their use.

Minister Hunt told Hack: "It's not going to be happening on my watch as far as I'm concerned."
New Zealand
In 2011, the Government set a goal for Smokefree 2025. The goal aims to reduce smoking prevalence to minimal levels.

The Ministry of Health believes e-cigarettes have the potential to make a contribution to the Smokefree 2025 goal and could disrupt the significant inequities that are present.
---

---
David Millett, GP Online
All evidence points to e-cigarettes being an effective tool in helping smokers to quit, experts told the RCGP annual conference in Liverpool – but only if they are coupled with specialist support and complete cessation of tobacco use.

In a session on cancer care in general practice, GPs said smoking cessation was one of the most cost-effective ways GPs could help prevent cancer.
Adam Afriyie – Conservative  MP Windsor
We're midweek through Stoptober – an annual tradition where people try and abstain from smoking. Unfortunately, for too many people this monthly habit normally ends after a week, or going straight back to their old habit whilst packing away the Halloween decorations on 1st November.

Like many of those currently trying to stop I did so very intermittently: a week or so here or even for a month or two. But for some reason the temptation for nicotine always lingered as doggedly as the smell of tobacco clings to clothes.
A Trove Of Insight On Quitting Smoking – Carl V. Phillips
In 2013, The Consumer Advocates for Smoke-free Alternatives Association started a collection of testimonials from ordinary people who successfully practiced tobacco harm reduction (THR). That is, they lowered the risks associated with their use of tobacco (typically combustible cigarettes). These stories are told in people's own words, ranging from simple case reports to expressions of deep personal emotion, containing what they felt were the important parts of their own story.

Theresa Tan, Singapore
E-cigarettes are hot on the black market, given the rising number of cases the authorities have investigated in recent years.

From April 2014 to March this year, the Health Sciences Authority (HSA) probed about 15,000 vaporiser cases, including cases of people trying to sell them online or smuggle them here for their own use. Vaporisers include e-cigarettes and e-cigars.
Nicolas John, R Street
In an unfortunate trend across the country, cities and towns have raced to institute new regulations and update existing laws that deal with e-cigarettes and vapor products, often with little consideration of the potential these products have to improve public health.
Kevin Crowley, Vaping Links
As I put this weeks edition together, I pondered all the time and public OUR money wasted over the past 10+ years by experts – tracking tweets, buying media, pretending to do studies and claiming science… Then, I wonder…. what have they tried to accomplish… and what other much more important items they've done the same with, or ignored in the process.
Thursday 14th to Saturday 16th June 2018
We are delighted to announce that the website for the fifth Global Forum on Nicotineis now online here. The conference will be held once again at the Marriott Hotel, in Warsaw, Poland, from Thursday 14th to Saturday 16th June 2018. The theme for the conference is 'Rethinking Nicotine'.

Registration for the conference is now open and full details of fees and how to register can be found here
---
A look back at how things have moved on or otherwise….
A legitimate way of helping people to switch? – The Counterfactual
Faced with a patient who has had a cancer diagnosis, who smokes but rejects any attempt to discuss stopping smoking, what should a stop smoking advisor do?

This is a situation that one of our experienced stop smoking specialist advisors deals with every week. Running a clinic at Glenfield Hospital, a tertiary centre for respiratory conditions, she works closely with Dr Sanjay Agrawal
Dr Farsalinos
Few days ago I commented on the dangers related to the strategy of criticizing (I should say, intimidating) scientists for visiting a press conference and presenting just because the tobacco industry would be there. I mentioned that: "Criticism is welcomed and needed when it is focused on the scientific content….
Fergus Mason – Vaping Post
There are signs of movement in Indiana's e-liquid gridlock, with the state senator who pushed through their new law now admitting that its effects have been negative. However, that might not be enough to stave off an FBI corruption investigation. Meanwhile a new consumer umbrella group has been formed to stand up for vapers around the world, and plans to lobby the WHO to abandon its prohibitionist stance.
---
Visit Nicotine Science & Policy for more News from around the World

---