Vapers Digest October 12th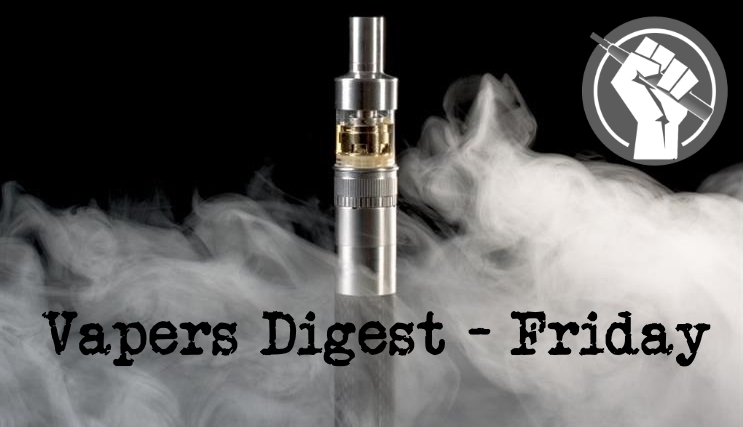 Friday's News at a glance:
E-cigarettes should be used more actively – Nicotine is a healthier habit than tobacco – Two Landmark Reports Should Light a Fire Under Drug Policy Reformers – Psychiatrist Blocks Farsalinos – Flavours Not Needed – FDA is Publicizing Truly Dangerous Products – E-cigarette use shifts – WHO's afraid of vaping – Public health officials are on a moral crusade – Research shows clear benefits – New Zealanders want full access to alternatives – Heart Care Foundation of India – Punjab FDA issues circular banning sale of e-cigs – Higher taxes to cut smoking in Hong Kong – Give Smokers Better Choices – How A Crackdown On E-Cigs May Benefit Altria – News Roundup – Nicotine Science and Policy Daily Digest
University of Exeter
"Ongoing nervousness" about the use of e-cigarettes in stop-smoking services can be a "significant" barrier to people finding support, research revealed during "Stoptober" shows.

New research by the University of Exeter and University of Melbourne, funded by Cancer Research UK, suggests stop smoking services which are e-cigarette friendly should advertise this more openly, and says greater use of e-cigarettes has the potential to make considerable impact in helping people give up smoking.
John Gapper – FT.com
Inventing a product that is wildly popular is not usually a setback for a technology company. But that is the difficulty facing Juul Labs, the San Francisco start-up behind the best-selling US ecigarette.

Juul is the Nespresso of vaping — a sleek device that works with a collection of flavoured pods, including mango and cucumber, to deliver an intense hit of nicotine in a cloud of vapour.
---

---
Should Light a Fire Under Drug Policy Reformers
Helen Redmond, FilterMag
Two landmark reports about drugs and harm reduction have been released in the past few weeks: Regulation: The Responsible Control of Drugs by the Global Commission on Drug Policy, the organization of former world leaders; and No Fire, No Smoke: The Global State of Tobacco Harm Reduction by Harry Shapiro on behalf of Knowledge-Action-Change, a health agency associated with the Global Forum on Nicotine.

Put them both on your must-reads list. The report by the Global Commission is the latest in a series published annually since 2011, while the report on tobacco harm reduction (to which I contributed as a key informant) is the first of its kind.
Mawsley, Planet of the Vapes
Dimitris Papadimitriadis sums up the state of debate over harm reduction, first being derogatory, and then blocking Dr Konstantinos Farsalinos when challenged on his opinions about vaping. It would appear that Papadimitriadis cares more for taking moody Instagram pictures than he does for the health of Greece's smokers.
Mawsley, Planet of the Vapes
In a letter to The Society for Research on Nicotine and Tobacco, published in the Nicotine & Tobacco Research journal, M. Ward-Peterson and W. Maziak (Florida International University, Miami) write "For Smoking Cessation, E-Cigarette Flavours Aren't Required".
The pair plies their trade in the Department of Epidemiology at the Robert Stempel College of Public Health. Their pay-walled letter carries a combination of ridiculous statements and laughable propositions.
---
The 2018 E-cigarette Summit programme, London, Royal Society, Nov 15th 2018 is now live. Further details here and a number of new speakers this year and new perspectives: https://t.co/4E5FdT5jgf

— Linda Bauld (@LindaBauld) October 12, 2018
"Compared to 2006, past 12 month quit attempts and smoking cessation increased among adults aged 25-44 in recent years. Current e-cig use was associated with increased past 12 month quit attempts and successful smoking cessation among established smokers."https://t.co/YyjJso85IY

— Frank Baeyens (@FBaeyens) October 12, 2018
Thema der Woche: #COP8FCTC
Die COP8 der WHO FCTC in Genf ist vorbei und schon sind deren (negative) Auswirkungen zu spüren.

weiterlesen: https://t.co/NMPDnT2mEK https://t.co/NMPDnT2mEK

— IG-ED (@ig_ed) October 12, 2018
---
Jim McDonald, Vaping 360
The FDA sent a warning letter yesterday to a Chinese company selling e-liquids that violate multiple sections of the federal Food, Drug, and Cosmetic Act. In a statement and a series of tweets, FDA Commissioner Scott Gottlieb portrayed the warning as part of the agency's efforts to reign in the U.S. vaping industry.

"This action is part of FDA's broader effort to regulate the safety of vaping products, and crack down on misleading claims and illegal and dangerous e-liquids that may entice youth or put consumers at risk," said Gottlieb in a statement.
Towards lower socioeconomic groups – UCL
The study, published today in Addiction and funded by Cancer Research UK, is the first of its kind to look at the use of e-cigarettes, which includes vape pens and vape mods, by socioeconomic groups at the population level.

The research team analysed data from over 80,000 adults in the UK aged 16 or over on a monthly basis for four years from 2014, which marked the time that use had stabilised after the initial rapid rise in e-cigarette use at the beginning of the decade.
Yaël Ossowski
For the second time in two years, I sat in the public gallery at a United Nations conference in Geneva as a senior UN bureaucrat told us that all members of the media and public were to be barred from the proceedings. This particular occasion was one of the UN's biannual sessions to update the World Health Organisation's Framework Convention on Tobacco Control (FCTC).
---

---
Spectator Health
The Netherlands comes a respectable 24th out of 28th in the Nanny State Index (the fewer points, the freer the country). It's not quite as good as Germany on lifestyle liberty but it's definitely in the green zone. Its reputation as a liberal haven has been largely well earned.

That could soon change. The Dutch health minister, Paul Blokhuis, wants to fast-track plain packaging through the Dutch parliament. He also wants to introduce minimum pricing so that the price of a crate of beer doubles from €10 to €20.
St. George's University of London
Latest figures from the WHO show that smoking is still the number one preventable disease, killing seven million people globally each year.

Stoptober is timely for Senior Lecturer Alexis Bailey who has presented preliminary results from his research on e-cigarettes at SRNT, the top nicotine and tobacco research conference, in Munich last month.

There has been a meteoric rise of electric cigarette use in the UK since their introduction in 2006. In the UK, e-cigarettes are used by smokers to help them stop smoking as well as by former smokers, and it is estimated that there are 3.2 million e-cigarette users in the UK alone.
Future Developments in the Regulation of Electronic Nicotine Delivery Systems:
Azim Chowdhury and Samuel Jockel
In 2009, Congress passed the landmark Family Smoking Prevention and Tobacco Control Act (TCA), amending the Food, Drug and Cosmetic Act (FDCA) to give the U.S. Food and Drug Administration (FDA) authority to regulate the manufacture, sale, distribution, and marketing of tobacco products. The enactment of the TCA coincided with the introduction of new, reduced-harm products—namely, e-cigarettes or Electronic Nicotine Delivery Systems (ENDS)—that have since transformed the tobacco industry.

To cigarette alternatives
Nine out of ten New Zealanders believe adult smokers should have access to alternative products if shown to have the potential to reduce the risk of smoking compared to cigarettes, according to a new survey*.

The Ipsos survey, commissioned by Philip Morris International (PMI), reveals that 75 per cent of the 1000 New Zealanders surveyed also believe the government should do all it can to encourage adult smokers who don't quit cigarettes to completely switch to better alternatives.
Mawsley, Planet of the Vapes
The Heart Care Foundation of India (HFI) has thrown its weight behind harm reduction and vaping – despite the government coercing anybody and everybody to oppose the safer way to consume nicotine. HFI is to be praised for taking the correct stance on this matter and prioritising the health of the population over tobacco company profits.
HFI was set up in the mid-1980s to increase awareness of all aspects of health, for everybody no matter their status or income. Such is its work valued that the government has commemorated it on not one but two postage stamps.
Food and drugs administration (FDA), Punjab, has issued a fresh circular prohibiting sale of  e-cigarettes and heat-not-burn (HNB) devices. The circular has been issued following an advisory by the Union ministry of health and family welfare on electronic nicotine delivery systems including e-cigarettes, HNB devices, e-nicotine and flavoured hookah
In her policy address, Carrie Lam proposed a ban on the sale of e-cigarettes in the city, fearing possible harm to health and abuse by youngsters, but one measure has already achieved results.

Chief Executive Carrie Lam Cheng Yuet-ngor has taken ownership of the government's decision to abandon a plan to merely regulate e-cigarettes and other new smoking products, the long-term health effects of which are unknown. Instead, Lam said in her policy address she had decided to ban the sale of them altogether in the interests of public health.
To Give Smokers Better Choices – PMI
A new global survey* commissioned by Philip Morris International and conducted by Ipsos reveals that 77 percent of adults agree that governments should do all they can to encourage men and women who would otherwise keep smoking cigarettes to completely switch to better alternatives.
Recently, the FDA ordered five brands – Juul, British American Tobacco's Vuse, Altria's MarkTen, Imperial Brands' Blu E-cigs, and Japan Tobacco's Logic – to submit their plans of discouraging use of their products by teens within 60 days. On the face of it, an FDA crackdown on e-cigarettes – one of Altria's fastest growing segments – should worry investors.
Mawsley, Planet of the Vapes
In France, smoking cessation experts have forgotten all about vaping as part of their "Mois Sans Tabac" campaign. Over the border, in Germany, just one-third of the population appreciate that vaping is safer than smoking. Canadian CBC News are conveying lies about "Big Vape" to their viewers. Chicago is sticking the boot into eliquids, and its hand into vapers' pockets.
---
A look back at how things have moved on or otherwise….
On tobacco policy? – Clive Bates
I'm visiting Australia next week and looking forward to some good discussions with people holding any and all points of view on vaping, nicotine and smoking. My aim is to share experience from the US and UK where we are seeing encouraging uptake of low-risk vaping alongside an unusually rapid decline in smoking. Historically, UK has always had substantially higher levels of smoking than Australia, but in 2016 that gap has finally closed…
By FDA CTP & National Cancer Institute Regarding Smokeless Tobacco?
Brad Rodu, Tobacco Truth
"A majority of adults do not think smokeless tobacco is less harmful than cigarettes," according to a study by the FDA Center for Tobacco Products and the Tobacco Control Research Branch of National Cancer Institute (abstract here).

Sheri P. Feirman and colleagues analyzed responses to a question in the Health Information National Trends Survey (HINTS), 2012, 2014, and 2015: "Do you believe that some smokeless tobacco products, such as chewing tobacco and snuff, are less harmful than cigarettes?"
---
Visit Nicotine Science & Policy for more News from around the World

---