Vapers Digest October 10th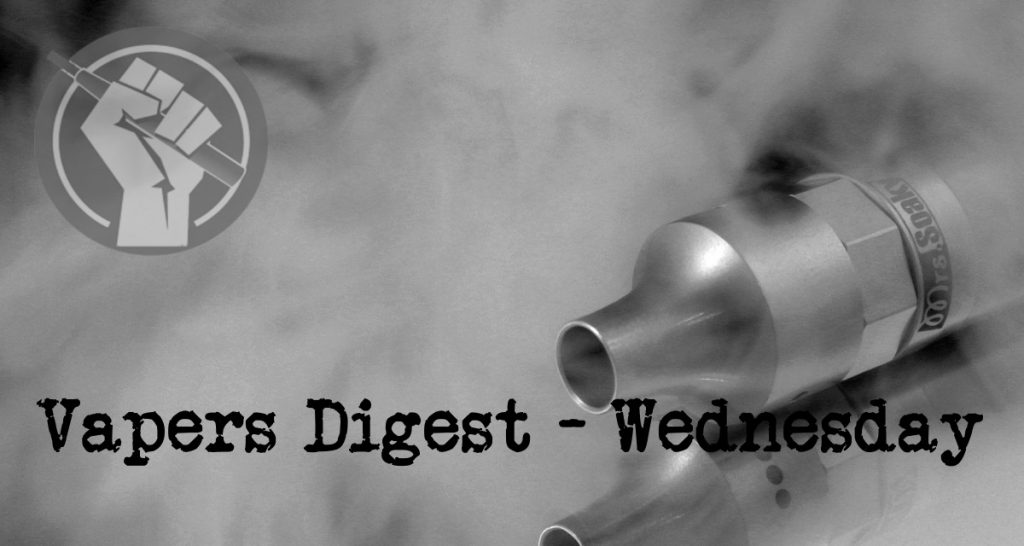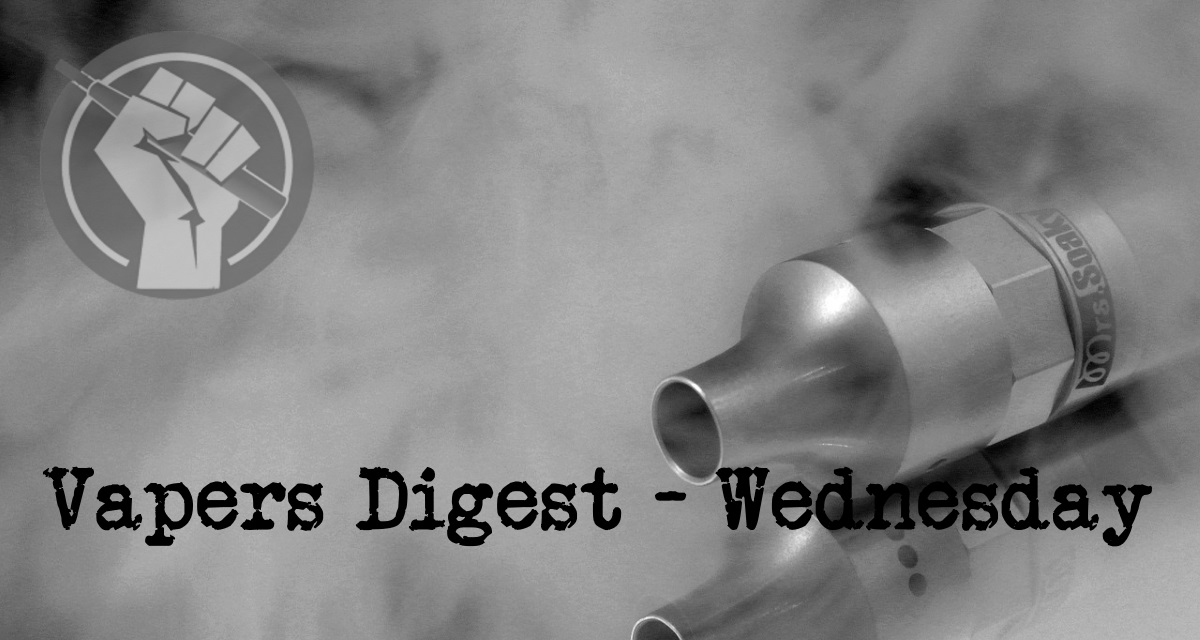 Wednesday's News at a glance:
Vicious Vape Advocates ~ Tobacco Products and Nicotine Inhaling Products ~ Canada's New Regulatory Framework for Vaping Products ~ Time to drop the name 'e-cigarette' for something more appropriate ~ FDA Still Hooked on Meddling in Nicotine Markets ~ FDA Lands on Wrong Side of Tobacco Harm Reduction ~ Glantz Settles Claim ~ Glantz settles academic fraud and sexual harassment lawsuit ~ Not All Teen Smokers & Vapers Are Lawbreakers ~ 5 Live Investigates ~ London Fire Brigade STILL Supports Vaping ~ Homelessness, Vaping and Fentanyl ~ Mission Creep In The FCTC ~ Hong Kong Announces a Complete Ban on Vapes ~ I used e-cigarettes to quit smoking after 10 years trying in vain to stop.
Mawsley, Planet Of The Vapes
Rooted in either paranoia or self-interest, the summary of COP8 published on a United Nations website paints vape advocates as extensions of the tobacco industry and calls the harm reduction volunteers "vicious".

"Tobacco giants are adopting new ways and "disguises" to push their products," states the UN article, "noxious both for people and the environment, and interfere wit ~h government efforts to regulate the sale and use of tobacco, the head of the Secretariat of the WHO FCTC, the United Nations-led tobacco control treaty, has told UN News."
Department of Health & Social Care, Gov.UK
Purpose

We seek feedback on the practical changes that will affect the tobacco and e-cigarette industries if the UK leaves the EU with no deal. We welcome feedback on any practical issues that you think should be considered as part of the implementation of changes.

Context

Current regulations for tobacco and related products are designed to promote and protect the public's health. The government's priority is to maintain the same high standards after the UK leaves the EU.

We firmly believe it is in the interests of both the EU and UK to strike a deal. That remains the goal on both sides and we are confident that this will be achieved. Nevertheless, we recognise the need to have clear plans in place for no deal.
of Risk
The Continuum
On May 23, 2018, Bill S-5 ("An Act to amend the Tobacco Act and the Non-smokers' Health Act and to make consequential amendments to other Acts") became law in Canada, representing a major shift in Canada's regulatory framework, as the Bill establishes a nationalized approach to the regulation of vaping products and tobacco products through the implementation of the Tobacco and Vaping Products Act (TVPA).
---

---
Colin, Australian Tobacco Harm Reduction Association
It is time to consider replacing the terms 'e-cigarette' and 'electronic cigarette' with something more appropriate. These labels link a low-risk life-saving technology to a toxic and deadly product and are muddying the already murky waters of the tobacco harm reduction debate.

'Cigarette' is an intensely powerful word. It carries emotion, stigma and negativity way beyond its basic meaning. Cigarettes are arguably the most lethal consumer product ever invented and kill up to 2 in 3 regular users when used as intended.
Raymond March

, Independent Institute
Back in April, the Food and Drug Administration announced plans to reduce nicotine levels in cigarettes to help current smokers quit and prevent future generations from starting. In an op-ed I wrote for Inside Sources, I argued such efforts are unlikely to help and will likely cause considerable harm.

At the time, lawmakers also pressured the FDA to regulate e-cigarettes, worried they were steering younger generations into nicotine addiction. In the same op-ed, I warned that regulating e-cigarettes, like regular cigarettes, "will also lead to serious harm guided by good intentions."
---
Very sad to hear about the passing of Robin Lathers, a passionate THR advocate and wonderful person, who we lost yesterday dueto colon cancer. pic.twitter.com/RbEKDfWlRP

— Gregory Conley (@GregTHR) October 8, 2018
---
Liz Sheld, PJ Media
Less than one month ago, Dr. Scott Gottlieb, Commissioner of the Food and Drug Administration (FDA), announced "new steps" the FDA would be taking to address the "epidemic of youth e-cigarette" use. Gottlieb issued  warnings to the manufacturers of popular e-cigarette devices, informing them they must show how they are working to keep their devices out of the hands of minors. The agency also put 1,300 retailers on notice about sales to underage customers.

---
Mawsley, Planet Of The Vapes
The University of California San Francisco (UCSF) and Professor Stanton Glantz have agreed to pay an out-of-court settlement to Dr. Eunice Neeley, following claims of sexual harassment and race discrimination against Stanton Glantz. Glantz still faces a further legal action brought by Juliette Jackson.

The UCSF says about Glantz: "He is a globally recognised expert on e-cigarettes and is applying his understanding of the tobacco industry to the emerging marijuana industry as well as the sugar industry."

Carl V. Phillips, Anti-THR Lies
As my regular readers — or anyone who appreciates some really awesome schadenfreude — will know, two lawsuits were filed by female students against UCSF anti-tobacco nutcase and faux-scientist Stanton Glantz (technically they were postdoctoral fellows, but there is no relevant difference here between a graduate student and a postdoc). They were billed as sexual harassment suits, though the real payloads were about other abuses by Glantz. I covered it at The Daily Vaper, here, here, and here, and did a video interview about what I wrote here.
---

---
Brad Rodu, Tobacco Truth
Sixteen percent of high school exclusive vapers in the 2017 National Youth Tobacco Survey (NYTS), or 184,000 out of 1.15 million, were 18 years of age or older, meaning that they could buy tobacco products legally.

Legal-age students also constituted one-quarter of high school smokers and 23% of dual users, according to the NYTS and shown on the chart at left.
Mawsley, Planet Of The Vapes
"5 Live Investigates" is a show presented by Adrian Goldberg. The BBC claims that this show represents "cutting edge investigative journalism", yet Sunday's peek at teen vaping proved to be anything but. The radio debate swiftly progressed from facts to hysterical, unsubstantiated nonsense by the presenter and his pharmacy studio guest.
Mawsley, Planet Of The Vapes
The London Fire Brigade has thrown its weight behind the Stoptober quit smoking campaign. Yet again, the service is recommending Londoners to switch from smoking to vaping because of the reduced risk of house fires. Its message is clear: "It's time to #besmokefree!"
Three More Examples of Bad Media Coverage of Drugs
Sessi Kuwabara Blanchard, FilterMag
Inaccurate and biased media coverage of drugs, drug use, and harm reduction was in full swing over this past weekend. Many have noted the role of the news media in perpetuating, and sometimes explicitly endorsing, the War on Drugs. This is not going to end soon. In different ways, the three articles below disparage drug users, discredit harm reductionists, and make damaging alarmist claims.
Bolton Smokers Club
VGIF (Velvet Glove, Iron Fist by Chris Snowdon) has an interesting article about the machinations of COP 8:

https://velvetgloveironfist.blogspot.com/2018/10/the-world-health-organisations-week.html

One thing that struck me, amongst many others, is that the FCTC has now set up another subsidiary called:

the Global Strategy to Accelerate Tobacco Control – to 'reinforce government policies and accelerate global action for more effective implementation of the tobacco control treaty'.

Oh, and there is already another subsidiary called: the Framework Control Alliance. Oh, and there is another shindig just starting in Geneva called MOP 1, which 'aims to Eliminate Illicit Trade in Tobacco Products'. I have no doubt that the word 'illicit' means ANY trade in tobacco products, other than that which is controlled by 'The Mob'.
---
Jim McDonald, Vaping 360
After indicating that it would regulate but not prohibit vaping products, the government of Hong Kong has decided instead to institute a full ban on their sales, manufacture and import. The ban will also cover heat-not-burn tobacco products (HNB).

There is no proposal to ban cigarettes, which produce massive tax revenue for the government.
Hong Kong's ban is wrong
South China Morning Post
Peyton Chan was a smoker for 20 years. For 10 of those years he tried in vain to quit, and only succeeded when he switched to e-cigarettes. He thinks other smokers should have the chance to do the same.

As a smoker for 20 years, the advent of electronic cigarettes was a boon for me. Like many heavy smokers who have tried to quit the highly addictive habit, I always succumbed in the end to my desire to light up again, especially when stressed at work or in the throes of personal setbacks.
---
Visit Nicotine Science & Policy for more News from around the World

---