Vapers Digest October 8th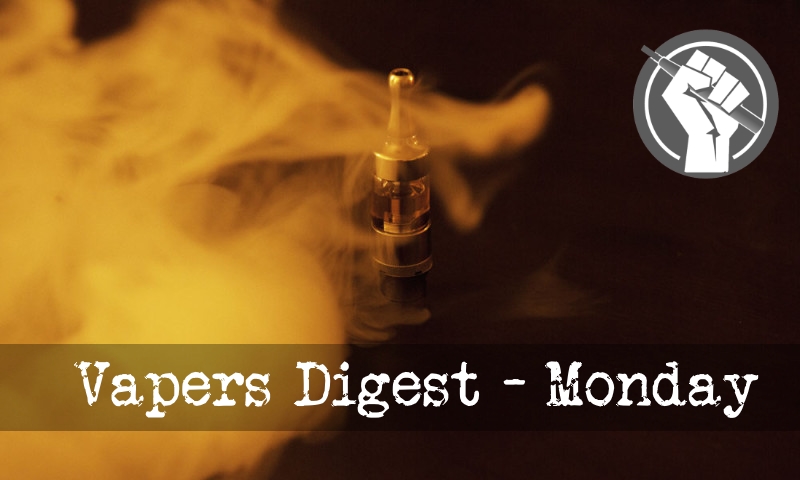 Monday's News at a glance:
The World Health Organisation's week – No Fire, No Smoke but plenty of Heat – WHO slams the doors on transparency – again – Most Popular Stop Smoking Aid in England – Meet the Rich Moms Who Want to Ban Vaping – Juul Hires Washington Insiders  – Professor Settles Sexual Harassment Claims – Vaping could be the solution for public smoking bans – Experts urge Centre to reverse stand on e-cigarettes – How safe are E-Cigarettes? – Groups debate impact of e-cigarettes – Controversy and cautious hope over vaping – Chicago City Council passes e-cigarette tax hike – 10 Iconic Totally Wicked Moments – POTV News Roundup – Nicotine Science and Policy Daily Digest
Christopher Snowdon, Velvet Glove Iron Fist
I was in Geneva for a couple of days last week to check out the WHO's Conference of the Parties meeting (COP8). Not that there was much to check out. As is traditional, the public and press were kicked out at Monday lunchtime and weren't allowed back in.

It wasn't clear what was being discussed inside. Even now, two days after it finished, it's not clear what was decided. Neither the Framework Convention on Tobacco Control (FCTC) website nor its Twitter feedsuggested that anything substantial had been agreed.
Harry Shapiro's Blog No 71
Tuesday 2nd October saw the launch of the inaugural edition of No Fire, No Smoke: the Global State of Tobacco Harm Reduction report. The launch took place in Geneva close to the Conference of the Parties (COP) to the Framework Convention on Tobacco Control (FCTC).

Launch day was a huge success and a major step forward in the fight to gaining acceptance of tobacco harm reduction at the international level. The YouTube video link below will give you a taster of how it all went.
---

---
Fergus Mason, Vaping Post
In a now-familiar routine, the World Health Organisation's leading tobacco control conference voted to expel the public and keep its activities a secret. Meanwhile Chicago's controversial mayor has pushed through a surprise increase in the city's vape tax, already the highest in the USA. In other US news, academics claim battery explosions are far more common than previously reported, and the FDA continues its attacks on JUUL Labs.
Jacob Sullum
E-cigarettes are "the most popular stop smoking aid in England," according to a recent government report, which says they increase the likelihood of success by about 50 percent and reduce health risks by "at least 95%." The report from Public Health England (PHE) illustrates the continuing contrast between the way British officials talk about vaping and the way their American counterparts do.
---
But erroneously includes Consumer orgs like @NNAlliance a part of @INNCOorg in this. In effect consumers left with no voice with an 'astroturf' classification which is a terrible indictment of the process and the paranoia of a majority of the delegates supporting this nonsense!

— Alan Beard (@Alan_Beard1) October 8, 2018
About time insurance companies saw the difference

Vapers will enjoy same insurance rates as non-smokers for the first time https://t.co/7l5CEHybuQ

— Louise (@grannylouisa) October 8, 2018
---
Jim McDonald, Vaping 360
Every good moral panic needs frightened and outraged parents. And every group of frightened and outraged parents includes a few that want to organize and lead a movement, usually dedicated to abstinence and piety.

Meet Parents Against Vaping e-cigarettes. Formed this year at the height of JUUL fever, PAVe (that's how they spell it) is led by wealthy and influential New Yorkers who take their moralistic war on vaping very seriously, or at least they seem like they do
Jennifer Maloney
Juul Labs Inc. has hired a former White House adviser to join its leadership team, one of several ex-federal officials or regulators added by the e-cigarette startup this year as it tries to head off a potentially ruinous government crackdown on its products.

Surging teen use of the company's slim e-cigarette devices has set off debate in Washington and neighborhoods around the country about whether Juul is hooking more children on nicotine than it is helping adult smokers quit.
Still Receives Taxpayer Money – Ross Marchand
The #MeToo movement has affected the lives of millions of women across the country, giving them a voice that is finally being heard. Movies, actors and products are being boycotted.

But it appears the Food and Drug Administration (FDA) and National Institutes of Health (NIH) never got the memo, considering that they just awarded a $20 million grant to a research center headed by Dr. Stanton A. Glantz, a professor at the University of California, San Francisco (UCSF), who's been accused of sexually harassing multiple employees
---

---
ATHRA
The proposed smoking bans in North Sydney's CBD and Canberra's public spaces are based on good intentions. Secondhand smoke is unpleasant and harmful to bystanders. However, smoking is a powerful addiction and smokers need their regular nicotine fix.

One solution that could satisfy the needs of smokers and bystanders is to encourage vaping as a safer alternative.
Bindu Shajan Perappadan
Experts have called on the Union Health Ministry to reverse its stand on electronic cigarettes and help lower tobacco risk and abuse.

"The Union Health Ministry has adopted a policy on vaping that will harm the health of millions of Indians and protect and entrench smoking," said former president of the International Harm Reduction Association Alex Wodak.
Dr KK Aggarwal
That tobacco kills is a fact. Globally, more than 60 lakh of these deaths are the result of direct tobacco use, while around 8.9 lakh are due to non-smokers being exposed to second-hand smoke. Smoking-related deaths are expected to increase to 80 lakh by 2030. Hence, it is important to reduce it, otherwise an estimated one billion lives will be lost prematurely by 2100, according to the Annual Review of Public Health. And this is where e-cigarettes come in.

Chito Chavez
Engr. Emer Rojas, cancer survivor and president of the New Vois Association of the Philippines (NVAP), speaks against the dangers of smoking using a voice apparatus during a press conference in Quezon City. (Camille Ante/Manila Bulletin)

One group insists that e-cigarettes are a viable option to stopping conventional smoking, while the other group claims this alternative also has the same hazardous effects as tobacco.
Controversy and cautious hope over vaping
Nicole Crumley grew up in tobacco country, and tried her first cigarette when she was barely out of middle school. "It's kind of what you did in the South, when you're 13 years old. I think things are a little different down here," she told correspondent Tony Dokoupil. For the next 20 years, she couldn't kick the habit: "I tried the gum, I tried the patches, I've tried the lozenges, and none of that stuff worked." What ultimately did work is vaping.
Users of e-cigarettes are now paying more at Chicago counters.

On Sept. 20, Mayor Rahm Emanuel introduced an ordinance raising taxes on e-cigarettes and requiring all retail stores to keep vaping products below the counter, effective immediately. Chicago City Council approved the mayor's ordinance "within hours," according to the Civic Federation.
On 8th October, Totally Wicked turns 10 years old. Over the past decade, we've had some iconic moments which many of you will remember well. Let's take a look back at some of the key moments in our history which have helped shape Totally Wicked.

Totally Wicked started small, in a bedroom in fact, but soon the need to expand was realised. Blackburn is a proud old mill town and Brook Mill was our first official 'home'.
Mawsley, Planet of the Vapes
Colin Mendelsohn is asked if vaping a conspiracy created by Big Tobacco. The FDA 'raid' Juul Labs' office as Mitch Zeller now claims vaping doesn't work. Odd that the inventor of the FDA's favoured nicotine patch says it does. A health minister in New Zealand is blocking vape advocates and organisations on Twitter. 88Vape discover they've not broken advertising rules, and a would-be vape store robber loses more than his credibility.
---
A look back at how things have moved on or otherwise….
To Stop Vaping Being Used As A Tool Of Coercion?
Dick Puddlecote
For years, many smokers have expressed concern about e-cigs to me. They are obviously quite happy for others to exercise their choice to vape, but they are worried that e-cigs – if accepted by the authorities – will be used as a tool to bully them into quitting smoking. I have always said that these fears are far-fetched, and I certainly would never agree with the idea of any organisation being so crass.
Fergus Mason, Vaping Post
American vapers were confused this week by a memo alleged to have been written by FDA director Scott Gottlieb, which quickly proved to be a fake. However, this was soon overshadowed by a major new study which found that vaping has the potential to save millions of lives over the next ten years; this is likely to dial up pressure on the FDA to take a more sensible approach to regulation.
Mawsley, Planet of the Vapes
Last week, we broke the news that the 2017 Stoptober campaign will feature television adverts suggesting vaping as a quit method – for the very first time. It has provoked consternation in certain circles and calls for e-cigarette users to be told there is "little evidence of benefits or harms".
The documented success of vaping has helped to break previous quit smoking record. A University College London report details that 20% of those who attempt to quit managed to succeed, in the first half of this year. Previous averages hung around the 15% mark.
---
Visit Nicotine Science & Policy for more News from around the World

---