Vapers Digest 6th October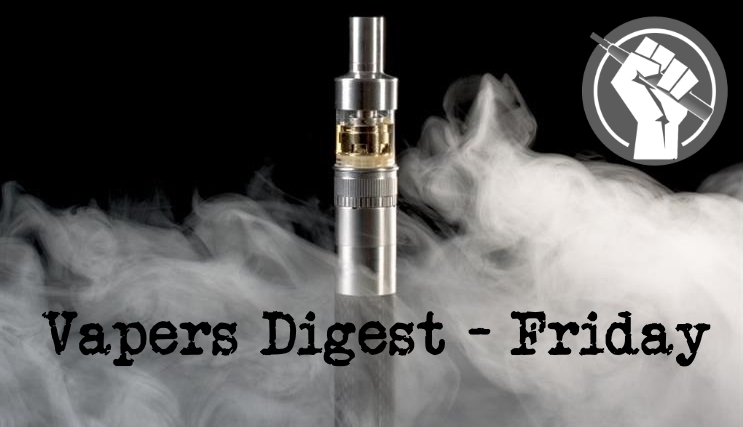 Friday's News at a glance:
Who's Standing Up To Stop Vaping Being Used As A Tool Of Coercion? – Mixed news from the USA – Stoptober Ecig Support Causes Disagreement – Permanent smoking and vaping ban – The E-Cigarette Summit 2017 – Potential deaths averted in USA – Chemical Exposure in vape stores – How to Choose An E-Cig Mod – Nicotine Science and Policy Daily Digest
To Stop Vaping Being Used As A Tool Of Coercion?
Dick Puddlecote
For years, many smokers have expressed concern about e-cigs to me. They are obviously quite happy for others to exercise their choice to vape, but they are worried that e-cigs – if accepted by the authorities – will be used as a tool to bully them into quitting smoking. I have always said that these fears are far-fetched, and I certainly would never agree with the idea of any organisation being so crass.
Fergus Mason, Vaping Post
American vapers were confused this week by a memo alleged to have been written by FDA director Scott Gottlieb, which quickly proved to be a fake. However, this was soon overshadowed by a major new study which found that vaping has the potential to save millions of lives over the next ten years; this is likely to dial up pressure on the FDA to take a more sensible approach to regulation.
---

---
Mawsley, Planet of the Vapes
Last week, we broke the news that the 2017 Stoptober campaign will feature television adverts suggesting vaping as a quit method – for the very first time. It has provoked consternation in certain circles and calls for e-cigarette users to be told there is "little evidence of benefits or harms".
The documented success of vaping has helped to break previous quit smoking record. A University College London report details that 20% of those who attempt to quit managed to succeed, in the first half of this year. Previous averages hung around the 15% mark.
---
🚨POLL🚨. From first trying an #ecig how long till you stopped smoking? Please #RT & comment if longer than 6 months. #vaping

— Lorien Jollye CAO (@CaeruleanSea) October 6, 2017
---
Starts at Darent Valley Hospital
A smoking ban stretching beyond the 31-day Stoptober campaign is underway at Darent Valley Hospital.

As smokers across the country look to try and kick the habit during the campaign, the Dartford hospital has gone a step further, with a permanent ban on smoking on site which started on Monday.

Dartford and Gravesham NHS Trust, which runs the hospital, has also banned vaping on the hospital grounds.
---

---
Royal Society in London on Friday 17th November 2017
Since the inaugural meeting in November 2013, The E-Cigarette Summit has been at the forefront of taking forward the scientific and public health debate around e-cigarettes and broader harm reduction debates. The Summit has established itself as a neutral environment for scientists, policy makers, medical and public health professionals and stakeholders to come together and look at the latest scientific research and evidence on e-cigarettes and debate their impact.
By replacing cigarettes with e-cigarettes – BMJ
The tobacco control community has been divided regarding the role of e-cigarettes in tobacco control. Our projections show that a strategy of replacing cigarette smoking with vaping would yield substantial life year gains, even under pessimistic assumptions regarding cessation, initiation and relative harm.

"Well Below" Regulations
The famous answer: "we don't know" has been made quite a bit more clear after a recent CDC backed publication reviewing the dangers and risks posed from being in a vape-heavy environment such as the interior of a vape shop. The study was triggered by a request from the shop owner.

CDC researchers spent two days in a local vape store. Each day they took air samples in different locations around the shop's setup; The main lobby/lounge area, Employee areas, and the testing station; also known as a vape bar. Simply stated in the study's findings, "Concentrations of vaping-related chemicals in our air samples were below occupational exposure limits."
Ashtray Blog
John has been vaping for a few months, using a relatively simple e-cigarette.

He has no problem filling tanks, changing wattage or adjusting airflow, but he doesn't (yet) have experience of more advanced features like temperature control.

He wants to upgrade to a more powerful and sophisticated device (and yes, one that looks a bit more impressive than his current e-cig).

But when he goes to choose his mod he is bewildered by the choice available.
---
A look back at how things have moved on or otherwise….
Dick Puddlecote
The ASH Twitter page believes in quality over quantity, which is why they proudly linked to this article in one of only two tweets today. Here are a couple of interesting snippets.

In contrast to the known harm (yeah, right – DP) from secondhand smoke, there's no evidence so far of harm to bystanders from exposure to e-cigarette vapour and experts have assessed the risks to be extremely low.

So therefore, an article entitled "Vaping in the home: advice for parents – by Jo Locker" should consist of a few lines after that saying it's none of their business, doncha think?
Paul Barnes – Facts Do Matter
If there's one thing that public health like to do, it's to provide adviceon how we, the Proles, live our day to day lives. This advice, which always ranges from the "no shit sherlock" to the "what the hell are you thinking" type. The vast majority of such "advice" is pretty much common bloody sense. Thing is, nanny seems to think us Proles don't have any, so they have to spoon-feed us guidance on a regular basis, just so we don't forget who's in charge.
The Role of Public Health Law in Ending an Epidemic
David Sweanor & Adam R Houston
Cigarette smoking is the leading cause of preventable death in wealthy countries, and rapidly replicating that status for the rest of the world. The WHO predicts that on current trends cigarette smoking will kill a billion people this century. Yet these deaths are almost exclusively caused by the inhalation of smoke rather than from the nicotine these consumers primarily seek.
---
Visit Nicotine Science & Policy for more News from around the World

---