Vapers Digest 9th October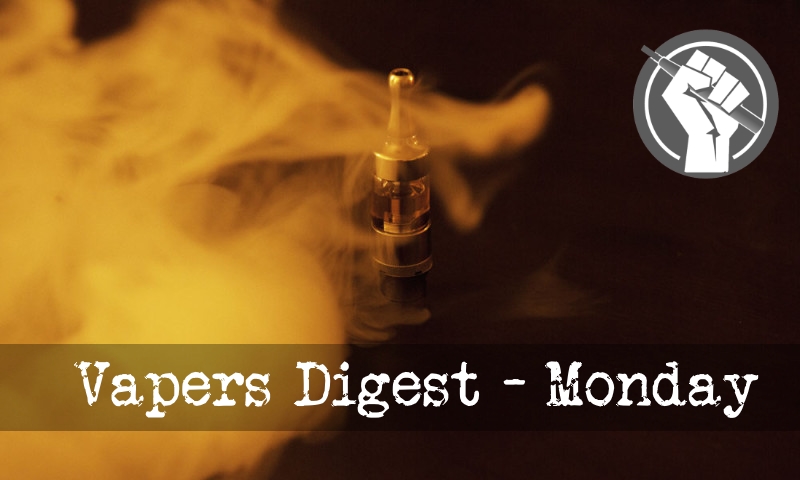 Monday's News at a glance:
Lancaster man vapes his way to marathon success – E-cigarettes should be promoted – Another Irrelevant E-Cigarette Summit – E-Cigarette Summit 2017 – Bloomberg School Of Public Health – How PR firms created "dialogue" structure  – Talking THR: Clive Bates – Higher taxes blamed for surge in black market tobacco – The 'alt tobacco' lobby and the war on choice – Draft amendment aims to strengthen e-cigarette ban – New Rhode Island law to restrict e-cigarettes – Strange Bedfellows – Johnson Creek is going out of business – Vaping In The News October 7th
To marathon success – Gayle Rouncivell
From struggling to walk up a flight of stairs to running marathons, Chris Baxter is the perfect example of someone who has turned their life around – and he says it's all down to vaping. As the month-long national Stoptober campaign launches for the first time featuring e-cigarettes in its advertising, Chris says he believes the switch from regular smoking has saved his life.
As a method of stopping smoking
The British Psychological Society
'Changing behaviour: Electronic cigarettes' published this week is a new briefing that aims to provide guidance and education to those involved with smoking cessation.

Dr Lynne Dawkins, Associate Professor at London South Bank University and co-author of the report said: "For smokers trying to quit, e-cigarettes are more attractive than traditional smoking cessation methods, such as nicotine replacement therapy, and at least as effective.  There is also mounting evidence that they are much safer than tobacco smoking".
Dick Puddlecote
Towards the end of proceedings on Friday 17th November, Sarah Jakes of the New Nicotine Alliance (NNA) will speak to the fifth E-Cigarette Summit at the Royal Society and describe vaping consumers as "true experts in this field", but note quite rightly that "yet often their voices are missing from the debate". It couldn't be a more timely speech, because for the whole day that precedes it there will be no consumers involved whatsoever.
---

---
Friday 17th November – Royal Society, London
Since the inaugural meeting in November 2013, The E-Cigarette Summit has been at the forefront of taking forward the scientific and public health debate around e-cigarettes and broader harm reduction debates. The Summit has established itself as a neutral environment for scientists, policy makers, medical and public health professionals and stakeholders to come together and look at the latest scientific research and evidence on e-cigarettes and debate their impact.
Should Live Up To Mission Statement, Save 'Millions At A Time'
Carrie Wade, Daily Vaper
The mission statement of Johns Hopkins University's Bloomberg School of Public Health reads: "Protecting Health, Saving Lives – Millions at a Time." The idea that slogan conveys is that Johns Hopkins has such influence in worldwide public-health initiatives that the school—my alma mater—is responsible for keeping millions of people around the world safe from illness and injury through groundbreaking research and initiatives.
---
---
Paul Goldberg, The Cancer Letter
In January 2000, The Cancer Letter was working on a story about what seemed to be a strange political structure that was being put together by the American Cancer Society.
The new organization was called the National Dialogue on Cancer, and its objective was to bring everyone interested in cancer into the same political process, and, in the process, to rewrite the National Cancer Act.
Ed Tyll September 20, 2017
Global tobacco control expert Clive Bates talks with host Ed Tyll about what Tyll calls the "irrational repression" of safer alternatives to smoking. Clive notes, "…from a public health point of view, if you can get people to move – by their own choice – from a product that is extremely harmful to one that is hardly harmful… then you've made a huge public health win. Unfortunately, a lot of people [in public health] just don't like that, they think you should quit completely. What they do is make the perfect the enemy of the good. "
For surge in black market tobacco – (Video)
The results of a parliamentary inquiry into the trade of illegal tobacco warns that a recent tax increase is fueling the black market, prompting calls for more resources to crack down on and tax the criminals bringing cheap cigarettes into the country.
---

---
Simon Clark, Taking Liberties
This was the Philip Morris stand at the Tory conference in Manchester last week.

The way it was described to me I was expecting a small house but instead it was just a large and fairly traditional box stand with the words 'Smoke' and 'Free' emblazoned on the side.

Anxious to keep an open mind I picked up a leaflet that began by asking 'How long will the world's leading cigarette company be in the cigarette business?'.
Chen Wei-han
To curb smoking, the government is planning to impose a more stringent ban on electronic cigarettes (e-cigarettes) and enlarge health warning graphics on cigarette packets.
Lawmakers and Cabinet officials at a coordination meeting between the Executive Yuan and the Democratic Progressive Party caucus on Monday agreed to impose a more encompassing and forceful ban on e-cigarettes to lower smoking rates.
A new law in Rhode Island goes into effect Jan. 1 that will place restrictions on e-cigarettes.
The measure, passed in the special September session of the General Assembly, bans the uses of e-cigarettes at all school facilities, where traditional cigarettes have been banned for years.

There is an old adage that politics makes strange bedfellows. The E-cigarette debate in Australia has given a new twist to this with the Tobacco industry and Tobacco control effectively on the same side when it comes to people continuing to smoke.

Sound bizarre? Well it is. Unquestionably neither side would agree with my summation but many outside observers do. So how has it come to this?
It is with great sadness that I write this note to share with you that as of tomorrow, Tuesday, October 10, 2017, Johnson Creek will no longer be in business. I'm so very sorry that we've failed you.

First, we want to sincerely thank you for supporting a small business from Wisconsin for the last 9 years! We have the greatest customers in the industry; your loyalty to us has been unmatched and we leave with a deep sense of gratitude. Our business has always been about saving lives by giving adults the option to choose an alternative to traditional cigarettes. You have become our FAMILY.
Kevin Crowley, Vaping Links
Public Health Officials Urge Use of Electronic Nicotine Delivery Systems ~ When enough is enough ~ DOH urged to classify e-cigarettes as 'less harmful' ~ Potential deaths averted in USA by replacing cigarettes with e-cigarettes ~ Vaping as a Stick ~ Who's Standing Up To Stop Vaping Being Used As A Tool Of Coercion? ~ Science Lesson: How Vaping Leads To Smoking Cessation ~ Research Tools to Inform FDA Regulation of Snus ~ E-cigarettes work: I'd prescribe them if I could ~ "Achieving Smokefree Aotearoa by 2025"
---
A look back at how things have moved on or otherwise….
But council bans continue to spread – Fergus Mason
The scientific consensus behind e-cigarettes continues to strengthen this week, with two separate studies – one in England and one in India – confirming that the devices are an effective tool for smokers who want to quit. Meanwhile other researchers found that despite previous alarmist claims, e-cig vapour causes no detectable damage to lung cells.
Kevin Crowley – Vaping Links
As national crime syndicates go, the FDA is one of the largest legal organized crime rings in the world. E-cigarettes and nicotine were deemed a "tobacco product" on August 8th, 2016 by the United States Food & Drug Administration (FDA).

I don't have an answer as to how their decision reduces smoking. Not a clue as to how it involves tobacco harm reduction – which is their alleged intent.
---
Visit Nicotine Science & Policy for more News from around the World

---