Vapers Digest 5th October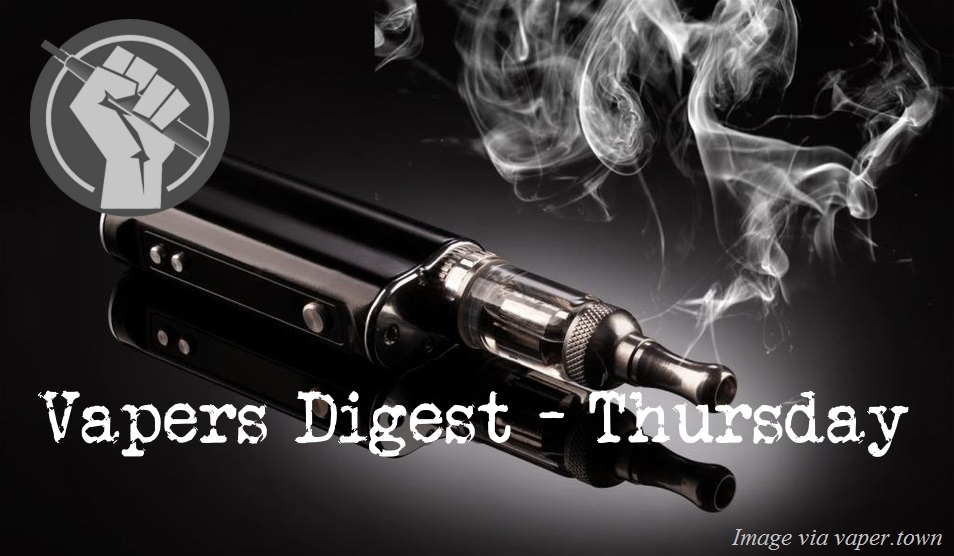 Thursday's News at a glance:
Vaping as a Stick – Case For E-Cigs Continues To Strengthen – Feasibility of amendment to Tobacco Act – FDA Fixes One Problem – Vaping can save 6.6 million lives – Health advocates urge review of research –  Philip Morris commits to a 'smoke-free' future – E-cigarettes work: I'd prescribe them if I could – Researchers wonder if vaping can cure tonsillitis
Paul Barnes, Facts Do Matter
I'm sure I don't need to remind you, but vaping isn't a stick to go around beating smokers with. It isn't purely a cessation tool, though most alphabet organisations would love you to believe that.

Sure, most vapers view vaping as a way off tobacco and bully for them. Some view it as a cessation method; 'cos they wanted to stop smoking and nothing else worked for them. Again, bully for them. Vaping is, by and large, a flexible and thoroughly enjoyable pastime.
Lila Abassi – ACSH
As a physician, I can unequivocally say that about 70 percent of the illnesses I have encountered has been either directly or indirectly related to cigarette smoking. It is without a doubt an awful habit, and one whose psychological grip on the user is frighteningly powerful.

At the American Council on Science and Health, we have always championed measures that improve public health outcomes – chief among them, advocating the use of electronic cigarettes.
---

---
Neyla Zannia – Singapore
In a Straits Times report dated 3 October (Tuesday), it is reported that Singapore has taken its first legal step towards raising the minimum smoking age from 18 to 21, with the introduction of a new Bill in Parliament yesterday.
The Bill to amend the Tobacco (Control of Advertisements and Sale) Act will also make it illegal for people to own imitation tobacco products such as e-cigarettes.
---
---
But Broken Infrastructure Continues To Plague Agency
Carl V. Phillips, Daily Vaper
U.S. vapor product manufacturers must register all their products with the FDA by the new dateof October 12, using an online system that has been plagued with problems. The most troubling bug, as previously reported, is data security: companies have been finding other companies' proprietary information in their files. While the information leaked so far is not terribly sensitive, e-liquid manufacturers will be required to submit their trade-secret lists of ingredients for all their products next year.
Jim McDonald, Vaping 360
Vaping could save millions of lives, if smokers switched from smoking cigarettes to e-cigarettes. That's what the authors of a new study published in the journal Tobacco Control say.

The authors used complex computer models to account for many risks and benefits. The study projects lives saved with various modeled levels of uptake, cessation, and potential harms of vaping products used to replace combustible tobacco.
---

---
Dr Colin Mendelsohn
A group of leading Australian health experts is urging Australia's peak health body, the National Health and Medical Research Council, (NHMRC) to conduct a thorough and up-to-date review of the latest science relevant to e-cigarettes.

They say the latest evidence suggests that e-cigarettes are significantly less harmful than smoking and could lead to substantial improvement in public health.
The company will tell a federal parliamentary inquiry on electronic cigarettes that technology has rapidly transformed its business away from cigarettes in favour of smoke-free alternatives.

E-cigarettes containing nicotine are not regulated as therapeutic goods in Australia and cannot be legally imported for personal use.

I'd prescribe them if I could – Dr Roger Henderson
As part of a debate I was involved with at the Conservative conference this week on public health policy and e-cigarette legislation, I demonstrated an e-cigarette to the audience by inhaling on it. Judging from the reaction of some of them you would have thought I had just rolled up my sleeve and injected heroin, and this is one of the problems with public perception of this form of nicotine replacement therapy.
If vaping can cure tonsillitis – Jim McDonald
Everyone knows that quitting smoking can improve your health in lots of ways, but can vaping actually cure a chronic health problem in a non-smoker?

A new paper by Joanna Astrid Miler and Peter Hajek tells the story of a young woman who took up vaping by chance, and has found that it relieved a long-term medical condition she has suffered with since childhood.
---
A look back at how things have moved on or otherwise….
Herald Scotland
Fewer people are using NHS services in an attempt to quit smoking amid a rise in e-cigarette use, new figures show.

There were 64,736 attempts to give up smoking made with the help of cessation services in 2015/16, down 5% from 67,935 the previous year.

The uptake is about 7% of the estimated 932,000 adult smokers in Scotland, with 24% smoke-free after one month, according to carbon monoxide testing.
Jérôme Harlay – Vaping Post
In Switzerland where nicotine e-liquids are still illegal, the e-cigarette was found to be the most popular way hard smokers chose to wean off tobacco in 2015. This information comes timely in the political agenda since the Swiss Tobacco Product Control Act (LPTab) is being reviewed.
Budapest
As another step in further regulating the market, the Hungarian government is foreseen to levy many new fees on retailers and sellers of electronic cigarettes from November, Hungarian news agency MTI reported today, based on a decree published in the latest issue of the official gazette Magyar Közlöny.
---
Visit Nicotine Science & Policy for more News from around the World

---