Vapers Digest October 5th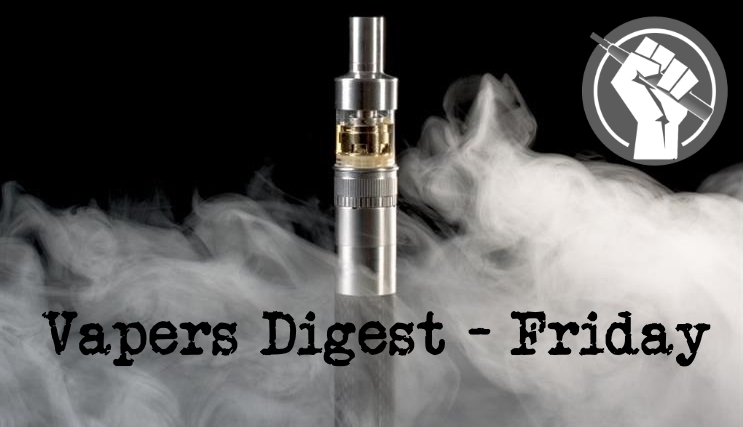 Friday's News at a glance:
Mind-blowing Cheek Of The EU – Of Smoke and Mirrors – COP 8 in Geneva – Transparently Opaque! – 72 Experts – FDA To Ban Online Vape Sales? – Did the FDA Raid JUUL Headquarters? – JUUL Goes After Competitors – Morecambe vape shop's 'Slimming World for smokers' – Secret Meeting This Week Could Have Massive Impact On Vaping Industry – Our Global Tobacco Control Framework Needs Radical Overhaul – Why India Is Tobacco Harm Reduction's Most Important Frontier – Experts urge Health Ministry to change stance – Nicotine Science and Policy Daily Digest
Dick Puddlecote
I've trekked out to Geneva to catch the last knockings of the latest WHO anti-tobacco shit show that is COP8 (see COP6 and COP7 tags in the sidebar for previous tobacco control codswallop) but I just had to share this incredible hypocrisy from the EU….

…And attend she did. Bucher is new to the job and it showed, her very first contribution to stopping those 7 million deaths was to advocate a global ban on advertising of e-cigs and to classify them as tobacco products subject to the same restrictions as smoking.
INNCO
INNCO converged on Geneva to attend the COP8 this week. Our application for observer status was in limbo as we had not been advised of the decision hence we applied for entry via public gallery.

Despite the process for public access being changed the previous night at 11:30pm, the advocates were able to gain entry to the public gallery. In summary:
---

---
FCTC COP8's Secrecy & Exclusion! – Joseph Magero
If you have been following the events at COP8 I am sure you were as shocked as I was. The process for negotiating and implementing the Framework Convention on Tobacco Control ("FCTC"), the world's first public health treaty and the first adopted under the auspices of the World Health Organization ("WHO"), has been characterized by novel features of secrecy and exclusion that cannot be reconciled with accepted norms of international lawmaking.
To renew fight against tobacco industry – Charles Gardner
The eighth session of the Conference of the Parties (COP8) to the World Health Organization (WHO) Framework Convention for Tobacco Control (FCTC) opened on Monday, October 1, 2018, in Geneva, Switzerland. This weeklong series of discussions will focus on global progress that has been made in the fight against tobacco. The FCTC, a treaty that has 168 signatories, entered into force in 2005 after it had been acceded to, ratified, accepted, or approved by 40 Member States.
---
---
Mawsley, Planet of the Vapes
As experts in harm reduction have been blocked from attending the World Health Organisation FCTC Conference of the Parties in Geneva, a group of 72 leading figures have co-signed a letter, registering their concern and suggesting tobacco-harm reduction is a better way.
The WHO Framework Convention on Tobacco Control attempts to "establish norms for regulation of tobacco commerce within countries – a kind of solidarity mechanism for national anti-tobacco policy," according to Clive Bates.
Also from POTV:
Mawsley, Planet of the Vapes
Food and Drug Administration (FDA) Commissioner Scott Gottlieb has announced that the organisation is 'considering' banning sales of vape products through online outlets. He says vape products are "too appealing" and "too accessible" for children and sees this as a logical measure.
Gottlieb spoke at a recent Axios News Shapers event, along with two students from Winston Churchill High School, American Vaping Association President Gregory Conley, and CATCH Global Foundation CEO Duncan Van Dusen.
Could Have Massive Impact On The Vaping Industry – ChurnMag
Vaping Advocacy group is pressuring the UK to support e-cigarettes in their upcoming closed-door WHO meeting

The public perception problem is one that most vapers are very well aware of. It seems that despite the piles of research indicating the extreme harm reduction value of e-cigarettes, a vast majority of adults are under the impression that vaping is just as bad, if not more dangerous than tobacco. Polls have concluded that indeed, only around 13% of individuals understand that vaping is much safer than smoking. This negative reputation of vaping feeds into the media coverage, and in turn makes the reputation even worse.
Our Global Tobacco Control Framework Needs Radical Overhaul
Marewa Glover, Filter Mag
Twenty-five years ago, when I started working on tobacco control at a government policy level, the politicians used to reject our recommendations that they ban tobacco advertising and up the tax on cigarettes. They said it was a slippery slope, the thin edge of the wedge—after demanding that they ban smoking, would we turn on chocolate, beer, eating out?

Of course not! I said. Smoking is totally different to obesity! Most people who drink alcohol aren't addicted! I thought they were being misled by industry lobbyists.
---

---
Jim McDonald, Vaping 360
JUUL has been raided! The stories began Tuesday, and continued pouring in at least 24 hours. Some of the news outlets that reported a "raid" at JUUL Labs' San Francisco headquarters included People, Fortune, NBC (on the Today Show), the Washington Times, CBS This Morning, Bloomberg.com, ABC News, the San Francisco Chronicle, the Daily Beast, and (no kidding) COED.com.
Jim McDonald, Vaping 360
JUUL Labs has filed a complaint with the U.S. International Trade Commission against 18 manufacturers of pod vapes JUUL says have violated patents and copied the design of the JUUL device.

The complaint, prepared by Washington, D.C. law firm Sterne Kessler on behalf of JUUL Labs, requests that the ITC "prevent the continued importation, distribution, selling, and marketing of the identified products in the United States."
'Slimming World for smokers'
A new scheme described as "Slimming World for smokers" is aiming to help people ditch the fags by moving to e-cigarattes. The NHS is advocating e-cigarettes as a way to stop smoking, and Public Health England say that experts have found that they are 95 per cent less harmful than tobacco cigarettes.

Most Important Frontier – Samrat Chowdhery
Tobacco is India's Trojan horse. It was brought to our shores five centuries ago on Portuguese ships. Indians readily took it in as a trade good, then farmed it in abundance for its assumed medicinal properties. They developed a multitude of ways to consume it, until it unleashed death and destruction on a scale the nation had never experienced before.
To change stance on e-cigarettes – New Delhi
International experts have called on the Health Ministry to change its stand on electronic cigarettes and legalise safer alternatives to tobacco products available in India. In a recent advisory, the Health Ministry had asked the states and Union territories to ban the use of Electronic Nicotine Delivery System (ENDS).
---
A look back at how things have moved on or otherwise….
Paul Barnes, Facts Do Matter
I'm sure I don't need to remind you, but vaping isn't a stick to go around beating smokers with. It isn't purely a cessation tool, though most alphabet organisations would love you to believe that.

Sure, most vapers view vaping as a way off tobacco and bully for them. Some view it as a cessation method; 'cos they wanted to stop smoking and nothing else worked for them. Again, bully for them. Vaping is, by and large, a flexible and thoroughly enjoyable pastime.
Lila Abassi – ACSH
As a physician, I can unequivocally say that about 70 percent of the illnesses I have encountered has been either directly or indirectly related to cigarette smoking. It is without a doubt an awful habit, and one whose psychological grip on the user is frighteningly powerful.

At the American Council on Science and Health, we have always championed measures that improve public health outcomes – chief among them, advocating the use of electronic cigarettes.
---
Visit Nicotine Science & Policy for more News from around the World

---