Vapers Digest October 3rd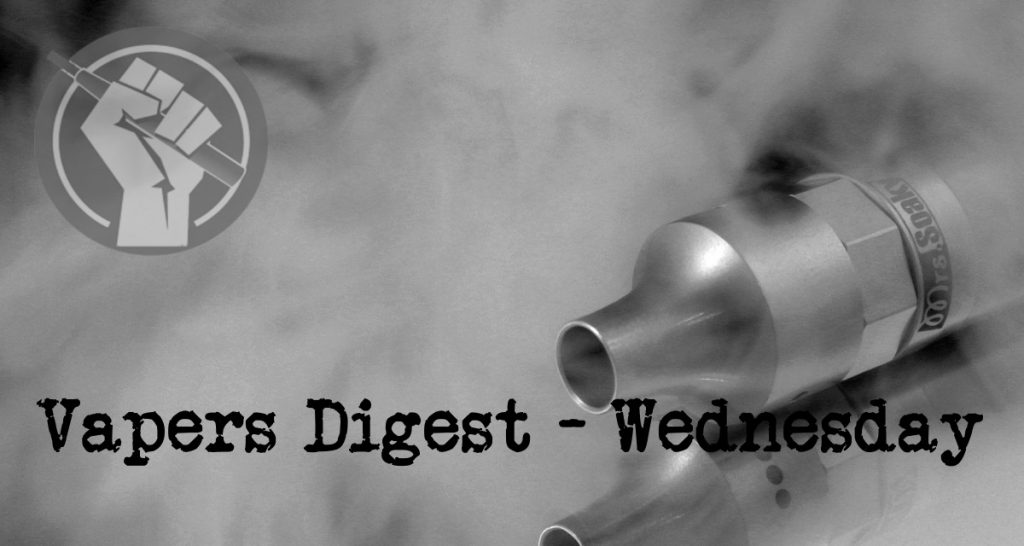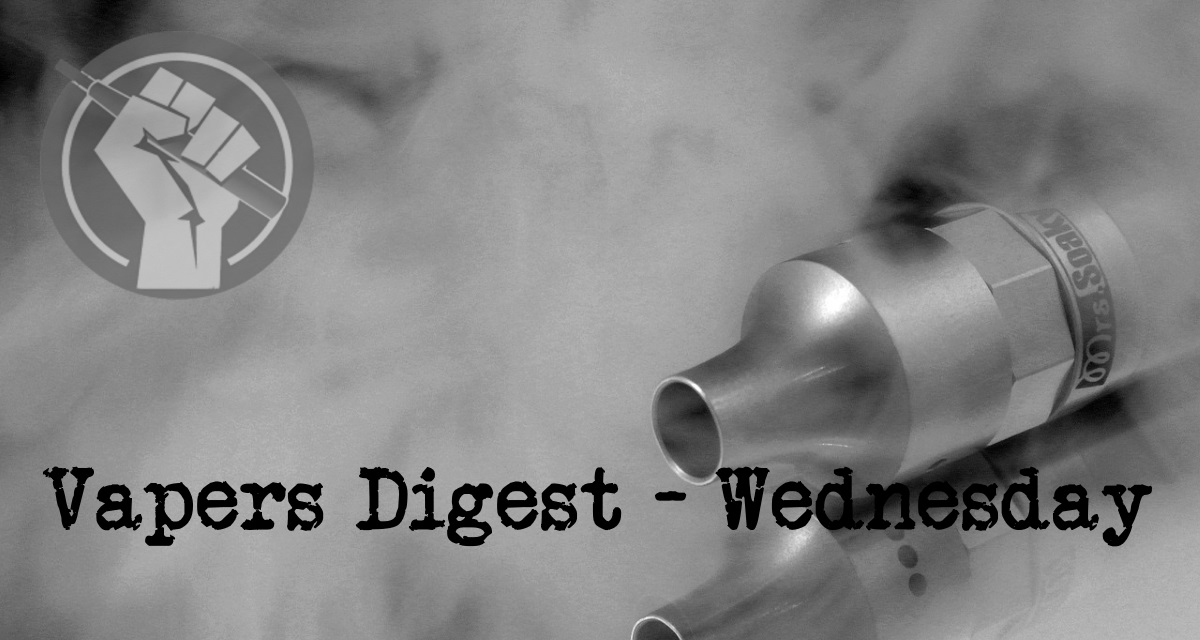 Wednesday's News at a glance:
No Fire, No Smoke – the Global State of Tobacco Harm Reduction 2018 ~ FCTC COP-OUT ~ The WHO is Criticized for Endorsing Countries Which Ban E-Cigarettes ~ Consumer rights groups move Assam govt on e-cigarettes ~ Is vaping a conspiracy created by Big Tobacco? ~ The FDA's Teen E-Cigarette-Addiction Epidemic Doesn't Add Up ~ European Tax Consultation Findings ~ Largest Vaping Survey Finds Flavors Play Important Role in Tobacco Harm Reduction ~ UL Begins Certifying Vape Mods for Safety ~ Public health publishing is fundamentally unserious: evidence from a single measure of area ~ FDA seizes 'more than a thousand pages' of documents in surprise inspection of e-cigarette maker Juul ~ In Defense of Juul, After the Latest Media Hit-Piece ~ Inventor of nicotine patches questions FDA's claims as the administration targets Juul ~ San Antonio's "Tobacco 21" Law Is Part of A Growing Movement to Regulate E-Cigarettes
The GSTHR report maps for the first time the global, regional and national availability and use of SNP, the regulatory responses to these products, and the public health potential of tobacco harm reduction.

The advent of SNP opens up the possibility of a major advance in global public health, helping to bring about the UN goal of reducing non-communicable diseases by a third by 2030 and, moreover, at no cost to governments.
Mawsley, Planet Of The Vapes
The World Health Organisation's FCTC COP8 has started in Switzerland and managed to evoke strong emotions at the very start. Following claims that it aimed to have transparent discussions, a vote was carried out and all of the journalists were removed; not so much something being rotten in Denmark as much as something stinks in Switzerland.

"Fifteen years after the World Health Assembly adopted the WHO Framework Convention on Tobacco Control (WHO FCTC)," says the FCTC press office, "Parties to the treaty once again find themselves in Geneva faced with the opportunity to make history once again."
Diane Caruana, Vaping Post
Public Health experts at the World Health Organization's biennial conference FCTC COP8, are left disappointed as the WHO still fails to take into account scientific data in favour of e-cigarettes for harm reduction, and commends countries who have implemented unreasonable vaping bans.

The authors of a new report titled "No Fire, No Smoke" point out that safer alternatives alternatives such as e-cigarettes, heat-not-burn devices and Swedish snus have been hugely successful at reducing smoking rates.
, The Shillong Times
GUWAHATI: Two consumer rights' advocacy organisations have requested the Assam government to ban e-cigarettes in the state.

City-based Consumers' Legal Protection Forum and New Delhi-based Consumer VOICE have for the second time written a letter addressed to the Assam chief minister; health minister and health secretary, referring to the recent advisory issued by the Union ministry of health and family welfare, asking all states and Union Territorries to ban the sale of e-cigarettes.
---

---
---
---
Colin, Australian Tobacco Harm Reduction Association
There is a pervasive myth that vaping was developed by the tobacco industry to prolong cigarette smoking or to hook the next generation of teens to tobacco addiction. This simply is not true.Big Tobacco didn't invent nicotine vaporisers (e-cigarettes) and they don't control the vaping market. The industry is getting blown away by this disruptive technology. Big Tobacco is in Big Trouble.
Brad Rodu, Tobacco Truth
Commissioner Scott Gottlieb on September 12 announced an agency initiative to "address [the] epidemic of youth e-cigarette use" (here) and a teen-vaping-related "epidemic of addiction."  He promised to use the FDA's "civil and criminal enforcement tools" to reign in e-cigarette marketers.

Dr. Gottlieb based his assessment on non-public data, but publicly available data from the 2017 National Youth Tobacco Survey (NYTS) does not show an epidemic.
Mawsley, Planet Of The Vapes
The European Commission (EC) held a public consultation into the taxation of tobacco and vaping products, which ended at the beginning of September. The responses have been collated and the results published, although the EC is still compiling its report so vapers will have to wait to see what it decides to do.
---

---
Lindsey Stroud, The Heartland Institute
In this Research & Commentary, Lindsey Stroud examines a recent survey of nearly 70,000 American adult vapers which found flavors in e-cigarettes to play an integral part in tobacco harm reduction.

In the largest vaping survey, consisting of nearly 70,000 American adult vapers, researchers found that flavors play a vital role in the use of electronic cigarettes and vaping devices.
Jim McDonald, Vaping 360
The company that has certified electrical product safety for over 120 years is now creating safety standards for battery-powered vaping devices.

UL LLC, formerly known as Underwriters Laboratories, has created a testing and certification protocol for vape mods and other e-cigarette products that use internal lithium batteries. In an FAQ explaining the standards, UL says, "UL is certifying e-cigarettes to enhance consumer safety."

Carl V. Phillips, Anti-THR Lies
I was late to this nice piece by Roberto Sussman (a guest post at Brad Rodu's blog) that takes down a recent silly paper out of University of California about environmental deposition on surfaces resulting from vaping exhalate. They do not actually call it "third-hand vapor", though they all but do so, explicitly likening it to the myths (which they endorse, of course) about "third-hand smoke". For the analysis of the science, please read Roberto's piece, because here I am just focusing on a single gaffe and its implications.

As background, note that this that this came from the supposedly respectable tobacco controllers at UC, including Benowitz and Talbot, not the utter loons in Glantz's shop. It was published not in some random online journal, but in the supposedly respectable flagship journal of the tobacco control movement, BMJ's Tobacco Control.
Angelica LaVito, CNBC
The Food and Drug Administration seized "thousands of pages of documents" in a surprise inspection of e-cigarette maker Juul's San Francisco headquarters last week, the agency said Tuesday.

The FDA is looking into the company's marketing practices as Commissioner Scott Gottlieb calls teen use of nicotine vaping devices an "epidemic."
---

---
Helen Redmond, Filter
The media frenzy against Juul, the US market leader in vaping products, is on steroids—and this feeds directly into actions like the FDA raid on Juul headquarters that took place last week. The latest hit-piece was published a few days ago on the website Medium. Its appalling headline sums up this drug panic: "How Juul Exploited Teens' Brains to Hook Them on Nicotine."

The article, by science writer Dana G. Smith, is biased, chock-full of misinformation and falsehoods, and quotes only tobacco harm-reduction haters—most notoriously Stanton Glantz, director of the UCSF Center for Tobacco Control Research and Education, and Matthew Myers, president of the Campaign for Tobacco-Free Kids. There isn't one counterpoint from leading harm reductionists in defense of Juul.
, The Chronicle, Duke University
The Food and Drug Administration has given Juul an ultimatum: prove they can keep their products away from minors within 60 days, or pull its products from store shelves and face criminal charges.

But Jed Rose, director of the Duke Center for Smoking Cessation and professor of psychiatry and behavioral science, is skeptical of the FDA's claims that Juul used flavored nicotine to attract teenage customers.

"E-cigarettes are one of the most promising developments in the field of smoking cessation," Rose said.
Emma Betuel, Inverse
Teens in San Antonio might find it hard to re-up their supply of JUUL pods following an ordinance that bans the sale of all tobacco products for anyone under 21. San Antonio is the first city in Texas to enact stricter regulations on tobacco. It joins a growing list of cities taking similar stands amidst the rise of e-cigarettes because federal laws just aren't cutting it.

The actual text of San Antonio's ordinance, called "Tobacco 21," makes it clear that the rise of e-cigarettes played a large role in pushing the legislation forward.
---
A look back at how things have moved on or otherwise….
American Vaping Association
In what could turn out to be a transformative moment in the debate over vaping in America, a research team led by investigators from Georgetown Lombardi Comprehensive Cancer Center is now estimating that vaping could save the lives of up to 6.6 million U.S. smokers over the next 10 years. On the basis of this evidence, the researchers are recommending that public health organizations adopt a strategy of encouraging smokers to switch to vaping to hasten the decline of America's smoking rate.

Published in the journal Tobacco Control, the study is the first to model the best and worst case outcomes of U.S. smokers switching to vaping. In establishing their variables, the researchers considered a range of factors, including differing estimates on the relative harm of vapor products versus cigarettes, as well as the impact of vaping on cessation, switching, and initiation, including by nonusers.
Benedict Spence, Spectator
This month is 'Stoptober', the annual government-backed campaign to persuade smokers to give up tobacco for good. This year, for the first time, the organisers have taken the decision to endorse vaping as an effective tool to help smoking addicts quit.

The move represents something of a volte face by the government, given that it has previously been decidedly lukewarm on e-cigarettes. Earlier this year it placed strict limitations on vaping fluid as part of its Tobacco Products Directive, which prompted criticism that legal vaping could be stifled, and a black market in stronger vaping fluids encouraged.
---
Visit Nicotine Science & Policy for more News from around the World

---