Vapers Digest October 1st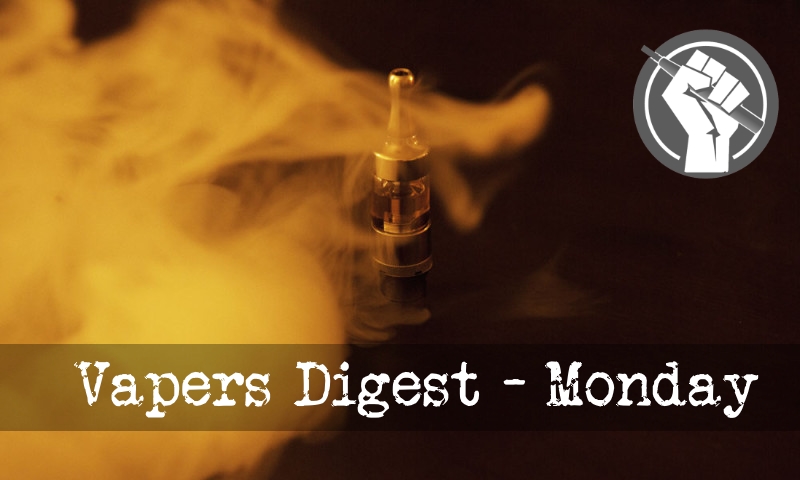 Monday's News at a glance:
NNA urges more pressure on WHO, as FDA plans to wipe out internet sales – NNA calls on the UK delegation to COP8 – Over 70 experts call on WHO to embrace technology – Campaigners urge WHO to give vaping a chance – COP8 Is Finally Here – Sunday Science Lesson – McKee Targets Children With Nonsense – E-Cig Forum Founder Rakes FDA  – Smoke-free Ireland still 34 years off – ALA Updates Popcorn Position – The sweetness of e-cigarette flavors – Vaping In The News September 29th – Nicotine Science and Policy Daily Digest
As FDA plans to wipe out internet sales – Fergus Mason
A leading British vape advocacy group has called for the country to take a harder line at next week's WHO tobacco control conference. According to Sarah Jakes of the NNA, it's time to push back against anti-vaping laws supported by the UN agency. Vapers in the USA have bigger problems, however, as the FDA ratchets up its attacks on the industry another notch. Meanwhile there's even more evidence that the EU's hated vaping regulations are doing much more harm than good.
To promote our country's remarkable success
The FCTC's COP8 summit in Geneva presents a great opportunity for UK delegates to promote the UK's dramatic success with e-cigarettes. The New Nicotine Alliance (NNA) is calling on UK delegates to communicate to global public health representatives the clear and unequivocal message that e-cigarettes and other alternative nicotine products are far safer than combustible tobacco and should be treated as such.

"E-cigarettes are a proven safer alternative to smoking and the UK boasts over 1.7 million former smokers who have converted from combustible tobacco to exclusively vaping instead. In the UK, the government has wisely recognised the significant benefits that tobacco harm reduction strategies can achieve…
---

---
To embrace technology innovation in the fight against diseases caused by smoking
Clive Bates, The Counterfactual
Every two years, the Parties to the WHO Framework Convention on Tobacco Control meet to discuss how to advance the treaty. The 8th meeting of the Conference of the Parties (COP-8) is being held this week, 1-6 October, 2018 in Geneva.

I was one of those agitating for the FCTC back in 1999-2003. Generally, the FCTC doesn't do what normal international treaties do – address some transboundary issue like climate change, international trade or intellectual property.
To give vaping a chance – Clive Cookson
Seventy leading public health experts and anti-tobacco campaigners have urged the World Health Organization to adopt a more sympathetic attitude to ecigarettes and other alternatives to smoking, "which have the potential to bring the epidemic of smoking-caused disease to a more rapid conclusion".

Their joint letter to Tedros Adhanom Ghebreyesus, WHO director-general, is intended to influence this week's conference of the Framework Convention on Tobacco Control in Geneva, which frames international health policy on the issue.
Joseph Magero
The Eighth session of the Conference of the Parties (COP8) to the WHO Framework Convention on Tobacco Control (WHO FCTC) is finally here . I am happy to see my fellow harm reduction advocates there, hopefully they will be allowed to enter.

The FCTC recognizes harm reduction as an integral part of tobacco control. I think it is time to apply this strategy! We should integrate harm reduction strategies into existing tobacco control policies and to accelerate the decline in smoking prevalence worldwide.
---
#COP8 is an absolute joke ! DAY 1 – 2.5 hours debate to conclude that PUBLIC & MEDIA should leave. As of tomorrow, proceedings will happen behind closed doors. Next webcast on Saturday for the closing session … with a delay… Anything to hide? @FCTCOfficial #FCTCCOP8

— Joseph Magero (@Josephmagero) October 1, 2018
So the monumental achievements made in drug harm reduction, containing and reducing the AIDS epidemic and the global uptake of seat belts and crash helmets was just a myth? https://t.co/izWboilFOn

— INNCOorg (@INNCOorg) October 1, 2018
This is their true goal, the franchising of the tobacco control model. It's not a health campaign, it's a business opportunity. https://t.co/lCby7PrzBM

— Tom Gleeson (@Rathmacan) October 1, 2018
---
Calling vaping/tobacco use an "epidemic": it's even stupider than you might think
Carl V. Phillips, Anti-THR Lies
A correspondent suggested to me that those who are not population health experts have a gut feeling that all this rhetoric about "epidemics" — of tobacco use, of teen vaping, and such — is an innumerate misuse of the term. But few really understand why.

The first problem with these claims, which I think most people get, is that "epidemic" refers to a disease, and these behavioral choices are not diseases.
Mawsley, Planet of the Vapes
Martin McKee the professor of European Public Health at the London School of Hygiene and Tropical Medicine. He is well known for his willing ignorance towards pro-ecig evidence and has a strong anti-vaping stance. But he has taken his ridiculous actions to a whole new level. First News carried an interview with him where he speaks from an alternate reality.

First News is a weekly, colour newspaper for young UK readers. It claims it "aims to present current events and politics in a child-friendly format." In 2013, it had a readership of around 60,000, similar to the Planet of the Vapes newsletter.
---

---
Brent Stafford, Regualtor Watch
It's the most terrifying statement by the FDA on vaping since vapor products first came onto the market. That's according to Oliver Kershaw founder of the legendary online vaping resource: E-Cigarette-Forum.com.

In mid-September FDA Commissioner Scott Gottlieb dropped a bombshell, launching a "historic enforcement action" against Juul and other pod-based e-cigarette companies. Which the regulator says, are playing a determinant role in the reported "epidemic" of teen vaping.
John Downing
Ireland risks missing its tobacco-free target date of 2025 by 27 years, the HSE has warned.

The shocking delay is putting new pressure on Health Minister Simon Harris to soften his stance on e-cigarettes to help more smokers quit.

The Government is committed to being "tobacco-free" – with less than 5pc of the population still smokers – by 2025.
Mawsley, Planet of the Vapes
In 2016, the American Lung Association (ALA) wrote that popcorn lung was "A dangerous risk of flavoured e-cigarettes". This month, it updates its position and maintains that this is still a real concern, despite over a decade of zero incidents – which should have at least arisen from those with a lifetime of smoking previously.
"Over a decade ago, workers in a microwave popcorn factory were sickened by breathing in diacetyl—the buttery-flavoured chemical in foods like popcorn, caramel and dairy products," writes the ALA.

California Gov. Jerry Brown (D) on Saturday vetoed a proposed ban on smoking at state parks and beaches for the third year in a row.

Three bills passed by state legislators would have imposed $25 fines on the use of tobacco, marijuana and e-cigarettes at parks and beaches, according to the Los Angeles Times.
Smoking could soon be banned in more of Canberra's public spaces, with Health Minister Meegan Fitzharris focussed on having some of the toughest laws in the country.

It comes as a North Sydney council considers banning smoking in all public spaces, which would make it the first smoke-free municipality in the country.
---
---
Is more likely to get teens hooked than the nicotine
As of today (Sept. 28), Juul Labs and four other e-cigarette companies have 44 days left to prove to the US Food and Drug Administration that they can keep their products away from minors; otherwise, they risk them being pulled from the market. FDA commissioner Scott Gottlieb emphasized in the initial press announcement: "We cannot allow a whole new generation to become addicted to nicotine."
Kevin Crowley, Vaping Links
VapeTithing ~ FDA's New Anti-Vaping Campaign Is a Misguided Clone of "Reefer Madness" ~ Dear FDA ~ The Continuous Lie ~ E-Cigarettes and Public Health Concerns ~ Science lesson: The absurdity ~ The War on Nicotine ~ ALA Updates Popcorn Position ~ Fed Up | E-Cig Forum Founder Rakes FDA Over Crackdown ~ The sweetness of e-cigarette flavors is more likely to get teens hooked than the nicotine ~ FDA Ignores Improving Health with E-cigarettes ~ Remember Kids, Science Is Science!
---
A look back at how things have moved on or otherwise….
Paul Barnes, Facts Do Matter
Here we go again. More taxpayer funded "research" to look at what average, everyday people are saying on Twitter. I've written about this type of research before, and no doubt I'll end up writing about it again, and again, and again ad infinitum.

The supposed aim of this spectacular pile of fetid, festering, dingo kidneys is to try and automatically classify Twitter users who tweet about e-cigarettes into "distinct categories".
Fergus Mason, Vaping Post
A widely ridiculed new study released last week tries to push the discredited "formaldehyde" narrative, with a study based around sub-ohm atomisers. There was also bad news for vapers in Cyprus, as the Mediterranean island pushed through a new tax on e-liquid that will make vaping more expensive than smoking.

Meanwhile the FDA was forced into another climbdown over its Deeming Regulations deadlines, as a key computer system collapsed under the load.
---
Visit Nicotine Science & Policy for more News from around the World

---