Vapers Digest 29th September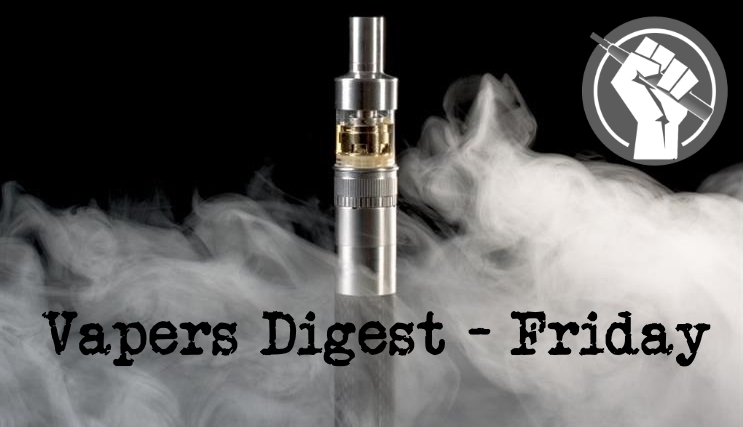 Friday's News at a glance:
Social Media Snooping – More bad formaldehyde research, and more bad laws – When The Dam Burst – Lies, Damn Lies & the Inconvenient Truth – Brigade 'butts' into vaping campaign – We get it, you did a blog about vaping – A Billion Dollar Foundation – Why you should attend GFN in Dublin – Vaping Yourself To Health – Turkey: police fine 800 vapers – The Vaping Population Is Increasingly Made Up Of Former Smokers – Nicotine Science and Policy Daily Digest
Paul Barnes, Facts Do Matter
Here we go again. More taxpayer funded "research" to look at what average, everyday people are saying on Twitter. I've written about this type of research before, and no doubt I'll end up writing about it again, and again, and again ad infinitum.

The supposed aim of this spectacular pile of fetid, festering, dingo kidneys is to try and automatically classify Twitter users who tweet about e-cigarettes into "distinct categories".
Fergus Mason, Vaping Post
A widely ridiculed new study released last week tries to push the discredited "formaldehyde" narrative, with a study based around sub-ohm atomisers. There was also bad news for vapers in Cyprus, as the Mediterranean island pushed through a new tax on e-liquid that will make vaping more expensive than smoking.

Meanwhile the FDA was forced into another climbdown over its Deeming Regulations deadlines, as a key computer system collapsed under the load.
---

---
Lies, Damn Lies & the Inconvenient Truth
Simon Thurlow, Midnight Musings
The results of an interesting survey conducted by the Tobacco Manufacturers Associationwere published yesterday. For those of us who have followed the prohibitionary antics of Tobacco Control, the results should be of no great surprise as they reveal that startling numbers of smokers do NOT buy their tobacco from legitimate sources (i.e. corner shop/petrol stations/supermarkets etc).

You can read the full press release by clicking the link above, but I would like to share with you the pertinent high-level bullet points.
London Fire Brigade
The Brigade welcomes Public Health England's support for e-cigarettes as a key way to help smokers quit tobacco smoking to help reduce the number of smoking related fire deaths.

According to our latest figures, smoking is the cause of over half of fire deaths in the home but cigarettes only caused nine per cent of the total number of accidental blazes. These figures are even more startling as the number of Londoners who smoke has dropped from 18.2 per cent in 2012 to 15.2 per cent in 2016*.
---
---
Sam Bowman, Adam Smith Institute
I love teasing my friends who use e-cigarettes. There's something intrinsically uncool about e-cigs – they're gadgety, a bit silly-looking thanks to their chunkiness and the huge clouds of vapour they produce, and bring to mind the sort of middle aged geezer who hangs around CAMRA beer festivals with a beer checklist. I love to send my friend Dan photos of new vape shops that have silly names like "Vape Lords", as if he loves vaping so much that he'll be excited just to see that it exists.
Mawsley, Planet of the Vapes
Dr. Derek Yach, a global health expert and anti-smoking advocate for more than 30 years, used to be head of tobacco control at the World Health Organization. He formally launched the Foundation for a Smoke-Free World during a speech to the Global Tobacco and Nicotine Forum at the InterContinental New York Barclay. What may surprise some people is where the one billion dollars are coming from.
---

---
Gillian Golden,  Irish Vape Vendors Association
We already know the benefits to a smoker when they leave smoking behind; vapers are keen to tell us the benefits they accrue. Empowering smokers to transition to these safer products is a huge source of pride for those of us who work in the independent vape industry.

A myriad of studies, evidence reviews and now, replications of previous flawed research, all reinforce that vaping is far safer compared to smoking.
Mawsley, Planet of the Vapes
Social media abounds with anecdotal evidence of ex-smokers experiencing a massive improvement in their health after swapping smoking for vaping. But in this case, as documented by Joanna Miler and Peter Hajek, a patient has "experienced a complete resolution of chronic tonsillitis and a marked improvement in tonsilloliths."
---
---
Jim McDonald, Vaping 360
Turkish police cited 800 vapers for indoor smoking after conducting a raid at a "vape party" in Istanbul. They also detained three of the party organizers.

The party was advertised on Facebook, and took place on the terrace of a restaurant, according to the Hurriyet Daily News. The paper reports that police acted based on the Facebook posts, and placed the location under surveillance.
Is Increasingly Made Up Of Former Smokers
Steve Birr, Daily Vaper
Americans are increasingly turning to electronic cigarettes as a way to quit smoking, according to federal data showing former smokers made up 34 percent of all vapers in 2016.

A paper released Thursday by the free-market think tank R Street Institute reveals the overall vaping population in the U.S. declined for the second straight year in 2016, while the share of the population who are former smokers increased. The data, taken from the Center for Disease Control and Prevention's annual National Health Interview Survey, is bolstering arguments that vaping devices are primarily used by tobacco users looking to improve their health.
---
A look back at how things have moved on or otherwise….
Paul Barnes – Facts Do Matter
If there's one thing to learn about folk, it's that folk like things to be easy. But if something is easy, how do you learn? Where's the sense of accomplishment? Let me just remind you of something that someone I respect has said:

I'm struck by the low level of support from some in the UK as well, considering there are five British people featured in the movie (same as the US).

I am of course talking about Aaron Biebert. The very same Aaron Biebert that spared a few minutes of his precious time to answer a few questions back in July.
CAP and BCAP's proposals for changes to their Codes (PDF)
The Committee of Advertising Practice (CAP) and the Broadcast Committee of Advertising Practice (BCAP) ["the Committees"] are consulting on new rules and guidance in response to changes in the law prohibiting the advertising of some types of electronic cigarettes (ecigarettes) and e-liquids in some media channels.
Although the legislative position is already set, CAP is seeking views on its proposals to reflect these prohibitions in its Code.
Fails to Disclose Author's Conflict of Interest
Michael Siegel – The Rest of the Story
In another example that demonstrates the hidden influence of Big Pharma on tobacco treatment policy and the extent to which many defenders of nicotine replacement therapy (NRT) are going to hide their conflicts of interest, an article (letter to the editor/reply) defending NRT from criticism that was published online ahead of print in the Journal of Clinical Epidemiology fails to disclose the serious conflicts of interest of its lead author.
---
Visit Nicotine Science & Policy for more News from around the World

---