Vapers Digest 28th September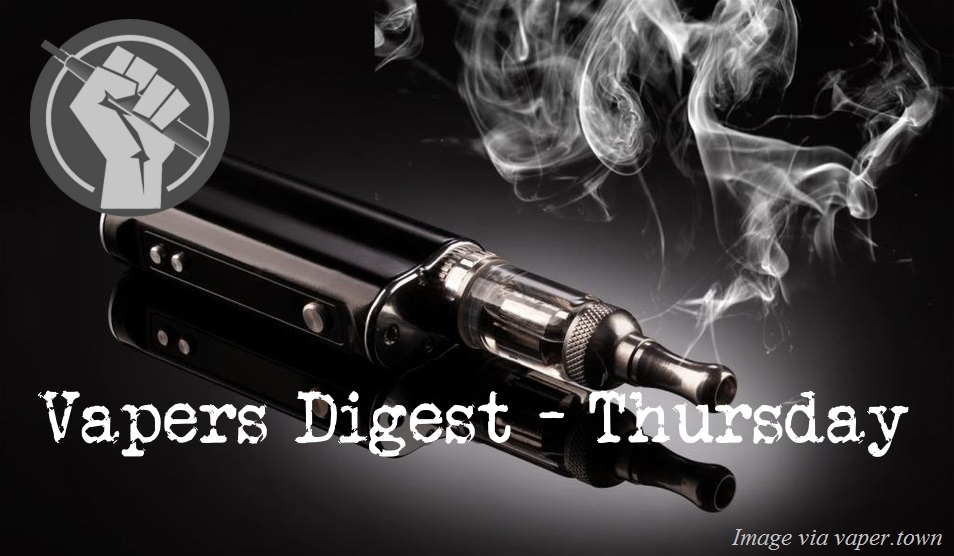 Thursday's News at a glance:
Vape Shops Mandated To Register Their Products But Can't Due To FDA System Failure – Diary of an Ex-Smoker – A Vaper's Story – Cyprus passes a tax on e-liquid – Question and Answers on Vaping – 2016 CDC Data Shows E-Cigarette Use Declines Again – UAE doctors stand firm over e-cigarettes – Sympathomimetic Effects of Acute E‐Cigarette Use – Inhalation of Propylene Glycol in E-cigarettes – Cancer Survivors Who Quit Live Longer – Classification of Twitter Users Who Tweet About E-Cigarettes – Blowing E-Smoke – Nicotine Science and Policy Daily Digest
But Can't Due To FDA System Failure
Carl V. Phillips, The Daily Vaper
FDA Commissioner Scott Gottlieb has announced on Twitter that the September 30 deadline for manufacturers to register each of their vapor products will be delayed. This may have resulted from pressure from members of Congress contacted by desperate constituents, although the FDA probably figured it out themselves. Gottlieb attributed the delay to "connectivity problems," but many other problems have occurred. The new deadline has not been set and at the time of this writing there has been no official announcement.
Yorkshire Smokefree
I was 12 years old, and smoking, believe it or not, was a way of making yourself look attractive to the girls. It wasn't frowned upon like it is now- tobacco advertising was everywhere, in fact was positively encouraged! I can remember one time when my mother was depressed, our doctor advised her to have one of my dad's ciggies to calm her nerves down!

Anyway I started at about twelve years with the other lads behind the bike sheds at school.
---

---
Chris Baxter, Stop Smoking Leicester
After sharing his personal story at The Manchester Cancer Research Centre on Thursday 30 March, former smoker Chris Baxter writes about how he made the switch from lit cigarettes to vaping.

I started smoking at 16, and I started alone. I would finish my Saturday morning job, buy 10 cigarettes, find a back alley – and smoke. I loved it; it was like putting a key in a lock. I soon became a social smoker and then a heavy smoker. Everyone knew me as a smoker.
Jim McDonald, Vaping 360
Cyprus has passed a tax on vaping e-liquid of €0.12 per mL. The law creates a new taxable product category called "liquid for electronic cigarette use."

The bill also includes a tax on heat-not-burn (HNB) products, like Philip Morris International's IQOS. HNB devices are not yet being sold in Cyprus, according to the Cyprus Mail.
---
Just been in the local co-op. The 2 shelves prev filled w/ NRTs now have one lowly box of patches & loads of vape kit & juice. #winning

— Lorien Jollye CAO (@CaeruleanSea) September 27, 2017
---
IBVTA
Is vaping less harmful than smoking?

Yes. There is never a situation where it is better to smoke than it is to vape. According to independent studies by Public Health England and The Royal College of Physicians vaping is recognised as being at least 95 per cent less harmful than smoking. This position is also supported by The Royal College of General Practitioners and many other independent medical and public health bodies
Brad Rodu, Tobacco Truth
Some 7.8 million American adults used e-cigarettes in 2016, according to data from the 2016 National Health Interview Survey, the source for CDC national smoking estimates.  That is about half a million fewer than a year earlier, and 1.1 million fewer than in 2014, the first year NHIS surveyed for vaping.  As the CDC reported a month ago (here), the 2016 data indicates 3.2% adult prevalence – 3.9% (about 4.5 million) for men, and 2.6%, (about 3.3 million) for women.
Nick Webster
Doctors in the UAE are refusing to support e-cigarette use to help smokers quit, despite UK health authorities backing the devices for the first time in the annual Stoptober campaign.

As a 100 per cent tax on cigarettes comes into force in the UAE from October, new draft guidance from the UK's National Institute for Health and Care Excellence (NICE) says patients should be told that e-cigarettes can be an aid to stop smoking for those wanting to give up.

It remains illegal to sell e-cigarettes in the UAE, with no movement on that for the foreseeable future, but just 5 per cent of smokers manage to quit without medication or some other form of help.
---

---
Journal of the American Heart Association
The acute sympathomimetic effect of e‐cigarettes is attributable to the inhaled nicotine, not to non‐nicotine constituents in e‐cigarette aerosol, recapitulating the same heart rate variability pattern associated with increased cardiac risk in multiple populations with and without known cardiac disease. Evidence of oxidative stress, as estimated by plasma paraoxonase activity, was not uncovered following acute e‐cigarette exposure.
Mawsley, Planet of the Vapes
Vaping has a huge role to play in increasing the quality of life for smokers who are making it to the point where they are being discharged from oncology wards. Patients have been shown to live longer after being successfully treated for after a diagnosis of lung, bladder, and upper aerodigestive tract cancer – if they quit tobacco.
Of Inhalation of Propylene Glycol in E-cigarettes
This review throws some light in terms of the safety aspects of inhalation of PG particularly seen in animal studies as it relates to e-cigarette concentration. Since most of the results came from animal studies. The information gained can be used as a platform to conduct human studies to check the short term and long term effect of propylene glycol in e-cigarettes. Therefore, further human studies using PG concentrations similar to that in e-cigarettes need to be conducted to confirm the safety of inhalation of PG from e-cigarettes.
Who Tweet About E-Cigarettes
This study provides a method for classifying five different types of users who tweet about e‑cigarettes. Our model achieved high levels of classification performance for most groups, and examining the tweeting behavior was critical in improving the model performance. Results can help identify groups engaged in conversations about e‑cigarettes online to help inform public health surveillance, education, and regulatory efforts.
Steve Lowery
There was a time not long ago that the sight of smoke billowing from the driver's side window of a car would either strongly suggest a serious breach of maintenance or that the operator had obtained one of those totally cool Dashboard Hibachi's (As Seen On TV). These days you can be pretty sure that it indicates that someone is blowing smoke courtesy of an electronic cigarette, or e-cigarette.
---
A look back at how things have moved on or otherwise….
Christopher Snowdon – Velvet Glove Iron Fist
Every two years, the WHO holds a 'Conference of the Parties' to wibble on about the Framework Convention on Tobacco Control. The next one is coming up in a month or two. The last one was held at the height of the Ebola epidemic which killed 11,000 people and the WHO was rightly criticised for its inept response. Tackling contagious diseases isn't high on the WHO's list of priorities these days, and why should it be when there are people in the world drinking fizzy drinks and using e-cigarettes?
Mawsley – Planet of the Vapes
Hon Peseta Sam Lotu-Iiga, the New Zealand MP for Maungakiekie and Associate Minister for Health, has presented a paper to the government titles 'Electronic-cigarettes: policy options and approval to consult'. It contains a positive shift in the acceptance of respected evidence but still persists with unwanted caveats.
Michael Siegel – The Rest of the Story
The FDA took steps yesterday to clear a big point of confusion that has arisen concerning a subset of electronic cigarettes on the market. Due to novel technology that allows nicotine to be extracted in concentrated form from potatoes, a number of e-cigarette companies have switched to using potatoes as a source of nicotine for their e-liquids. Several companies have asked the FDA's Center for Tobacco Products for guidance on whether they need to comply with the tobacco product regulations, since their products do not contain tobacco and the nicotine used is not derived from tobacco.
---
Visit Nicotine Science & Policy for more News from around the World

---