Vapers Digest 2nd October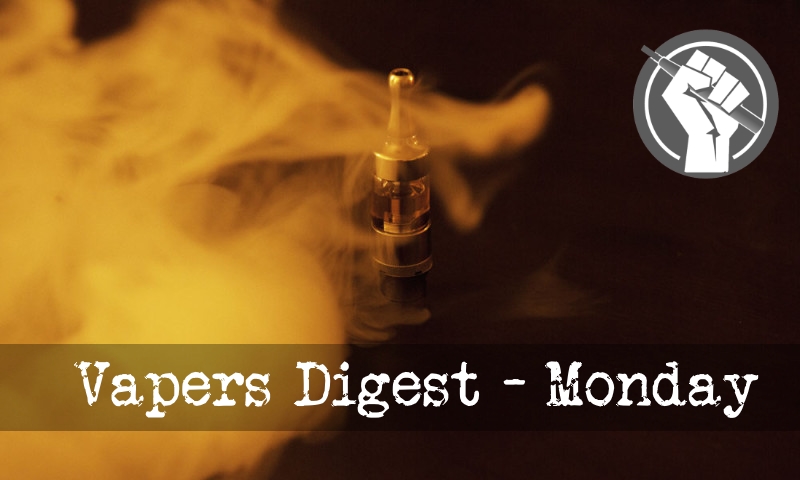 Monday's News at a glance:
When enough is enough – Smokefree Scotland – Letter to the World Health Organization – Public Health Officials Urge Use of ENDS – London firefighters promote vaping – FDA is getting ready – How Vaping Leads To Smoking Cessation – Youth Smoking And Vaping Rates Plummet – DOH urged to classify e-cigarettes – Lindenhurst moves to ban e-cigarette stores – Ban smoking for under-21s – Vaping In The News – September 30th – Nicotine Science and Policy Daily Digest
Marina Murphy – Tobacco Reporter
Anyone who reads this magazine and takes an interest in the vapor industry will be familiar with phrases like "more research needed" and "not enough evidence." But when is enough evidence, enough evidence? I ask this because there is another product that has suffered from the "more research needed" mantra: snus. Despite extensive evidence that snus is harm reducing, it remains banned in the European Union. And as we listen to continued calls for more research on e-cigarettes and other alternative tobacco and nicotine products, these categories risk becoming another "snus."
Mawsley, Planet of the Vapes
NHS Scotland stated it wanted to bring clarity to the vape debate, and declared vaping to be "less harmful". It identified that there was confusion surrounding the harms and benefits, and believes that electronic cigarettes can help the country to become smoke-free. The announcement accompanied the release of a study by academics from the University of Edinburgh and NHS Scotland.
---

---
Dr. Derek Yach
I'm writing to you in my capacity as founder of the Foundation for a Smoke-Free World (Foundation), and as a long-standing tobacco control advocate who, as you know, was extensively involved in the development of the WHO Framework Convention on Tobacco Control (FCTC). The Foundation aims to work with others committed to accelerating the end of smoking among the world's one billion smokers…
Public Health Officials Urge Use of ENDS
In this Research & Commentary, Lindsey Stroud examines multiple public health groups' opinions on electronic nicotine delivery systems and how their use can benefit public health.

An increasing number of public health officials from around the world are urging smokers to use electronic nicotine delivery systems (ENDS), including electronic cigarettes and vaporized tobacco products, to aid in smoking cessation
To go after non-compliant manufacturers
Jim McDonald, Vaping 360
With registration and product listings due soon from e-liquid and other vape manufacturers, the FDA is making plans to inspect facilities — and to enforce their rules.

Any business that makes, packages, repackages, or labels vaping products is considered a manufacturer, and all are required to register all facilities with the federal agency. After the third delay announced last week, registration and product listings are now due on Oct. 12.
---
---
Calling on PMI to stop selling cigarettes
Recently I received an open letter in which you called on PMI to stop selling cigarettes; and to do so immediately. In essence, the letter says that anything less than shutting down PMI's cigarette business is "irresponsible" and "monstrous." The full text of the letter and the current list of signatories is posted here.
Jim McDonald, Vaping 360
The London Fire Brigade — the massive city's metropolitan fire department — announced that it "welcomes Public Health England's support for e-cigarettes as a key way to help smokers quit tobacco smoking to help reduce the number of smoking related fire deaths."

Public Health England (PHE) has launched its annual quit-smoking campaign called Stoptober, and for the first time is suggesting smokers try e-cigarettes as a way to quit.
---

---
Carl V. Phillips, Daily Vaper
The concept of the causal pathway, the specific steps from an exposure or personal characteristic to an outcome, is critical in epidemiology and similar sciences. Best practice in modern epidemiology includes identifying the possible pathways before conducting research or analysis, often illustrating them with a flowchart called a causal diagram.
Despite Alarmism Over 'Gateway' Risks
Steve Birr, Daily Vaper
Smoking rates for adults and teens dropped to record lows last year in North Carolina, as did the rate of youths using electronic cigarettes, despite continued alarmism from public health officials.

The state's Department of Health and Human Services revealed Wednesday that the smoking rate among the adult population fell to 17.9 percent in 2016. The rate in North Carolina still exceeds the national average of 17.1 percent, but represents progress in the fight against tobacco addiction.
As 'less harmful' option for smokers 
The House Joint Committee on Health and Trade and Industry has adopted House Resolution (HR) 973 urging the Department of Health (DOH) to adopt harm-reduction measures, particularly the use of electronic cigarettes (e-cigarettes or vapes), as an alternative for smokers as part of the country's National Tobacco Control Strategy.

Denise M. Bonilla
The ban targets e-cigarette businesses, called vape stores, but includes any "business operation, whether as its primary use or as an ancillary use, [that] includes the smoking or selling of vapors, e-liquids, or other substances that are smoked through an electronic cigarette."
Andrew Forrest
Western Australian mining billionaire Andrew Forrest is preparing to launch legal action against tobacco firms as part of a campaign to raise the legal smoking age from 18 to 21.

Mr Forrest will seek billions in compensation for the damage caused by smoking products through the Eliminate Cancer Initiative (ECI), which falls under his and wife Nicola's philanthropic Minderoo Foundation.
Kevin Crowley, Vaping Links
Letter to the World Health Organization ~ Deception ~ Bad Laws ~ Tobacco use on the rise ~ Classification of Twitter Users ~ Social Media Snooping ~ De-Addiction ~ Key issues, health impacts of "ends".
---
A look back at how things have moved on or otherwise….
Bolton Smokers Club
Unless I am mistaken, I am seeing more and more criticism of 'unaccountable authority'. Readers will know what I mean by 'unaccountable authority'. That phrase most particularly applies to the decision of the WHO, at their convention in Moscow, to exclude media reporters and such. An amusing point has been raised about the next convention in India, which suggests that agencies of the Indian Government will be excluded because they have not gone far enough in ceasing to confer with tobacco companies.
Response from Clive Bates
There is nothing at all in these findings to justify the conclusion. In fact, the findings are more likely to support the opposite – that such social media activity is helpful in reducing smoking. If vaping companies are "enticing consumers" it is almost always to stop smoking and to vape instead. So if these tweets were actually affecting behaviour, it is likely that it would be in a way that reduces smoking and is beneficial to public health.
British Standards Institution
Broadly speaking, regulators, businesses and consumer groups seek to mitigate harm to customers, in particular children and young people. Legislative requirements concerning age-restricted products and services share the common objective of protecting the health, safety, and wellbeing of young people.

Businesses are also concerned with mitigating risks associated with either inadequate compliance systems or non-compliance and these include:
---
Visit Nicotine Science & Policy for more News from around the World

---