Vapers Digest September 28th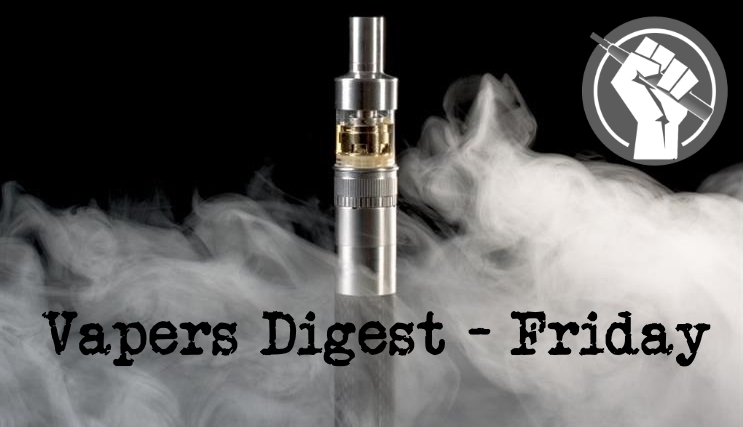 Friday's News at a glance:
EU Tries Again – The WHO's immortality delusion – Everything you need to know about the FCTC COP8 junket – FDA Ignores Improving Health with E-cigarettes – Updated Government Guidance – Goniewicz Lies With Logs – Georgia County Will Prosecute Teen Vapers – The FDA May Ban Online Sales of E-Cigarettes – How does dual use of e-cigarettes and conventional cigarettes change over time? – Is Vaping Just a Short-term Fad? – Dick Durbin Argues – Juul under growing FDA scrutiny – Why TN must reverse ban on e-cigarettes – Hempstead Town Board targets vaping – Nicotine Science and Policy Daily Digest
Paul Barnes, Facts Do Matter
For those of you most familiar with the modus operandi of the EU institutions, this won't come as much of a surprise. Back in March 2017, the Commission published the results of a public consultation on whether or not e-cigs should be subject to a tobacco-style excise.

Naturally, the overwhelming answer was no. With the largest group of respondents being individuals. Naturally, being the EU, they weren't particularly satisfied with such a response and all went quiet. Only for them to produce yet another consultation asking the same questions.

I'd be willing to bet you know exactly how it turned out.
Christopher Snowdon, Velvet Glove Iron Fist
Yesterday saw the WHO's High Level Meeting on NCDs (non-communicable diseases) take place in New York. The good news is that the accompanying Political Declaration did not mention sin taxes on soft drinks, alcohol or tobacco. This has annoyed lots of nanny state campaigners who have had to settle for publishing a bunch of glorified advice sheets (like this) which are not remotely binding.

The bad news is that the WHO is off its head. I've written about the patent insanity of pretending that non-communicable diseases can be wiped out before. You may have thought that I was exaggerating or straw-manning. I was not. If anything, it's worse than I thought.
---

---
Carl V. Phillips, Heat Not Burn
The WHO Framework Convention on Tobacco Control's (FCTC's) 8th "Conference of the Parties" (COP8) gets underway on October 1. It is a bizarre meeting whose format results from FCTC technically being an international treaty. Thus, it theoretically requires serious formal meetings of national officials who have the authority to negotiate and make commitments on behalf of their governments. In reality, the idea of treating FCTC's deluge of position statements and vague policy recommendations as the law of the land, as would be the case with a proper treaty, is laughable.
Kevin Crowley, Vaping Links
Isn't there enough 'proof' for anyone to understand smokers who've switched to e-cigarettes are improving their health? Is it acceptable for professionals to withhold information about risks? Why are professionals unable to tell the truth?

I'm telling you e-cigarettes are a safer, healthier, smoke-free choice to combustible cigarettes. It is an alternative for smokers who want to quit. Nothing more, nothing less.
---
---
Mawsley, Planet of the Vapes
The latest Health Matters guidance from Public Health England (PHE) covers vaping and includes it in the best ways to quit smoking. It also directs professionals to accept the use of electronic cigarettes and develop a better understanding of vaping.
Public Health England's Health Matters, published by the UK Government, begins by addressing the scale of the problem confronting the nation: "Smoking is the leading cause of preventable illness and premature death in England. In 2016 alone, there were around 78,000 deaths attributable to smoking, representing 16% of all deaths across the UK."
Mawsley, Planet of the Vapes
The anti-vape team from Buffalo's Roswell Park Comprehensive Cancer Centre, favoured by the Food and Drug Administration when it comes to producing skewed studies, has produced a veiled hatchet job on another harm reduction product.

Although this Goniewicz study focuses on the heat-not-burn(HNB) IQOS, the data is misrepresented in order to elicit a response and support an ideological position that HNB products "emit substantial levels of carcinogenic" toxins.
---

---
Jim McDonald, Vaping 360
The sheriff of a rural Georgia county says his office will charge minors in possession of vaping products with crimes usually applied to illegal drugs. And the school superintendent says school officials will refer students to the authorities and press charges against them.

"I think we're at a point in time where we have to take a very hard stance on the things that we're seeing when it comes to vaping," said the sheriff. "If they're caught vaping in school, if they're passing their vape off to somebody else to vape at school — or even not just at school, but that's where we're seeing most of it — that they would be charged with a…crime."
In what it refers to as another effort at attempting to curb e-cig use amongst minors, the US Food and Drug Administration (FDA), is considering banning vaping businesses from selling their products online.

"That's going to be one thing that's on the table," said FDA Commissioner Scott Gottlieb about the possibility of banning e-cigarette sales online. "It's very clearly something we are now looking at." Next November, the FDA will be releasing proposals for new e-cig regulations, and will allow several months for feedback before a final decision is taken.

How does dual use of e-cigs and conventional cigarettes change over time?
Project Investigator: Professor Peter Hajek
If you are interested in taking part please call: 0207 882 5722 (lines are open Monday-Friday, 9-5pm)
Or click the link to email us: health-research@qmul.ac.uk

Thank you for your interest in this new study looking to follow up people who both smoke and vape, to learn about how this 'dual use' develops over time. This study is one of the first of its kind, and your participation could make a difference to our understanding of e-cigarettes and their use.
Will Cause an Increase in Smoking – Jacob Sullum
In a recent letter to the Chicago Sun-Times, Sen. Richard Durbin (D-Ill.) takes issue with my argument that new FDA restrictions on e-cigarettes could deter smokers from switching to vaping, resulting in more tobacco-related deaths than would otherwise occur. "Mr. Sullum needs to check his facts," Durbin says, claiming that e-cigarettes, on balance, lead to more rather than less smoking. That conclusion is based on some highly implausible assumptions.
DeadLine News
It's hard to ignore all the commotion around vaping these last years. All you have to do is check the news to find articles like this https://www.bloomberg.com/news/articles/2017-10-24/u-k-to-launch-inquiry-into-e-cigarettes-amid-boom-in-vaping everywhere. Although it seems like the devices have finally peaked in popularity as the discussions surrounding them have gone down in frequency a little bit lately, their presence all around us is still undeniable.
Connie Loizos
Juul has been on an incredible, and in some ways, nightmarish, ride this year. The three-year-old, San Francisco-based company has handily won 75 percent of the e-cigarette market in the U.S., thanks in large part to the sleek design of its nicotine vaporizer. It is reportedly on track to see at least $1 billion in revenue this year. And the company has capital to invest in its business, having sealed up a $1.2 billion round that it began raising in summer.
Samrat Chowdhery
Tobacco sustains 50 million livelihoods in India and earns substantial revenue through exports and tax, but it also kills a million citizens every year and mounts an economic burden of over Rs 1 lakh crore in direct and indirect costs.

Caught between these two competing forces are the country's 27 crore users who find themselves pushed to the frontlines in the state's half-hearted war against tobacco. Some of the measures have worked, resulting in a 6% decline in use over a seven-year period from 2010 to 2017, but this is hardly enough.
Frank Luisi and Erik Hawkins
The Hempstead Town Board unanimously approved legislation on Sept. 20 requiring businesses to place signs at cash registers warning about the dangers of electronic aerosol delivery systems, including vapes and electronic cigarettes.

"This legislation is designed to correct the misapprehension that vaping is not hazardous to your health — it absolutely is," said Republican Councilman Dennis Dunne, who represents Bellmore and Merrick.
---
A look back at how things have moved on or otherwise….
But Can't Due To FDA System Failure
Carl V. Phillips, The Daily Vaper
FDA Commissioner Scott Gottlieb has announced on Twitter that the September 30 deadline for manufacturers to register each of their vapor products will be delayed. This may have resulted from pressure from members of Congress contacted by desperate constituents, although the FDA probably figured it out themselves. Gottlieb attributed the delay to "connectivity problems," but many other problems have occurred. The new deadline has not been set and at the time of this writing there has been no official announcement.
Yorkshire Smokefree
I was 12 years old, and smoking, believe it or not, was a way of making yourself look attractive to the girls. It wasn't frowned upon like it is now- tobacco advertising was everywhere, in fact was positively encouraged! I can remember one time when my mother was depressed, our doctor advised her to have one of my dad's ciggies to calm her nerves down!

Anyway I started at about twelve years with the other lads behind the bike sheds at school.
---
Visit Nicotine Science & Policy for more News from around the World

---