Vapers Digest September 26th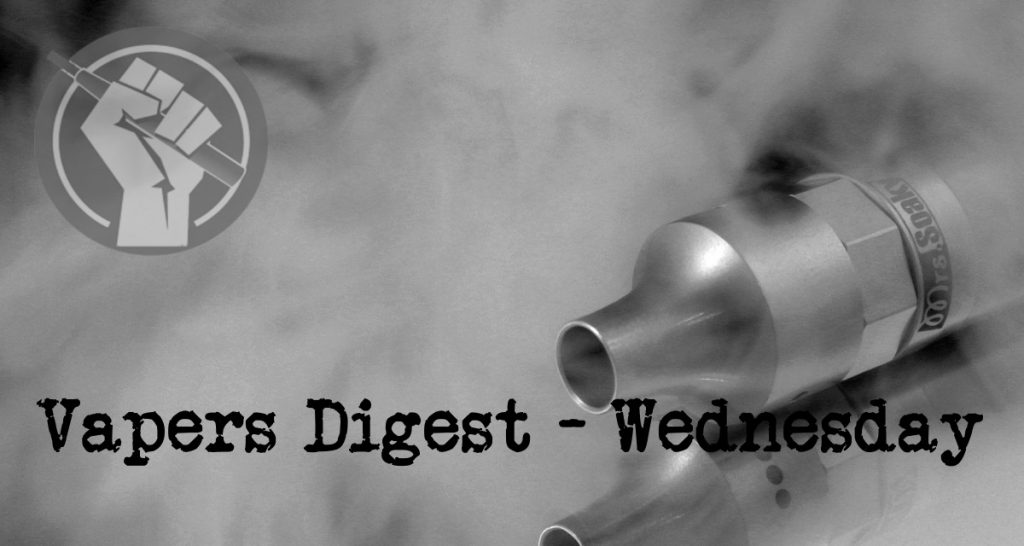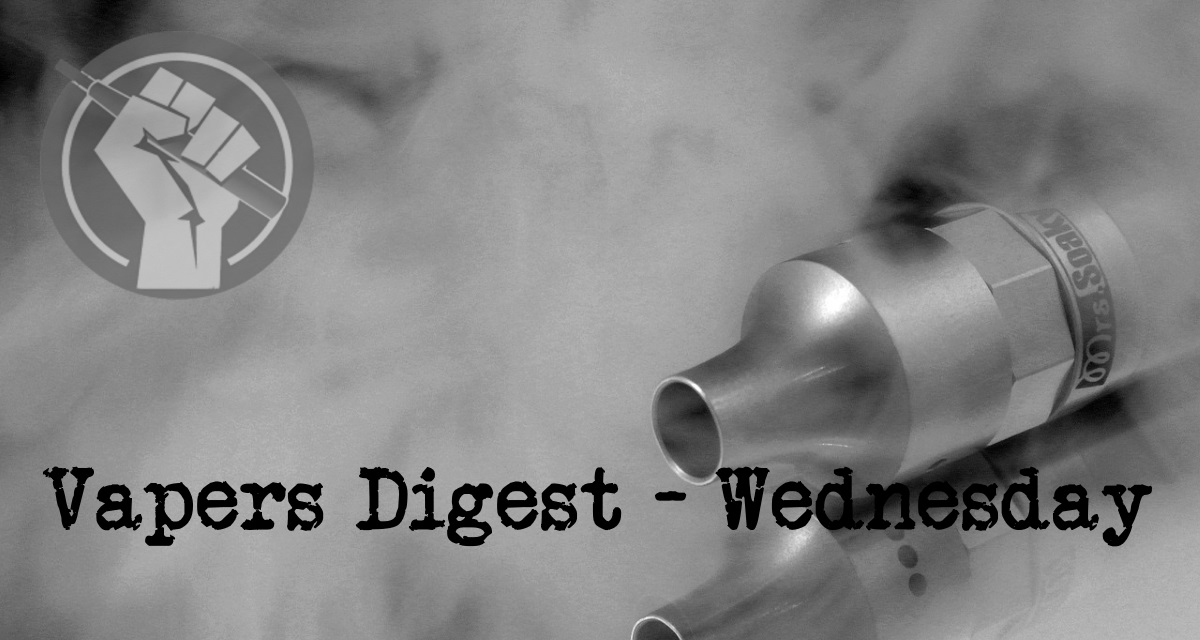 Wednesday's News at a glance:
The War on Nicotine Pits Prejudice Against Public Health ~ Harry's Blog #70: Are tobacco regulators Big Tobacco's new best mates? ~ INNCO and the WHO ~ Australia On The Brink ~ No guidance here ~ We've had a 'quit or die approach' to smoking but there is another way says expert ~ FDA's New Anti-Vaping Campaign Is a Misguided Clone of "Reefer Madness" ~ Dear FDA: 2.5% Of High School Students, Most Current Or Former Smokers, Is Not A Vaping 'Epidemic' ~ E-Cigarettes and Public Health Concerns ~ R Street Coalition Letter in support of new Office of the Surgeon General report ~ Tobacco Control Junk Science Of The Week ~ Everything you should know about vaping industry in the UK ~ Essex County Council delivers stop smoking support via vape shops ~ Why India Is Tobacco Harm Reduction's Most Important Frontier ~ Imperial aims for £1.5 billion in vaping sales by 2020 ~ Florida Kids Overdose on "Nicotine Candy" ~ Mayor Jilly Gibson Can Go Hang
Helen Redmond, Filter
There's a war on nicotine. And just like the War on Drugs in general, it cannot be won. We will never live in a world where nicotine isn't used by millions.

A nicotine-free world is as unobtainable as one without caffeine or heroin. Why? Because people have always needed and loved drugs–for recreational, spiritual and medicinal purposes. And in the 21st century, drugs are never more than a couple of clicks away, through legal prescriptions or illicit markets.
Harry Shapiro, Nicotine Science and Policy
It is a central tenet of those opposed to tobacco harm reduction as it applies to safer nicotine products that the whole thing is a massive con trick by Big Tobacco to both entice kids to move onto regular daily smoking and inveigle ex-smokers to take up the habit once more. The purpose of e-cigarette promotion they argue, is to 'boost Big Tobacco profits'. Well as things stand, BT are doing a piss poor job of 'boosting their profits'; total global turnover of all products among all companies whether Big, Middling or Little Tobacco probably accounts for less than 2% of cigarette sales.
Mawsley, Planet Of The Vapes
INNCO, the International Network of Nicotine Consumer Organisations, has been blocked from attending the upcoming World Health Organisation (WHO) Framework Convention on Tobacco Control (FCTC) Conference of Parties (COP), taking place in Geneva this October. As a result, INNCO has written a letter highlighting the absurdity of classifying vaping as tobacco products.
Mawsley, Planet Of The Vapes
Australia is the home to box jellyfish, bull sharks and a host of other dangerous creatures. It harbours more deadly snakes than any other country in the world, and some of them stride on two legs opposing vaping and harm reduction. A valiant effort by the Liberal party has managed to secure an independent inquiry to look at the impact of vaping.
Chris Brooker, AJP
Australian pharmacists are unsure with how to proceed in offering information about e-cigarettes in the face of conflicting information and a lack of guidelines about what to do.

New research has shown a high level of confusion about how to react to customer enquiries about e-cigarettes, and a relatively low level of knowledge about their regulation and what advice to be offering.

There is a need to "provide evidence-based and customised education for pharmacists regarding e-cigarettes to help them guide their clients," the study authors said.
Tasmania Talks with Brian Carlton
A tobacco treatment specialist says Australia has always had a 'quit or die' approach to smoking, but vaping offers an alternative. The Federal government has backed down on their stance against e-cigarettes, which Health Minister Greg Hunt once said would not be legalised – 'not on his watch.'

Changing attitudes towards vaping within in the Liberal Party has forced the Health Minister to change his tune, and order studies into the effectiveness of vaping.
---

---
Brad Rodu, Tobacco Truth
FDA Commissioner Scott Gottlieb on September 12 announced an FDA initiative to "address [the] epidemic of youth e-cigarette use." (here)  Dr. Gottlieb misbranded teen vaping an "epidemic of addiction."

The commissioner asked manufacturers of JUUL, Vuse, MarkTen, blu and Logic e-cigarettes to respond "to the FDA in 60 days with robust plans on how they'll convincingly address the widespread use of their products by minors, or we'll revisit the FDA's exercise of enforcement discretion for products currently on the market."
Most Current Or Former Smokers, Is Not A Vaping 'Epidemic'
Hank Campbel, American Council on Science and Health
The U.S. Food and Drug Administration has done many positive things recently: they eased red tape on generic drug approval, which is 85% of U.S. spending for pharmaceuticals, setting a new record last year by August and are on pace to exceed that again before the end of this fiscal year; they finally stated they were going to look into the suspect labeling claims made by Big Organic, which are far more deceptive than anything kratom trade groups engage in; and they pushed back the "grandfather" date for vaping devices so they didn't create millions of casual criminals who did nothing wrong but buy a device before a capricious date created by the previous administration.
---
I just turned on this: https://t.co/pLjuepzhN3 to hear @dvandusen say: "We need to look at the science: nicotinic recepters have basically atrophied by age 25. If you don't become addicted to nicotine as a youth, you will not use it as an adult".

— Oliver Kershaw (@ojkershaw) September 25, 2018
---
Video, C-Span
Axios held an in-depth discussion on the increasing trend among teens using e-cigarettes and what policymakers are doing to address the rise. The practice is commonly known as "vaping." In this part, FDA Commissioner Dr. Scott Gottlieb outlined steps the agency will be taking in an effort to reduce the number of children using e-cigarettes.
Carrie Wade, R-Street
Dear Dr. Adams,

We have read with great interest your recent report, Facing Addiction in America: The Surgeon General's Spotlight on Opioids and would like to congratulate you on the publication of this thoughtful update and future strategy.

We advocate for harm reduction strategies to be applied alongside prevention strategies to further public health goals relating to risky behaviors, including opioid and tobacco use.
---

---
Dick Puddlecote
Or maybe even the year, or decade. Or ever!

From the Tobacco Control comic, naturally.

Indeed, while IQOS heat-sticks (HEETS) include a variety of flavours (tobacco, menthol, bubble gum and lime), no IQOS heat-sticks include capsules.

Heets come in three 'flavours'. Gold tobacco flavour, amber tobacco flavour and blue (menthol) flavour. Bubble gum or lime heets simply don't exist.

It's a struggle to work out how they can make such a fundamental error like this until you read further.
Business Matters
A vape has progressed far from the stage of mediocrity and has turned into a high-end product. Clunky oversized items have transformed into elegant portable gadgets that one can be proud to own. Electronic smoking devices are now at peak demand. They surpass traditional cigarettes in function, safety, and design. This makes them a preferred choice for the nicotine consumer.

Public Health England, Gov.UK
Using selected e-cigarette stores in Essex, training staff to deliver stop smoking support to their customers wishing to quit smoking by using an e-cigarette.

The Essex Lifestyle Service worked with selected e-cigarette (vape) stores in Essex, training staff to deliver stop smoking support to their customers wishing to quit smoking by using an e-cigarette. To date, it has resulted in over 900 people stopping smoking through the use of an e-cigarette.
---

---
Samrat Chowdhery, Filter
Tobacco is India's Trojan horse. It was brought to our shores five centuries ago on Portuguese ships. Indians readily took it in as a trade good, then farmed it in abundance for its assumed medicinal properties. They developed a multitude of ways to consume it, until it unleashed death and destruction on a scale the nation had never experienced before.

This country is now home to an estimated 12 percent of the world's billion cigarette smokers.
Simon English, Evening Standard
Imperial Brands reckons it can sell £1.5 billion a year of vaping products by 2020, as it moves to play catch-up in the biggest growth market for smokers.

Criticised by some for not moving faster, chief executive Alison Cooper on Tuesday said 'next generation products' will be "at the heart of our strategy" to create something better for customers.
---
Jim McDonald, Vaping 360
Seven young Florida children were rushed to a hospital earlier this month after swallowing nicotine lozenges. One child brought the 4 mg mint-flavored Nicorette mini lozenges to school and offered them to classmates.

"We thought it was candy," nine-year-old Jaheim Moore said.

They played a game of who could eat the most, according to CBS Miami. "My stomach started hurting, I was shaking, and then I threw up," Jaheim Moore told CBS. Doctors at Broward Health said the kids, ages 9-12, had rapid heart beats and low blood pressure. The symptoms are exactly those of a nicotine overdose.
Frank Davis
Hat tip Smoking Lamp for this story. (A CBD is a Central Business District for those who don't know, which includes me).

A Sydney council hopes to establish what is possibly the nation's first smoke-free CBD in a capital city.

North Sydney councillors this week unanimously passed a motion to ban smoking in every public place in what is Sydney's second largest CBD.

Mayor Jilly Gibson hopes to eventually go even further by extending the ban across the entire municipality.
---
Visit Nicotine Science & Policy for more News from around the World

---