Vapers Digest September 24th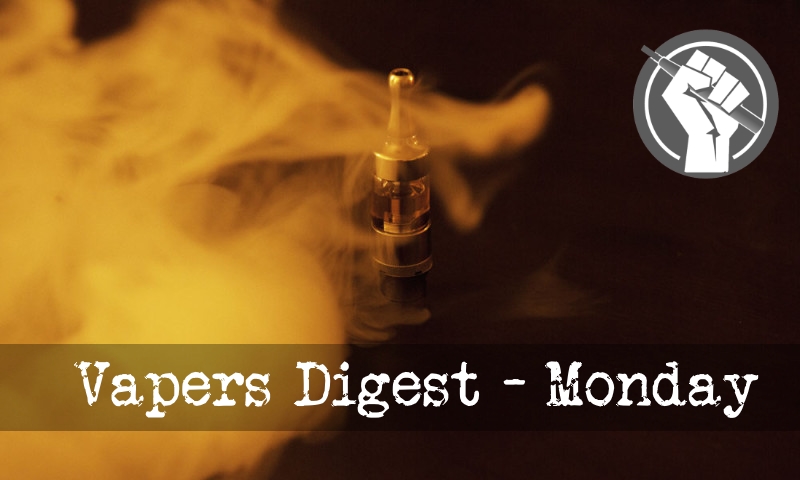 Monday's News at a glance:
Dear Family, Friends, Parents, Educators – Progress in Australia at last – Australia's Ruling Liberal Party Sees the Light on Vaping – Battery Warnings – Messages matter: The Tobacco Products Directive – Dr Farsalinos – A Cat At Night – Oregon's New Packaging Rules Take Effect – FDA's Unjust War on Vaping – FDA's Anti-Vape Bathroom Campaign Slammed – FDA FOIA: Vaping Leadership FAIL – Media Coverage of E-Cigarette News – ASH on youth and e-cigarettes – Demand for e-cigarettes booming in Germany – Goa urged to ban use of E-Cigarettes – New FDA rules are ineffective – Vaping In The News September 22nd – Nicotine Science and Policy Daily Digest
And Medical Professionals: "The Real Cost" – Kevin Crowley
I consider you all intelligent and capable of thinking for yourselves. Each of you have the power of many that I cannot have alone. I consider the depth and importance you hold with your personal and professional lives.  I also consider that YOU have a responsibility, response, and an ability – with the vast outreach you have – to make a difference. I'm going with the theory that we're all only within "six degrees of separation".

I understand in order to ask for support, you need facts.
But FDA tightens the screw on US vapers – Fergus Mason
Australia's notoriously anti-vaping political establishment might finally be moving towards acceptance of harm reduction, after the country's embattled health minister agreed to allow an independent inquiry into the effects of vaping. However this positive development was overshadowed by events in the USA, where the FDA is stepping up its war of words against the industry – and issuing new threats to take products off the market if manufacturers don't achieve the impossible.
Sees the Light on Vaping – Jim McDonald
Australia may be on the verge of loosening its restrictions on vaping with nicotine, after years of tamping down the hopes of vapers.

Among English-speaking and most other western countries, Australia's prohibition of nicotine-based vaping products is an outlier. The United States, United Kingdom, European Union countries, Canada, and New Zealand all allow nicotine in e-liquid and closed-system vapes with nicotine.

Now the Liberal Party, which holds a majority in the nation's parliament, is showing signs of reversing its opposition to vaping, which could portend an end to the country's ban on nicotine (except in cigarettes and pharmaceutical cessation products).
---

---
Mawsley, Planet of the Vapes
The Sony VTC5 cell is very popular with vapers for it reliability and build quality. Recently, Amazon shoppers in the USA and the United Kingdom received emails warning them that the cells should not be used in vape products.
One of our POTV forum members wrote: "So, bought a couple of VTC5s about a year or two ago, and have just received an email from amazon stating that the batteries I purchased should DEFINITELY not be used with any products related to vaping as they can be dangerous and a link to an announcement from Sony about the whole thing…"
The Tobacco Products Directive nicotine addiction health warning
Sharon Cox, Daniel Frings, Reeda Ahmed, Lynne Dawkins
Many countries have now mandated warning labels on e-cigarette products. One example, the EU TPD health warning states, "This product contains nicotine which is a highly addictive substance. [It is not recommended for use by non-smokers]". The impact of the EU TPD warning message on intentions to use, has not been explored within an EU population.
An Evidence Update –  London South Bank University
Following her successful public lecture on E-Cigarettes in 2013, Dr Lynne Dawkins will re-visit the subject of e-cigarettes and vaping, drawing on the most recent evidence and updates since 2013. She will describe the development in e-cigarette technology and current regulation and then bring the audience up to date with the latest research on usage patterns, smoking cessation and safety issues, addressing some of the common myths held around e-cigarettes and vaping.
Mawsley, Planet of the Vapes
Dr Konstantinos Farsalinos spoke to John Catsimatidis about vaping, the FDA's war on electronic cigarettes, whether or not there is an epidemic of teens vaping, the gateway effect and laid out the crucial numbers in a powerful manner. Although Catsimatidis is against vaping, the podcast's health expert congratulated Farsalinos for getting to the crux of the teen vaping debate.

John Catsimatidis began the interview by laying out (what he saw as) the facts of vaping. He stated as fact that there is a problem of "epidemic proportions among kids here", and that he saw the use of ecigs as "an entry way into smoking cigarettes…"
---
Still hoping I can find a #vaper to talk with me at a training session in Chester 10th October – anyone interested? I just need people to hear a real life story.

— Louise (@grannylouisa) September 24, 2018
If you're heading to London for the e-cig summit, come a day early for Lynne Dawkins' evidence update: https://t.co/JF5oSu4YD9

— Sarah J (@Twigolet) September 24, 2018
---
Jim McDonald, Vaping 360
Imagine choosing from hundreds of nearly identical bottles, none using images of fruit or candy, or distinguishing branding that uses cartoons or animal figures.

Welcome to Oregon.

New Oregon rules for e-liquid packaging went into effect Sept. 1, and they're unlike anything anywhere else in the country. The vast majority of commercial e-liquid sold in the U.S. will be illegal to sell in Oregon, unless the labels and packaging is significantly altered.
Lindsey Stroud
Actor William H. Macy once claimed that film industry rating boards have "a perverted point of view about what's appropriate for children," decrying the boards' need to protect children from sexual content while "think[ing] almost any level of violence is okay for children."

The U.S. Food and Drug Administration (FDA) is also guilty of this hypocritical stance. In September, the agency declared a "youth vaping epidemic," even though vaping has been proven to help people stop using much more dangerous tobacco products.
Ali Anderson
EXPERTS have slammed a new government campaign to place posters on the "dangers" of e-cigarettes in 10,000 high school bathrooms across America.

The US Food and Drug Administration (FDA) announced this week a new campaign to warn teens and young people off vaping in response to a so-called "epidemic" sweeping the nation, with a new package of disturbing commercials.
---

---
Lone Wolf
So this is quite interesting… I received a second set of FOIA data from the FDA:

The corresponding FOIA PDF docs are here:

https://github.com/OpenSourceVaping/FDA_FOIA_2

The specific request was for "all scientific evidence, emails, scientific evidence, expert information and all validating documents … 'Not all nicotine-free e-liquids (NFLs) are subject to the deeming rule."

The interesting document is the "Brief" which contains the following (from the brief):
The study authors searched Access World News and Factiva databases for e-cigarette-related news articles appearing in the top 30 circulating newspapers, 4 newswires, and 4 online news sources in the United States in 2015.

The research identified that nearly half the articles at 45.1%, focused primarily on regulatory issues. The second most common articles at 21% tackled e-cigarette prevalence, while 21.7% discussed health effects. Another frequently mentioned topic was the rise in e-cig use amongst youth at 45.4%.
KiwiBlog
Stuff reports:

Vaping may not be the gateway to cigarette smoking as was once feared, according to New Zealand's largest smoking survey. 

Action on Smoking and Health (ASH) canvassed more than 26,000 Year 10 students from across the country and found that only 2 per cent used electronic cigarettes, also known as vaporisers, daily. 

XinhuaNet
The e-cigarette industry is benefiting from booming demand for the tobacco-free smoking alternative, the German association for e-cigarette Trade (VdeH) told press at the ongoing "InterTabac" trade fair in Dortmund on Friday.

According to the association, e-cigarette revenue has increased by 39 percent in 2017 to a total of 580 million euros (681.3 million U.S. dollars). As a consequence, revenue has now more than doubled in only two years compared to 270 million euros in sales back in 2015.
The National Organisation for Tobacco Eradication (NOTE) and Consumer Voice, citing the example of Tamil Nadu, have written a second round of letters to various functionaries including the chief minister, health minister and the health secretary, urging to them to ban the use of e-cigarettes in the state.
Brian Bahouth
Effective August 10, ads and packaging for e-cigarettes and associated devices must include a warning that the products contain nicotine and that nicotine is addictive. Just like combustible tobacco products, new rules from the Food & Drug Administration (FDA) require the warning to occupy 20 percent of the ad or package space.
Steven Dunkelberger
The Tacoma-Pierce County Health Department is appealing a Pierce County Superior Court decision last week that stated the agency overstepped its authority regarding rules and requirements for retailers of e-cigarettes and nicotine-infused vape juice that were stricter than state law.
Kevin Crowley, Vaping Links
Vaping is Tobacco Control ~ "Epidemic?" A Perspective of Youth Vaping & Tobacco Use Trends ~ Dear Family and Friends ~ Research Looking into Media Coverage of E-Cigarette News ~ Studying Flavours ~ Speaking of Control ~ JUUL and other stealth vaporisers ~ Teens smoking less is unacceptable ~ FDA launches new, comprehensive campaign to warn kids ~ Statement from FDA Commissioner Scott Gottlieb ~ Keep Smoking We Need The Money
---
A look back at how things have moved on or otherwise….
Dick Puddlecote
It's been just over a week since it was announced that PMI were unconditionally throwing $1bn at a former WHO cabinet director to conduct research into reduced risk nicotine products, and the squealing from 'public health' has been a joy to behold.

Let's just revisit what that world-renowned tobacco control expert, Simon Chapman, says about this phenomenon…
Nancy Sutthoff, AVCA
In case you haven't noticed, I have not been active for the past two months on social media and I have to give credit to Steve and Jan for taking up the slack whilst I have been recovering from surgery. Alas, my 8 weeks are up and it's time to get back in the saddle, so here we go!

There have been a lot of questions prior to and since the announcement of the Technical Expert Advisory Committee TEAC that we have received. No, AVCA was not included on the committee and no, we have not received a clear answer from the Ministry of Health as to why that is outside of "there were more suitable candidates".
---
Visit Nicotine Science & Policy for more News from around the World

---