Vapers Digest September 21st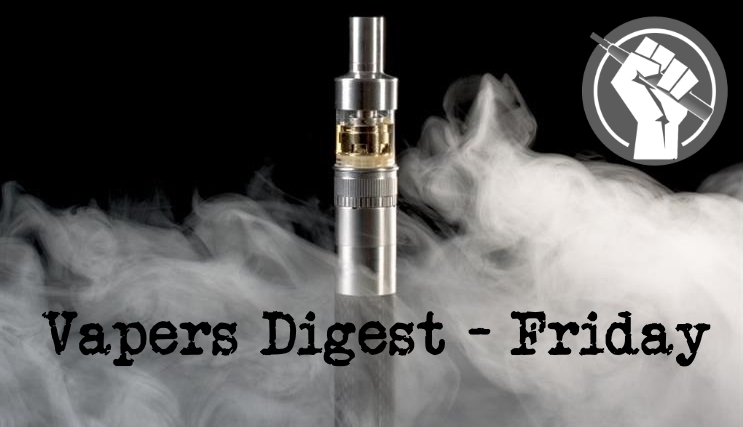 Friday's News at a glance:
Popcorn Time: Australia Is Wobbling On E-Cigs – Why are we giving the WHO so much cash? – Studying Flavours – The Real Cost? $60 Million and More Dead Smokers – "Epidemic?" A Perspective of Youth Vaping & Tobacco Use Trends – Something Stinks in Gottlieb's Toilet Campaign – One person quits smoking every 80 seconds in England – 'Don't go cold turkey' to quit smoking – Vaping is Tobacco Control – GTNF18 – Tamil Nadu's Criminal Vapers – Chicago could double taxes on vape-ware – Palatine Approves Ban On E-Cigarettes – E-Cig ban submitted to Romanian Senate – E-Cig ban flies in the face of evidence – Nicotine Science and Policy Daily Digest
Australia Is Wobbling On E-Cigs – Dick Puddlecote
The Australian Guardian reported on Tuesday that the Aussie government is to set up a new inquiry into e-cigs.

The health minister Greg Hunt has agreed to an independent inquiry into the health impacts of nicotine e-cigarettes after a concerted push in the Coalition party room over several months to legalise vaping.

Several MPs raised the issue in Tuesday's party room meeting, saying there was widespread support within the government for making nicotine e-cigarettes legally available.

This is significant considering Greg Hunt famously said that legalisation of vaping would never happen 'on his watch' last year.
Christopher Snowdon, Velvet Glove Iron Fist
From the Express…

British taxpayers 'should not subsidise scaremongering anti-vaping laws'

British taxpayers should no longer subsidise "scaremongering" anti-vaping laws advocated by the World Health Organisation, consumer champions said tonight.

It includes a quote from my good self…
---

---
Paul Barnes, Facts Do Matter
With the recent announcement from FDA Commissioner Scott Gottlieb talking about the possibility of curtailing the marketing and selling of flavoured vapour products, it is timely that the Centre for Substance Use Research should have recently published a paper on the topic.

The CSUR came under fire when it published the Pleasure of Smoking report because, among other things, CSUR receives some funding from (you guessed it) the tobacco industry. Notable British American Tobacco and PMI.
And More Dead Smokers – Jim McDonald
The FDA launched the latest segment of its "youth tobacco prevention plan" campaign called The Real Cost yesterday. And after almost two years of Scott Gottlieb at its helm, and hundreds of millions of dollars spent on research, the FDA once again is stuffing its new ads with the same chemophobic innuendo and baseless fear mongering that every other anti-vaping ad campaign has used.
---
---
& Tobacco Use Trends – CASAA
On Wednesday, September 12, 2018, FDA commissioner Dr. Scott Gottlieb announced enforcement actions to be taken in the wake of unpublished "preliminary data" showing an "epidemic rise" in vaping among young people. Although the new data are not publicly available, Dr. Gottlieb is referencing it as justification for drastic enforcement actions like banning flavors and pulling entire product lines off of retailers' shelves.
In Gottlieb's Toilet Campaign – Mawsley
The Food and Drug Administration (FDA) is rummaging around in the sewers as part its on-going marketing campaign to attack vaping. It has released a video that looks like a trailer for a teen horror film and is going to be advertising in school toilets. Meanwhile, Scott Gottlieb is clear that adult smokers and vapers will have to suffer.
---
Looking for men( ex-smoker vapers or smokers/vapers) aged 45-54 for a group discussion 25th September, from 6:00 to 8.30pm, at the Park Inn Glasgow. We offer refreshments and a thank you of £25 for you to take part. *Important* contact (isabelle.uny@stir.ac.uk) or 07773808912

— Andy Morrison (@GMFCfantasy) September 21, 2018
Thema der Woche:
Die FDA startet an Jugendliche gerichtete Desinformationskampagne zur E-Dampfe.

weiterlesen: https://t.co/ddIGNV5Ax5 https://t.co/ddIGNV5Ax5

— IG-ED (@ig_ed) September 21, 2018
---
Public Health England
Last year, nearly 400,000 smokers in England quit successfully, which is the equivalent to 1,069 smokers each day. Despite new smokers starting and ex-smokers relapsing, there are now 1 million fewer smokers in England since 2014.

Of the 6.1 million smokers in England, 6 in 10 want to quit but most try to quit using willpower alone (or 'cold turkey') despite this being the least effective method. The most successful quit attempts use a combination of effective stop smoking support methods.
BBC Health
Smokers looking to quit as part of the annual Stoptober campaign are being warned not to go "cold turkey".

Government health officials have said smokers stand a much greater chance of succeeding giving up by using official NHS support or turning to e-cigarettes.

Research has shown only 4% of those who go "cold turkey" remain smoke-free after a year.
Tony Ottomanelli II – Vaping Post
From reading this title, many vape advocates and industry professionals may immediately take a defensive stance, assuming the title suggests that vaping is an extension of the Tobacco Control Industry. Needless to say, this is not what the title implies. However, when analyzing the ways in which vapers define what vaping essentially is, it becomes clear that vaping is undoubtedly responsible for controlling tobacco.
---

---
Mawsley, Planet of the Vapes
Helen Redmond is an academic specialising in substance use at the New York University Silver School of Social Work. She addressed the 2018 Global Tobacco & Nicotine Forum (GTNF18) last week, declaring that access to cheap harm reduction tools like electronic cigarettes is "a human rights issue".
Experts, industry leaders and innovators met up at the Rosewood hotel in London for presentations, discussion and networking at GTNF18. As is customary nowadays, vaping featured high on the list of conversations due to the way it has disrupted the tobacco markets.
Mawsley, Planet of the Vapes
The government of India attempted to ban vaping across the entire country last month. They failed due to a court decision, so it instructed the individual states to implement bans instead. Tamil Nadu becomes the seventh state to implement such a ban – but has gone further by criminalising vapers for owning vape products or vaping.
Last month the Association of Vapers India (AVI) called the Indian Government's instruction to the states, "A regressive step based on misinformation, fear and refusal to consider science."

CAPHRA
We implore the members to acknowledge that the use of ANDS are part of an effective harm reduction strategy, as required and defined by Article 1(d) of the Framework Convention on Tobacco Control Treaty (FCTC) and recognise the potential of the use of novel nicotine consumption products' potential for reducing smoking rates; and to reverse the contradictory stance taken at COP7 in 2016 advising member states they could also ban vaping products outright as part of a tobacco control plan.
Adam Thorp
Chicago will be on the leading edge of efforts to reduce e-cigarette usage if a mayoral proposal to toughen the city's laws passes.

A City Council committee will consider a proposal Thursday that would roughly double the tax on e-cigarettes and require the devices and related products be sold from behind store counters.

The policy, introduced by Mayor Rahm Emanuel, is designed to reduce the use of e-cigarettes among young people.
Igor Studenkov
Starting next year, Palatine residents and visitors won't be able to smoke e-cigarettes in restaurants, office buildings and other public places where smoking of regular cigarettes isn't allowed.

The new ordinance came after Councilman Tim Millar (District 1) asked village staff to see whether village regulations on electronic cigarettes could be tightened. The ordinance that went before Monday's (Sept. 17) council meeting simply added electronic cigarettes, hookah pipes and "alternative nicotine product[s]" to the list of tobacco products that residents are not allowed smoke in public places.
Irina Marica
A new draft law submitted to the Senate proposes e-cigarettes to be banned in public spaces just as the normal cigarettes are, local Digi24 reported.

The Senate's health committee is currently debating the bill. However, the initiative received a negative opinion from the human rights committee, according to Cristian Ghica, an MP representing opposition party Save Romania Union (USR).
Deepak Mukarji
Much to an observer's nightmare, policy actions in India seem to be progressively guided by temporary gusts of disconnected causes and events. Government actions, more often than not, tend to oscillate from inaction to a knee-jerk reaction. The recent advisory from the Ministry of Health and Family Welfare, asking state governments to stop sales of E-Cigarettes or Electronic Nicotine Delivery Systems (ENDS) is a stark example to showcase the current state of affairs.
---
A look back at how things have moved on or otherwise….
IBVTA
According to ASH there are at least 2.9 million vapers in the UK, of whom 1.5 million have stopped smoking completely. The UK now has the second lowest smoking rates in the EU. This is excellent news and something everyone with a genuine interest in public health should be celebrating.

There are currently still around nine million smokers in the UK. Smoking is a personal choice and no one should be forced to stop. At the same time, smokers should be given access to information about significantly less harmful alternatives products.
Nick Triggle – BBC
The annual Stoptober campaign in England is embracing e-cigarettes for the first time – in a sign vaping is being seen as the key to getting people to quit.
Health experts have tended to shy away from explicitly promoting e-cigarettes.
But the government campaign during October will feature vaping in its TV adverts for the first time.
It comes after e-cigarettes proved the most popular tool for quitting during last year's campaign.
---
Visit Nicotine Science & Policy for more News from around the World

---