Vapers Digest 21st September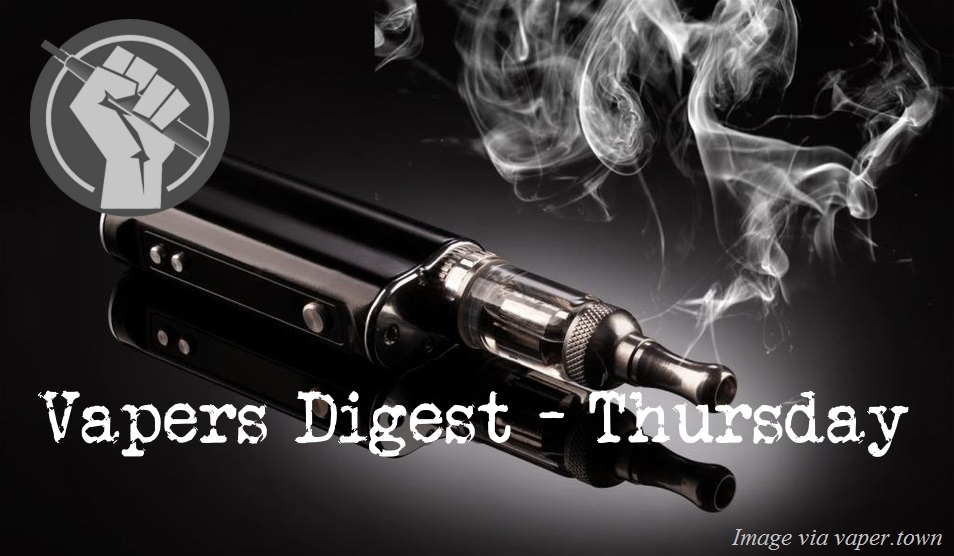 Thursday's News at a glance:
Why has IBVTA partnered with Public Health England this Stoptober? – Stoptober backs e-cigs for first time – People quitting smoking hit record high – E-cigs definitely less harmful than smoking – No air pollution variations – National nursing group endorses use of e-cigarettes – Looming September 30 Deadline – NZ study compares the effectivity of e-cigs – Marlboro Man Wants Us All to Quit – Oakland bans flavored tobacco products – The World In Vaping – Nicotine Science and Policy Daily Digest
IBVTA
According to ASH there are at least 2.9 million vapers in the UK, of whom 1.5 million have stopped smoking completely. The UK now has the second lowest smoking rates in the EU. This is excellent news and something everyone with a genuine interest in public health should be celebrating.

There are currently still around nine million smokers in the UK. Smoking is a personal choice and no one should be forced to stop. At the same time, smokers should be given access to information about significantly less harmful alternatives products.
Nick Triggle – BBC
The annual Stoptober campaign in England is embracing e-cigarettes for the first time – in a sign vaping is being seen as the key to getting people to quit.
Health experts have tended to shy away from explicitly promoting e-cigarettes.
But the government campaign during October will feature vaping in its TV adverts for the first time.
It comes after e-cigarettes proved the most popular tool for quitting during last year's campaign.
---

---
Mattha Busby – The Guardian
Success rates for smokers trying to give up have hit a record high in part thanks to the increasing use of e-cigarettes, figures reveal.

Nearly 20% of those who attempted to quit in the first half of 2017 managed to kick the habit, a University College London report shows.

By contrast, over the past decade the average has been 15.7%. UCL researchers defined successful quitting as not having smoked in the previous 12 months.
Dr Colin Mendelsohn
'There is now agreement based on the current evidence that vaping e-cigarettes is definitely less harmful than smoking tobacco', health bodies in Scotland have stated for the first time in a historic consensus statement.

'Although most e-cigarettes contain nicotine, which is addictive, vaping carries less risk than smoking tobacco. Thus, it would be a good thing if smokers used them instead of tobacco'.
---
---
Diane Caruana, Vaping Post
A study by the San Diego State University (SDSU), released data comparing the different levels of in-home air pollution caused by a number of factors commonly present in households, including cleaning products, smoking and vaping.

The research was funded by the National Heart, Lung, and Blood Institute, a member of the U.S. National Institutes of Health (NIH), and was led by Neil Klepeis, an environmental scientist from the University, Melbourne Hovell, and Suzanne Hughes from Center for Behavioral Epidemiology and Community Health (C-BEACH), at the University San Diego.
Dr Colin Mendelsohn
Drug and Alcohol Nurses of Australasia (DANA) released a Position Statement yesterday supporting the use of 'e-cigarettes as a harm replacement tool or cessation aid for smokers who cannot quit with approved therapies'.

According to the Position Statement titled Electronic Cigarettes for Tobacco Harm Reduction, 'substance users have high rates of smoking and low quit rates and are more likely to die from a tobacco-related disease than from their primary drug problem'.
Could Turn Vape Shops Into Criminals – Carl V. Phillips
September 30 is the deadline for U.S. "manufacturers" of vape products to register their business and their products with the Food and Drug Administration. According the the FDA, "manufacturers" include mom-and-pop vape shops, since many such small businesses make products like refill liquid on-site.
and patches for smoking cessation – Diane Caruana
The study titled Electronic cigarettes for smoking cessation: a randomised controlled trial, was published on The Lancet earlier this month. The research was conducted between Sept 6, 2011, and July 5, 2013 by recruiting 657 adult smokers who wanted to quit. 289 of the study participants were given nicotine containing e-cigarettes, 73 were given placebo e-cigarettes (containing no nicotine), and 295 were given nicotine patches, from 1 week before quitting until 12 weeks afterwards, whilst also being offered low intensity support via telephone.
---

---
Elaine He & Andrea Felsted
When the maker of Marlboro cigarettes promises to spend $1 billion to get the world to stop smoking, it's natural to take its altruism with a healthy pinch of salt. Or an unhealthy pinch of tobacco, whatever works.

Indeed, one could ask why Philip Morris International Inc. wants to make a down payment on its own funeral by backing the Foundation for a Smoke-Free World? Does it have a death wish?
Flavored tobacco products such as menthol cigarettes, blunt wraps and e-cigarette, or vape materials, will be banned in Oakland as of next year.

The Oakland City Council approved the ban Tuesday night. The ordinance, dubbed the "Oakland Children Smoking Prevention Ordinance," was first approved by the council in July, then tweaked by committees before Tuesday's final vote.
Mawsley, Planet of the Vapes
The American media continues to spread fake fear and San Francisco faces a flavour ban referendum. Namibia is subjected to nonsense, and corruption drives India to close down a vape expo before the doors opened.
A viewer asked a local TV channel in Minneapolis "to verify whether vapours from e-cigarettes are more or less toxic than second-hand smoke." In this case, the answer will not surprise you at all.
---
A look back at how things have moved on or otherwise….
Dave Dorn – The Sun Also Rises
There's all kinds of stuff floating about at the moment, and some of it is making me feel uneasy. Uneasy, because, for six years, at least, I have been fighting for the freedom to vape as one sees fit. In last Monday's VTTV show, I made a statement. It went like this:
"I don't care what you vape, how you vape, or why you vape, you're a vaper. I don't care what resistance your coil is, how big your cloud is, or what device you use, you're a vaper".

I stand by that, but I think I may need to add a little so folks properly get it.
Fergus Mason
"Only two things are infinite," said Albert Einstein, "The universe and human stupidity. But I'm not sure about the universe." Happily, I can confirm that while the universe now seems likely to be finite, human stupidity is as boundless as Einstein always believed.

I've just reported a vape shop to Trading Standards.
Dick Puddlecote
Now, much as it pains me to keep mentioning the embarrassing event last week where hardly anyone turned up to see the legendary vandalacademic Simon Chapman (after he bravely taunted vapers for not attending despite having demanded they be banned) … it appears to be the gift that just keeps on giving.

Y'see, he's been questioning the figures.
---
Visit Nicotine Science & Policy for more News from around the World

---