In the News September 21st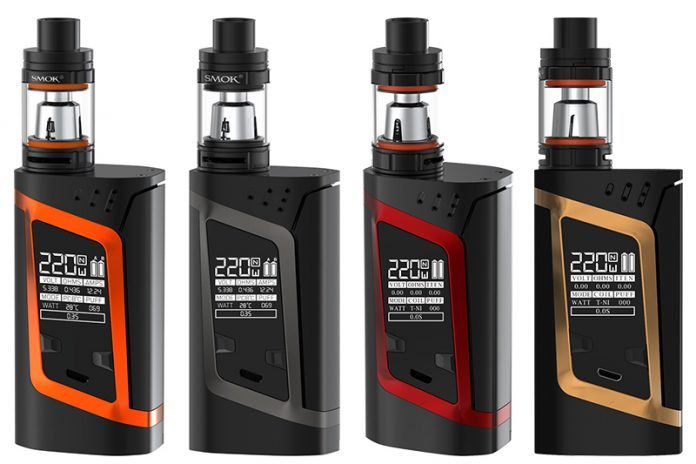 Wednesdays News at a glance:
Ecigs – who are they for, and why? – Human stupidity – Eyes Wide Shut – FCTC COP7 Discussion – Stop Smoking Services & E-Cigs: What's the Deal? – The government's great triumph on smoking: it left e-cigarettes alone – Defending smoking and vaping – Protecting lungs from smoke and pollution – Puritans & Paternalists – Why Public Health Wages War on Vaping – Electronic cigarettes save lives – FDA Cracks Down On Online Sales Of E-Cigarettes
Dave Dorn – The Sun Also Rises
There's all kinds of stuff floating about at the moment, and some of it is making me feel uneasy. Uneasy, because, for six years, at least, I have been fighting for the freedom to vape as one sees fit. In last Monday's VTTV show, I made a statement. It went like this:
"I don't care what you vape, how you vape, or why you vape, you're a vaper. I don't care what resistance your coil is, how big your cloud is, or what device you use, you're a vaper".

I stand by that, but I think I may need to add a little so folks properly get it.
Fergus Mason
"Only two things are infinite," said Albert Einstein, "The universe and human stupidity. But I'm not sure about the universe." Happily, I can confirm that while the universe now seems likely to be finite, human stupidity is as boundless as Einstein always believed.

I've just reported a vape shop to Trading Standards.
Dick Puddlecote
Now, much as it pains me to keep mentioning the embarrassing event last week where hardly anyone turned up to see the legendary vandal academic Simon Chapman (after he bravely taunted vapers for not attending despite having demanded they be banned) … it appears to be the gift that just keeps on giving.

Y'see, he's been questioning the figures.
New Nicotine Alliance
The Framework Convention on Tobacco Control is the World Health Organisation's masterplan to eliminate tobacco use. Its main activity is the two-yearly Conference of Parties, and the next one – COP 7 – will be taking place in India this November. Preparation for the conference is now in full swing, and various documents have now been released. This includes the WHO's latest report on vaping.
---

---
What's the Deal? – Paul Barnes
We've all seen the recent news about the lowest smoking prevalence on record and all that. Some quangos are of course claiming that this lowest rate is largely thanks to policies (read bans and tax hikes among other ludicrous measures, such as banning smoking in your car) and plain packaging (which while passed hasn't become a reality nationwide yet).
It left e-cigarettes alone…
Christopher Snowdon – Spectator Health
Smoking rates in England fall to lowest on record' isn't much of a headline in itself. Smoking rates have been in long-term decline for decades, so any given year is likely to have the fewest smokers on record.

But it is the scale of the recent decline that is newsworthy. Between 2012 and 2015, the proportion of English adults who smoked dropped from 19.3 per cent to 16.9 per cent, and the decline between 2014 and 2015 was particularly sharp.
Simon Clark – Taking Liberties
I'm told that a leading vaping advocate had a serious temper tantrum last week after I had the temerity to write:

Forest is a perfectly legitimate commentator on vapers' rights because an increasing number of our supporters smoke and vape. Or, to put it another way, Forest is the voice of the dual user.

I haven't seen his rant (which is on YouTube, apparently) because life's too short and I'm far too busy defending smokers (and vapers) to give a hoot.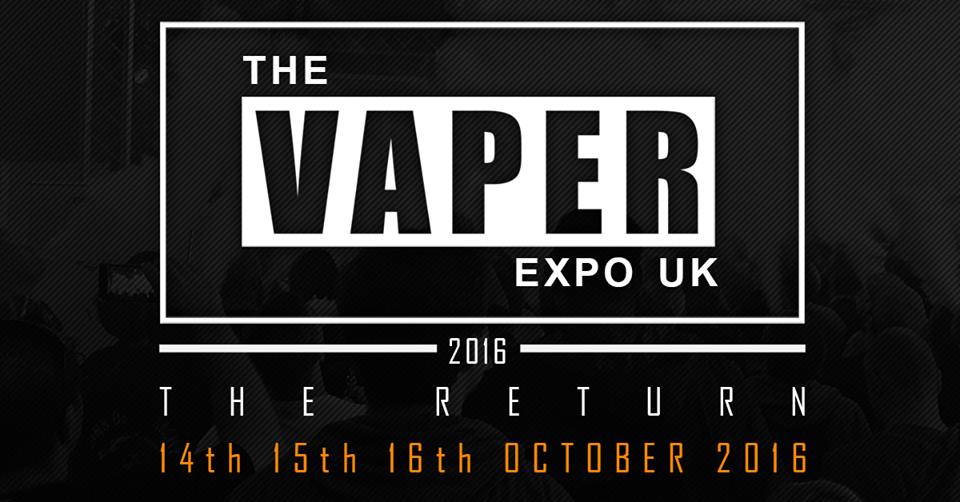 Richard Hyslop & Caroline Russell – The Guardian
It is welcome news that last year vaping contributed to a record number of people in England becoming long-term ex-smokers (Number of smokers in England drops to all-time low, 20 September). If the government, working with the responsible vape industry, introduced a proportionate regulatory regime for the sector then vape products could help even more smokers switch to vaping.
Why Public Health Wages War on Vaping
Brent Stafford – Regulator Watch
Roberta Lunghini
"Dear Minister Lorenzin, the electronic cigarette could be the Health revolution of the XX1 Century". So begins the letter to the Italian Health Minister, from numerous noted scientists in response to an initiative launched by theAntismoking League. Because after years of research, the data is finally out.  We now know that the "e-cig" is the best ammunition available to fight tobacco dependency.
---
Volunteers Needed…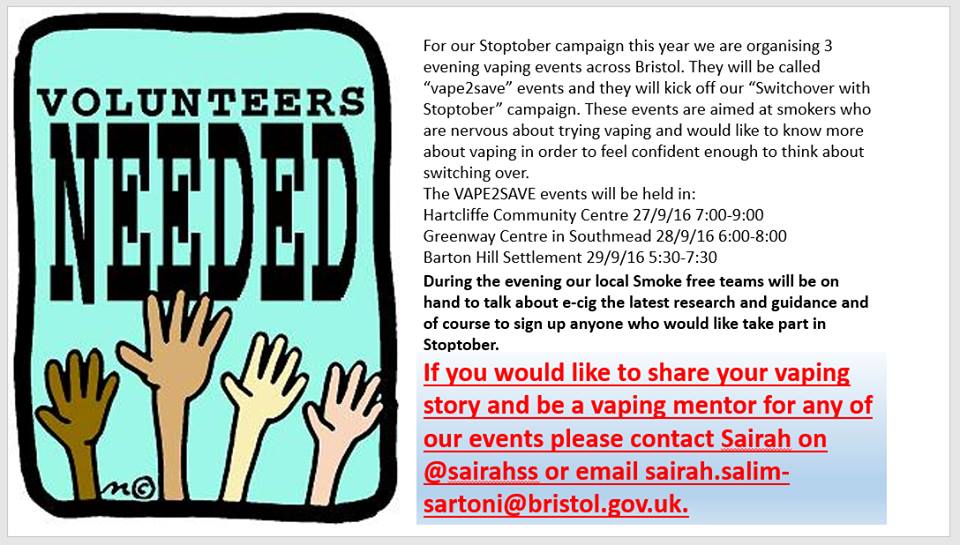 You can contact Sairah on Twitter: @sairahss Or by E-Mail 
---
For years, under federal law, it has been illegal to sell cigarettes and smokeless tobacco to minors. Under a rule finalized in May, the law now prohibits retailers from selling e-cigarettes, hookah tobacco, or cigars to people under the age of 18. Retailers now need to check a photo ID before selling any such product, which also can not be sold in a vending machine, where anyone under age 18 has access at any time.
---
A look back at how things have moved on or otherwise…
Compiled by Robert Innes @BrainyFurball
Smoking is bad for you, everyone finally agrees with this. But what about "vaping"? This is, basically, just the term used to describe the new era of "smoking" which requires inhaling a vapor through an electronic device.
So, is vaping bad for you too?

Well, yes, for the most part, vaping is still not good for you. However, Kings College London professor of tobacco Ann McNeil has led a study which warns that "discouraging smokers from using EC is irresponsible"….
We're pleased to bring you our round-up highlighting some of PHE's online activity from the past week. Here's your chance to catch up on what you might have missed including…
Faculty of Public Health
We all agree that e-cigarettes are significantly less harmful than smoking. One in two lifelong smokers dies from their addiction. All of the evidence suggests that the health risks posed by e-cigarettes are relatively small by comparison but we must continue to study the long term effects.

And yet, millions of smokers have the impression that e-cigarettes are at least as harmful as tobacco and we have a responsibility to provide clear information on the facts as we know them to be. It is our duty to provide reassurance for the 1.1 million e-cigarette users who have completely stopped smoking to prevent their relapse…
Vaping Links
The tug of war on tobacco has gone on since 1964. Lets face it. It's been almost 52 years since January 11th, 1964.

The Surgeon General at that time, Dr. Luther L. Terry, announced "an astounding conclusion: smoking causes cancer"  in front of  200 reporters behind locked doors. His decision to announce this must have come at some price. Imagine the pressure then, even then…
---
Visit Nicotine Science & Policy for more News from around the World

---