In the News September 20th

Tuesdays News at a glance:
Rädda Snuset! – The World Health Organization's Opposition to Tobacco Harm Reduction: A Threat to Public Health? – Vape tax opponents rally around repeal effort, election challenge – Toxicant Levels Average 95% Lower in E-Cigarette Vapour Versus Cigarette Smoke – WHO tobacco campaign fuels distrust, illicit trade – Flavourings significantly affect inhalation toxicity of aerosol generated from electronic nicotine delivery systems – Smoking rates in England fall to lowest on record – Unique research of electronic nicotine delivery systems launched in Ukraine – A Billion Lives wins award at Jozi Film Festival – Blowing smoke over vaping conflict – A Cross Sectional Survey on Health Effects of Using E-Cigarettes for 2 or More Years – Public Health England praises e-cigarettes
Snus is not a public health problem . It helps people to stop smoking. But the government still want to strike hard against snuff by making it harder for snus users to see what is in the boxes. They want to remove the labeling of contents and prohibit snus appear in stores.
Julian Morris, Reason
The Framework Convention on Tobacco Control (FCTC), a treaty created by the World Health Organization in 2004, seeks "to protect present and future generations from the devastating health, social, environmental and economic consequences of tobacco consumption and exposure to tobacco smoke."

Since the FCTC came into force in 2005, the number of smokers in the world has increased, mainly in China and other poor countries that were the FCTC's primary target. Clearly, the FCTC has not been a stellar success on its own terms.
Penn Live
Opponents of Pennsylvania's 40 percent tax on e-cigarettes are rallying around new legislation that would repeal what vape store owners describe as the death knell of the industry.

Lawmakers and Gov. Tom Wolf avoided another protracted budget impasse this year by relying on new revenues from an expansion of gambling, reforms to the liquor system and higher taxes on smokers and the businesses that cater to their nicotine habits. That includes a 40 percent tax on the wholesale price on vaping supplies as well as a 40 percent "floor tax" on the inventory currently sitting on vape shop shelves.
---

---
---
PR News Wire
In the most comprehensive chemical comparison to date between smoke and e-cigarette emissions, scientists at British American Tobacco ("BAT") have found evidence that e-cigarette vapour* has significantly lower levels of toxicants than conventional cigarette smoke.

Analysis of vapour emitted by the Vype ePen – a commercially available e-cigarette manufactured by Nicoventures, a company owned by BAT, – revealed that toxicant levels in e-pen vapour were 92 to 99% lower (depending on which regulatory list of toxicants is used) than in cigarette smoke. The findings were published today in Chemical Research in Toxicology, a peer-reviewed publication by the American Chemical Society.
AMI NewsWire
A new report says the World Health Organization's anti-tobacco effort has adopted a "quit or die" approach to stopping smoking, and that its efforts to reduce tobacco consumption have instead fostered a growing black market in tobacco products.

The Sept. 14 report, from the Reason Foundation's Julian Morris, said the WHO's 2004 Framework Convention on Tobacco Control (FCTC), an international treaty organization affiliated with the WHO, was designed "to protect present and future generations from the devastating health, social, environmental and economic consequences of tobacco consumption and exposure to tobacco smoke."

But in pursuit of that goal, the WHO has become hostile to alternative approaches to reducing smoking, such as vaping or electronic cigarettes, suggesting such products be "heavily regulated."
Tobacco Control Journal
Our data suggest that characteristics of ENDS products, including flavours, may induce inhalation toxicity. Therefore, ENDS users should use the products with caution until more comprehensive studies are performed.

Read the full paper here
---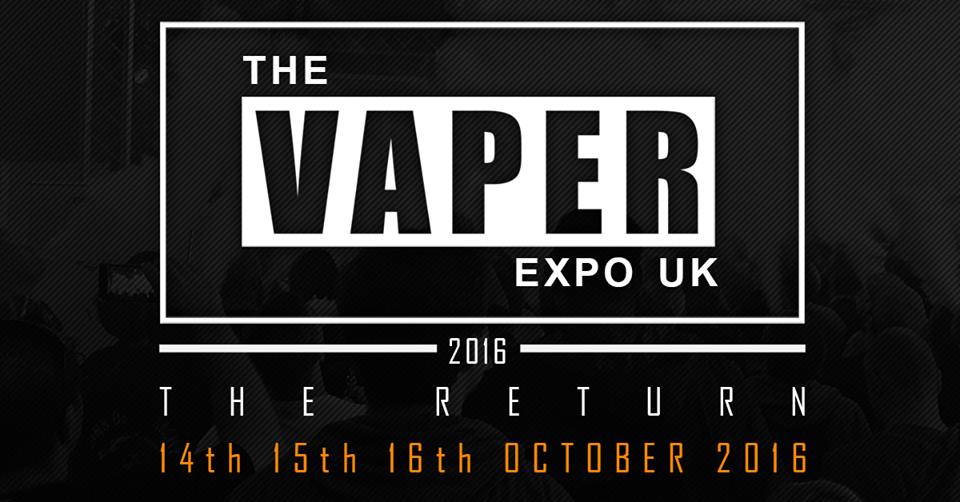 BBC News
In 2015, 16.9% of adults described themselves as smokers, compared with 19.3% in 2012.
Experts say the decrease may be partly thanks to the availability of e-cigarettes.
More than a million people said they vaped as they tried to quit and 700,000 used a licensed nicotine replacement product such as patches or gum.
Out of the 2.5 million smokers who tried to kick the habit, a fifth were successful.
According to Public Health England, this is the highest recorded successful quitting rate to date – six years ago the success rate was around one in seven.

See also BBC 5 Live
Interfax Ukraine
Research into electronic nicotine delivery systems has been conducted by by the M.D. Strazhesko Institute of Cardiology in partnership with the NGO New Technologies for Health. The research is being conducted for the first time. The results of the study will increase the level of scientific understanding of the impact of smoking alternatives on the cardiovascular health.

This is a pilot comparative six-month study. The trial involves three groups of adult smokers: each group consists of 20 people, who have smoked more than five years and more than 20 cigarettes per day.
IOL
An International documentary wins local award and reveals vaping could save 'a billion lives'.

The fifth annual Jozi Film Festival closed with an awards evening in Johannesburg on Sunday night. The four-day festival screened 40 films selected from 300 entries. The closing event of the festival honoured the best films in five categories and saw the international documentary feature film directed by Aaron Biebert winning Best International Documentary Film: A Billion Lives.
---
---
 Volunteers Needed…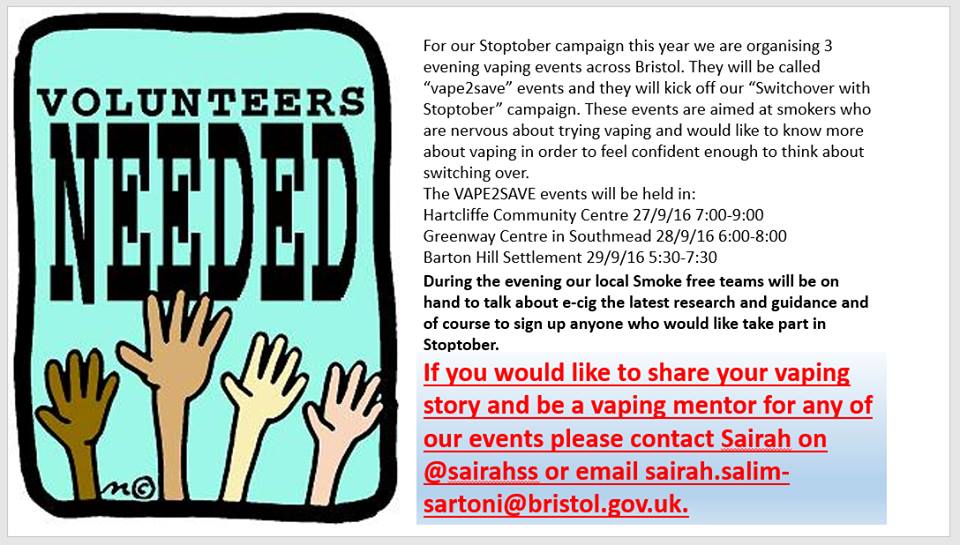 You can contact Sairah on Twitter: @sairahss Or by E-Mail 
---
News Sentinel
Indiana's vaping legislation scandal — and that is the right word — just keeps getting uglier.

The law requires, among other things, that in order to secure the five-year permit required to sell their products in Indiana, e-liquid manufacturers must work with an independent security firm that inspects their products. Because of the requirements the law puts on security firms, only one in the whole country qualifies, and it just happens to be in Lafayette, Ind., represented by state Sen. Ron Alting, who championed the law.
Dr Robert Cranfield
This study was designed to assess the health changes in people who persist in use of electronic cigarettes and to determine if these changes in health were positive or negative. If there is any health impact, to identify how long it takes to see these changes.
Freedom To Vape
If, like me, you weren't listening to BBC Radio 4 at 6.50 am today, please listen to the interview with Prof. Kevin Fenton, Director of Health and Wellbeing at Public Health England. (A recording of the interview is below)

He said that the NHS should continue to help people give up smoking using a range of methods and went on to describe e-cigarettes as "the number one quit aid". When he was questioned about vaping bans, he said now that the evidence is evolving and we know more, now is the time for us to look at our policies to ensure that we are not sending out mixed messages, or creating circumstances that can actually keep smokers smoking.

Although I may not agree with Prof. Fenton on everything, he gets it, which is more than can be said about the World Health Organisation.
---
Visit Nicotine Science & Policy for more News from around the World

---