Vapers Digest 22nd September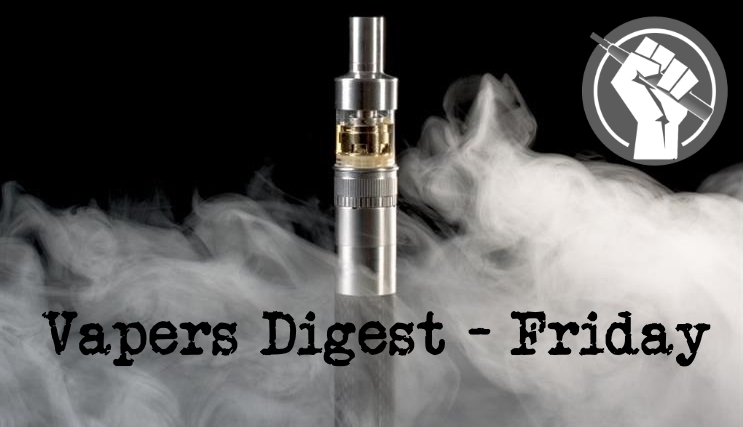 Friday's News at a glance:
Scream Test Update – Back in the Saddle – Tobacco Control 'Experts' Fight AGAINST A Smoke-Free World – Cochrane's Eight Research Priorities – Smoking quit rates highest in 10 years – NHS Health Scotland supports vaping – Welsh Tobacco Control Delivery Plan – Derek Yach on BBC Radio 5 Live – Are health officials deceiving us – Risk and rhetoric – more from GTNF – Nicotine Science and Policy Daily Digest
Dick Puddlecote
It's been just over a week since it was announced that PMI were unconditionally throwing $1bn at a former WHO cabinet director to conduct research into reduced risk nicotine products, and the squealing from 'public health' has been a joy to behold.

Let's just revisit what that world-renowned tobacco control expert, Simon Chapman, says about this phenomenon…
Nancy Sutthoff, AVCA
In case you haven't noticed, I have not been active for the past two months on social media and I have to give credit to Steve and Jan for taking up the slack whilst I have been recovering from surgery. Alas, my 8 weeks are up and it's time to get back in the saddle, so here we go!

There have been a lot of questions prior to and since the announcement of the Technical Expert Advisory Committee TEAC that we have received. No, AVCA was not included on the committee and no, we have not received a clear answer from the Ministry of Health as to why that is outside of "there were more suitable candidates".
---

---
Fight AGAINST A Smoke-Free World – Kevin Crowley
Earlier this month, Philip Morris International pledged a billion dollars to reduce the prevalence smoking and "build a smoke-free world." It goes without saying that this is an interesting concept: One of the world's most prominent tobacco companies vowing to put an end to its primary source of revenue. But what makes this more interesting is who is against it, and who is at the helm.
Mawsley, Planet of the Vapes
The Cochrane Tobacco Addiction Group (TAG) conducts evidence reviews in the area of tobacco cessation and prevention interventions. In 2016, its 20th anniversary, TAG carried out a project to identify where further research is needed. It engaged with stakeholders and experts, and the process was recently concluded having narrowed down the priorities to eight.
---
---
CRUK
Success rates for quitting smoking are at their highest level for a decade, according to a new report.

Nearly 1 in 5 (19.8%) quit attempts were successful in the first half of 2017, up from an average of 15.7% over the last decade. The figures come from researchers at University College London(link is external)with Cancer Research UK supporting the study.

George Butterworth, Cancer Research UK's tobacco policy manager, welcomed the report and said some of the success can be attributed to e-cigarettes.
---

---
Fails to Recognise Role of Vaping in Reducing Smoking Rates
The Welsh Government is ignoring the vital place of electronic vaping products in achieving their smoking prevalence targets, despite the fact that by using them 2.9 million vapers reduced tobacco consumption and more than 50% ceased entirely, says Fontem Ventures.
Thanks as always to @dnglos for the YouTubage
Simon Clark, Taking Liberties
On day one I was on a consumer-orientated panel moderated by Chris Greer, CEO of the US-based Tobacco Merchants Association. The other speakers were Giles Roca, director of the UK-based Tobacco Manufacturers' Association; Alex Clark, CEO of Consumer Advocates for Smoke-free Alternatives Association (CASAA); and Audrey Silk, director of New York City Citizens Lobbying Against Smoker Harassment (NYC Clash).
Chris Reed –  San Diego Union-Tribune
Even with new federal rules meant to discourage "vaping" taking effect last month, the battle over "e-cigarettes" in the United States just keeps building. More than 9 million Americans regularly use vaping devices in which they apply heat to a liquid — sometimes but not always including nicotine — to create small plumes of vapor that they inhale.
---
A look back at how things have moved on or otherwise….
Dick Puddlecote
Next week sees the annual Global Tobacco and Nicotine Forum being held in Brussels. If you weren't aware of it, it is an industry event which discusses all aspects of products provided by tobacco companies and their suppliers.

Last year, this event so heavily leaned towards tobacco harm reduction that even Simon Clark of Forest took to saying that he felt like "a pork chop at a Barmitzvah".
Mawsley – Planet of the Vapes
Last month, we covered the news that New Zealand's government is set to make nicotine legally available for vaping. The widely applauded move is now being followed by calls for other countries to adopt a similar progressive and freethinking approach. Not only that, but experts are recommending that health professionals learn more about the products that can save millions of smokers' lives, and that the government goes even further.
Brad Rodu – Tobacco Truth
E-cigarettes and vaping are transforming tobacco use in the U.S. and worldwide.  The innovative products are being used almost exclusively by smokers looking for substitutes for more harmful conventional combustible tobacco.  This revolution is progressing despite widespread opposition from public health officials and tobacco prohibitionists, some of whom are combating the products with linguistics. They're trying to label e-cigs "electronic nicotine delivery systems," or ENDS (here).
---
Visit Nicotine Science & Policy for more News from around the World

---