Vapers Digest 25th September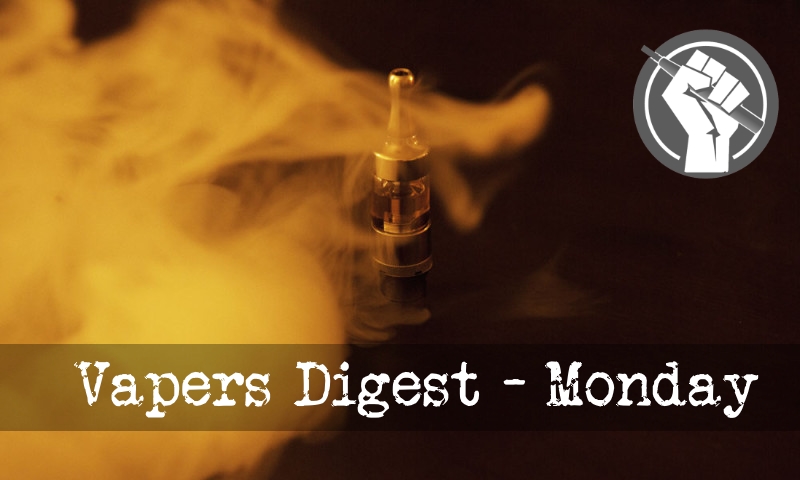 Monday's News at a glance:
Advertising code at fault over e-cigarette public health ad ban – Regulate In Haste, Repent At Leisure – An Absolute Shitshow – Your views on the NICE consultation – Debunking the claim that only 16,000 smokers switched to vaping – Tobacco control threatens to implode – Studies support reduced risk – Snus company sues Norwegian state – Science Lesson: Does Vaping Lead To Smoking? – 'Deception' Over The Risks Of Smoking Alternatives – Thai experts ignoring global consensus – Rise of Vaping in China – Curbing the illicit tobacco trade – Vaping In The News – Nicotine Science and Policy Daily Digest
Over e-cigarette public health ad ban – Clive Bates
So newspaper reports suggest we have the ridiculous situation of the UK Advertising Standards Authority (ASA) banning adverts for vaping that are part of a public health quit smoking campaign, 'Stoptober'. The Sun reports UP IN SMOKE: Anti-smoking adverts by Cancer Research see charity in row over barmy Brussels rules that would BAN them.

Update 24 September: Cancer Research UK says its hasn't "been prevented from doing anything by the ASA that we are aware of, so don't know why this story appeared" and PHE ads were still running on TV last night. So please treat the posting below as an analysis of the legal situation.
Dick Puddlecote
The last couple of days have been a story of regulators regulating for the hell of it instead of using their powers responsibly with the public in mind. Yesterday we saw Transport for London take a Thor-sized hammer to crack the peanut of procedural problems with Uber. I am very knowledgeable about this issue and – to be frank – it stinks of caving into vested interest lobbying pressure rather than their claim of improved safety. Their justification simply doesn't stack up…
Paul Barnes, Facts Do Matter
With so much happening behind the scenes at Facts Towers I almost, almost missed this large, festering pile of bantha poodoo. I say almost, because, well it's bloody difficult to miss it.

Y'see, an article in The Sun no less gives the impression that Cancer Research UK is putting some vape-friendly ads out. I haven't seen them myself so I have no idea what they look like.  Remember, it is fast approaching "Stoptober", the annual public health splurge on convincing folks that you really should be stopping smoking now.
---

---
New Nicotine Alliance
The consultation on the NICE draft guidance for Smoking cessation interventions and services is now open, you can find it here. The draft guidelines are concerned with stop smoking interventions in community settings and include recommendations on e-cigarettes. This guidance will have a huge influence on the advice which health practitioners give regarding e-cigarettes, so it's crucial for vapers to make their views known.
That only 16,000 smokers switched to vaping
Carl V. Phillips, Anti-THR Lies
When this journal letter (i.e., short paper), "Estimating the population impact of e-cigarettes on smoking cessation in England" by Robert West, Lion Shahab, and Jamie Brown came out last year, most of us said "wait, wot?" The authors estimated that in 2014, about 16,000 English smokers became ex-smokers because of e-cigarettes (a secondary analysis offered 22,000 as an alternative estimate). But that year saw an increase of about 160,000 ex-smokers who were vapers in the UK
Fergus Mason, Vaping Post
The tobacco control industry spectacularly turned on itself this week, with the launch of a new foundation dedicated to end tobacco smoking. Far from being welcomed across the industry, the move has led to open hostility between harm reduction advocates and prohibitionists.

The Foundation for a Smoke-Free World, an independent non-profit organisation, is headed by former World Health Organisation tobacco control chief Derek Yach and supported by leading harm reduction advocates like Professor Marewa Glover.
In population smoking cessation: evidence from US current population surveys
Conclusion: The substantial increase in e-cigarette use among US adult smokers was associated with a statistically significant increase in the smoking cessation rate at the population level. These findings need to be weighed carefully in regulatory policy making regarding e-cigarettes and in planning tobacco control interventions.
---
---
Of the Vype ePen e-cigarette – EurekAlert
Scientists at British American Tobacco (BAT) have created the most comprehensive database of scientific test results, to date, for an e-cigarette (Vype ePen). The results of the studies provide evidence that suggests Vype ePen has the potential to be substantially reduced risk compared to traditional cigarettes.
Carl V. Phillips
The "gateway effect" refers to a claim that one disparaged behavior – usually a relatively harmless one – causes people to later take up a second, more harmful disparaged behavior. ("Causes" means that they would not have taken up the second behavior absent the first behavior, but would do so if exposed to the first behavior).
Karen Middleton.
The man leading federal parliament's investigation into illicit tobacco is a rabid anti-smoker. "I can't stand cigarettes," says Liberal MP Craig Kelly, chairman of the joint committee on law enforcement. "When it comes to fanatical nonsmokers, they could give me a badge."

But he is sympathetic to the tobacco industry's argument that rocketing excise and inadequate law enforcement are contributing to a growing black market.
Snus producer Swedish Match is taking the Norwegian state to court as it seeks an injunction to delay neutral packaging.
A change in Norwegian law requiring all tobacco products to be given neutral packaging is set to be tested in court.
---

---
Of Smoking Alternatives Violates 'Public Health Ethics'
Steve Birr – Libertarian Republic
A proliferation of misinformation on the risks of smokeless tobacco, vaping and other alternatives to cigarettes is leaving millions of users in the dark about their options.

A critique by public health experts published Friday in the journal Addictive Behaviors argues that federal health officials are violating consumer rights and the principles of informed consent by deliberately misrepresenting the risk profiles of alternatives to combustible tobacco.
Cyprus
With a majority vote, the House plenum on Friday passed a bill imposing a tax on electronic cigarettes.

The law introduces a new category called 'liquid for electronic cigarette use' with a consumption tax of €0.12 per ml of liquid.

Additionally, the bill provides for heat-not-burn tobacco products that are expected to soon be imported to Cyprus and be charged with a €150 consumption tax per kilo.
According to a report sponsored by UK's Department of Health and published by Public Health England – a prestigious group of highly qualified scientists, researchers and public health professionals – electronic cigarettes are at least 95-per-cent safer than tobacco cigarettes. The report also recognises their potential as a viable approach to quitting smoking.
Jocelyn Richards
If Big Tobacco had a promised land, it would be China. Home to over 300 million smokers – almost the entire population of the US – the country literally feeds off cigarette sales, generating more in tobacco tax revenue every year than it spends annually on the military.
---
How 'Coordination' Could Push FDA to Bargaining Table
---
Jack Courtez
The news has been welcomed by retailers as both an opportunity to help their customers and to promote their e-cigarette offering. Paul Walker, who owns a Bargain Booze store in Warrington, told Retail Express: "We'll be doing promotions around Stoptober with deals on a starter kit, I think the endorsement of e-cigarettes will have a definite impact on our store."
Smokers are quitting at the highest rate in 10 years, and success is partly being put down to the popularity of e-cigarettes. These are being suggested as an option in this year's Stoptober campaign in England for the first time, as BBC News reports. Last year more than half of people who took part in Stoptober used e-cigarettes to try to quit. Check out our news report for more.
Kevin Crowley, Vaping Links
SCREAM TEST / Scream Test Update ~ DANA Statement: Australia ~ THR4Life ~ FDA Warnings ~ Air Quality ~ Corruption ~ Show Me The Money ~ Gonzo Gives ~ Snork ~ Tobacco Taxes ~ Tobacco Experts ~ Regulator Watch ~ Foundation For A Smoke-Free World
---
A look back at how things have moved on or otherwise….
---
Visit Nicotine Science & Policy for more News from around the World

---