Vapers Digest September 19th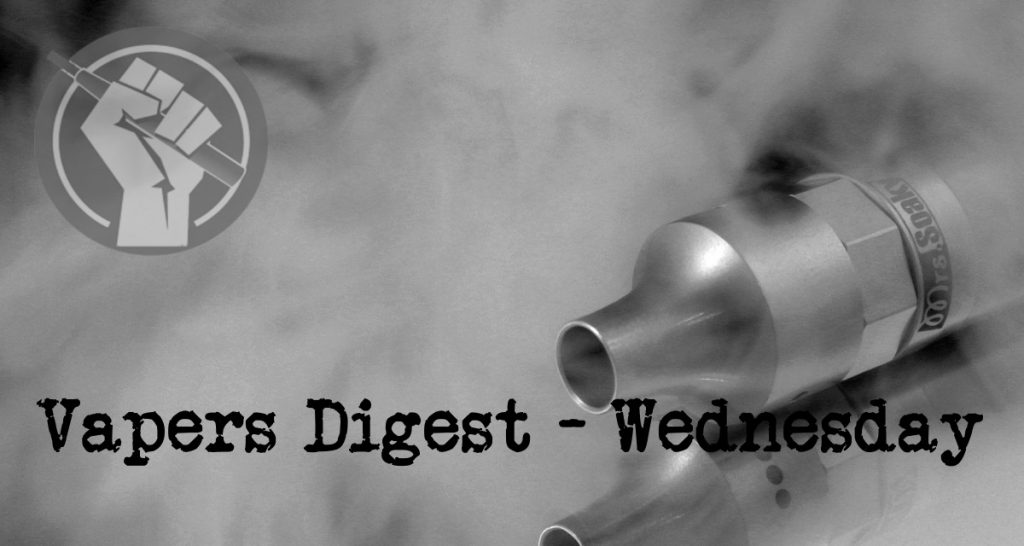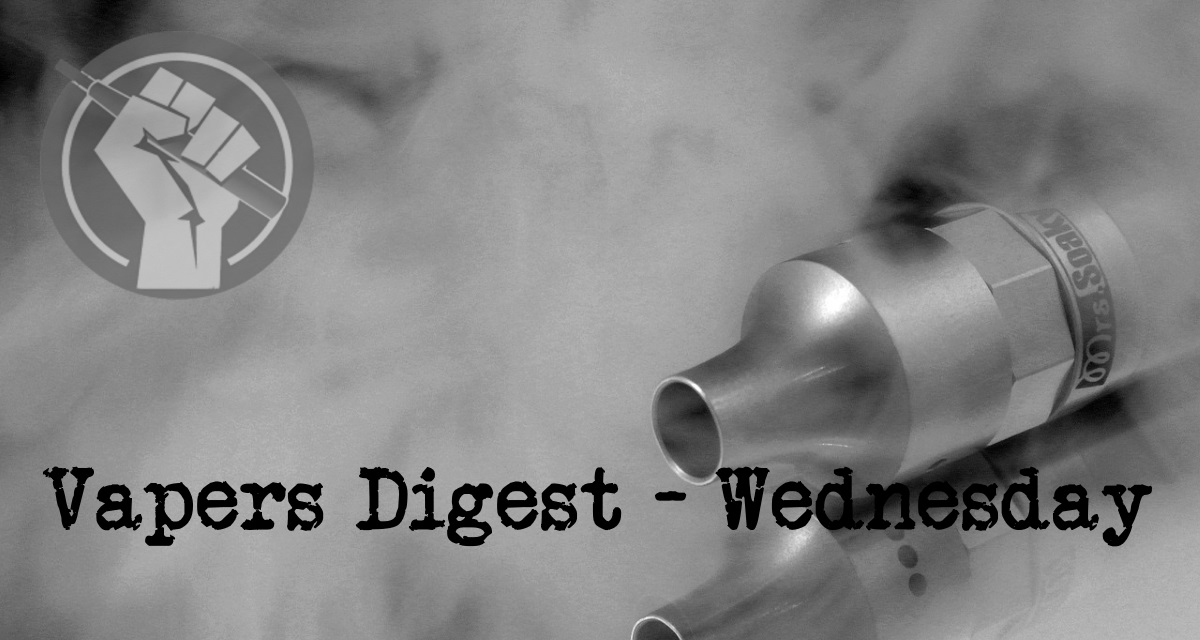 Wednesday's News at a glance:
Hunt finally sees sense on vaping ~ Federal Liberal Party pushes to overturn the vaping ban ~ Regular vaping by adolescents in New Zealand is rare ~ E-cigarette industry agrees to voluntary sales ban for minors ~ British taxpayers 'should not subsidise scaremongering anti-vaping laws ~ Cash For Lies ~ Over 3-Million Of Us ~ Groups Cite Consumer Rights In Bid For E-Cig Regulation ~ Vape Wars: Regulating the Harmless to Death ~ The FDA Finally Made Vaping Look Cool ~ New E-Cigarette Restrictions Could Be Lethal ~ "Third-Hand Vapor" Precautions Are Not Justified ~ Most U.S. Citizens are Still Misinformed About E-Cigarettes ~ Why affordable safer alternatives for poor smokers is a human rights issue ~ JUUL Labs Presents Findings from Cytotoxicity Study ~ Pharma Product Hospitalises Kids ~ Vapers want ban reconsidered
Terry Barnes, The Spectator Australia
It took a while, but yesterday there was a strange burst of rationality from the ship of fools also known as the Coalition party room.

Months after receiving a parliamentary committee report on nicotine e-cigarettes, in which both the Liberal chairman and leading Liberal member extraordinarily dissented from their own committee's negative report, health minister Greg Hunt is daring the wrath of the public health puritanical pooh-bahs in agreeing to commission an independent expert inquiry.
Colin, Australian Tobacco Harm Reduction Association
In a major turnaround, the federal Liberal Party took the first step today towards legalising vaping by voting for an independent scientific inquiry into vaping.

In today's Liberal party room meeting, the Health Minister Greg Hunt (pictured) agreed to commission an inquiry into the scientific evidence of vaping, possibly by the National Centre for Epidemiology and Population Health (NCEPH) at the Australian National University. ATHRA sees this as a positive first step towards legalising the use of nicotine for vaping in Australia.
Colin, Australian Tobacco Harm Reduction Association
The latest study from New Zealand confirms once again that vaping in young people is rare and there is little, if any, evidence that vaping is leading young people to smoking. Action on Smoking and Health NZ surveyed 30,000 15-16 year old (year 10) students in 2017. The report concluded: 'These findings do not support the concern that e-cigarettes are a route into smoking among young people. Youth smoking rates continue to decline, daily use of e-cigarettes is rare and is largely confined to those who have smoked.'
Swiss Info
Swiss producers of electronic cigarettes, and several retail outlets that sell such products, have agreed to a voluntary ban on the sale to minors until a Swiss law change comes into effect.

The code of conduct from the consortium of tobacco manufacturers and large retailers will come into force on October 1. Some 38 companies have previously signed up to an earlier charter from the Swiss Vape Trade Association, which also seeks to protect minors from such products.
---

---
Marco Giannangeli, Express
It follows a recent conference in London in which experts backed the use of Vapes and e-cigarettes as a "motorway" out of smoking. The UK is one of only three nations, along with Australia and Panama, who contribute to the WHO's Framework Convention on Tobacco Control, to the tune of £15m.

This is on top of the £165m of taxpayers' money given to WHO every year for other projects. However, while Public Health England argues that e-cigarettes should be made available on prescription because of the way they help people give up smoking, WHO says they should be banned altogether in developing countries.
Mawsley, Planet Of The Vapes
The National Institutes of Health (NIH) and the Food and Drug Administration (FDA) have renewed their commitment to the Tobacco Centers of Regulatory Science (TCORS) program. Some would say it is rewarding those institutions that towed the line and produced bias work over the last four years. Nine centres benefit from fat cheques on the promise they'll do more of the same.
Mawsley, Planet Of The Vapes
Action On Smoking and Health UK (ASH UK) has announced that its latest survey shows there are now more than 3-million vapers in Great Britain. Moreover, it highlights that almost every one of them either used vaping to quit smoking or is in the process of doing so.
Page One
In a forum held, Malaysia-based free market think tank Institute for Democracy and Economic Affairs (IDEAS) and Philippines-based Minimal Government Thinkers brought together various stakeholders from the Southeast Asian region to discuss how to regulate alternative tobacco products and how consumers can contribute to the creation of proper policy in this respect.
---
---
, The American Spectator
Attacking an industry that turns smokers into non-smokers with a carcinogen free product makes no sense.

Certain requirements must be met for a public health issue to be classified an epidemic. These include a demonstrable negative health impact — and victims. The flu is a yearly epidemic, and opioid addiction is turning rapidly into a serious one.

Vaping, however, is not.
Rhett Jones, Gizmodo
Vaping has become quite popular with the teens, and the FDA has become so worried it's launching a full-on PR assault to convince teens to just say no. Unfortunately, it's new ad is sick as hell and actually makes vaping look way cooler than it is.
Jacob Sullom, Reason
Scott Gottlieb, the head of the Food and Drug Administration, says he still believes in the harm-reducing potential of e-cigarettes, which are far less hazardous than their combustible competitors. But by threatening to restrict e-cigarettes in the name of preventing underage vaping, he is knowingly setting a course that leads to more smoking-related deaths than would occur if the government let the market thrive.

"In closing the on-ramp to kids," Gottlieb said in a speech last week, "we're going to have to narrow the off-ramp for adults who want to migrate off combustible tobacco and onto e-cigs." That "unfortunate tradeoff," as he calls it, is not necessary, scientifically sensible, or morally justifiable.
---

---
Guest Post by Dr. Roberto Sussman
Brad Rodu, Tobacco Truth
BR note.  Readers of this blog know that anti-tobacco activists greatly exaggerated the risks of second-hand smoke (here and here).  Unfortunately, the scaremongering has expanded to include third-hand smoke (discussed here), third-hand smokeless (here) and third-hand vapor (here).

Two weeks ago another exaggerated "third-hand vapor" study was published by University of California activists.  For a perspective on this study, I am happy to introduce Dr. Roberto Sussman, a scientist (physics) in the Institute for Nuclear Research at the National Autonomous University of Mexico.
Diane Caruana, Vaping Post
In line with data compiled by previous surveys, a recent poll indicated that sadly the majority of Americans are still misinformed about the relative benefits of e-cigarettes. The majority think that vaping is as bad for one's health as smoking, if not worse.

The research was conducted by Rasmussen, a national polling organization that collects public opinion samples on political, commercial, and lifestyle topics. The poll which was released last August, collected data from 1,000 U.S. adults online or by telephone.

Joseph Magero, Medium
Tobacco harm reduction interventions are facilitative rather than coercive, and are grounded in the needs of individuals. The objective of harm reduction in a specific context can often be arranged in a hierarchy with the more feasible options at one end (e.g. measures to keep people healthy) and less feasible but desirable options at the other end. Abstinence can be considered a difficult to achieve but desirable option for harm reduction in such a hierarchy.
at The Tobacco Science Research Conference
Market Insider
JUUL Labs, Inc. today announced results from a preliminary study on the cytotoxicity of aerosol generated from JUUL's Menthol, Mint and Cucumber 5% nicotine-e-liquid filled pods. The findings, "Neutral Red Uptake (NRU) Cytotoxicity Analysis of Aerosol Generated from a Temperature-Regulated Nicotine-Salt Based Ends Product," were presented at a poster session at the 72nd Tobacco Science Research Conference in Memphis, TN.
---

---
Mawsley, Planet Of The Vapes
Fort Lauderdale Fire Rescue raced to a private school on Friday following a call about several children falling ill. The students were rushed to a local hospital after they tried chewing nicotine gum. Commentators have wondered why there has been no outcry from the Food and Drug Administration – as there would have been were it vape related.
The Hindu
Last week, Tamil Nadu joined a small group of States in the country to ban Electronic Nicotine Delivery Systems (ENDS) — e-cigarettes.

While the Directorate of Public Health is taking measures to strictly implement the ban, including curbing online sale, the vaping community is of the view that a ban is not the answer, and is demanding a rethink.

The ban, according to health officials, was brought in after taking into account the health effects of using e-cigarettes and to prevent initiation by non-smokers and youth. "Nicotine is an addiction producing substance. E-cigarettes contain concentrated nicotine," a public health official said.
---
---
Visit Nicotine Science & Policy for more News from around the World

---